Creamy Potato Leek Soup is a simple, classic soup recipe that can be prepared in about 30 minutes. It's light and mild in flavor making it a perfect starter or accompaniment for lunch, dinner or holiday meals.
This post contains affiliate links. See our Disclosure Statement for more information.
Growing up I despised onions. In an attempt to turn me onto them, my mom made a potato leek soup. She told me they were kind of like onions, but had a much milder flavor. Surprisingly, I loved the soup.
It's been ages since I've had my moms soup, so I decided to make my own. This Potato Leek Soup recipe is simple and mildly flavored with potatoes, leeks, white wine, stock, cream and herbs.
If you're looking for even more creamy soup recipes to try, you may want to check out these recipes for Cheesy Cauliflower Soup, Butternut Squash Soup and Blender Gazpacho Soup.
For more potato based soups, Creamy Steak and Potato Soup and Loaded Potato Soup are must tries!
What Are Leeks?
Leeks are not necessarily uncommon, but aren't as popular as vegetables and aromatics such as onions, carrots and celery when it comes to cooking. With that said, we actually used them quite a bit in our French recipes in culinary school.
Leeks are part of the allium family. They are related to garlic, shallots and onions. Their flavor is much like my mother described – like a sweet onion, but milder.
They are often used in soups, stews, pasta, quiche and chicken dishes.
Leeks are grown in sandy soil, so cleaning them well is a must. Instructions on how to clean leeks are including in the recipe steps below.
Why This Recipe Works
This is a very simple recipe to make. It takes just around 30 minutes to prepare.
The flavor is very mild making it a great option to serve with just about any sandwich or salad for a complete meal. It is also a great choice as a starter to holiday meals like Thanksgiving, Christmas or Easter.
It's an adaptable recipe to suite may different dietary needs. It's naturally gluten free so long as your vegetable or chicken stock is gluten free. By using vegetable stock it's vegetarian and by using vegetable stock, dairy free butter or oil, and omitting the cream, it can be vegan.
Step-By-Step Instructions
Ingredients
2 tablespoons butter
4 leeks (cleaned, halved and sliced thin)
2 cloves garlic (minced)
1/4 cup white wine: additional stock can be used if you prefer not to use alcohol.
7-8 cups chicken stock (or vegetable stock)
2 pounds potatoes (peeled and cut into 1-inch cubes)
2 sprigs fresh thyme
1-2 bay leaves
1/4 cup heavy cream
The entire recipe and instructions can also be found in the recipe card at the bottom of this post. You can also print the recipe from the card, if needed.
Prep!
To prepare for this recipe you need to mince the garlic and clean and slice the leeks.
How To Clean Leeks
To clean leeks, first cut off any bruised or wilted stems.
Slice the leeks in half lengthwise and rinse well.
Trim off the root end, cut into 1/4-inch thick slices.
Add to a bowl of water and swirl to separate the layers. Allow to soak for 5-10 minutes so that any remaining sand can settle to the bottom of the bowl.
Remove the cleaned leeks with a slotted spoon.
Create!
Melt the butter in a Dutch oven or large stock pot over medium heat.
Add the leeks and cook, stirring often, about 5-7 minutes or until tender.
Stir in the garlic and cook an additional 30 seconds.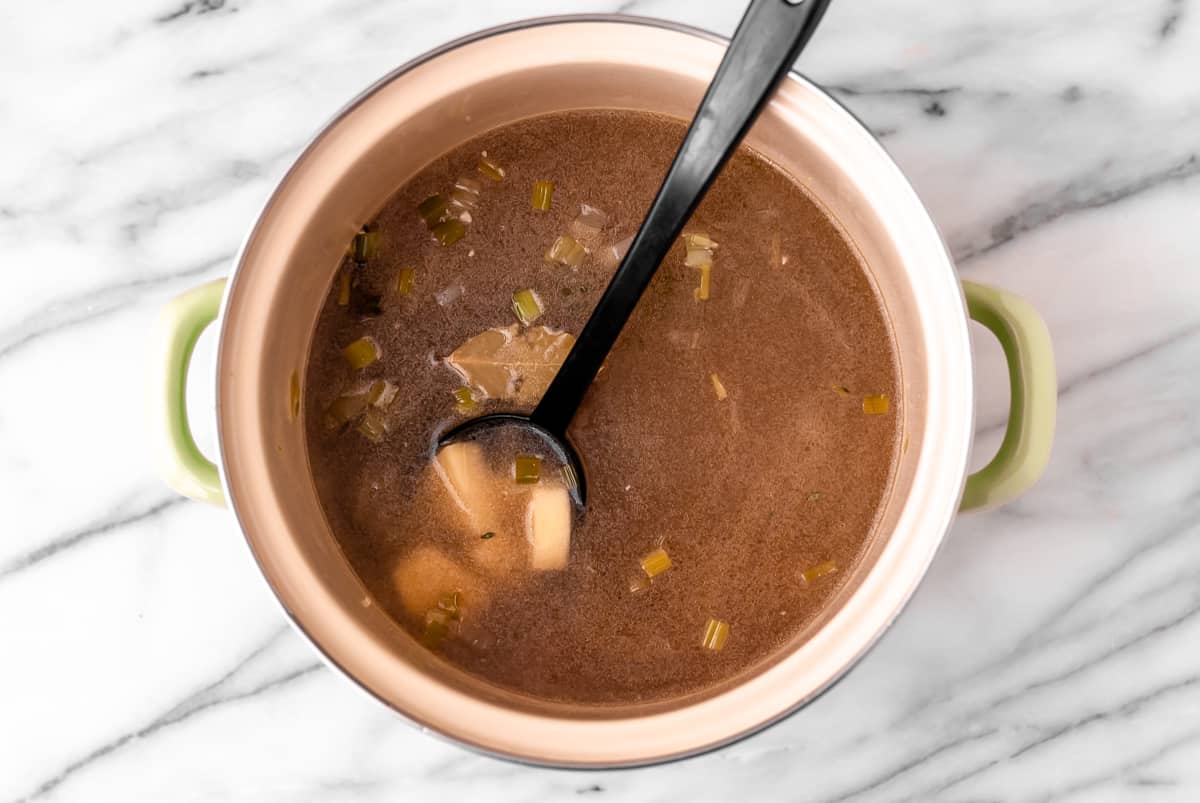 Carefully pour in the white wine and cook until reduced by half, scrapping up any browned bits from the bottom of the pot.
Add the chicken stock, potatoes, fresh thyme and bay leaves. Raise the heat and bring to a boil, then cover and lower the heat to simmer.
Chef's Tip: use less stock if you want a thicker soup and more if you want a thinner soup. Take into account that a small amount of cream will be mixed in later.
Continue to simmer until the potatoes are fork-tender, about 10-12 minutes.
Puree with an immersion blender or transfer to a stand blender and puree until desired level of creaminess is reached. You will likely have to work in batches if using a stand blender.
Stir in the cream and cook another minute or so to warm through.
Taste and adjust seasoning, as needed.
Present!
Serve with additional fresh thyme and freshly cracked black pepper, if desired.
Tips and Techniques
Use less stock if you want a thicker soup and more if you want a thinner soup. Take into account that a small amount of cream will be mixed in later.
To make the recipe gluten free, be sure that the stock you are using does not contain gluten.
To make the recipe vegetarian, use vegetable stock.
To make the recipe vegan, use vegetable stock, dairy free butter or olive oil in place of the butter, and omit the heavy cream.
Store leftovers in an airtight container in the refrigerator. Consume within 3-4 days.
FAQ's
What Are The Best Potatoes For Creamy Soups?
Yukon Gold potatoes are the best type of potato to use for this soup. Russet potatoes could also be used.
Can You Freeze Potato Leek Soup?
Potato leek soup can be frozen once cooled. It is recommended to freeze it prior to adding the heavy cream. Once thawed and rewarmed, heavy cream can be stirred in.
More Soup Recipes
Love this Potato Leek Soup recipe? Follow me on Pinterest, Instagram, and Facebook for more!
If you try this recipe, I would really appreciate it if you would please leave a comment and star rating. Thanks!