Zesty, creamy, and bursting with fresh flavors, Roasted Tomato Soup is better than any canned soup you can buy, and just as easy to make. It's the perfect way to use up some fresh summer tomatoes too!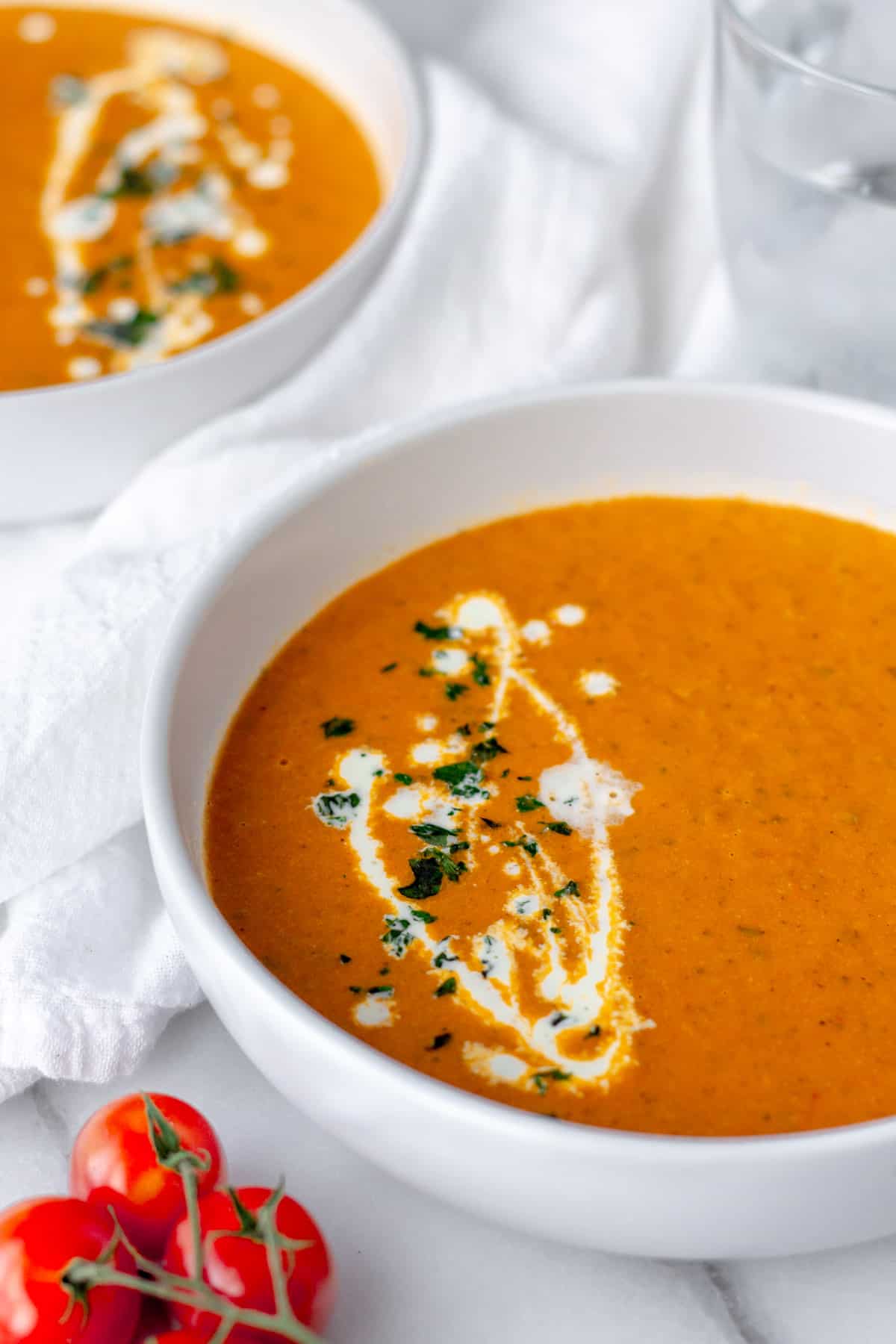 This post contains affiliate links. See our Disclosure Statement for more information.
Homemade roasted tomato soup is made with cherry tomatoes, fresh basil, and heavy cream. It's an easy soup recipe that tastes best when you use fresh ingredients. The creamy texture and warm flavor is basically the epitome of comfort food.
Plus, it's an easy recipe to tweak and change based on how you like it. Use roasted garlic for a milder, less pungent flavor. Or make it with roasted tomatoes for a sweeter, smokier taste.
Enjoy a bowl of tomato soup with a grilled cheese sandwich or a Spinach Sandwich.
Why This Recipe Works
This is a quick and easy recipe that has less than 10 ingredients.
You'll taste the difference when you make roasted tomato soup from whole tomatoes and fresh herbs. Serve it with crusty bread.
It's naturally gluten-free and vegetarian, and you can easily adapt this recipe to fit in with a vegan lifestyle, too.
Step-By-Step Instructions
Ingredients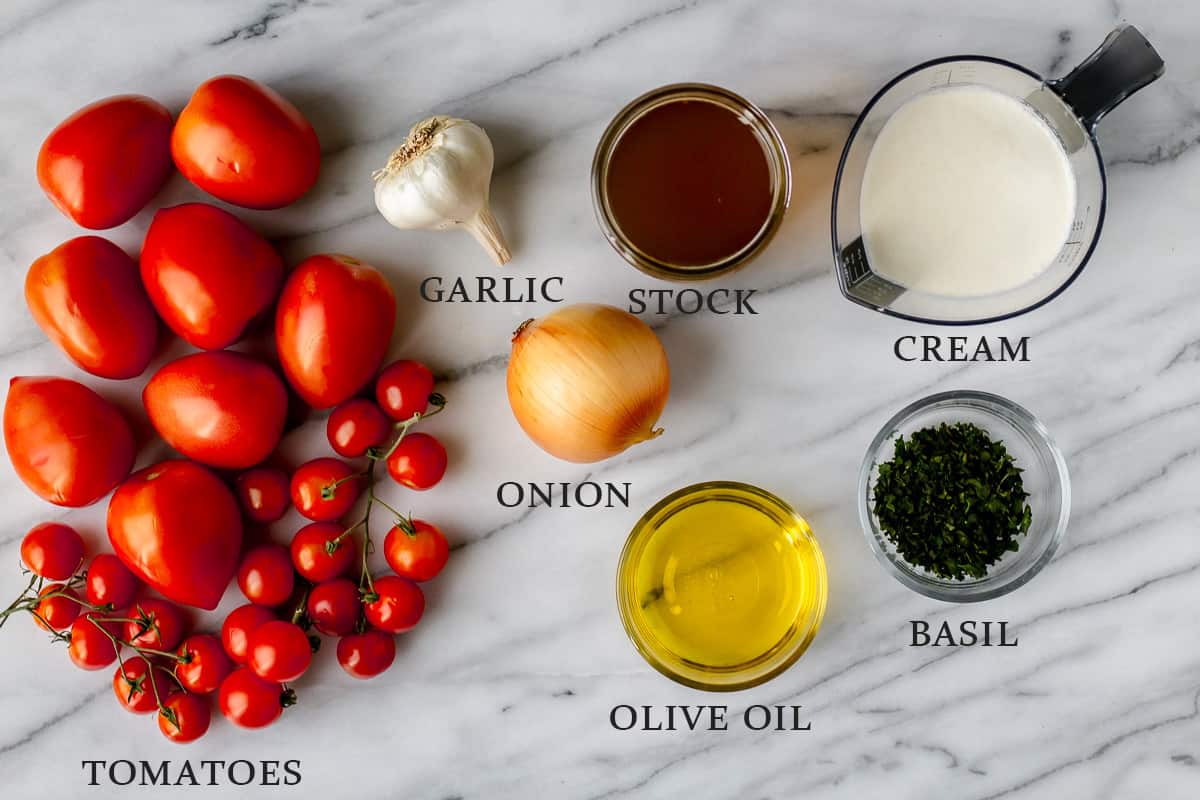 2 1/2 pounds tomatoes (cut into halves or quarters): you can use any combination of tomatoes that you like. I prefer a combination of plum tomatoes and cherry tomatoes for a sweeter flavor.
1 yellow onion (peeled and cut into quarters)
1 whole head garlic: you can keep the head whole or break it up into cloves. The garlic can be roasted unpeeled, then peeled once roasted. It's much easier to remove the peels once the garlic is cooked and softened.
1/4 cup extra virgin olive oil
salt
pepper
2 cups vegetable stock: you can substitute chicken stock, if preferred.
2 tablespoons fresh basil (chopped)
1/2 cup heavy cream: optional, omit if vegan.
The entire recipe and instructions can also be found in the recipe card at the bottom of this post. You can print the recipe from the card, if needed.
Prep!
Cut the tomatoes in half, or into quarters for larger tomatoes. Peel and quarter the onion. Cut the top 1/4-inch off of the top of the head of garlic.
Preheat your oven to 400°F.
Create!
Spread the tomatoes, onion, and garlic onto a large, rimmed baking sheet. Drizzle the olive oil over the vegetables and toss to coat. Season with salt and pepper.
Roast until the tomatoes are soft and starting to caramelize, about 45 minutes. Some of the tomatoes may burst or begin to leak juice. The garlic should also be softened.
Remove the garlic from the skin by squeezing the cloves out from the bottom. Discard the peels.
Transfer the tomatoes, onion and garlic to a large pot or Dutch oven.
Pour in the stock and add the basil. Turn the heat onto medium-high and bring to a boil. Reduce the heat to simmer, about 15-20 minutes or until the liquid is reduced by about 1/3.
Purée in the pot with an immersion blender or carefully transfer to a stand blender to purée until smooth.
Transfer the soup back to the pot, taste and adjust seasonings. If you'd like a sweeter soup, you can add about 1 tablespoon of sugar, or to taste.
Stir in the heavy cream until well blended.
Present!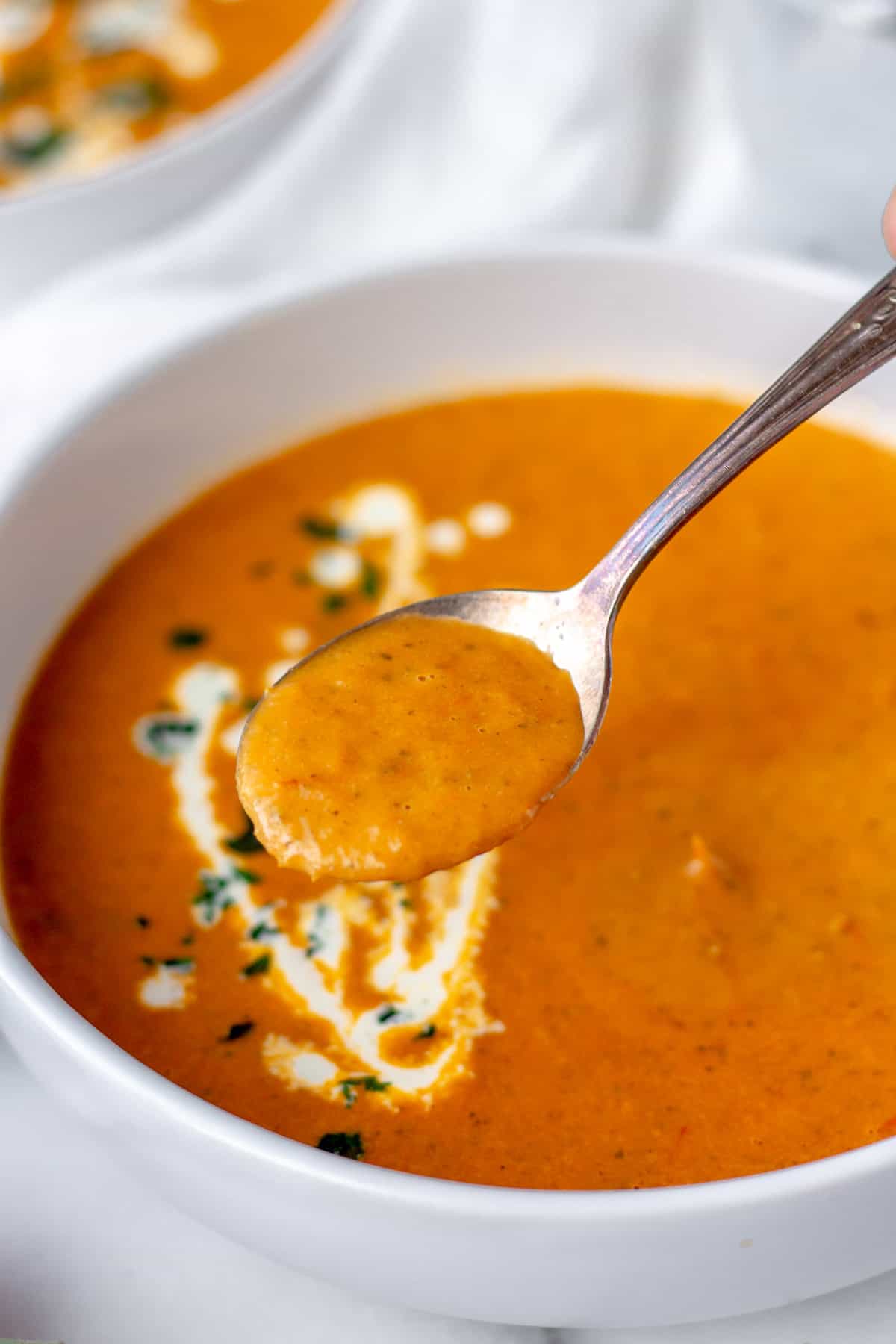 Serve warm.
Tips and Techniques
Any combination of tomatoes can be used.
The head of garlic can be roasted whole or broken up into cloves. The garlic can be roasted unpeeled, then peeled once roasted. It's much easier to remove the peels once the garlic is cooked and softened.
Store leftovers in an airtight container in the refrigerator. Consume within 3-4 days.
FAQ's
What Are The Best Tomatoes For Homemade Tomato Soup?
You can use any type of tomato that you like. This is a fantastic way to use up fresh tomatoes from your garden. I like to use cherry and plum tomatoes because they are sweeter.
Can Tomato Soup Be Frozen?
Yes, you can freeze tomato soup. Let it cool down completely, then pour it into a plastic, freezer-safe, resealable food storage bag. Lay the bag of soup flat on a baking sheet and put the baking sheet in the freezer overnight. Once it is frozen solid and flat, you can remove the baking sheet.
The soup will stay fresh in the freezer for up to six months.
More Soup Recipes
Love this Roasted Tomato Soup recipe? Follow me on Pinterest, Instagram, and Facebook for more!
If you try this recipe, I would really appreciate it if you would please leave a comment and star rating. Thanks!