The best wintertime meal, Loaded Potato Soup is creamy, rich, and cheesy. This indulgent dish is comforting, hearty, and filling – it's a one-pot meal the entire family is sure to enjoy.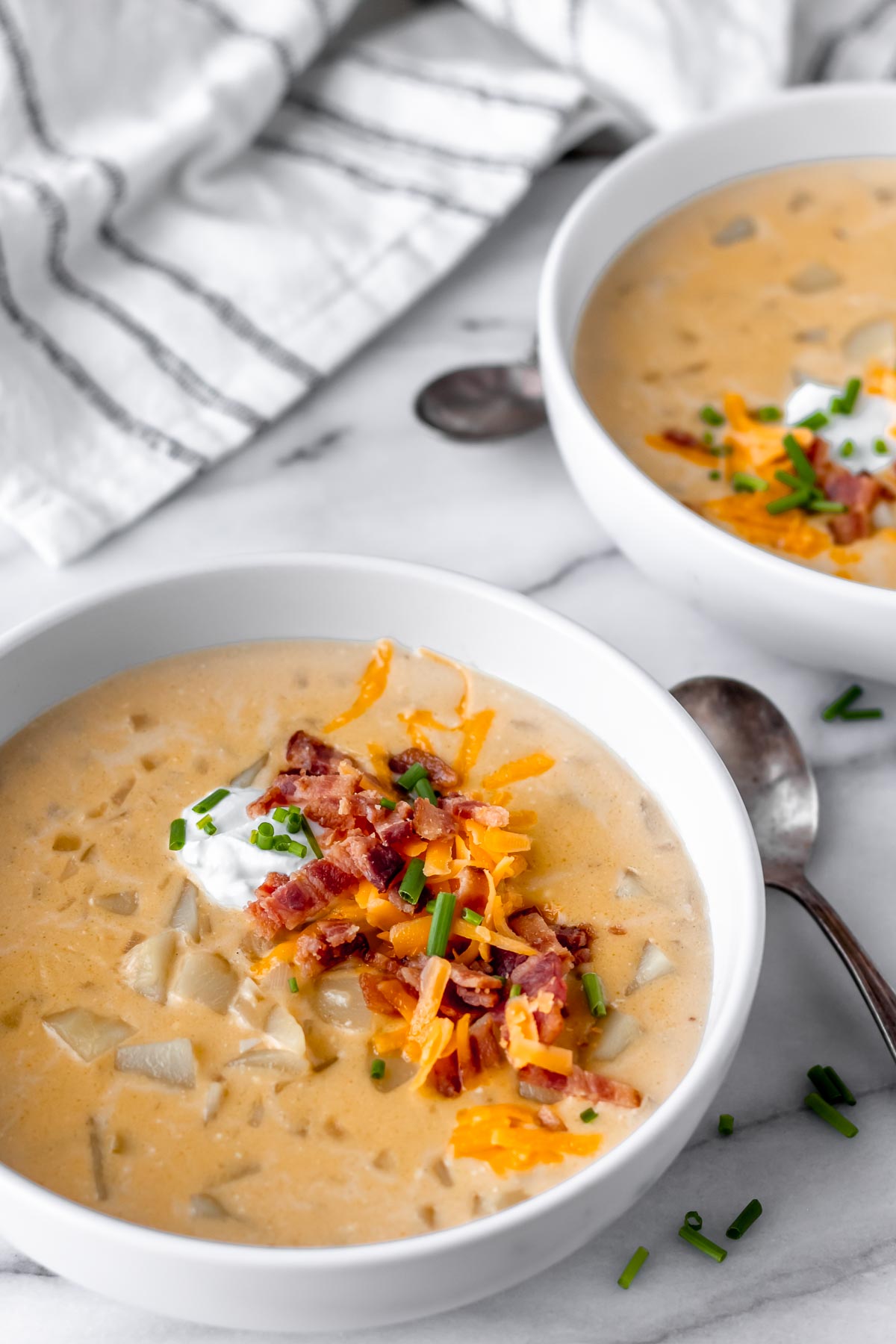 This post contains affiliate links. See our Disclosure Statement for more information.
Loaded Potato Soup is loved by many and well known as an ultimate comfort food. This indulgent dish is rich, creamy, and cheesy. It basically tastes like a loaded baked potato, but in soup form.
This main dish feels and tastes indulgent enough to warm you up and lift your spirits on a cold day.
You can make this entire recipe in a single pot, and it takes less than 30 minutes to make as well. It is quick and easy, but most importantly filling and hearty. Loaded Potato Soup is one of those must have meals during wintertime.
If you're looking for a lighter, low carb dish containing the same flavors, checkout my recipes for Loaded Mashed Cauliflower or Loaded Cauliflower Bites.
Homemade Potato Soup topped with bacon, cheese, and chives is the best family meal to serve on busy nights, and it's definitely a dish which children love as well. If you enjoy it, you may also like Steak and Potato Soup.
Why This Recipe Works
This is a simple, one pot recipe. Prepping and cleaning up afterwards will be quick and easy too.
Loaded Potato Soup is hearty and filling. It tastes creamy, cheesy, and savory.
This is a kid friendly meal – they will love it. You may choose which extra toppings you would like to include too.
How To Make Loaded Potato Soup
Ingredients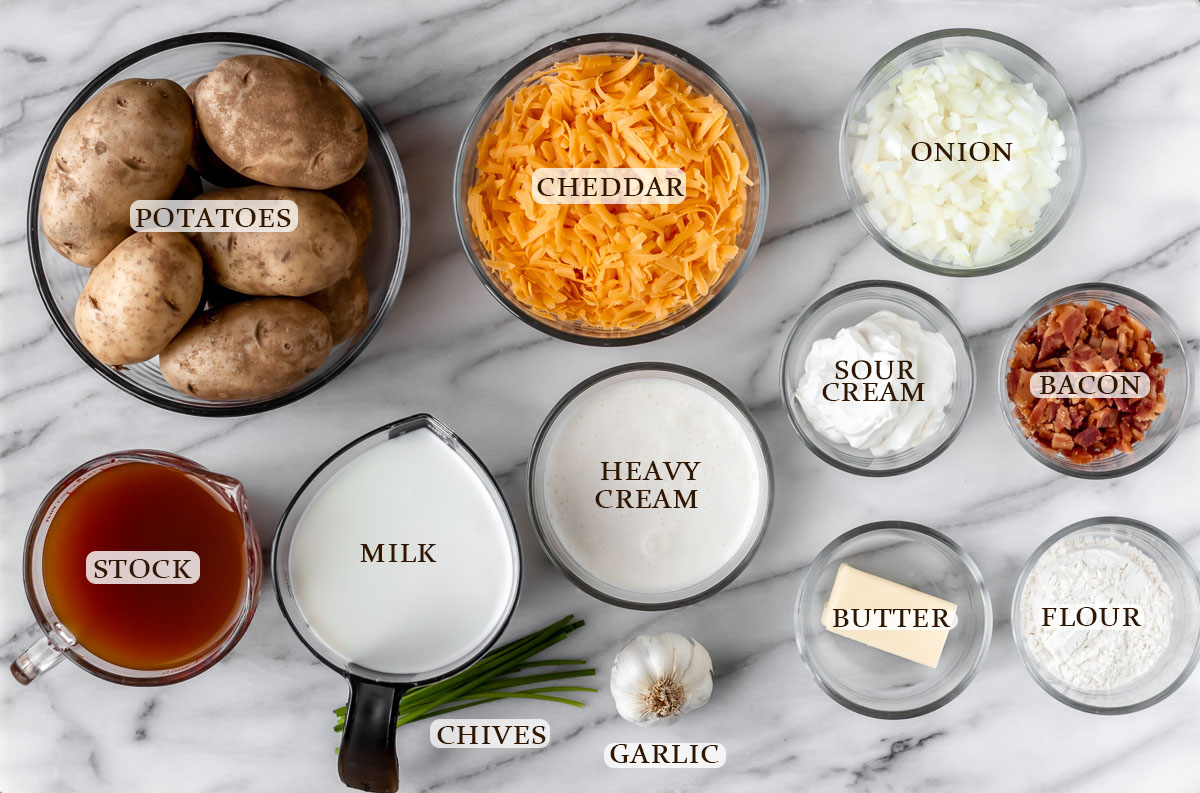 Potatoes: use Russet or Yukon gold potatoes for the best results with this particular recipe.
Onion
Garlic
Stock: you can use either chicken stock or vegetable stock.
Butter
Flour
Milk
Heavy Cream
Sour Cream
Cheddar Cheese
Bacon
Chives
Salt and Pepper
The entire recipe and instructions can be found in the recipe card at the bottom of this post. You can also print the recipe from the card, if needed.
Prep!
Peel the potatoes and dice them into about 1/2-inch cubes. Dice the onion a bit smaller into about 1/4-inch pieces and mince the garlic.
Shred the cheddar cheese.
Chef's Tip: it is always best to shred cheese from a block when you are going to be melting it. Pre-shredded bags of cheese contain starch which can make them grainy when melted.
If you are not using leftover or pre-cooked bacon, you will need to cook and crumble that, as well.
Create!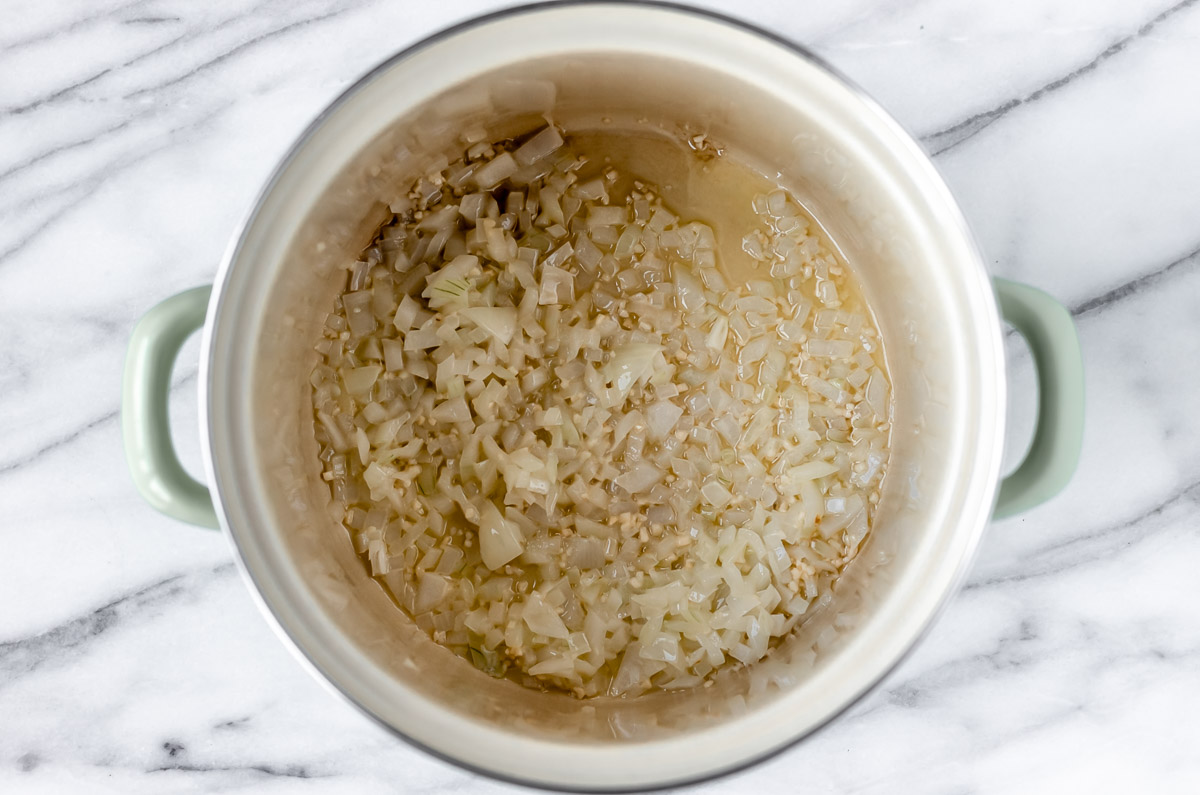 Heat a large pot or Dutch oven over medium heat. Add the butter. Once melted, add the onions and cook until softened and translucent, about 3-4 minutes, stirring frequently.
Stir in the garlic and cook another 30-60 seconds, stirring constantly.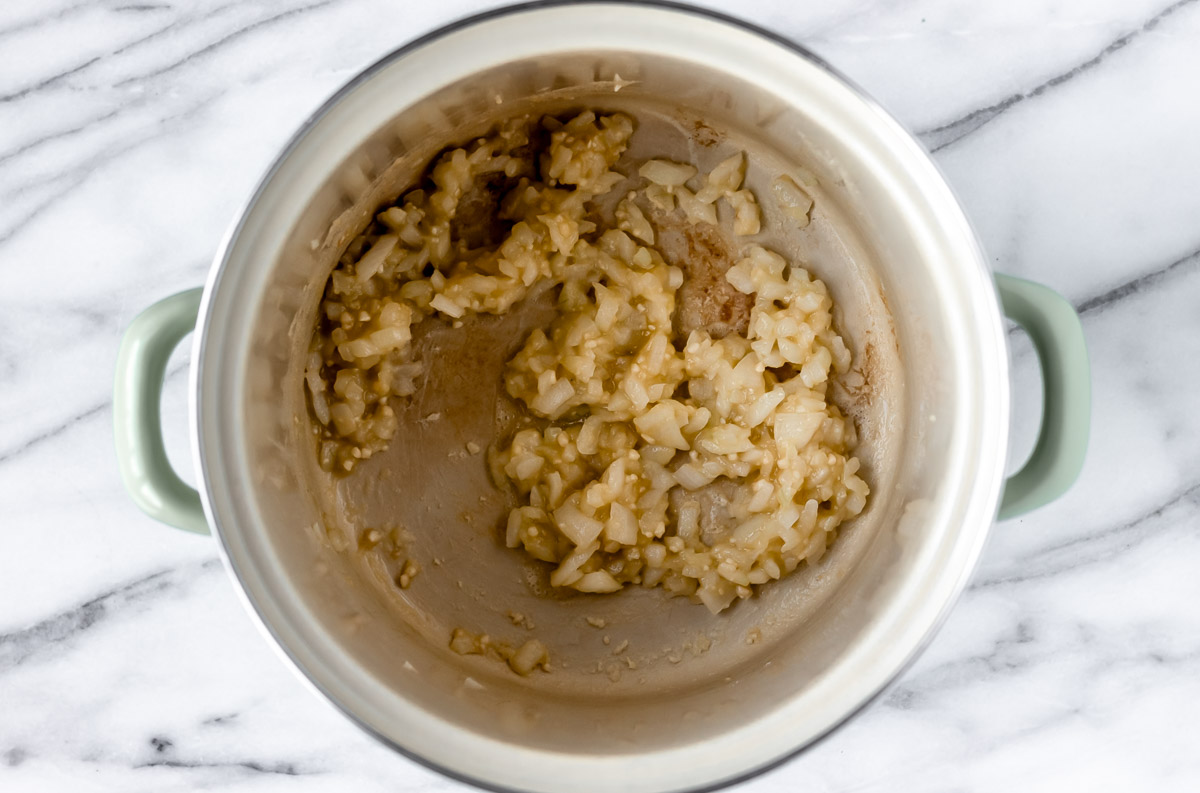 Sprinkle in the flour and continue to cook, stirring often, until it just starts to brown, about 2 minutes.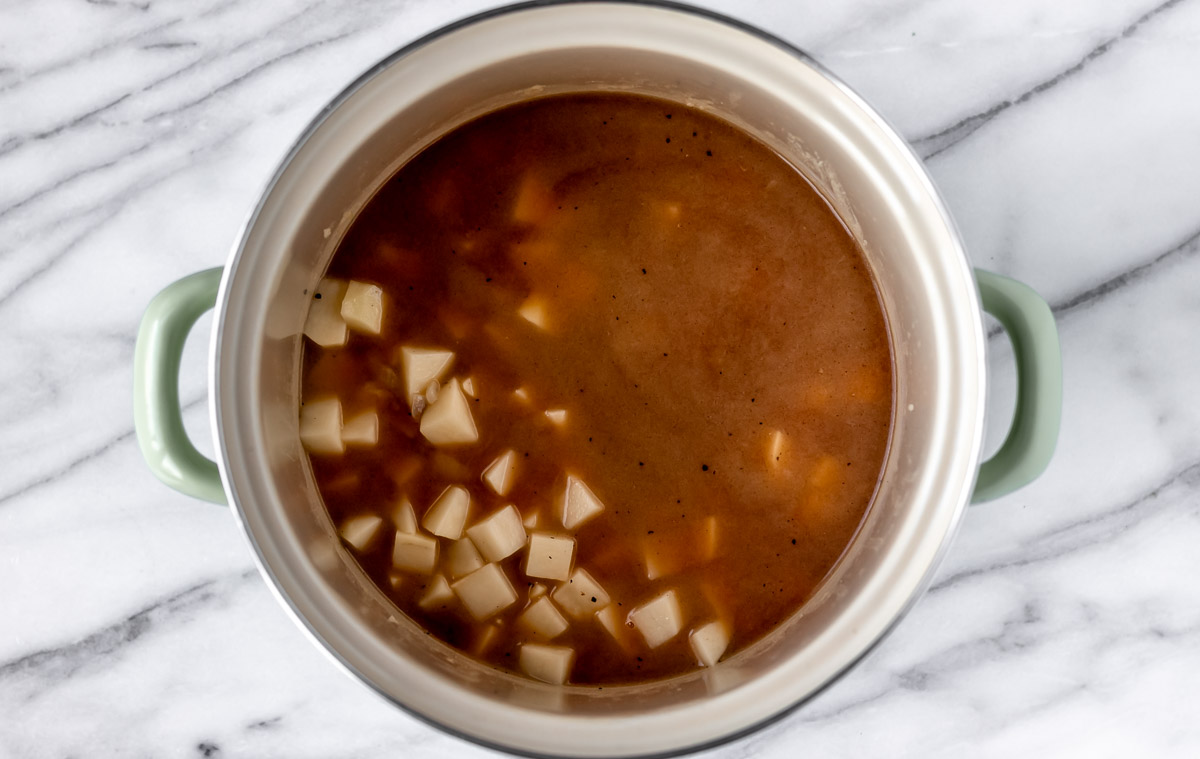 Whisk in the stock, breaking up any lumps, and add the potatoes. Increase the heat and bring to a boil. Cook until the potatoes are fork-tender, about 10-12 minutes, stirring often.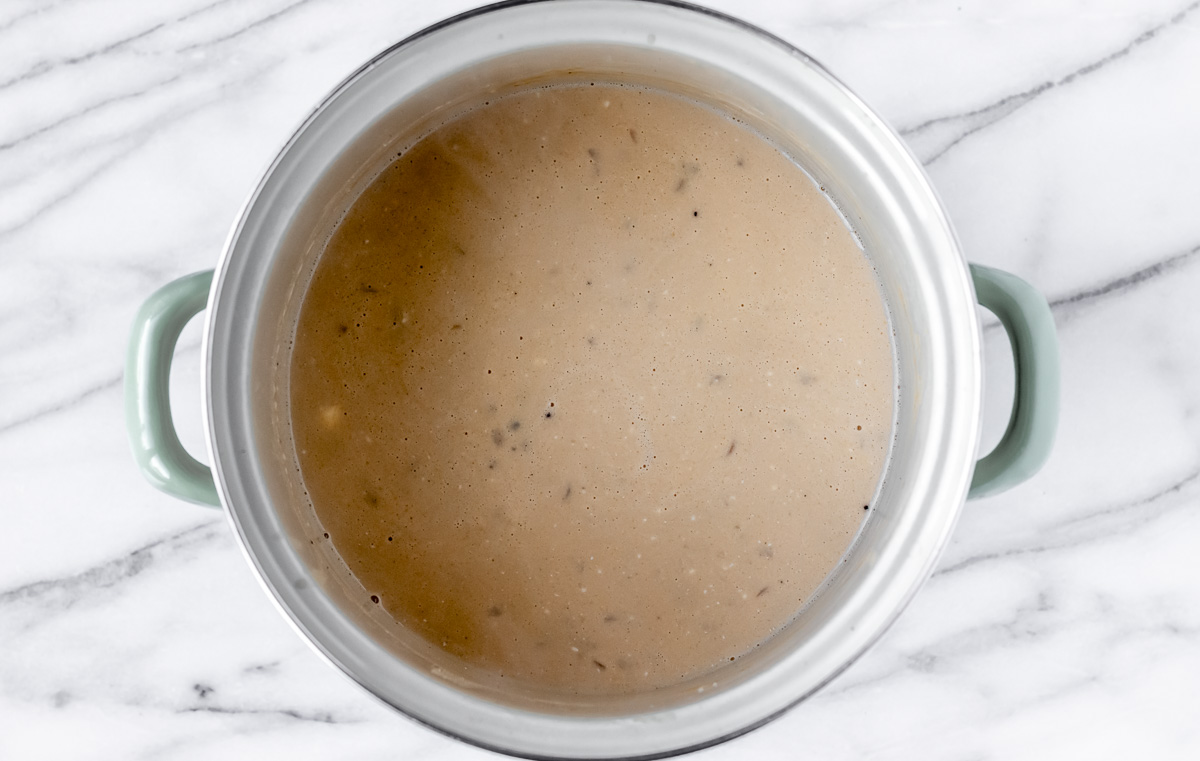 Once the potatoes are tender, stir in the milk, heavy cream and sour cream. Cook 1-2 minutes to heat through.
Stir in 3/4ths of the cheese until melted and fully blended.
Present!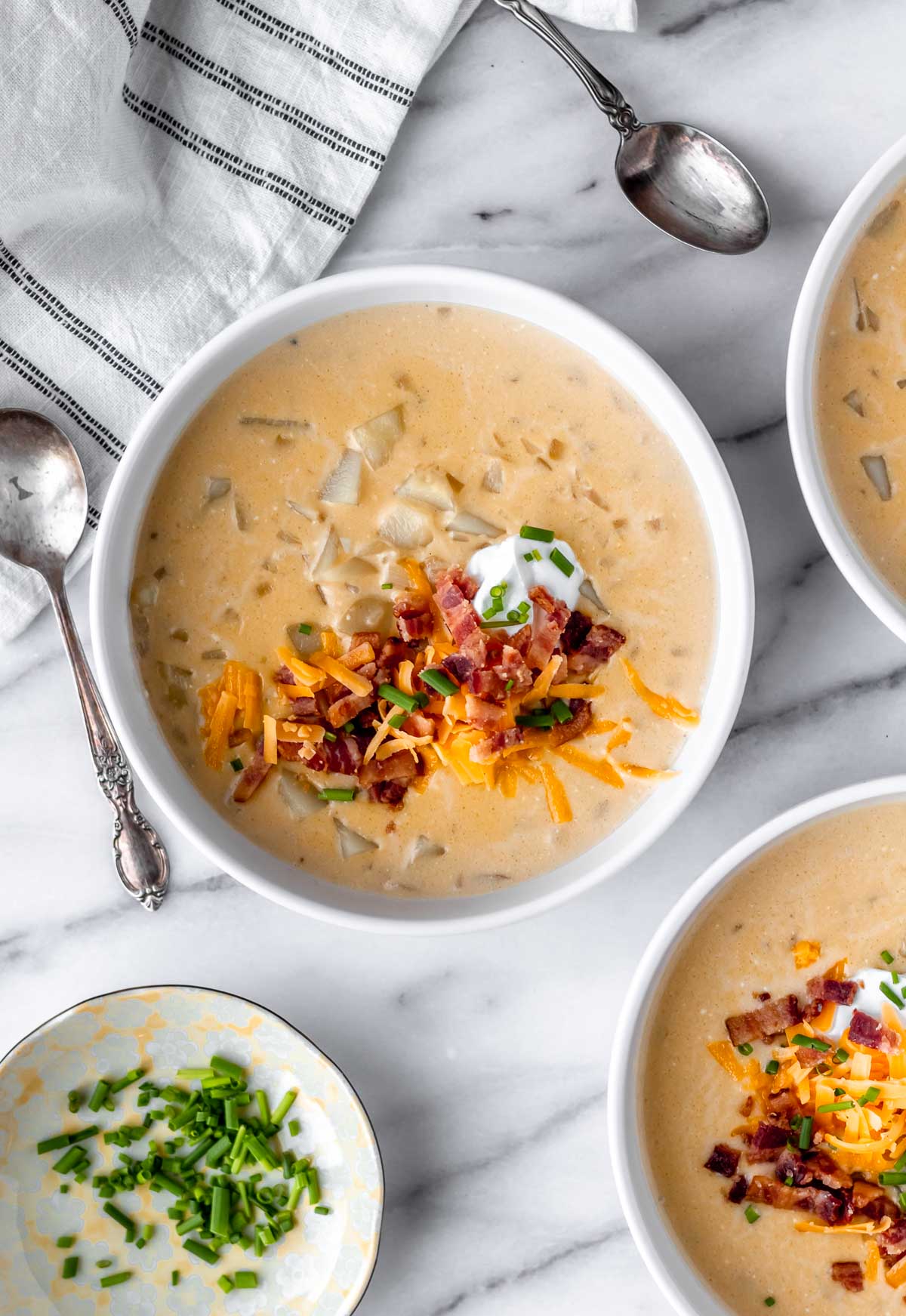 Serve topped with the reserved cheddar cheese, bacon, chives and additional sour cream, if desired.
Tips and Techniques
Shred the cheddar cheese from a block for the best results.
Russet or Yukon gold potatoes are the best options for this particular recipe.
Store leftovers in an airtight container in the refrigerator. Consume within 3-4 days.
FAQ's
What Are The Best Potatoes For Soup?
The best potatoes for soup are either Russet, Yukon gold or red potatoes.
Can You Freeze Potato Soup?
While potato soup can be frozen, it is not recommended. When reheated, the texture will likely turn grainy and unpleasant.
More Soup Recipes
Love this Loaded Potato Soup recipe? Follow me on Pinterest, Instagram, and Facebook for more!
If you try this recipe, I would really appreciate it if you would please leave a comment and star rating. Thanks!