Instant Pot Vegetable Beef Soup is a quick, easy recipe that tastes as if you spent hours making it. With melt-in-your-mouth tender beef and plenty of delicious vegetables, it's sure to be a family favorite!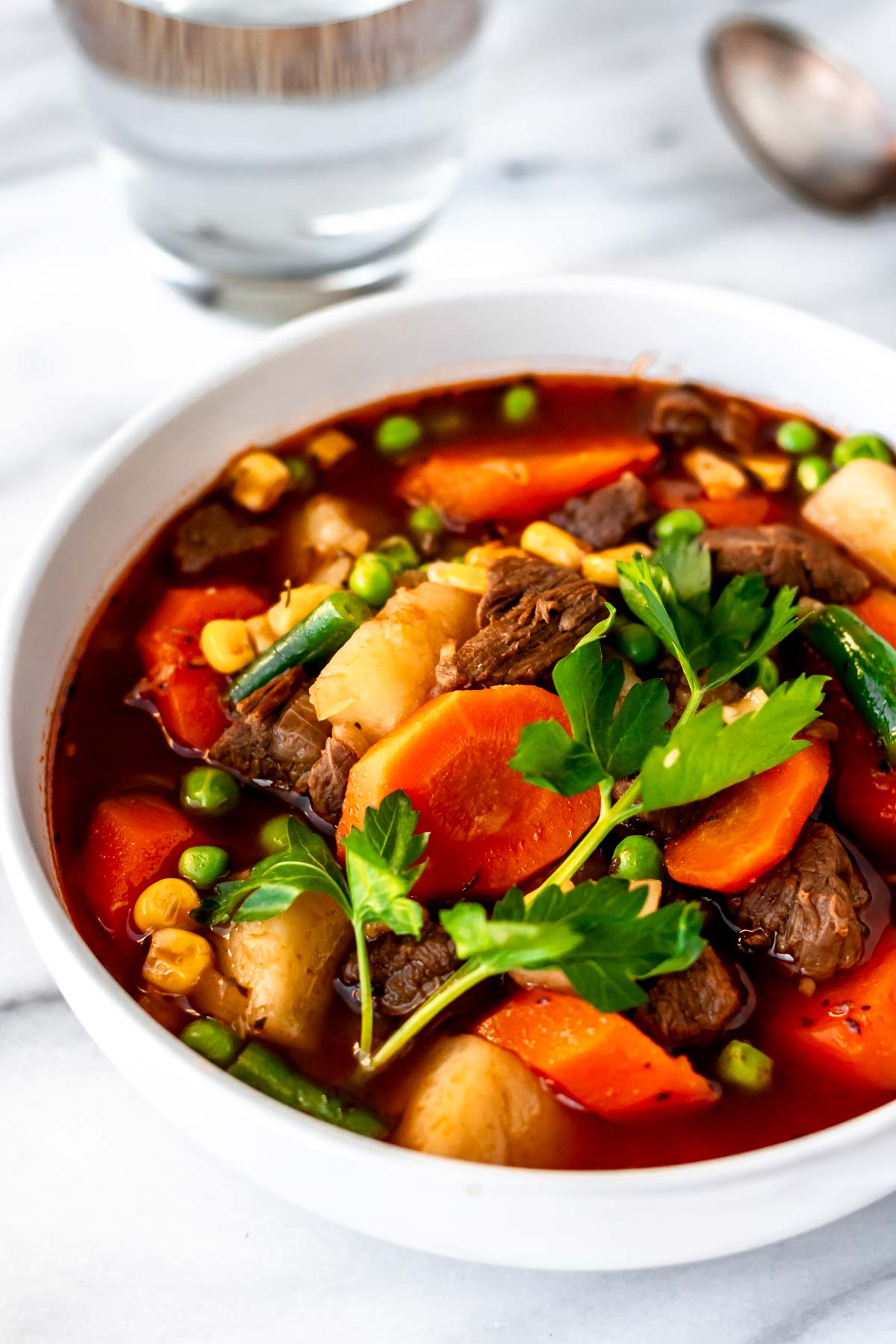 This post contains affiliate links. See our Disclosure Statement for more information.
This classic Vegetable Soup is packed with healthy ingredients and it's super easy to make in an Instant Pot. Once your Instant Pot is fully pressurized, the soup only takes 10 minutes to finish cooking.
Homemade Vegetable Soup is full of veggies, tender beef, and flavor. Plus, it's comforting and good for you.
I grew up eating this soup, and let me tell you, it pairs perfectly with buttered crusty bread. Instant Pot Vegetable Soup is the perfect meal to make on a cold day, when you need help warming up. It's a favorite family meal too, and a wonderful way to get children to eat more veggies.
If you'd prefer a stew, try my similar, heartier recipe for Instant Pot Homemade Beef Stew.
Why This Recipe Works
You can swap your favorite vegetables into this recipe pretty easily. I do, however, recommend adding in smaller, more delicate vegetables after the pressure cooker has done it's thing. For example, I mix in frozen peas and corn afterwards, as you will see in the instructions below.
Classic vegetable soup is a childhood favorite that adults love as well. This Instant Pot Vegetable Beef Soup recipe is a great recipe to help get your kids to eat more vegetables.
This recipe is super quick to make, yet tastes as if it's been simmering on the stove top for hours.
How to Make Vegetable Beef Soup In An Instant Pot
Ingredients
Beef: cut into bite size pieces. You can usually find stew meat already cut at your local grocery store. You can also cut it yourself. Beef chuck roast works great in this recipe.
Fresh Vegetables: potatoes, carrots, onion
Frozen Vegetables: I use a combination of corn, peas and green beans
Garlic
Tomato Sauce
Worcestershire Sauce
Dried Herbs: basil and thyme
The entire recipe and instructions can also be found in the recipe card at the bottom of this post. You can also print the recipe from the card, if needed.
Prep!
There is a little bit of prep work for this recipe. You'll need to chop the onion and mince the garlic. You will also need to dice the potato and cut the carrots.
Chef's Tip: try to keep all of the vegetables roughly the same size so that they all cook evenly. The carrot slices should be about 1/4-inch thick.
Season the beef with salt and pepper.
Create!
Turn your Instant Pot onto sauté and add the olive oil.
Add the seasoned beef to the hot pot. Cook until just browned, about 3-4 minutes.
Mix in the onion, garlic, and carrots. Cook an additional 2-3 minutes.
Add all of the remaining ingredients except for the frozen mixed vegetables.
Chef's Tip: wait until the soup is done cooking before adding any additional salt and pepper.
Put the lid on the Instant Pot and set to cook on high pressure for 10 minutes.
Once it's done cooking, let it do a natural release for about 20 minutes. Then, turn the valve to do a final quick release.
Open the lid and immediately stir in the frozen vegetables. Taste and season with additional salt and pepper, if necessary.
Present!
Ladle soup into individual bowls topped with fresh parsley.
Tips and Techniques
Try to cut all of the vegetables roughly the same size so that they all cook evenly.
Wait until the soup is done cooking before adding any additional salt and pepper.
Store leftover soup in an air-tight container in the refrigerator. Use within 3-4 days.
FAQ's
What Cut Of Beef Is Best For Vegetable Beef Soup?
You can often find already cut pieces of stew meat at your local grocery store. If you can't find it already prepared, the cut of beef that work best for Vegetable Beef Soup is chuck roast.
Do You Need To Brown Beef Before Cooking It In An Instant Pot?
Browning the beef before cooking it in an Instant Pot actually brings out more flavor. While this step can be skipped, is not recommended.
Can You Freeze Vegetable Beef Soup?
Yes, you can easily freeze Vegetable Beef Soup. Allow the soup to cool before adding it to freezer bags or airtight containers. Place in the freezer and use within 4-6 months. Be aware that the texture may change, especially that of the potatoes, when thawed and reheated.
More Instant Pot Beef Recipes to Try
Love this Instant Pot Vegetable Beef Soup recipe? Follow me on Pinterest, Instagram, and Facebook for more!
If you try this recipe, I would really appreciate it if you would please leave a comment and star rating. Thanks!
This recipe was originally published on July 26, 2018. It was updated with more thorough instructions, tips, techniques, and FAQ's in November 2019. New images and more detailed information was added in February 2022.