Cod Chowder is a quick, easy, and filling fish soup recipe that the whole family is sure to love. Fresh cod fish gives this recipe incredible, yet mild flavor. This simple chowder is a delicious meal that can be enjoyed all year long.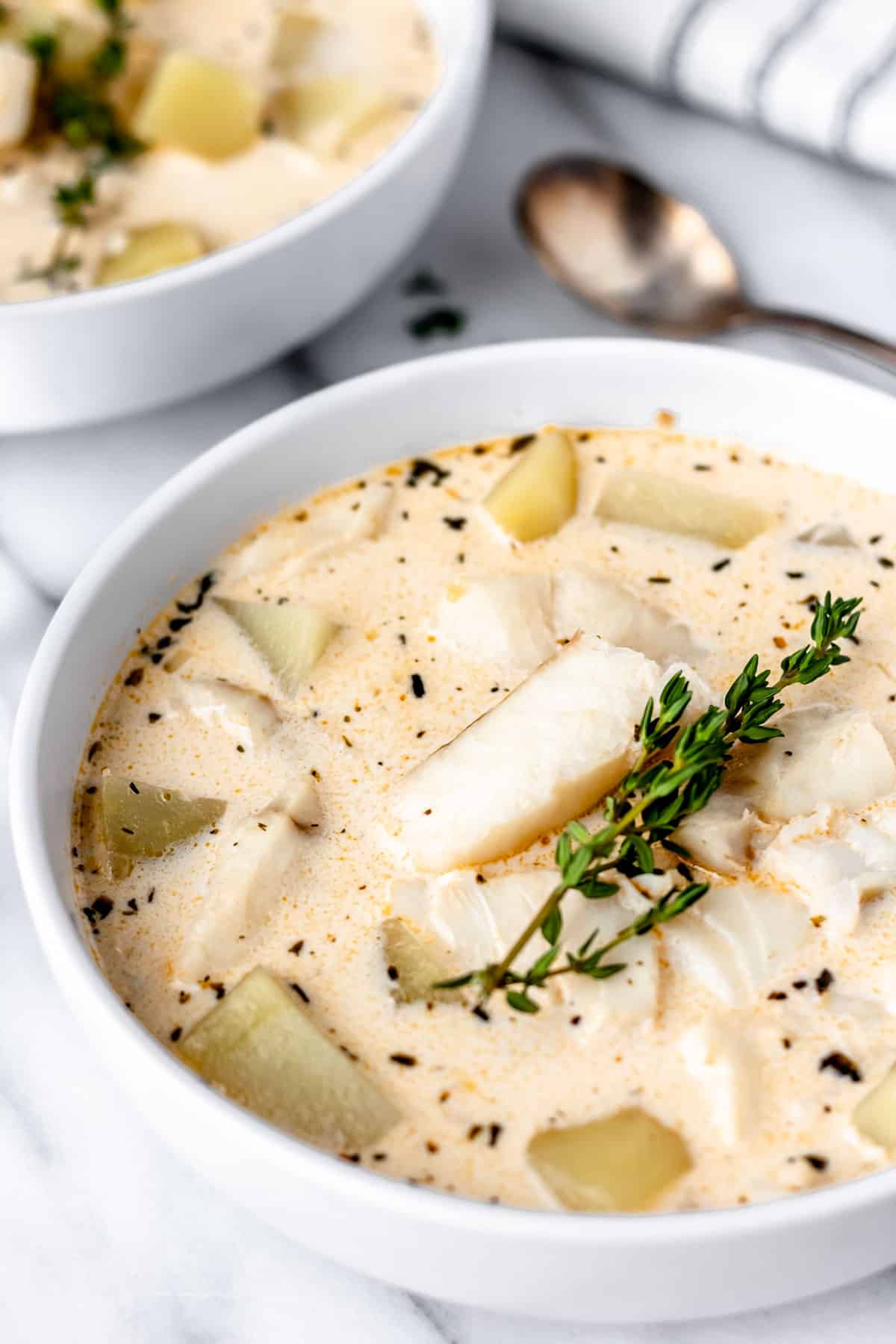 This post contains affiliate links. See our Disclosure Statement for more information.
Cod is such a wonderful fish to create recipes with. It's extremely mild so it can easily be added to a huge variety of dishes, including fish chowder and other seafood-based soups.
This cod stew is loaded with chunks of juicy fish and potatoes in a seafood and cream-based broth. Shallot, garlic and thyme add the perfect amount of savoriness to this recipe.
It's a delicious option during the fall and winter when comfort food is being craved, yet light enough to be enjoyed during spring and summer when fresh seafood is most popular.
The secret to cooking with cod is to use high quality, fresh fish. I buy almost all of the cod my family eats from Sitka Salmon Shares. They have a yearly subscription plan, but occasionally sell one-off boxes when they have excess supply. It's definitely more expensive, but is by far the best seafood I've had.
If you'd like to try cod in a variety of different ways, I highly recommend Broiled Cod with Lemon Garlic Butter Sauce, Cod Piccata, and Potato Crusted Cod.
Why This Recipe Works
Cod Chowder is a very easy recipe to make. It's made with simple ingredients, yet has incredible flavor. Surprisingly, it's not overly "fishy" in flavor.
Cod fish can be substituted with any other mild white fish you like or may have on hand. Halibut and other types of flounder work really well in this recipe.
This chowder is a family-friendly recipe that even kids will love. It's a filling dish that can served for lunch or dinner.
Step-By-Step Instructions
Ingredients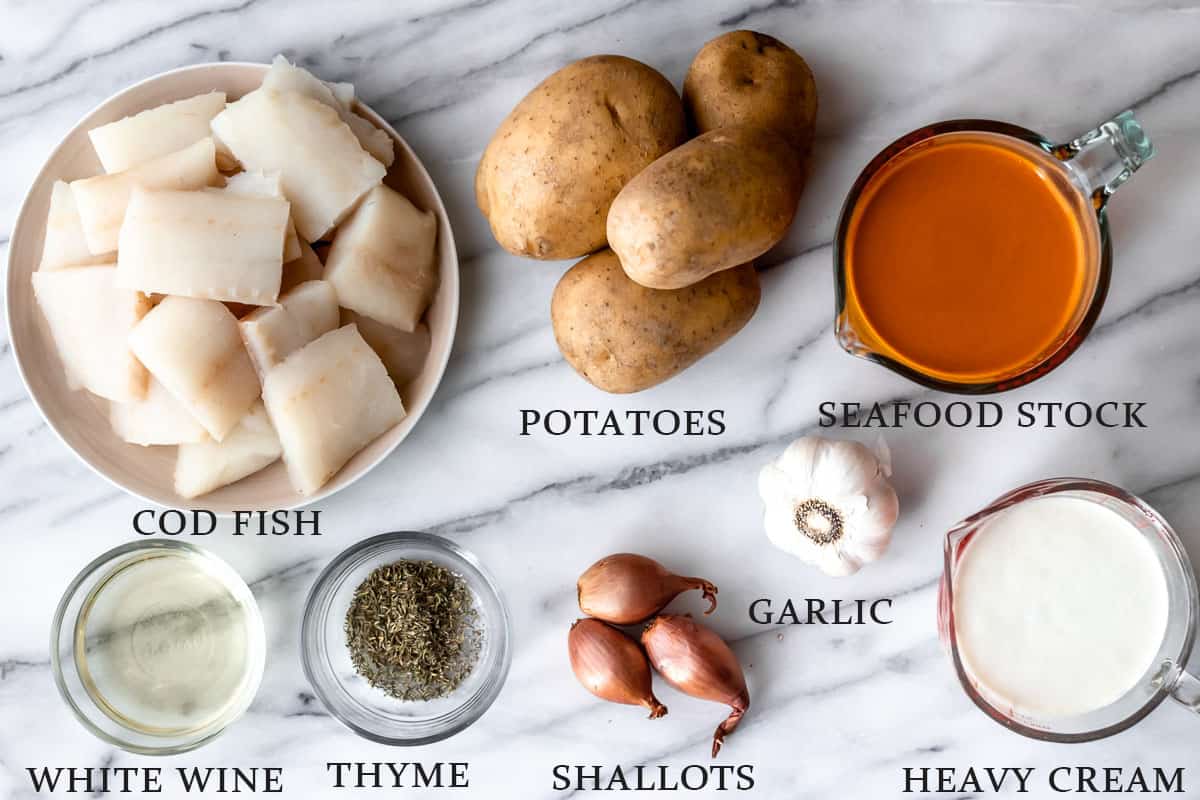 1 tablespoon butter
1/2 cup shallots, finely diced
2 cloves garlic, minced
1/2 cup white wine
2 cups seafood stock (seafood stock may be hard to find. I use shrimp bouillon to create a seafood broth, but you can also substitute clam juice, vegetable stock or chicken stock, if needed.
2 pounds potatoes, peel and cut into 1-inch cubes. Russet, Yukon gold or red potatoes are best for soups.
1 teaspoon dried thyme
1 1/2 pounds cod fish, cut into 2-inch pieces
1 1/2 cups heavy cream
salt and pepper
The entire recipe and instructions can also be found in the recipe card at the bottom of this post. You can also print the recipe from the card, if needed.
Prep!
Dice the shallots, mince the garlic and cube the potatoes. Cut the cod into approximately 2-inch pieces (this doesn't have to be exact as it will fall apart as it cooks).
If you need to make seafood stock from bouillon, you will also want to do that and set it aside.
Create!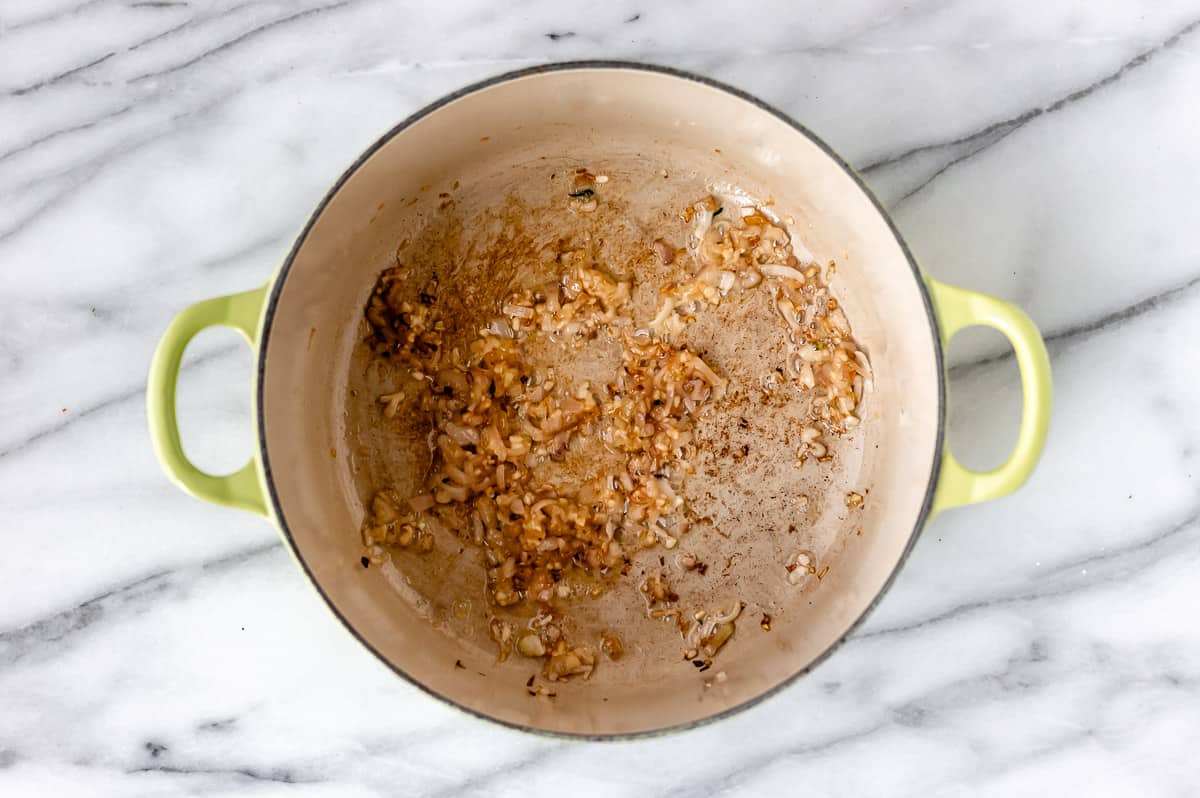 Melt the butter in a Dutch Oven or stock pot over medium heat.
Add the shallots and cook, stirring frequently, for about 2 minutes. Stir in the garlic and cook an additional 30-60 seconds.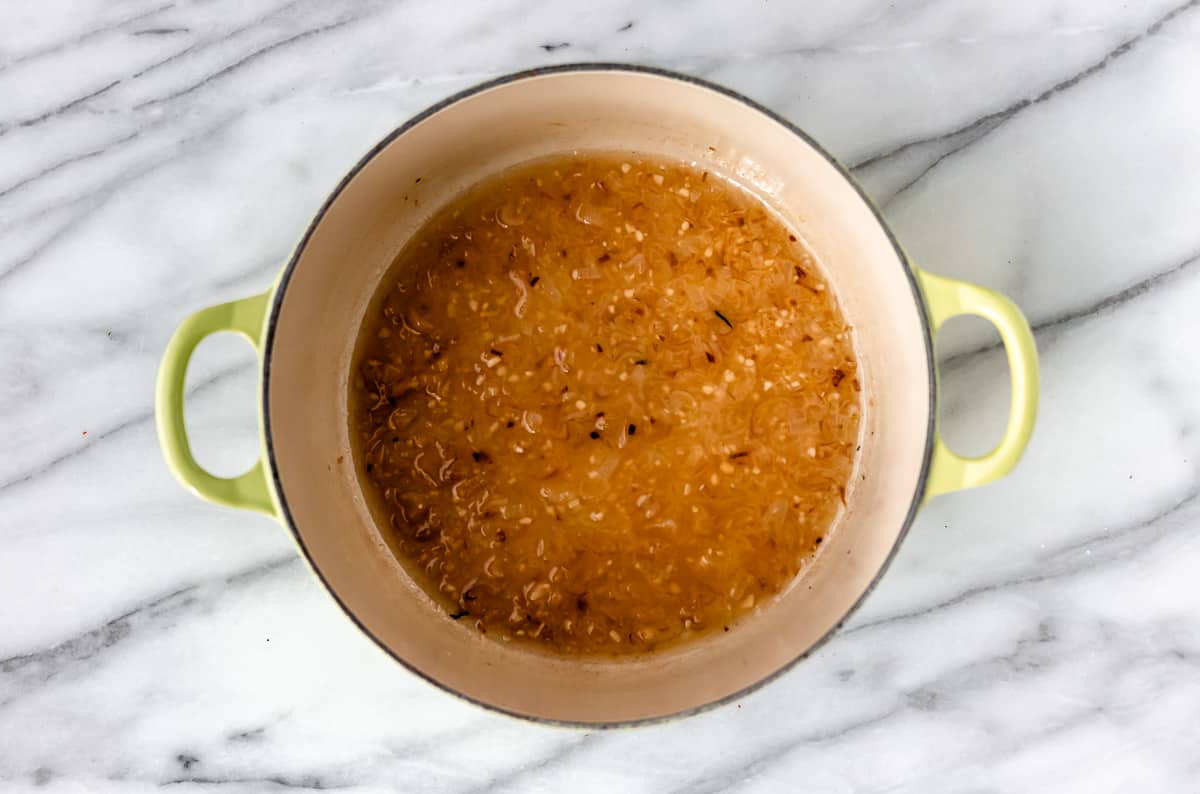 Carefully pour in the wine and cook until reduced by half, scrapping up any browned bits stuck to the bottom of the pan.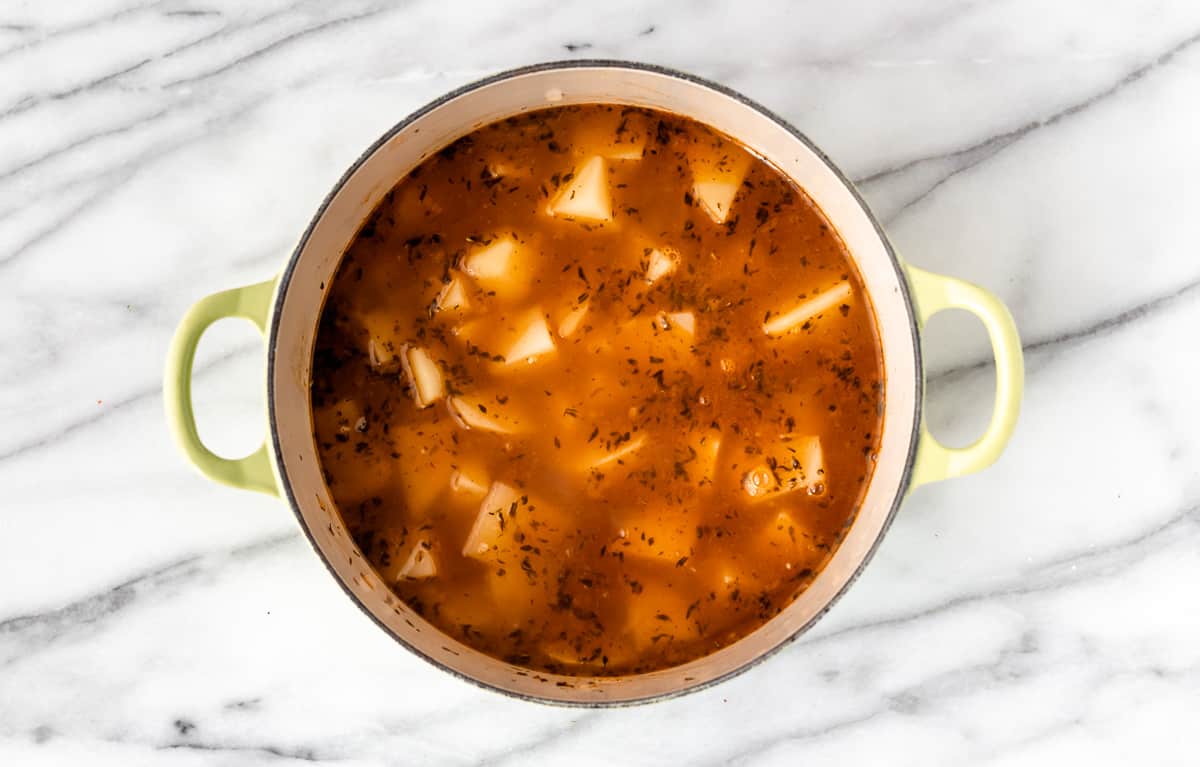 Once reduced, add the seafood stock, potatoes and thyme. Season with salt and pepper.
Chef's Tip: if you are using stock that contains salt, only add a small amount of salt and pepper. You can always add more at the end, if needed.
Bring to a boil, then reduce heat to simmer until the potatoes are almost finished cooking. It's okay if they are still a little hard as they will finish cooking once the cod is added.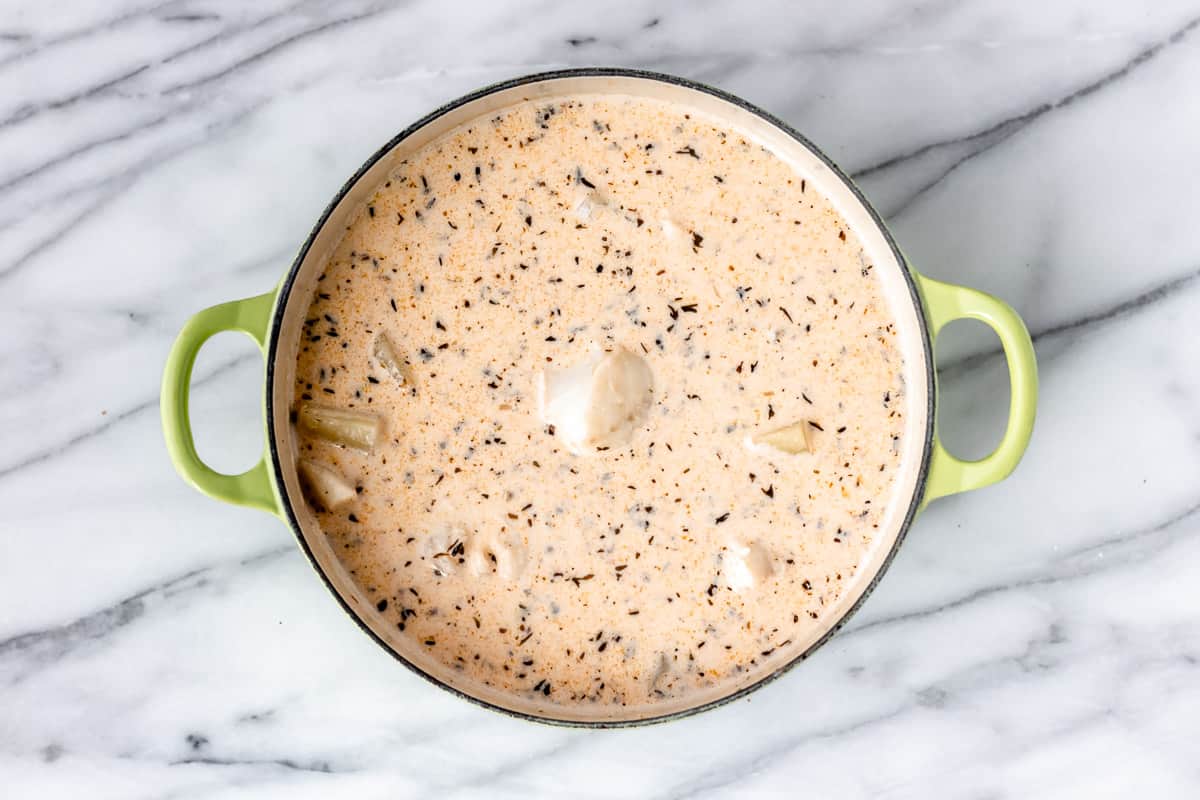 Add the heavy cream to a small pot and heat on medium until warm, not simmering or boiling.
Season the cod lightly with salt and pepper and add to the pot along with the warmed cream.
Continue to cook on low for about 7-10 minute or until the fish is coked through and the potatoes are tender. The fish will fall apart some once fully cooked.
Taste and adjust seasoning, as needed.
Present!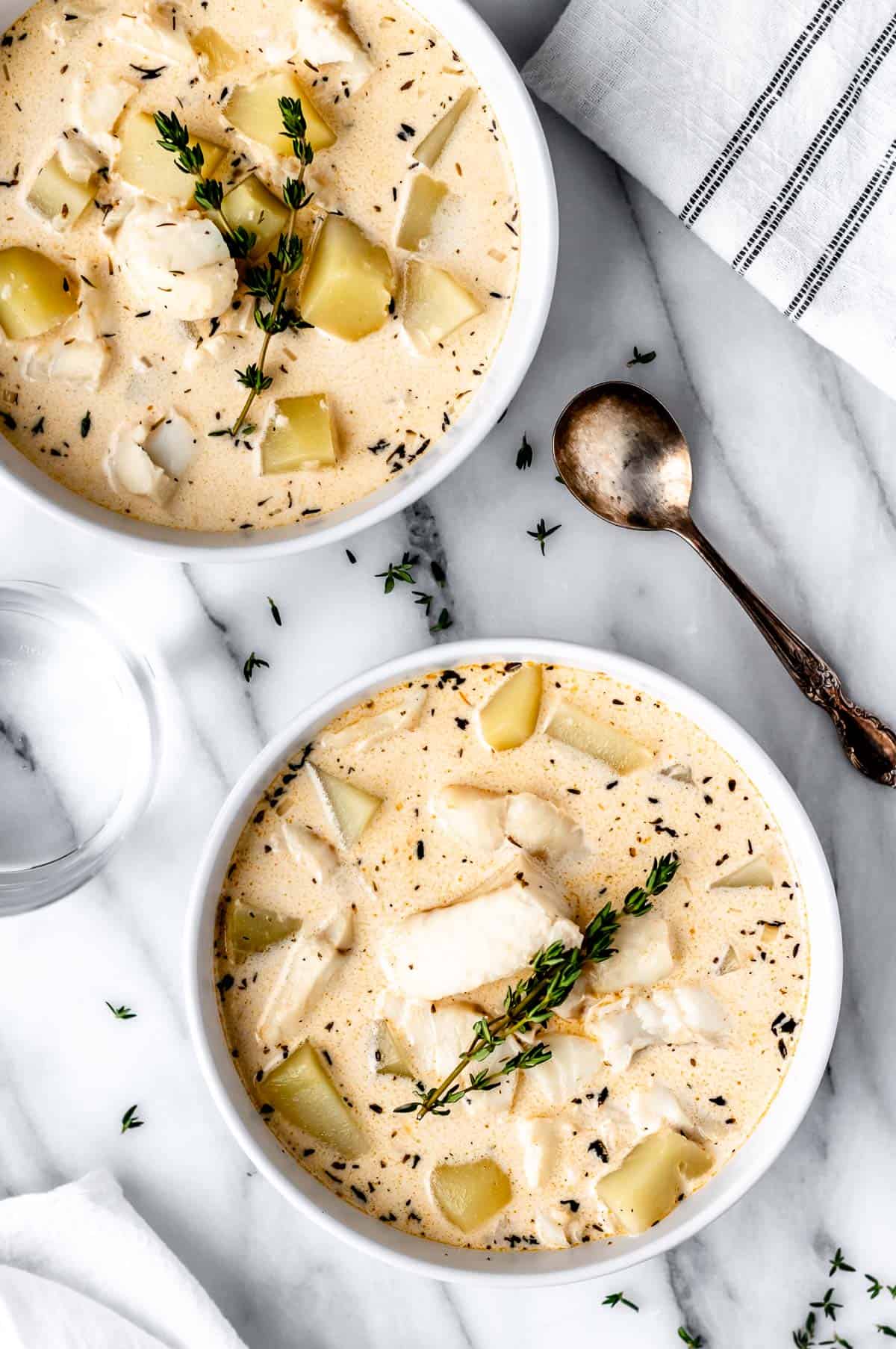 Allow the chowder to cool some, then serve topped with fresh thyme or cooked, crumbled bacon, if desired.
Tips and Techniques
Use the freshest cod fish you can find. Other types of mild, white fish can be used in place of cod if preferred.
If fish stock can't be found, you can substitute clam juice, vegetable stock or chicken stock. The overall flavor of the chowder will vary some.
Store leftovers in an airtight container in the refrigerator. Consume within 3-4 days for best results.
FAQ's
What Type Of Potatoes Are Best For Soup?
The best potatoes for soup are either Russet, Yukon gold or red potatoes.
Can You Freeze Fish Chowder?
Due the addition of heavy cream in fish chowder, freezing is not recommended. While it can be frozen, the cream tends to become grainy or separate when thawed and reheated.
What Do You Serve With Fish Chowder?
Crusty bread and butter or crackers, such as oyster crackers, pair wonderfully with almost any type of soup or chowder. Salads or light sandwiches such as Cucumber Tea Sandwiches are also a great option.
More Cod Fish Recipes
Love this Cod Chowder recipe? Follow me on Pinterest, Instagram, and Facebook for more!
If you try this recipe, I would really appreciate it if you would please leave a comment and star rating. Thanks!