Make your favorite dessert even better! These oatmeal peanut butter chocolate chip cookies are filled with fiber and protein, and have the perfect balance of sweet and salty flavors.
This post contains affiliate links. See our Disclosure Statement for more information.
It's ok to have a sweet tooth and give into it once in a while. Forget about villainizing desserts; they have their place. When you make them with good-for-you ingredients, you can indulge in a few of them guilt-free!
These cookies have the classic combination of peanut butter and chocolate. I've used that combo before to make lots of recipes, like these Chocolate Peanut Butter Waffles. It just works so incredibly well.
The whole-grain oats fortify the cookies with extra fiber and give them an incredible texture at the same time. These are the best chocolate chip cookies you will ever make. Think about everything you love about peanut butter cookies and chocolate chip cookies – then imagine them combined into one!
Yup, they are that good. These cookies are soft and chewy when they are warm and crispy when they cool down.
If you are crazy about chocolate, you might like my Dark Chocolate Chip Peanut Butter Cookies. They are extremely rich! You will also find this iconic duo in my Peanut Butter Energy Balls With Chocolate Chunks.
Why This Recipe Works
These cookies are a simple drop cookie recipe. You can mix everything together quickly, without having to give it much thought. They are so easy to make that even beginning bakers can make them perfectly every single time. They are a no-fail cookie recipe.
Plus, these oatmeal peanut butter chocolate chip cookies are loaded with flavor and texture. From the salty peanut butter, crispy oatmeal to the sweet and chewy chocolate chips, there is something for everyone.
They are perfect for parties, celebrations and cookie exchanges.
Step-By-Step Instructions
Ingredients
1 cup all purpose flour
1 cup old fashioned rolled oats
1/2 teaspoon baking powder
1/2 teaspoon baking soda
1/4 teaspoon salt
1/4 cup sugar
1/2 cup brown sugar (packed)
1/2 cup unsalted butter (room temperature)
1/2 cup creamy peanut butter
1 egg
1 teaspoon vanilla extract
1 cup semi-sweet chocolate chips
The entire recipe and instructions can also be found in the recipe card at the bottom of this post. You can also print the recipe from the card, if needed.
Prep!
Preheat your oven to 350°F.
Line a baking sheet with a Silpat mat or parchment paper.
Create!
Combine the flour, rolled oats, baking soda, baking powder, and salt in a small bowl. Set aside.
In the bowl of an electric mixer fitted with a paddle, add the sugar, brown sugar, butter, and peanut butter. Beat on medium until smooth.
Add the egg, then the vanilla extract.
Gradually add the dry ingredients to the wet until everything is well combined.
Stir in the chocolate chips with a spoon or spatula.
Drop by the tablespoon full onto a baking sheet 1-2 inches apart. Flatten slightly as these cookies do not spread much when baking.
Press some extra chocolate chips and oats into the tops of each cookie before baking, if desired.
Bake for 12-15 minutes or until the bottoms are lightly browned.
Let cool for 5 minutes before removing from the baking sheet to a cooling rack.
Present!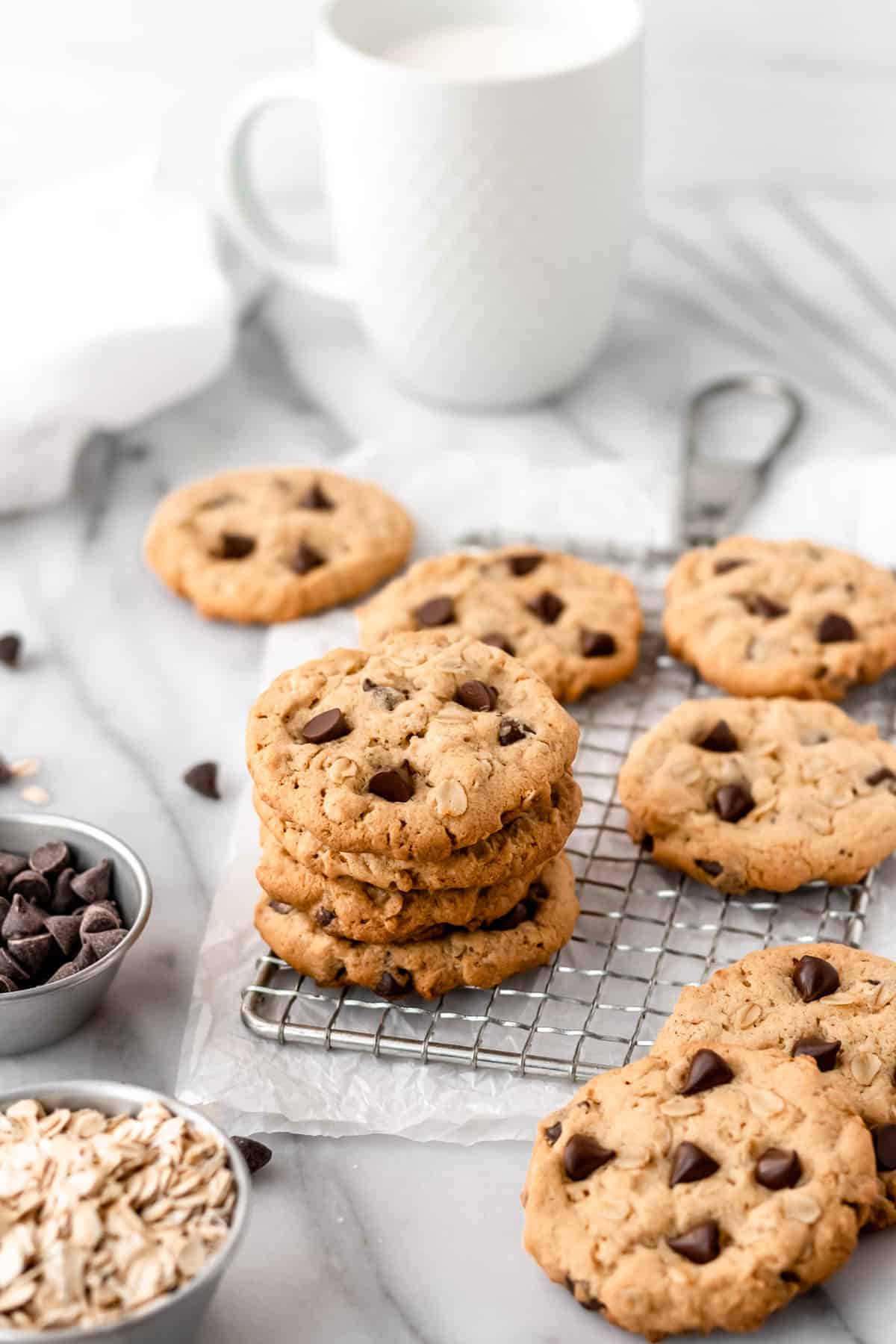 Enjoy warm or at room temperature.
Tips and Techniques
Be sure to set the egg and butter out ahead of time to come to room temperature for best results.
Measure the flour by spooning it into a measuring cup. Do not pack it or the cookie batter will be too dry.
This recipe has not been tested with quick oats. If you choose to use quick oats, the final results may be completely different.
Store cookies in an airtight container at room temperature. Use within a week for best results.
FAQ's
Is It Better To Use Salted or Unsalted Butter In Cookie Recipes?
Most recipes call for unsalted butter and have salt listed separately in the ingredient list. It's best to use unsalted butter when it's not specified but salt is also listed as an ingredient.
Should I Use Light Brown Or Dark Brown Sugar In Cookie Recipes?
Light brown and dark brown sugars are interchangeable in recipes. Dark brown sugar contains more molasses so will be stronger in flavor.
Can You Freeze Chocolate Chip Cookies?
Chocolate chip cookie dough can be frozen for up to 3 months.
Baked chocolate chip cookies can be frozen for up to 3-4 weeks. Be sure to freeze them separated on a baking sheet before transferring to a freezer bag or airtight container.
More Cookie Recipes
Love this Oatmeal Peanut Butter Chocolate Chip Cookies recipe? Follow me on Pinterest, Instagram, and Facebook for more!
If you try this recipe, I would really appreciate it if you would please leave a comment and star rating. Thanks!
This recipe was originally published on October 4, 2017. It was updated with an improved recipe, step-by-step instructions, tips, techniques and FAQ's in August 2022.