Lofthouse Cookies are soft, fluffy, sweet, melt in your mouth sugar cookies. They are frosted with a creamy, smooth, rich and sweet, buttercream frosting and finished off with sprinkles for that signature Lofthouse cookie look.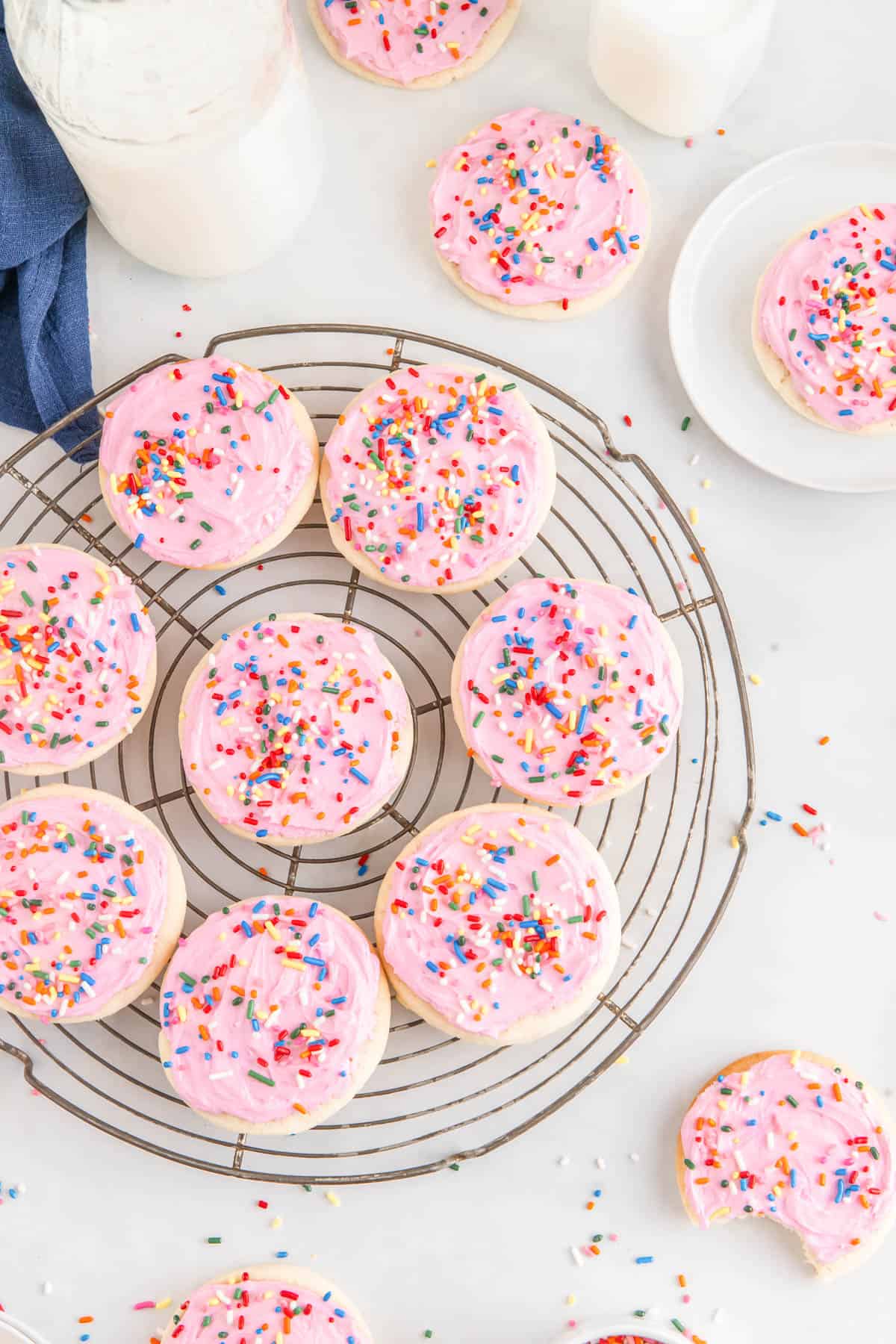 This post contains affiliate links. See our Disclosure Statement for more information.
Whenever you're craving sugar cookies, these are definitely the ones you should make. Not only are they frosted with a pink frosting similar to Lofthouse's traditional frosting, but they are just as incredibly soft. They melt in your mouth after each bite.
Lofthouse cookies are my son's favorite kind of cookies, so I knew we had to make a copycat – and we did. It's nearly identical!
Even though Lofthouse cookies have a unique texture that is tough to describe, they're often compared to a combination of a cupcake and a cookie.
We did our best with this recipe to make sure that you get the flavor and texture you know and love when you bake a batch of these incredible cookies.
Why This Recipe Works
They are easy and fun to make with your kids. Kids love to measure and mix, but really love to decorate them.
This copycat recipe is just as delicious as the original.
These cookies super versatile making it easy to put your own spin on them. Change the color of the frosting, add some flavored extract to the frosting, or decorate them for holidays and special occasions.
Step-By-Step Instructions
Ingredients
Sugar Cookies
2 cups all purpose flour: we highly recommend using high-quality baking products like King Arthur brand for the best results.
1/2 cup cake flour: cake flour can be made by simply removing 1 1/2 teaspoons of flour and adding in 1 1/2 teaspoons of cornstarch. Whisk together before adding into the recipe.
1 tablespoon cornstarch
1/2 teaspoon baking powder
1/2 teaspoon salt
1/2 teaspoon baking soda
1 cup + 3 tablespoons granulated sugar
1/2 cup salted butter ( at room temperature): you can also use 1/2 cup of unsalted butter and add an extra 1/4 teaspoon of salt where salt is called for in the recipe)
3 tablespoons shortening: you can substitute melted butter
1 egg
1 egg yolk
5 tablespoons sour cream: you can substitute plain or Greek yogurt
1 teaspoon vanilla extract
1/4 teaspoon almond extract: recommended, but extra vanilla extract can be used instead
Frosting
1 3/4 cups powdered sugar
1/2 cup salted butter (at room temperature)
1 tablespoon melted butter
1 teaspoon vanilla extract
1 teaspoon heavy cream
1/2 teaspoon salt
The entire recipe and instructions can also be found in the recipe card at the bottom of this post. You can also print the recipe from the card, if needed.
Prep!
Set the butter out about an hour ahead of time to allow it come to room temperature.
You do not need to preheat your oven until later.
Create!
Cookies
In a large mixing bowl combine flour, cake flour, cornstarch, baking powder, salt and baking soda. Set aside.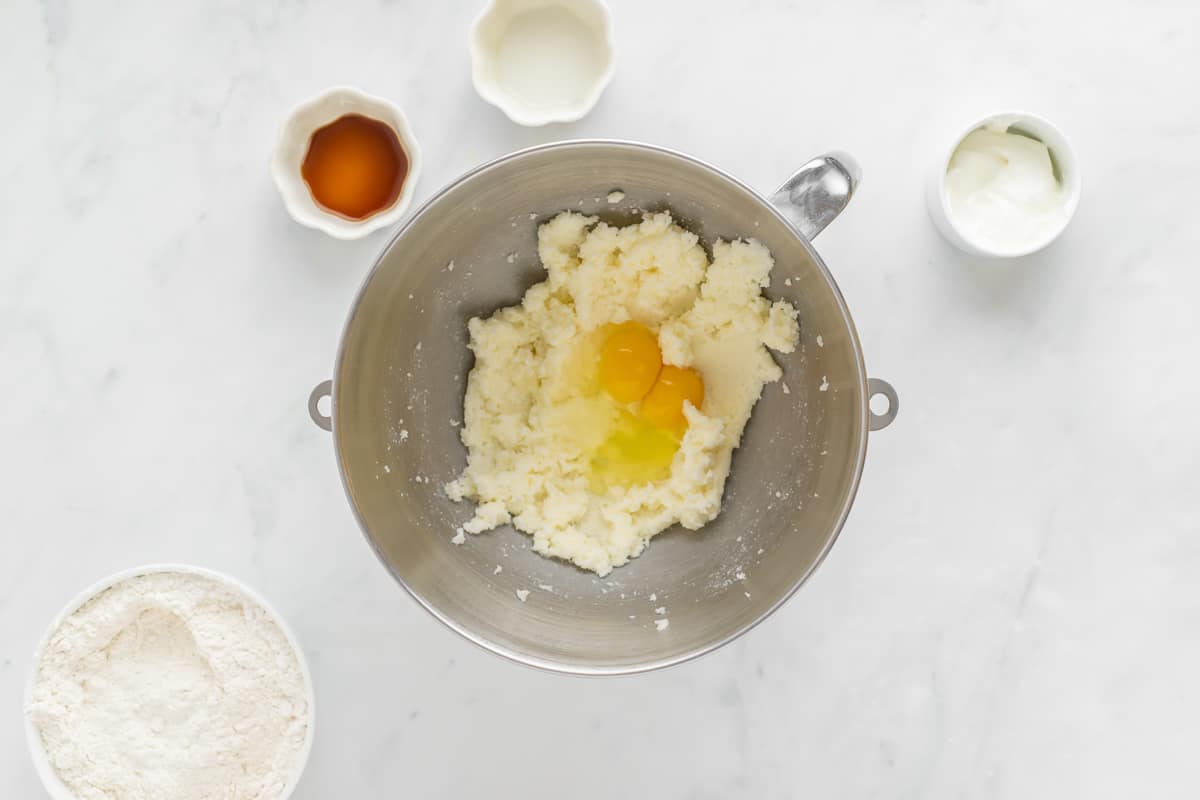 In the bowl of a stand mixer fitted with a paddle attachment combine the butter, sugar and shortening. Beat on medium speed for 2 minutes, or until light and fluffy.
Add in eggs and mix until just combined.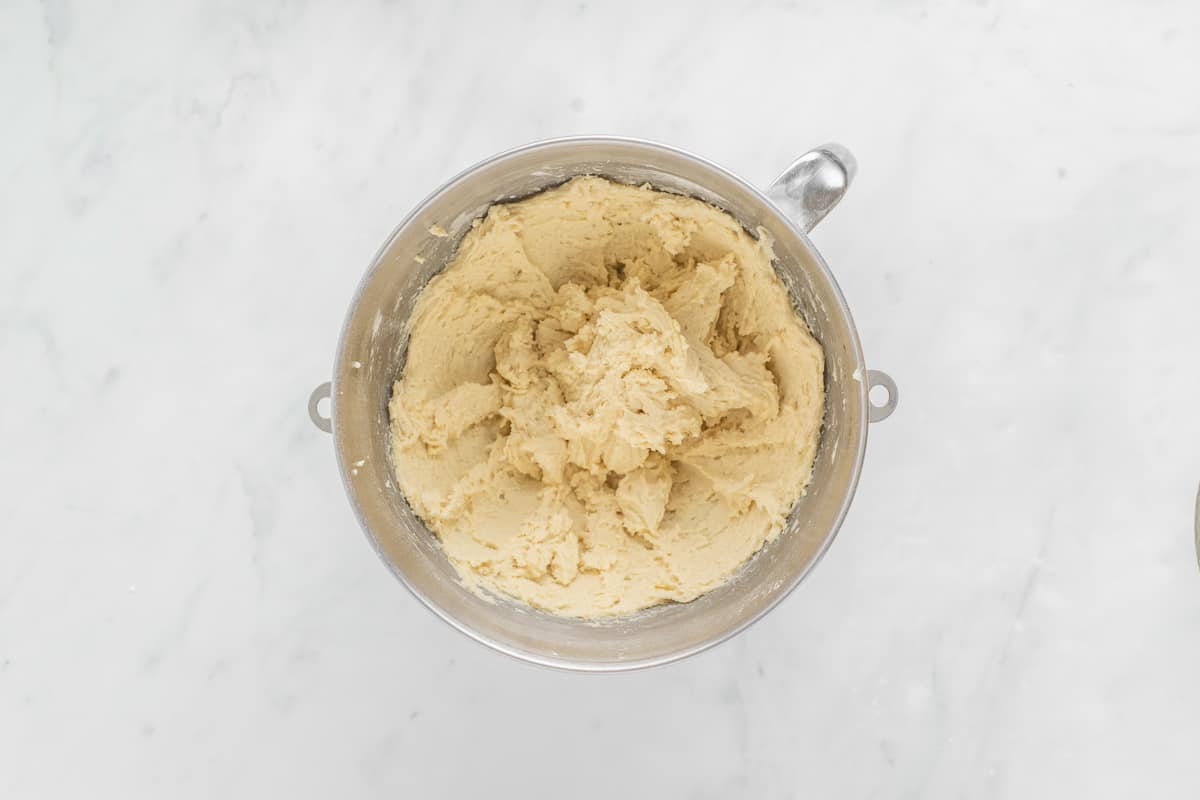 Add in sour cream, vanilla and almond extract and mix until incorporated.
With the mixer running on low speed, slowly add in the flour mixture and mix until just combined. Be careful not to over-mix.
Remove the bowl from the stand mixer and cover it with plastic wrap. Place the bowl into the refrigerator to chill for 1 hour.
Towards the end of the chill time, preheat the oven to 375°F.
Line a baking sheet with parchment paper (or a Silpat mat) and lightly spray with baking spray. Set aside.
Once the dough is chilled, remove it from the fridge. Turn the dough out onto a clean, floured surface and roll out to 1⁄4-inch in thickness. Use a 3-inch round cookie cutter to cut as many cookies as you can. You may have to re-roll the dough a few times to use it all up.
Transfer the cut out cookies to the prepared baking sheet, spacing them out about 1-inch apart.
Place the baking sheet into the preheated oven on the center rack. Bake for 9 minutes, or until the edges are set and the centers are soft.
Once baked, remove from the oven and let the cookies rest on the baking sheet for a few minutes to allow them to set up a bit.
Once the cookies have set for a few minutes, transfer them to a wire cooling rack to let them completely cool. Repeat the baking process with the remaining cookies.
Frosting
In the bowl of a stand mixer fitted with a paddle attachment combine powdered sugar, butter, melted butter, vanilla, heavy cream and salt.
Whip on low speed until the powdered sugar is incorporated, then increase the speed to medium-high and whip for 3 minutes or until smooth and fluffy.
Add in food coloring until the desired color is reached and well blended.
Present!
Once the cookies are completely cooled, spread the desired amount of frosting onto each cookie. Top with sprinkles.
You may eat these right away, or let them sit for an hour to allow the frosting to firm up a bit.
Tips and Techniques
After the flour mixture is added to the mixing bowl, be sure to only mix until just combined. Overmixing can cause the gluten to overdevelop, resulting in a crumbly cookie.
When rolling out the dough, try to handle it as little as possible. Overworking the dough will cause the butter to melt, resulting in greasy cookies.
You may use alternative shaped cookie cutters if desired. I would recommend sticking with 3" in size, to prevent bake time adjustments.
Cookies may be stored in an airtight container for up to 4 days.
FAQ's
Why Are Lofthouse Cookies So Soft?
Lofthouse cookies taste like a cross between a cupcake and a cookie. This is because of the use of cake flour, baking soda, and baking powder. The sour cream makes it extra moist, too.
More Cookie Recipes
Love this Lofthouse Cookies recipe? Follow me on Pinterest, Instagram, and Facebook for more!
If you try this recipe, I would really appreciate it if you would please leave a comment and star rating. Thanks!