Make your own homemade Panda Express Honey Sesame Chicken with this easy copycat recipe. Chunks of juicy chicken are battered and fried until crispy, then tossed with vegetables in a sweet, tangy sauce. Add some rice and dinner is ready!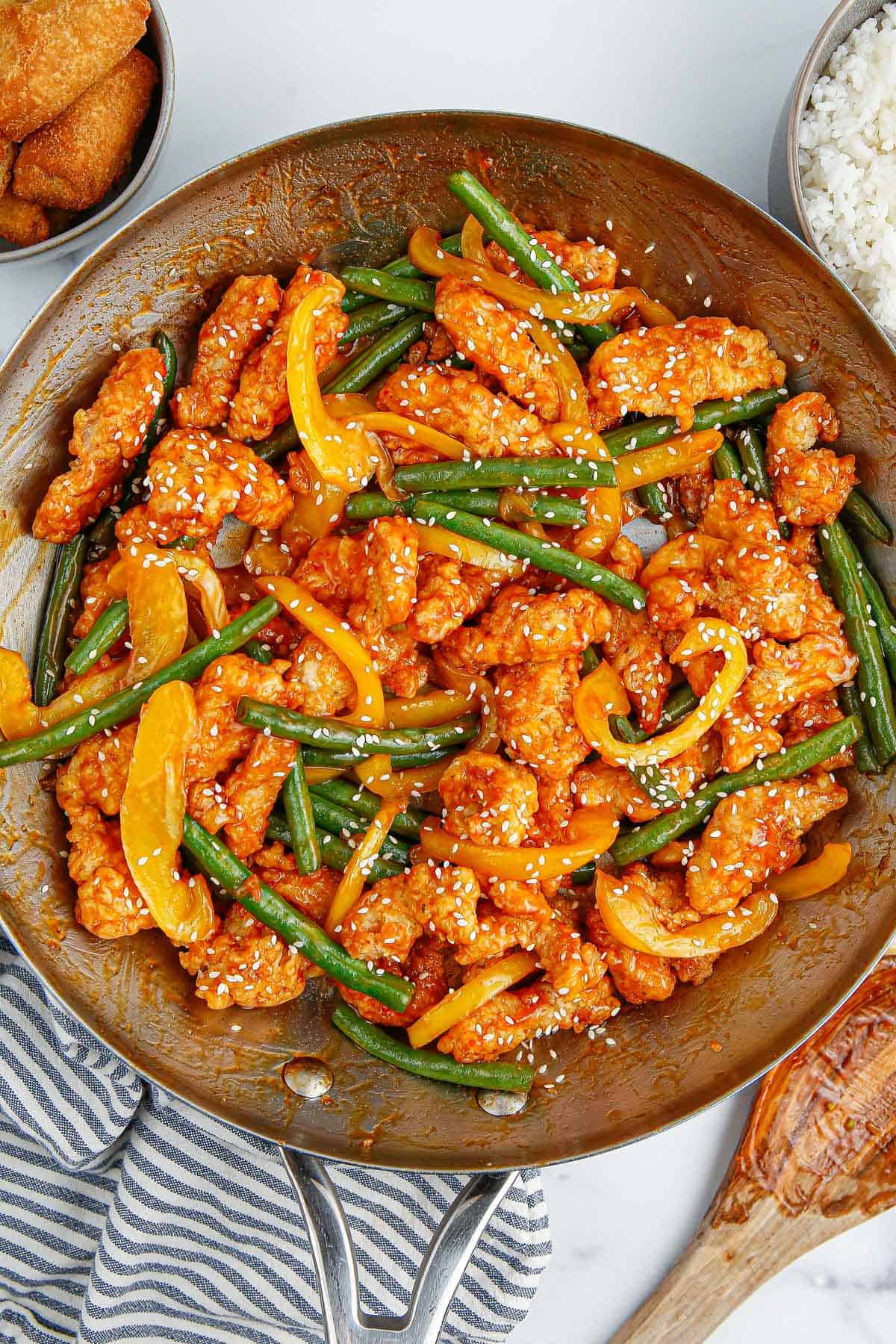 This post contains affiliate links. See our Disclosure Statement for more information.
One of my go-to dishes at Panda Express is the Honey Sesame Chicken. We rarely get a chance to eat there, so I decided to make a homemade, copycat version.
This recipe is just as sweet and flavorful as the original. It's so close to the original and you can make it anytime you're craving this popular dish without having to jump in your car.
Bites of chicken are coated in a simple batter and fried crisp. The dish is finished off with fresh, stir-fried veggies and a sweet, tangy sauce. Serve it over a side of rice (I love it with this Coconut Rice) and dinner is complete!
I hope you love this take on the original as much as I do!
Why This Recipe Works
This is a delicious copycat recipe of a take out favorite. It has the same amazing texture and flavor as the original.
Homemade takeout recipes are almost always healthier – you know exactly what's going into your meal.
If needed, this recipe can be made gluten free simply by using gluten free flour and gluten free soy sauce.
Step-By-Step Instructions
Ingredients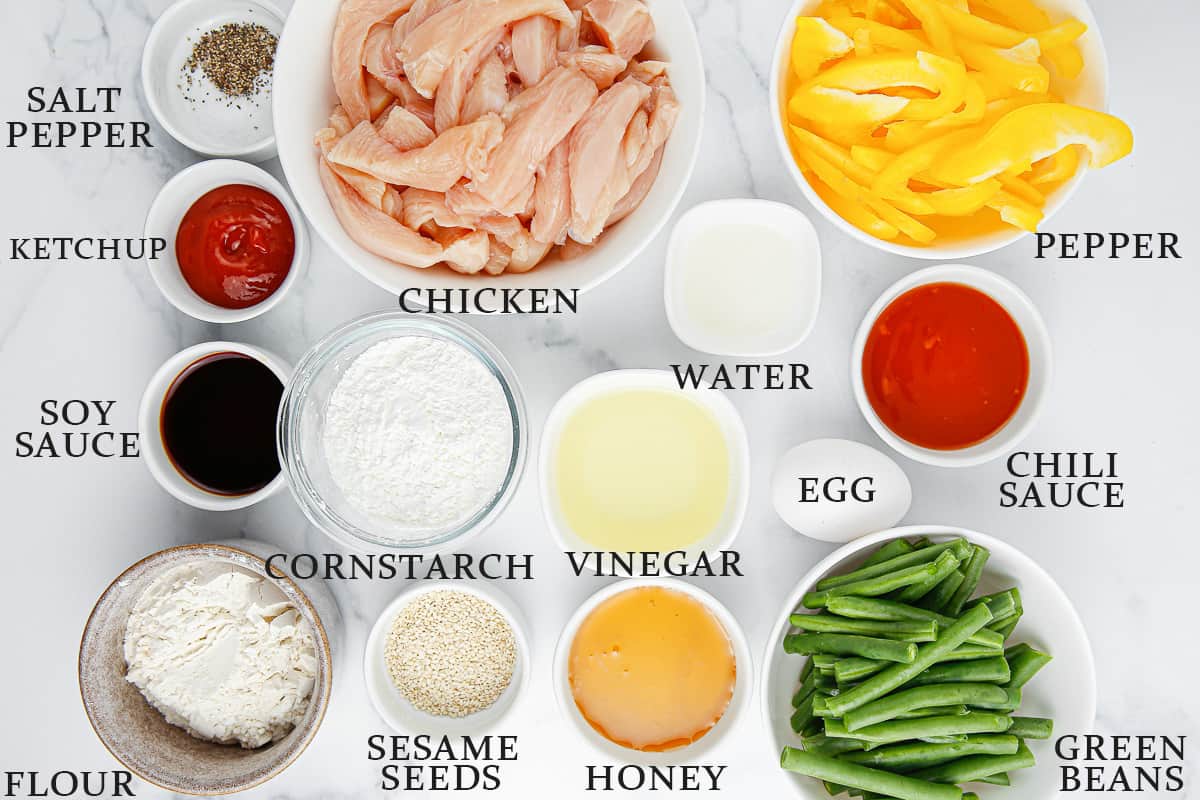 Sauce
1/3 cup sweet chili sauce
3 tablespoons honey
2 tablespoons water
1 tablespoon ketchup
1 tablespoon low sodium soy sauce: use gluten free soy sauce, if needed.
1 tablespoon rice vinegar: can substitute apple cider vinegar.
1 teaspoon cornstarch
salt
pepper
Chicken
1 large egg
1 teaspoon salt
1/2 teaspoon pepper
1 cup cornstarch
1/3 cup all purpose flour: you can substitute gluten free all purpose flour, if needed.
1 1/2 pounds boneless skinless chicken breast (diced into 1-inch pieces)
canola or vegetable oil (for frying)
Vegetables
1 tablespoon canola or vegetable oil
1 pound green string beans (trimmed)
1 yellow bell pepper, thinly sliced
1 tablespoon sesame seeds
The entire recipe and instructions can also be found in the recipe card at the bottom of this post. You can also print the recipe from the card, if needed.
Prep!
Cut the chicken into bite size pieces.
Trim the green beans and thinly slice the pepper.
Create!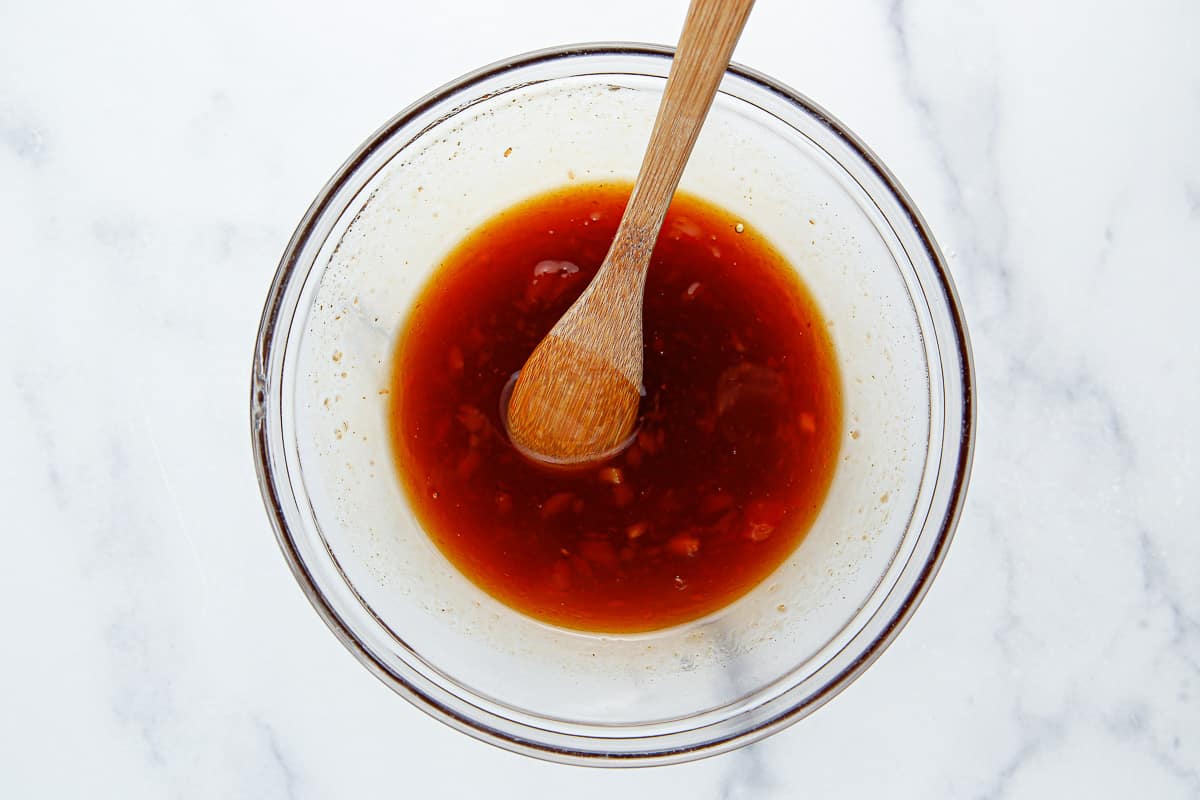 In small mixing bowl whisk together all of the ingredients for the sauce and set aside.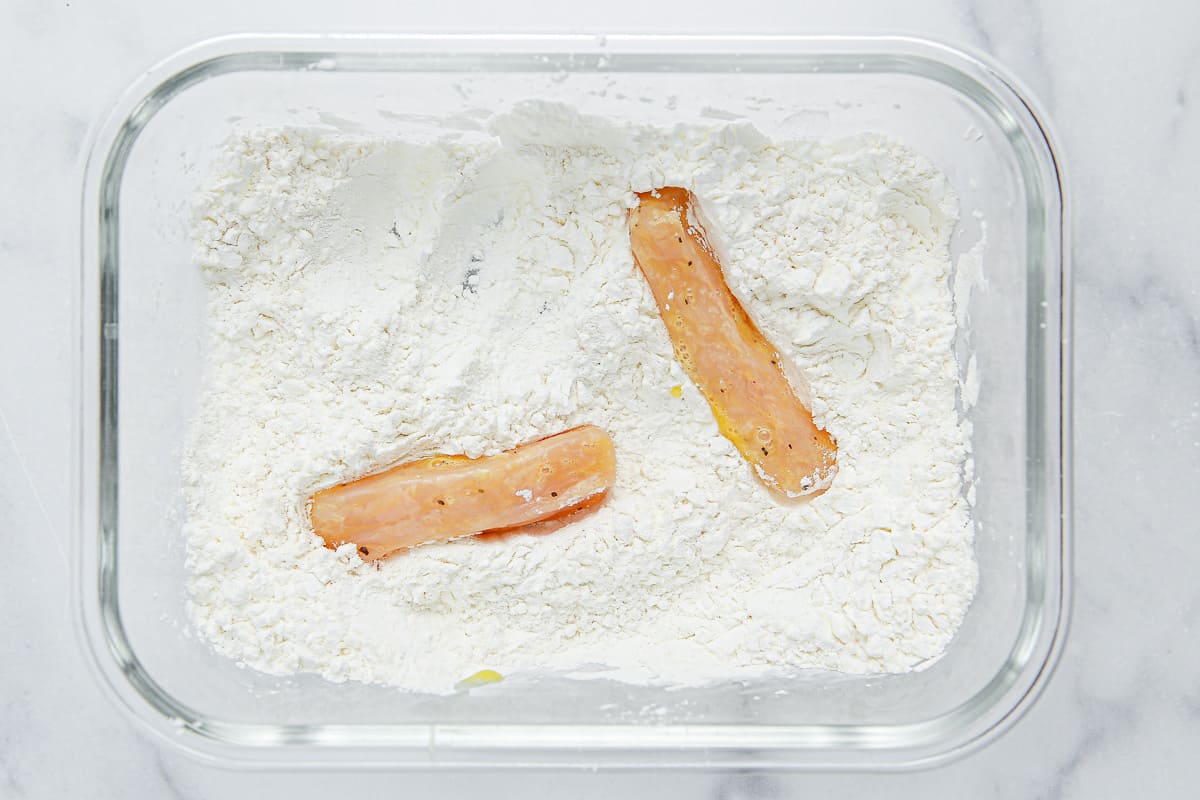 In a medium bowl, whisk together the egg, salt and pepper for the chicken.
In a separate bowl, mix together the cornstarch and flour.
Dredge the chicken pieces into the egg mixture, followed by the cornstarch mixture to evenly coating each piece. Set on a plate.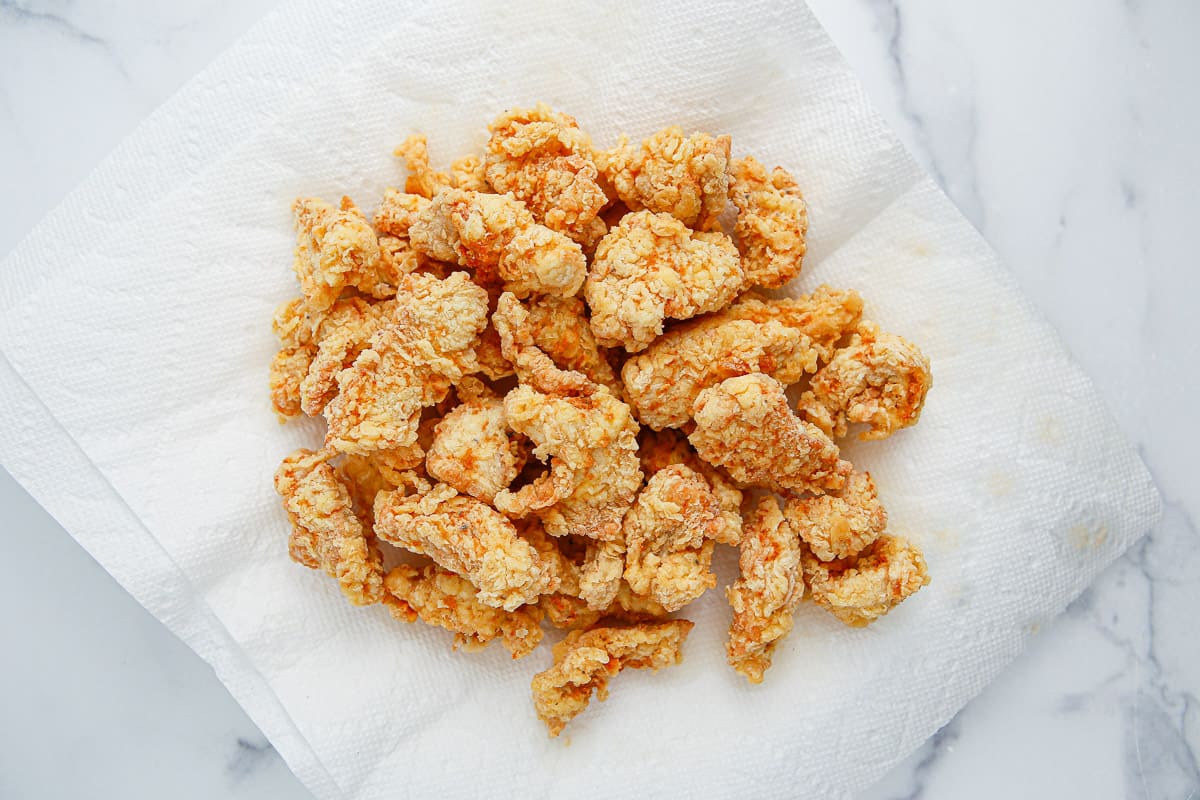 Heat enough oil in a large pot or skillet to be able to cover the pieces of chicken.
Add the coated chicken to the hot oil, working in batches to avoid overcrowding. Cook for 3-4 minutes or until the chicken is golden brown, cooked through, and the internal temperature reaches 165°F on a meat thermometer inserted into the center of the thickest portions.
Transfer the cooked chicken to a plate lined with paper towels to remove the excess oil.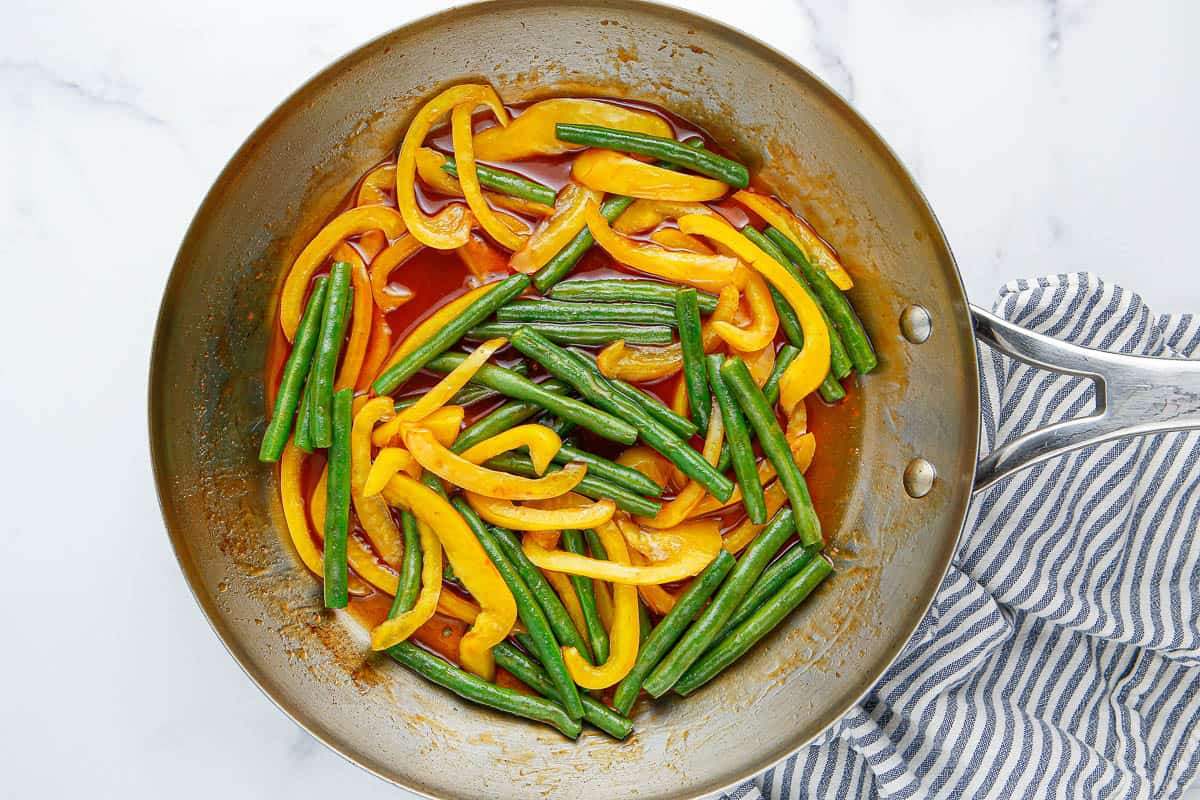 For the vegetables, heat a tablespoon of oil in a large skillet. Add the green beans and yellow bell pepper slices. Sauté for 3 to 4 minutes or until the vegetables are softened.
Pour the sauce mixture into the hot skillet with the vegetables and let simmer for 1 to 2 minutes or until the sauce slightly thickens.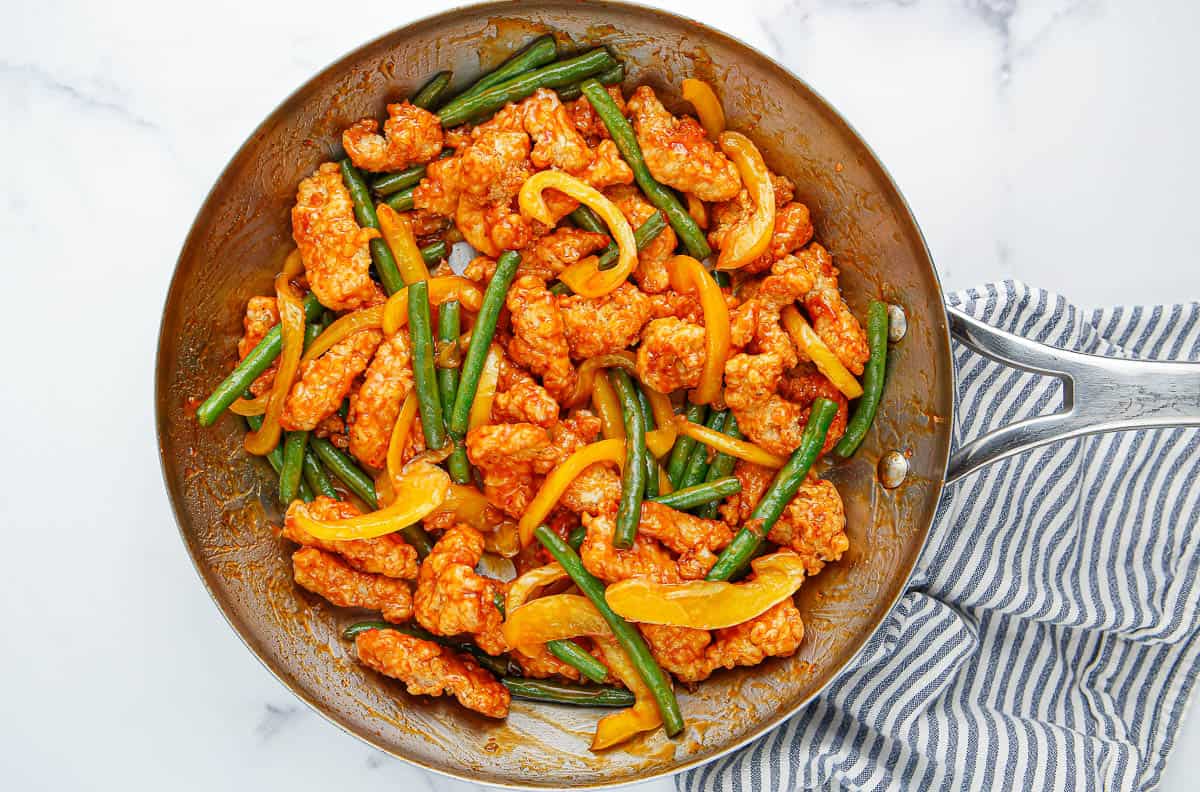 Add the cooked chicken to the pan and toss to coat evenly in the sauce.
Present!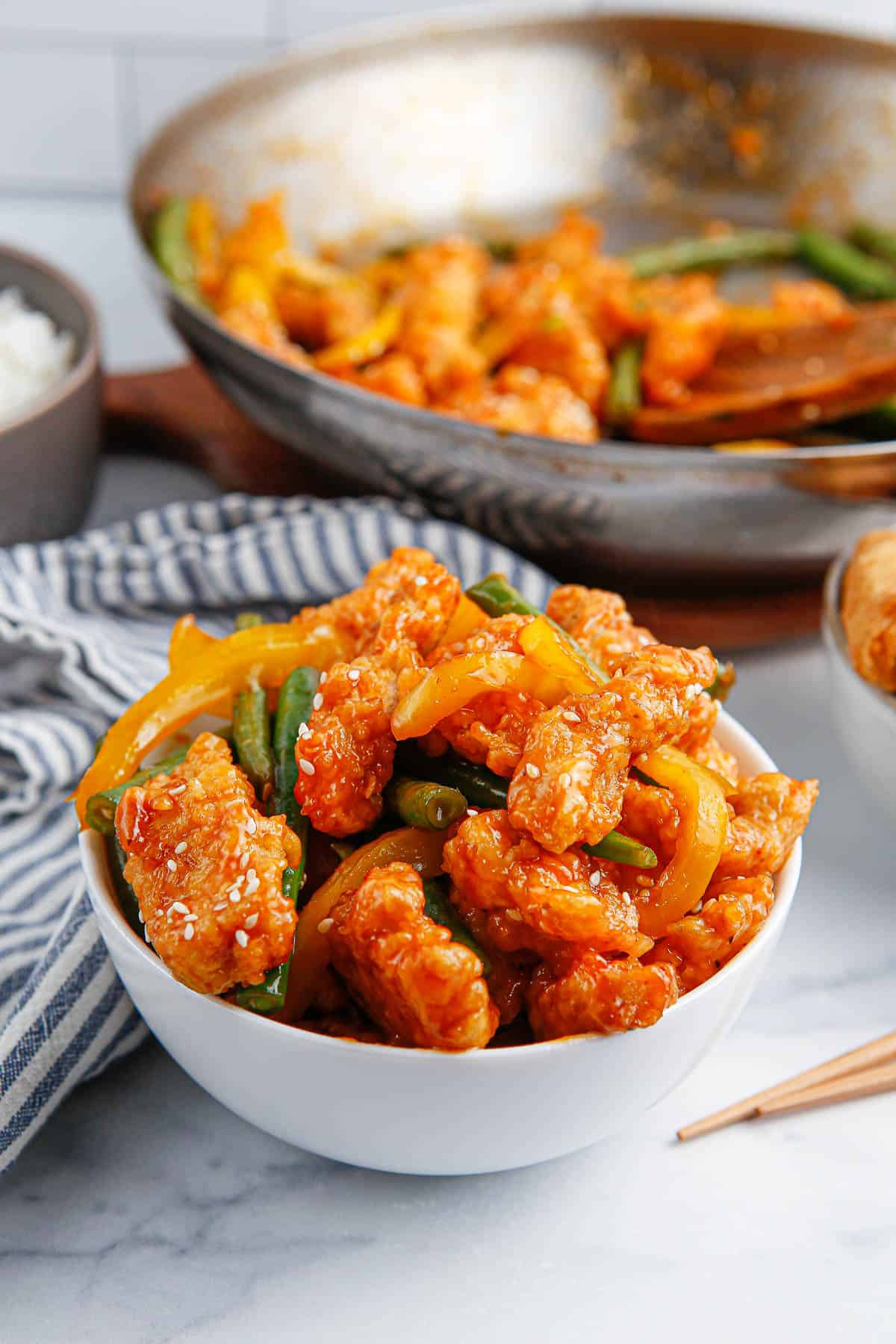 Garnish with sesame seeds and serve immediately with rice, if desired.
Tips and Techniques
To make this recipe gluten free, use gluten free all purpose flour and gluten free soy sauce.
You can substitute brown sugar or maple syrup for the honey, if preferred.
Store leftovers in an airtight container in the refrigerator. Consume within 3 to 4 days.
FAQ's
Can You Free Honey Sesame Chicken?
Yes, you can freeze this honey sesame chicken in an airtight container or freezer bag for up to 3 months. Just be aware that when reheated, the chicken won't be as crisp as when it's made fresh.
More Chicken Takeout Recipes
Love this copycat Panda Express Honey Sesame Chicken recipe? Follow me on Pinterest, Instagram, and Facebook for more!
If you try this recipe, I would really appreciate it if you would please leave a comment and star rating. Thanks!