Taco shaped wontons are filled with seasoned chicken and topped with an Asian coleslaw. These mini tacos are very similar in taste and presentation to Applebee's Chicken Wonton Tacos. They are a delicious starter, snack or meal!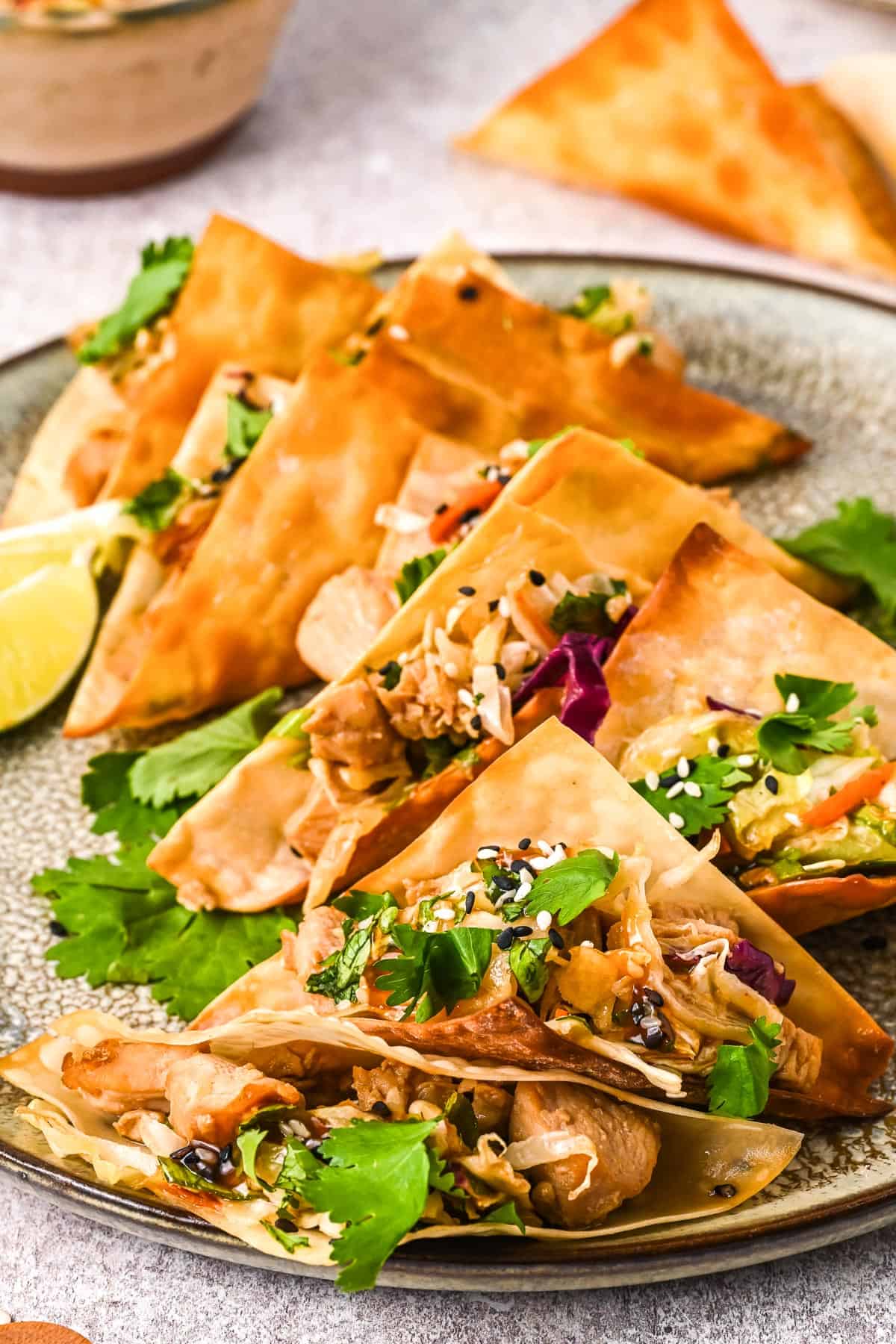 This post contains affiliate links. See our Disclosure Statement for more information.
If you're a fan of recipes like my Southwestern Chicken Wonton Cups, then you're really going to enjoy these wonton tacos too!
Chicken wonton tacos are my go-to appetizer whenever we eat at Applebee's, so it was a no-brainer to create a copycat recipe.
These wonton taco cups are bursting with fresh Asian flavors, like sesame and ginger. The fresh, crispy coleslaw sits on top of the marinated chicken, and the crispy wonton shells are the perfect base.
Try them as an appetizer to other Asian-inspired recipes such as Asian Ground Pork Tacos or Mongolian Ground Beef.
Why This Recipe Works
This recipe tastes very much like the popular Applebee's chicken wonton tacos.
They are perfect for appetizers, game day snacks, or even as a quick lunch.
You can make the coleslaw ahead of time and store it in the refrigerator for up to a week. You can also make the chicken ahead of time, but it tastes better hot, so you'll have to warm it up before you add it to the tacos.
Step-By-Step Instructions
Ingredients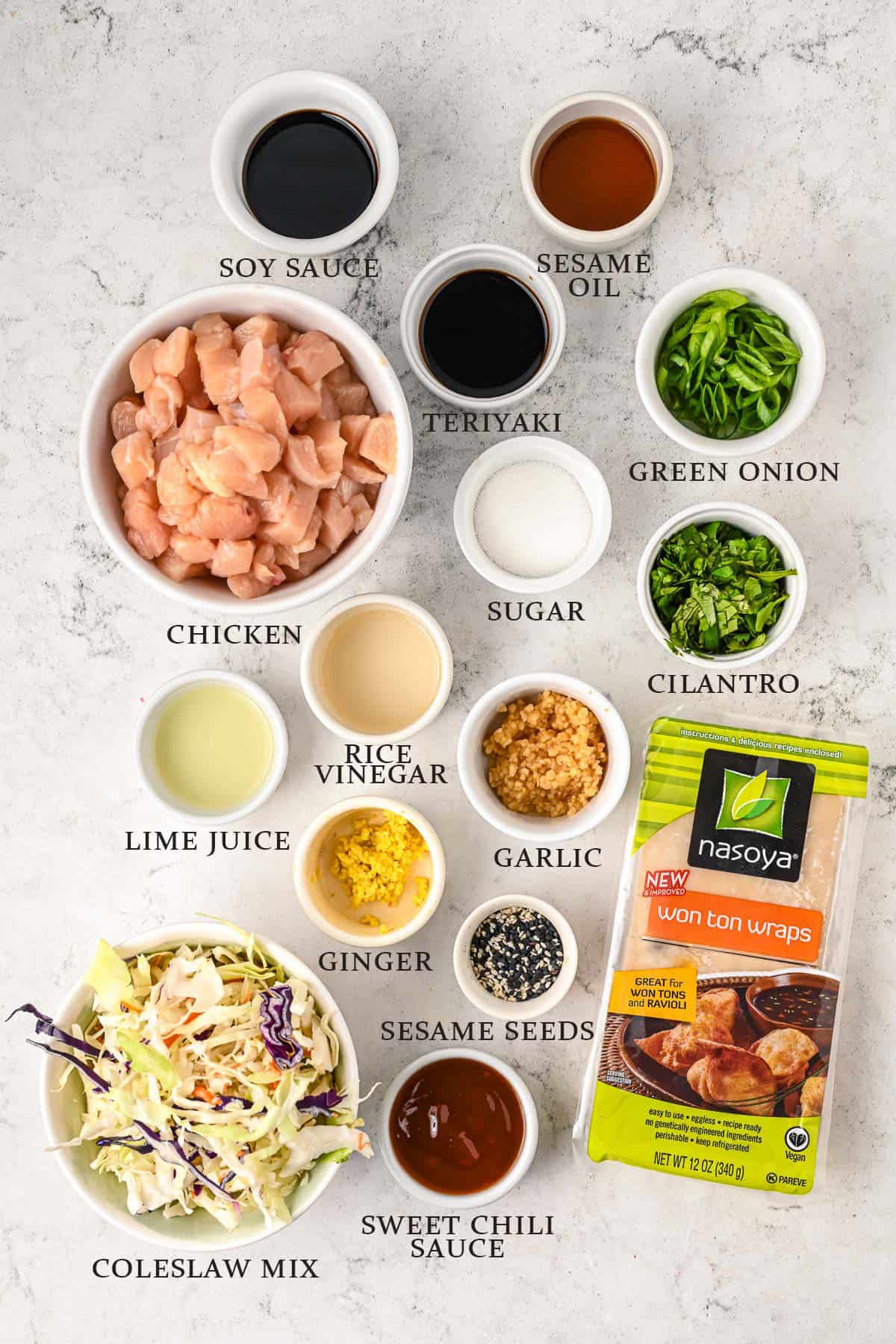 Chicken
Asian Coleslaw
1 14 ounce bag coleslaw mix
2 tablespoons green onion (sliced thin)
1 tablespoon sesame oil
1 tablespoon rice vinegar
1 tablespoon low sodium soy sauce
1 tablespoon sugar
1 teaspoon lime juice (fresh squeezed)
1/2 teaspoon fresh ginger (grated)
Tacos
The entire recipe and instructions can also be found in the recipe card at the bottom of this post. You can also print the recipe from the card, if needed.
Prep!
Cut the chicken into a fine dice. Mince the garlic, grate the ginger, finely slice the green onions and juice 1/2 of a lime until you have 1 teaspoon.
Because this recipe has a short marinating period, wait to preheat your oven until you are ready to begin cooking.
Create!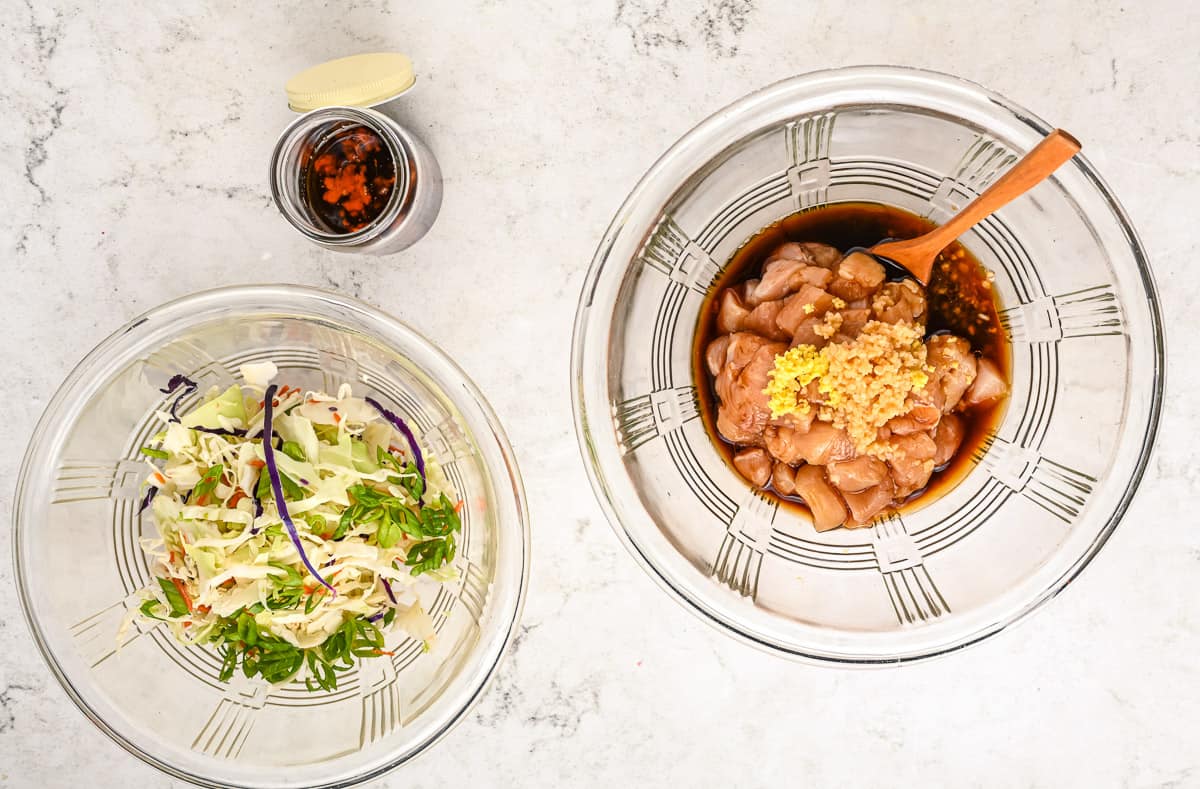 Whisk together the teriyaki, sesame oil, soy sauce, garlic and ginger together in a medium bowl. Add the chicken and stir to coat well. Cover and refrigerate for at least 30 minutes.
In a medium bowl, mix the coleslaw and green onions together. In a small bowl, whisk together the sesame oil, rice vinegar, soy sauce, sugar, lime juice and ginger until well combined. Pour over the coleslaw and toss well. Cover and keep in the refrigerator until needed.
When you are ready to begin cooking, preheat your oven to 375°F.
Place the wonton wrappers over the edge of a 9×13-inch pan and spray with cooking spray.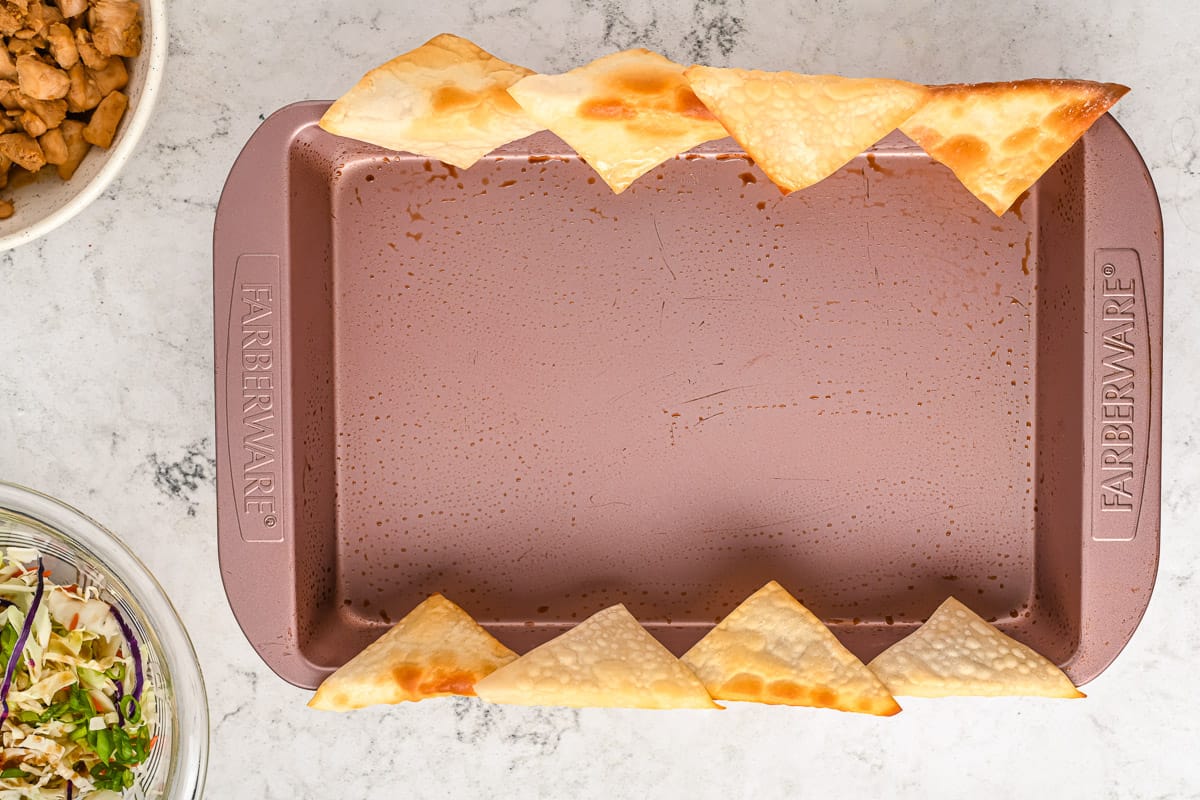 Bake until lightly browned, about 7 minutes, keeping a close eye on them to prevent burning.
While the wontons are baking, heat a large skillet over medium high heat. Add the chicken and marinade to the pan. Cook the chicken for 5 to 7 minutes, or until cooked through and no longer pink in the center.
Carefully drain any excess liquid from the pan.
Chef's Tip: draining any excess liquid from the pan prevents the tacos from getting soggy when you fill them.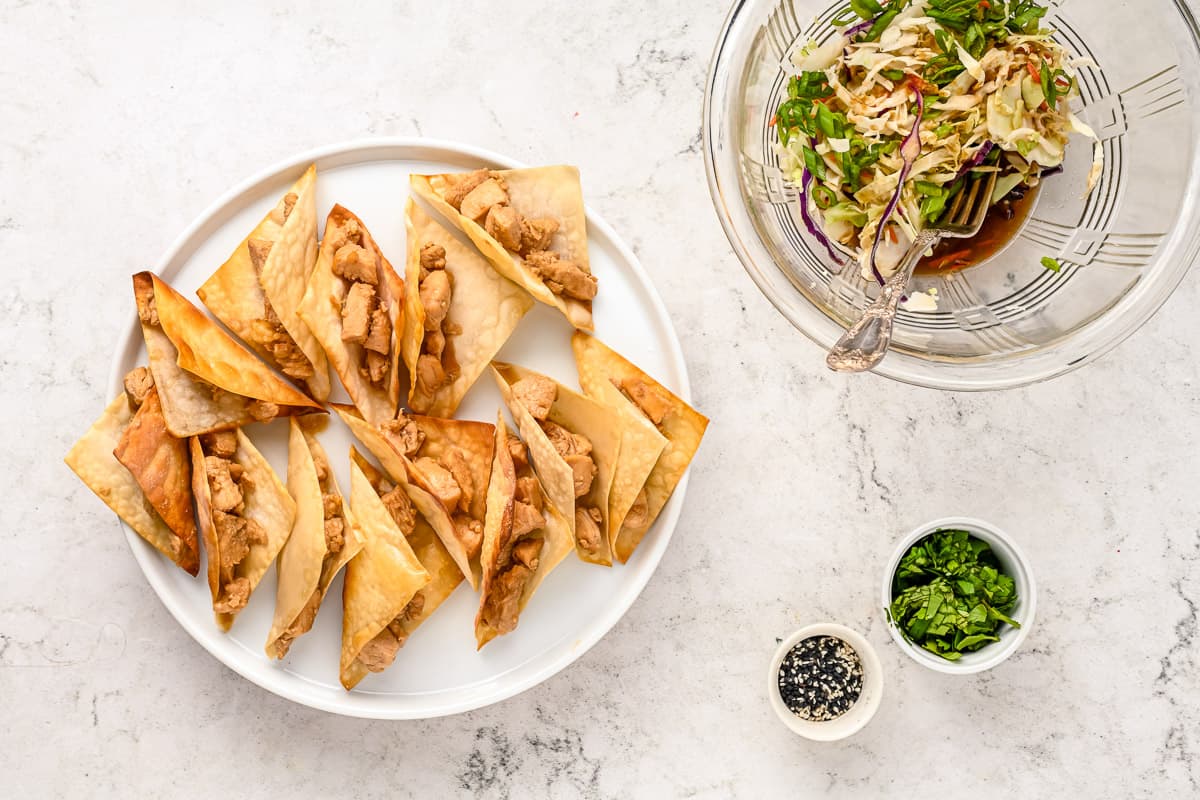 Spoon the chicken evenly into the wontons.
Present!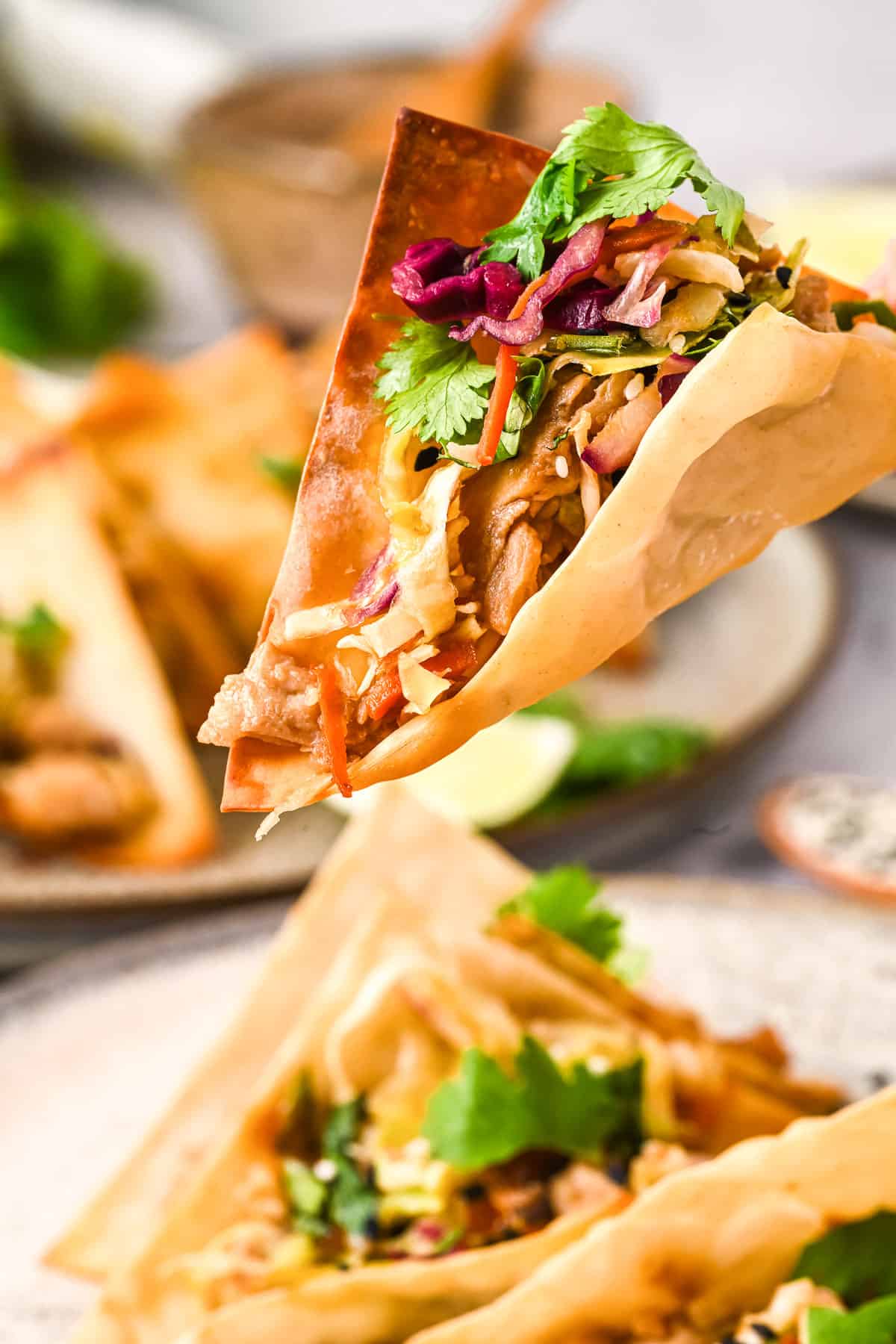 Top each one with coleslaw. Garnish with a drizzle of sweet chili sauce and a sprinkle of cilantro and sesame seeds.
Tips and Techniques
If you'd rather not use pre-made coleslaw, you can shred your own cabbage and carrots.
Drain any excess liquid from the pan to prevent the tacos from getting soggy when you fill them.
Store leftovers separately in airtight containers in the refrigerator. Consume the chicken within 3-4 days. The coleslaw will keep an extra day or two.
FAQ's
How Do You Bake Wonton Wrappers Into Taco Shells?
Wrap the wonton wrappers along the edge of a casserole dish. When they are done baking, they will be in the shape of a taco shell. It's incredibly easy – no frying required.
Can I Use A Different Type Of Meat?
Yes! Try this recipe with ground beef, steak, or even shredded pork instead of marinated chicken,
How Do You Make It Spicier?
The easiest way to make these copycat chicken wonton tacos spicier is to drizzle some Sriracha on top. That will give it a lot of kick!
More Appetizer Recipes
Love this Chicken Wonton Tacos recipe? Follow me on Pinterest, Instagram, and Facebook for more!
If you try this recipe, I would really appreciate it if you would please leave a comment and star rating. Thanks!