Better than takeout! Make homemade Mongolian Chicken with whole ingredients. It's sweet, spicy, and irresistibly delicious.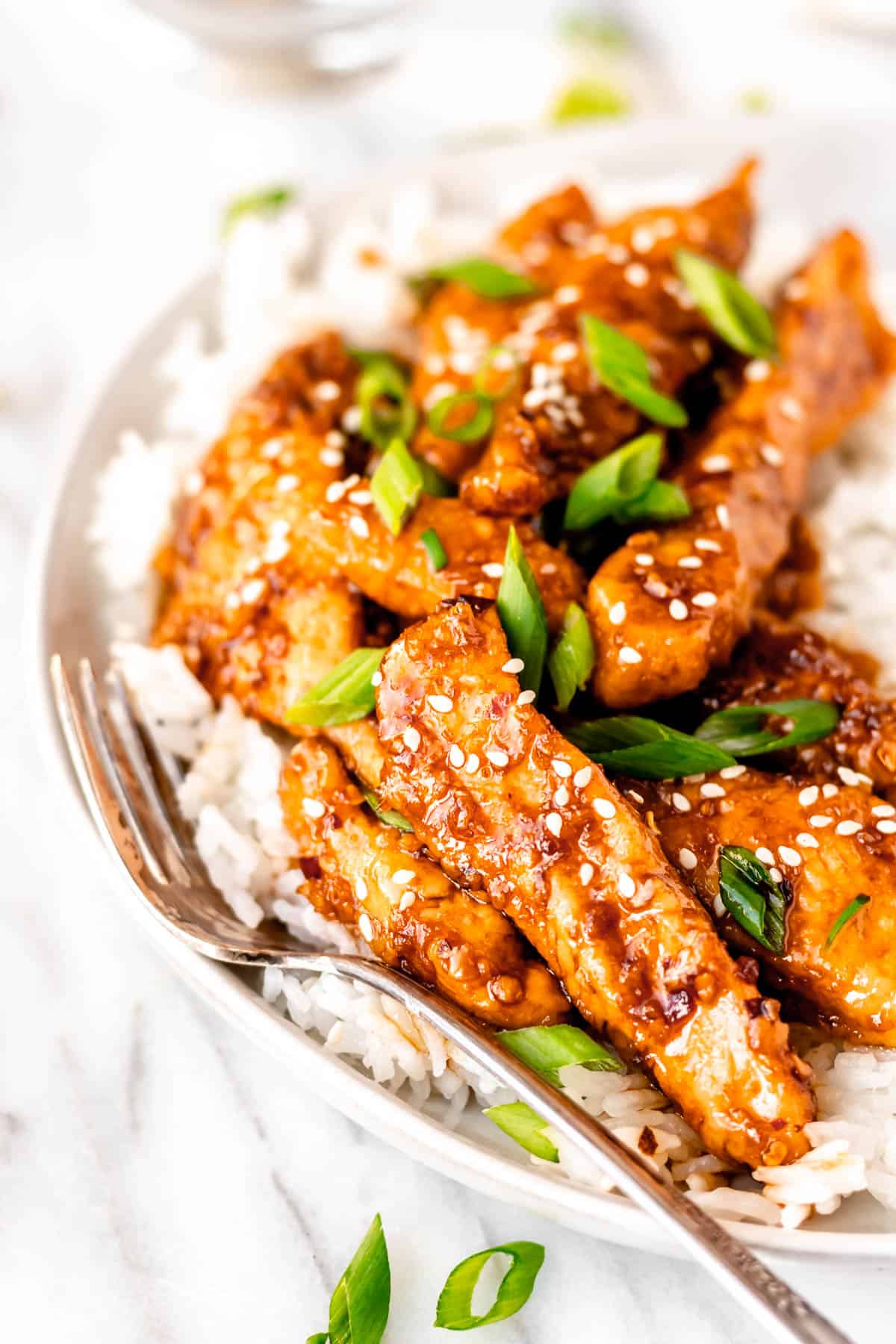 This post contains affiliate links. See our Disclosure Statement for more information.
When you aren't sure whether you want something sweet or spicy, make this aromatically alluring Mongolian chicken recipe. It looks and tastes gourmet, but even beginning cooks can whip it up in a flash.
Mongolian Chicken is an Asian-inspired dish that's very popular at Chinese takeout restaurants, as well as restaurants like Pei Wei and P.F. Changs.
It's very similar to my recipe for Mongolian Beef, another popular takeout favorite.
Why This Recipe Works
This is a really easy recipe to make on the stove-top. There are variations of Mongolian chicken online that you can make in a slow cooker or Instant Pot, but I realized that the stovetop is just as quick and easy. When you use a skillet, the entire meal is ready in just 30 minutes.
In fact, this recipe is so easy, that you'll want to cook it instead of paying delivery fees and waiting a long time for your Chinese takeout to arrive.
Mongolian chicken is easy to adapt to any taste. Leave out the crushed red pepper flakes if you prefer a mild dish. Add more red pepper flakes to turn up the heat. You can also make it gluten free by making sure you use gluten free soy sauce and Hoisin sauce.
Step-By-Step Instructions
Ingredients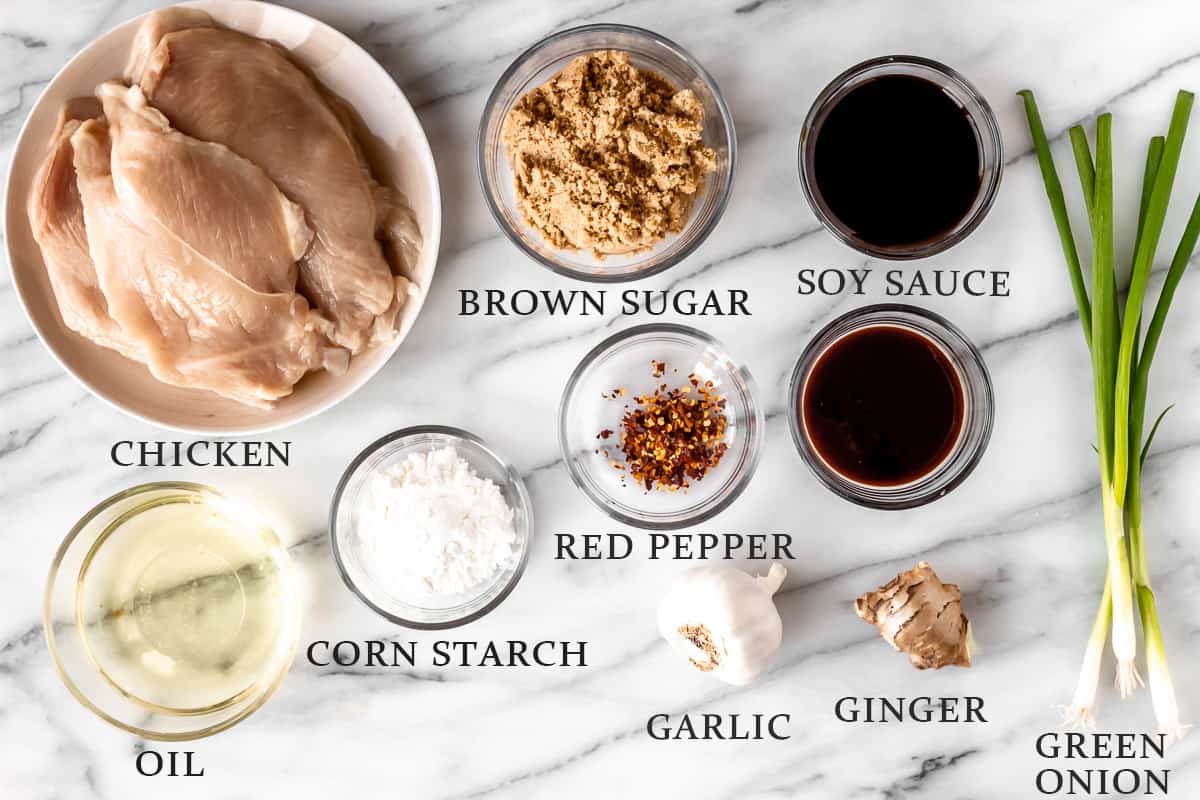 1 1/2 pounds boneless, skinless chicken (cut into thin strips)
2 tablespoons cornstarch
1/2 cup vegetable oil (or canola)
6 cloves garlic (minced)
1 inch piece fresh ginger (peeled and minced, about 1 tablespoon)
1/2 cup soy sauce: be sure to use gluten free or coconut aminos, if needed.
1/2 cup water
2 tablespoons hoisin sauce: be sure to use gluten free, if needed.
1/2 cup brown sugar (packed)
1 teaspoon crushed red pepper: optional, omit if you want the dish to be mild.
3 green onions (sliced thin)
The entire recipe and instructions can also be found in the recipe card at the bottom of this post. You can also print the recipe from the card, if needed.
Prep!
Cut the chicken into thin strips. Mince the garlic and peel and mince the ginger.
Thinly slice the green portion of the green onions.
If you are serving this chicken over rice, prepare the rice as you prepare this portion of your meal.
Create!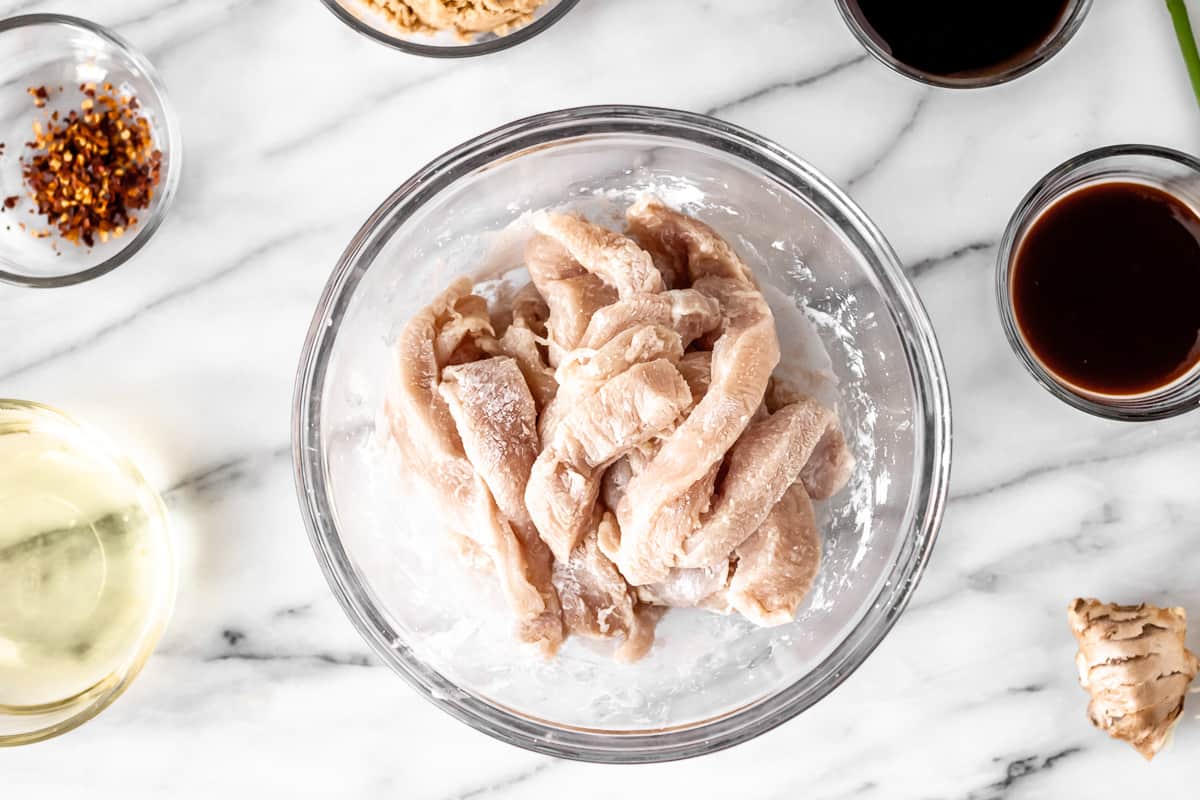 Toss the chicken strips in cornstarch in a medium bowl until evenly coated. Set aside.
Chef's Note: because the Mongolian sauce has both soy sauce and hoisin sauce in it, both of which can be salty, wait to add any additional salt or pepper until you are done cooking or the dish may be overly salty.
Heat the oil in a large, deep skillet or wok over medium heat.
Add the garlic and ginger and cook for about 1 minute, stirring constantly.
Add the chicken and cook until no longer pink in the center. Chicken should reach an internal temperature of 165°F on a meat thermometer inserted into the center of the thickest portion.
Remove the chicken to a plate and carefully wipe out the skillet.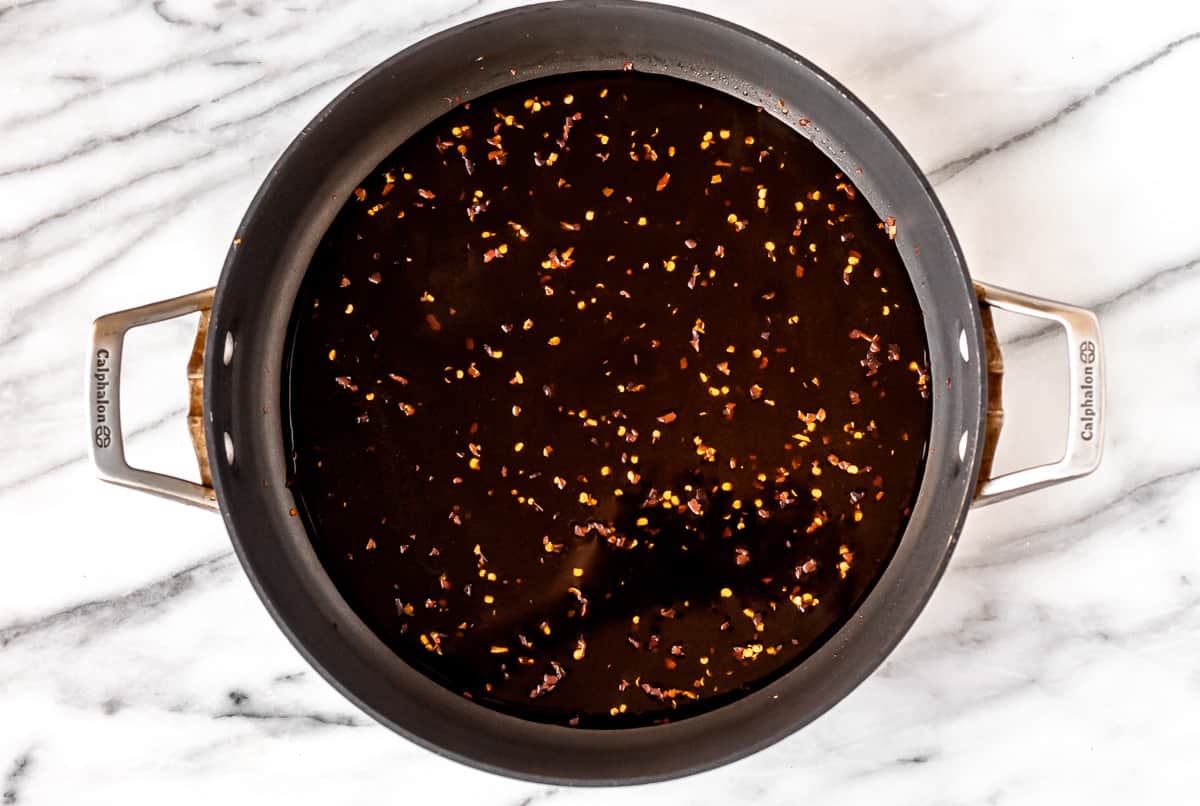 Return the skillet to the stove top and add the soy sauce, water and hoisin sauce.
Stir in the brown sugar and red pepper flakes.
Add the chicken back to the skillet and toss to coat in the sauce.
Continue to cook until the sauce thickens to your liking.
Present!
Serve over rice, cauliflower rice, noodles or zucchini zoodles.
Top with the green onion and serve.
Tips and Techniques
Do not add salt and pepper to the chicken while it is cooking. Wait until the end of cooking to taste and add additional salt and pepper, if desired. The soy and hoisin sauces can both add a good amount of sodium to the dish.
This dish can be made gluten free. Simply ensure that the hoisin and soy sauces that you use are both gluten free.
Store leftovers in an airtight container in the refrigerator. Consume within 3-4 days.
FAQ's
What's In Mongolian Chicken?
Mongolian chicken is on almost every Chinese takeout menu. It's a classic dish that features thin slices of chicken in a thick Mongolian sauce made from garlic, ginger, brown sugar, soy sauce and hoisin sauce.
What Does Mongolian Chicken Taste Like?
This easy chicken recipe is both sweet and gingery with classic Asian flavors such as soy and hoisin. With just a few tweaks, you can make it either really mild or super spicy.
Is Mongolian Chicken Healthy?
Yes, this is a healthy recipe that is high in protein. It's a better alternative to restaurant/take out, with only 321 calories per serving. This recipe is also naturally gluten-free and is really easy to make lower in carbohydrates. All you have to do is leave out the corn starch and use a brown sugar substitute, like Swerve.
More Takeout Recipes
Love this Mongolian Chicken recipe? Follow me on Pinterest, Instagram, and Facebook for more!
If you try this recipe, I would really appreciate it if you would please leave a comment and star rating. Thanks!