Make homemade Ham, Egg and Cheese Breakfast Sandwiches in just 10 minutes! Each sandwich is topped with an egg cooked to your liking, slightly salty ham, and melted cheese. This delicious recipe is perfect for a small batch or to serve a crowd.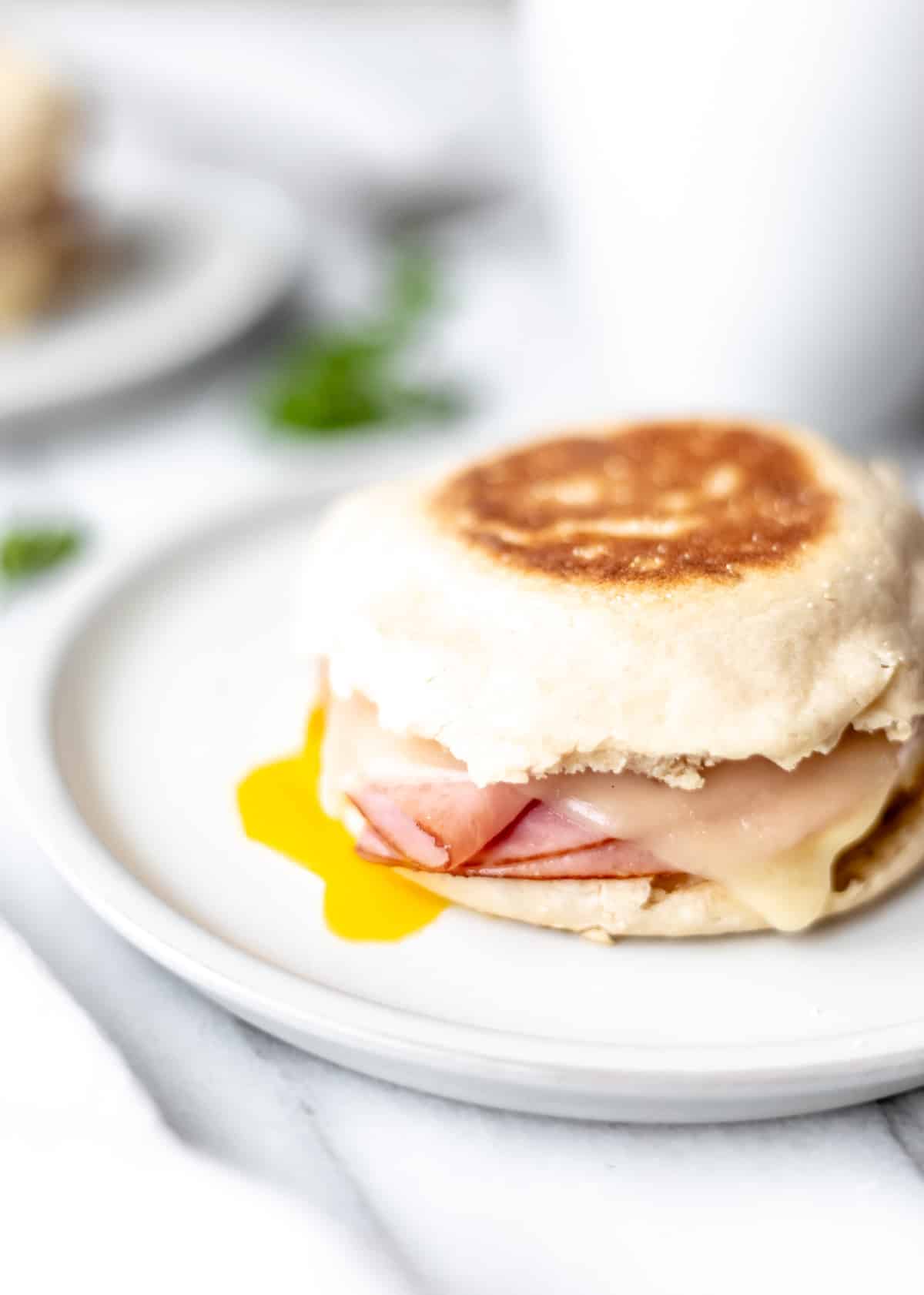 This post contains affiliate links. See our Disclosure Statement for more information.
A Ham, Egg and Cheese Breakfast Sandwich may not be the most interesting item on the menu, but sometimes it's exactly what you're craving. A breakfast sandwich is a delicious, classic recipe that is never going out of taste.
All you need is a few simple ingredients and about 10 minutes to make the best homemade sandwich. It may even top your favorite restaurant version!
Serve up these sandwiches for breakfast, brunch, or even dinner. Similar to my recipe for Breakfast Egg Rolls, they are also a great make-ahead recipe and can be frozen to just heat and eat for quick breakfast on a busy weekday.
Why This Recipe Works
This recipe is quick, easy, and only requires 5 ingredients.
You can easily make a small batch to serve one or two people, or large batch to serve a crowd.
This is a very versatile recipe. You can swap out ham for bacon or sausage, use any cheese or bread you like, or scramble the eggs, if preferred.
Step-By-Step Instructions
Ingredients
2 English muffins: you can also make this sandwich on bagels, biscuits, croissants or toast.
1/2 tablespoon butter
2 eggs
salt
pepper
4 slices deli ham
2 slices Swiss cheese: you can swap out the Swiss cheese for any cheese you prefer.
The entire recipe and instructions can also be found in the recipe card at the bottom of this post. You can also print the recipe from the card, if needed.
Prep!
Preheat your oven to 350°F.
Create!
Split the English muffins in half and place on a baking sheet
Transfer the baking sheet to the oven and toast for 3 to 5 minutes.
Meanwhile, melt the butter in a medium, flat bottom skillet over medium heat.
Crack each egg carefully into the skillet, season with salt and pepper, and cook about 2 minutes on each side or until done to your liking. You can leave the yolks runny or cook them all the way through.
Chef's Tip: to help keep the eggs in the same shape and size of the English muffins, you can use a ring mold for cooking or, if you don't have one, a round, metal cookie or biscuit cutter as shown in the photos can work too. This is totally optional.
Place the eggs onto the toasted English muffins.
Top each egg with two slices of deli ham and one slice of cheese. Place the top on each muffin.
Return the baking sheet to the oven for 1 to 2 minutes to melt the cheese.
Present!
Serve warm.
Tips and Techniques
A ring mold, or a round, metal cookie or biscuit cutter, can be used when cooking the eggs to help them keep their shape. This is optional.
You can adapt this recipe in an endless amount of ways. Bacon or sausage can be used in place of ham, any cheese variety you like can be swapped in, and instead of English muffins, any other type of bread can be used.
Leftover breakfast sandwiches can be stored in an airtight container in the refrigerator. Consume within 2 days for best results.
FAQ's
Can You Freeze Homemade Breakfast Sandwiches?
Yes, homemade breakfast sandwiches can be wrapped tightly in aluminum foil and stored in the freezer for up to one month.
To reheat, place the foil-wrapped frozen sandwich on a sheet tray and bake in an oven set to 350°F for 25 to 30 minutes. To reheat in the microwave, remove the aluminum foil and wrap the sandwich in a paper napkin or paper towel. Cook for 1 minute on high, flip and cook an additional 30 to 60 seconds.
More Ham Breakfast Recipes
Love this Ham, Egg and Cheese Breakfast Sandwich recipe? Follow me on Pinterest, Instagram, and Facebook for more!
If you try this recipe, please leave a comment and star rating. I would really appreciate it!