Creamy Chicken Paprikash features aromatic ingredients such as onion, garlic, and paprika, which give the sauce an incredibly deep savoriness. This popular main dish from Hungary is loaded with flavor, super easy to prepare and pairs well with many side dishes.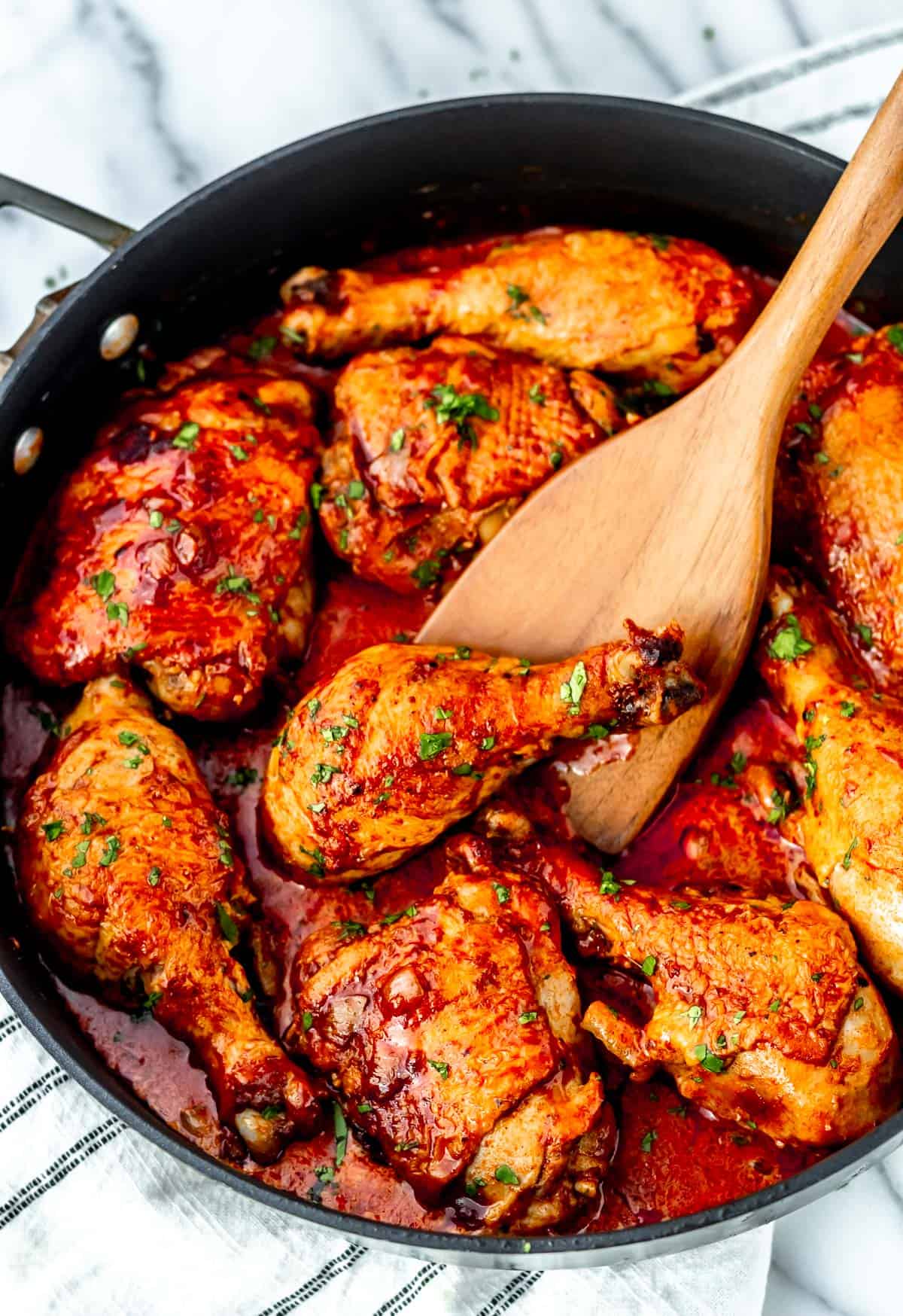 This post contains affiliate links. See our Disclosure Statement for more information.
Chicken Paprikash is one of Hungary's most popular dishes, and for good reason as it's a delicious main dish.
Authentic paprikash is loaded with paprika and plenty of flavor. Onion and garlic also add savory notes to this dish. The addition of sour cream to the bright red, paprika infused sauce, lends this dish a delectable creaminess too.
You can have this recipe completed in just about an hour and it pairs well with most vegetable sides.
Try serving Chicken Paprikash alongside Lyonnaise Potatoes, Roasted Honeynut Squash, or Roasted Brussels Sprouts for an easy comforting meal.
Why This Recipe Works
It's an easy dish to make. This dish takes just around an hour from start to finish, but each step is very simple.
Chicken Paprikash is a flavorful entrée. Plus, the bright red sauce is visually appealing and appetizing as well.
This recipe is gluten free, low carb, and keto friendly with only 10 net carbs per serving.
How To Make Chicken Paprikash
Ingredients
Chicken: traditionally bone-in thighs are used to make paprikash, but you can use legs as well, or even bite size pieces of boneless chicken breasts.
Chicken Stock
Onion
Garlic
Paprika: in traditional paprikash, Hungarian paprika is used. Hungarian paprika is also known as hot paprika, as it has a bit of spiciness to it. If you can't find Hungarian paprika, regular paprika can be used or you can use a combination of regular paprika and smoked paprika.
Sour Cream
Butter
Cornstarch
The entire recipe and instructions can also be found in the recipe card at the bottom of this post. You can also print the recipe from the card, if needed.
Prep!
Dice the onion and mince the garlic. You can also make the cornstarch slurry.
Create!
Melt half of the butter in a large, deep skillet over medium-high heat.
Season the chicken with salt and pepper and add it to the hot skillet. Brown for 4-5 minutes per side. Remove to a plate. The chicken will not be fully cooked yet.
Lower the heat to medium and add the remaining butter to the pan along with the onions. Cook until soft and translucent, about 5-7 minutes.
Stir in the garlic and paprika. Cook 1 minute.
Pour in the chicken stock and cornstarch slurry. Add the chicken back to the pan, Bring to a boil, then reduce heat to simmer, about 15-30 minutes, or until the internal temperature of the chicken reaches 165°F when taken with a meat thermometer inserted into the center of the thickest portion.
Remove the pan from the heat. Remove the chicken to a plate.
Stir in the sour cream, then add the chicken back to the pan.
Present!
Garnish with fresh parsley and serve, as desired.
Serve over noodles, rice, mashed potatoes, or fried potatoes. For a low carb option, try it over zoodles, spaghetti squash, cauliflower rice or mashed cauliflower.
Tips and Techniques
While bone-in thighs are the traditional cut of chicken used to make Chicken Paprikash, you can use legs or even boneless chicken, if preferred.
If you can't find Hungarian paprika, regular paprika or a combination of regular and smoked paprika can be used.
Store leftovers tightly covered in the refrigerator. Consume within 3-4 days.
FAQ's
What Do You Serve With Chicken Paprikash?
Chicken Paprikash is most often served over noodles. You could also serve it over rice, dumplings or even fried potatoes. For a low carb solution, try it over zucchini noodles, spaghetti squash, cauliflower rice, or even mashed cauliflower.
What Is The Difference Between Paprika And Hungarian Paprika?
What we often refer to as "regular" paprika, or simply paprika, is sweet paprika. Hungarian paprika is also known as hot paprika and does have a bit of spiciness to it.
More Chicken Recipes
Love this Chicken Paprikash recipe? Follow me on Pinterest, Instagram, and Facebook for more!
If you try this recipe, I would really appreciate it if you would please leave a comment and star rating. Thanks!