Chicken Stroganoff is made with thin cut slices of chicken and mushrooms in a rich, creamy, incredibly flavorful sauce. The recipe is naturally low carb and gluten free and can be served over cauliflower rice, zoodles or spaghetti squash to keep the carbohydrates lower, or over egg noodles for a more classic presentation.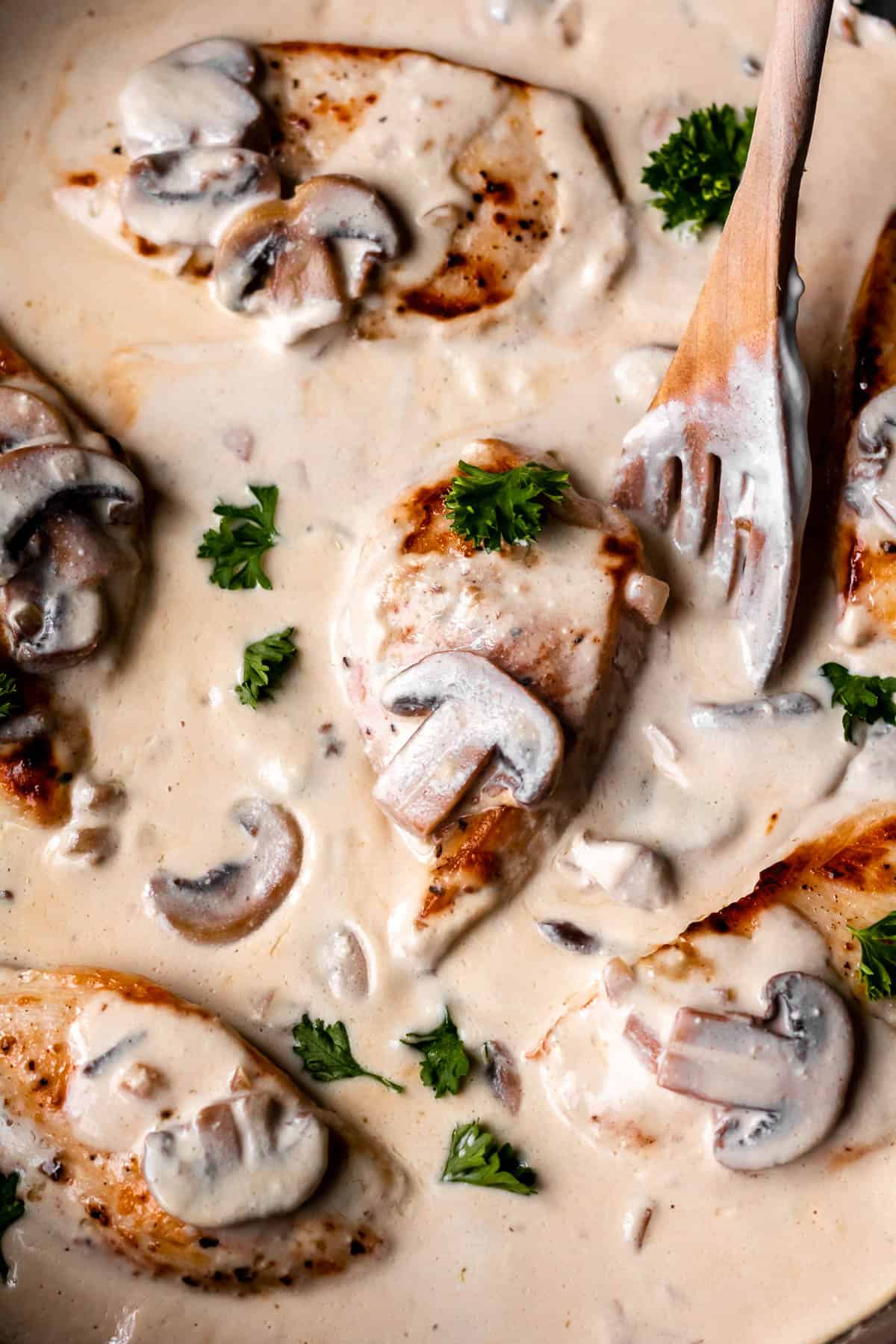 This post contains affiliate links. See our Disclosure Statement for more information.
After making and eating Beef Stroganoff in culinary arts school for the first time, I enjoyed it so much that knew I had to remake the recipe to share on Delicious Little Bites. This Chicken Stroganoff is basically the same recipe but made with pieces of juicy chicken rather than beef. It also uses chicken stock in place of beef demi-glace.
This recipe, just like the beef version, is what I would call "restaurant style" in that it does not cut any corners when it comes to butter and cream. But this is also what gives the dish the most intense rich, delicious flavor.
Traditionally, in America, stroganoff is served over egg noodles. In Russia, where the dish originated from, it's usually served over fried potatoes.
While both of those serving suggestions are perfect for this recipe, I like to enjoy it over cauliflower rice, zucchini noodles or spaghetti squash to keep it low carb, keto friendly, and gluten free.
Why This Recipe Works
This recipe is made with butter, heavy cream, and sour cream. It's a super rich, creamy, and filling comfort food.
This recipe is fairly quick and very easy to make. It seems like a more upscale, fancy dish, but is actually very basic without needing much experience in the kitchen to pull off perfectly.
This is a great recipe for families who have to follow different diets. It can be made gluten free and served in a variety of ways, like over cauliflower rice, zoodles, or spaghetti squash, if low carb or keto options are needed.
How To Make Chicken Stroganoff
Ingredients
You can use any cut of chicken that you prefer. Thin cut chicken breasts and diced chicken cook easily in a skillet on the stovetop.
Buy pre-sliced mushrooms to save time, if desired.
The entire recipe and instructions can also be found in the recipe card at the bottom of this post. You can also print the recipe from the card, if needed.
Prep!
Slice or dice the chicken, if necessary.
Finely dice the onion and clean and slice the mushrooms.
Create!
Melt butter in a large, deep skillet. Season both sides of the chicken with salt and pepper. Cook until golden brown, about 3-4 minutes. Flip and continue to cook until the chicken is no longer pink in the center, about 3 minutes depending on how thick the chicken is.
Remove to a plate and tent with foil to keep warm.
Note: the internal temperature in the center of the thickest part of the chicken needs to reach 165°F on a meat thermometer.
Add the onion to the pan and cook, stirring frequently, until softened, about 2-3 minutes.
Add the mushrooms and cook until the pan is mostly dry, about 3-4 minutes.
Stir in the chicken stock, bring to a boil, then lower the heat to medium and simmer about 10 minutes. Simmering is just below the boiling point, so there should still be small bubbles around the edges as it's reducing. There should only be a few tablespoons of stock remaining.
This process reduces the stock and concentrates the flavor so that when you add the heavy cream, sour cream and dijon mustard, the sauce isn't too thin but the chicken flavor still comes through.
Stir in the heavy whipping cream, sour cream, dijon mustard, chicken, and any accumulated juices. Cook a minute or two to warm through.
Taste and season with salt and pepper, as needed.
Present!
Either stir in the parsley immediately before serving, or sprinkle it on top as a garnish. You can also add a dollop of sour cream to garnish, as well.
To keep the recipe low carb, serve over cauliflower rice, zoodles, or spaghetti squash.
For a more traditional stroganoff, serve over egg noodles or fried potatoes.
Tips and Techniques
You can use any cut of chicken that you prefer. Thin cut chicken breasts and diced chicken cook easily in a skillet on the stovetop.
Store leftovers tightly covered in the refrigerator. Use within 3-4 days.
FAQ's
What Can Be Used in Place of Sour Cream in Stroganoff?
A good sour cream substitute is mixing 1 tablespoon of lemon juice with one cup of milk. You can also use Greek yogurt.
Can You Freeze Chicken Stroganoff?
Chicken Stroganoff can be frozen up to 3 months. However, when reheating it the texture may be slightly different and the sauce may separate. It can usually be brought back together by whisking it.
More Classic Chicken Recipes
Love this Chicken Stroganoff recipe? Follow me on Pinterest, Instagram, and Facebook for more!
If you try this recipe, I would really appreciate it if you would please leave a comment and star rating. Thanks!