These homemade cupcakes are irresistible with their sweet, luscious buttercream and delicately textured, from-scratch cake which are both infused with a delicious warming chai spice mix. Mini Chai Cupcakes are easy to whip up even if you're not an experienced baker, plus they're the perfect bite-sized treat.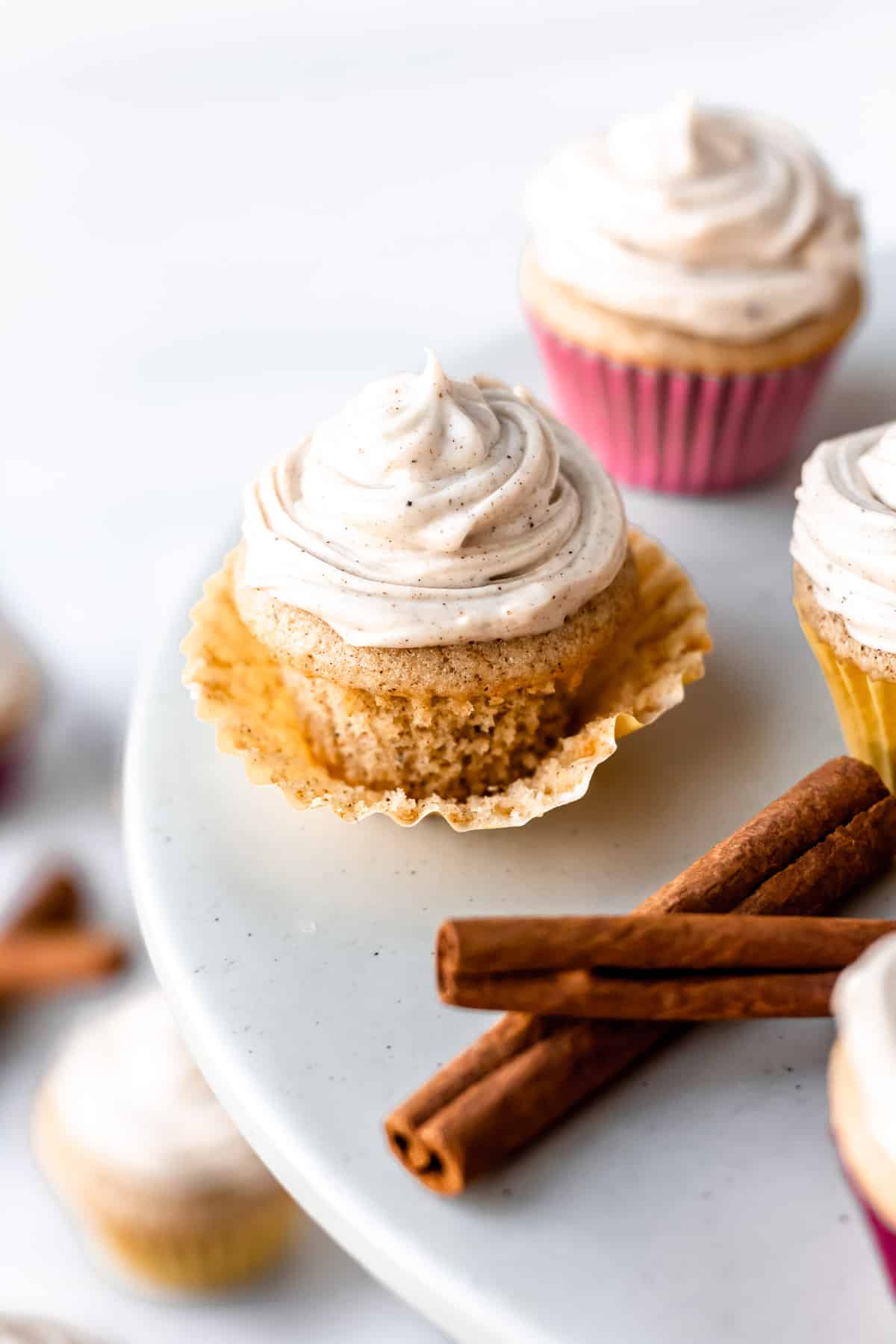 This post contains affiliate links. See our Disclosure Statement for more information.
Homemade Mini Chai Cupcakes are the perfect balance of sweet and warm spices. These light-as-air cupcakes are infused with chai spice mix and adorned with a sugary buttercream frosting which is flavored with the same spices. If you enjoy a little extra spicy kick, be sure to dust the finished cupcakes with a dash of cinnamon for a tasty and decorative extra flourish.
Making cupcakes from scratch is a quite simple and straightforward process. You may decorate them as you like by either piping the icing for a dressed up, fancy look or simply using a butterknife to spread the icing on top. It's up to you to decide how rustic or elegant you prefer for them to appear.
These tiny Chai Cupcakes are wonderful for serving to a crowd or at parties as they're the perfect little bite sized portion.
If you would like to try other varieties of mini cupcakes, be sure to checkout my recipes for Vanilla Cupcakes and Chocolate Cupcakes. Also, if you're a big fan of the flavors in chai spice mix like me, try this recipe for Pumpkin Chai Coffee Cake.
Why This Recipe Works
Homemade cupcakes are pretty quick to whip together. You'll be impressed with the delicious results after following a few easy steps.
Mini cupcakes are great for serving at gatherings, parties, holidays, and celebrations. Make these special treats for your next get together with family friends – they'll definitely appreciate it.
Chai spice mix is an unexpected flavor for some, but it is well loved by many for its warming spices which is the perfect balance of sweet and spicy.
Step-By-Step Instructions
Chai Cake Ingredients
1 1/4 cups all purpose flour
1 1/4 teaspoons baking powder
1 tablespoon Chai Spice Mix
1/4 teaspoon salt
3/4 cup granulated sugar
1/4 cup unsalted butter (at room temperature – this is important!)
2 eggs
2 teaspoons vanilla extract
1/2 cup heavy cream (can use whole milk)
Chai Buttercream Frosting Ingredients
4 cups powdered sugar
1 teaspoon Chai Spice Mix
1/2 cup butter (at room temperature)
2-3 tablespoons heavy cream (can use whole milk)
2 teaspoons vanilla extract
Equipment Needed To Make This Recipe
The entire recipe and instructions can also be found in the recipe card at the bottom of this post. You can also print the recipe from the card, if needed.
Prep!
Set the butter out for the cupcakes about an hour before you begin to allow it to come to room temperature. You will also want to set the butter out at least an hour before you plan to make the frosting.
Note: It's really important that the butter for the cupcakes is at room temperature. This is so that it can be whipped into the batter for the most perfectly, fluffy, best chai cupcakes!
Preheat your oven to 350°F. Line a mini cupcake pan with mini paper liners.
Create!
Combine the flour, baking powder, chai spices and salt in a small bowl and set aside
In the bowl of an electric mixture, add the butter and sugar and beat until light and fluffy, about 3-5 minutes.
Add the eggs, one at at time, letting each one fully incorporate before adding the next, then the vanilla extract.
Lower the speed on the mixer and gradually add the flour mixture, alternating with the heavy cream (or milk), until everything is well combined.
Fill each cupcake liner about 2/3rds full.
Bake for 12-15 minutes, or until a toothpick inserted into the center comes out clean. Remove from the pan and allow to cool.
How Long To Bake Mini Cupcakes
You can turn almost any cupcake recipe into mini cupcakes. The biggest issue is knowing how long to bake mini cupcakes for.
I have found that baking mini cupcakes at 350°F for 12-15 minutes to be the sweet spot. However, all recipes vary so it's best to check on them frequently when modifying a recipe.
To make the frosting, combine all of the ingredients for the frosting in the bowl of an electric mixer fitting with a whisk attachment. Mix, on low speed for a minute, then medium until everything its well combined and smooth.
I use heavy cream for the buttercream frosting to give it a richer, creamier flavor. You can substitute milk, if preferred.
Present!
Top the cooled cupcakes with the frosting using a piping bag and tip, spatula or a butter knife.
Add a sprinkle of cinnamon, if desired.
Tips and Techniques
Be careful not to over mix the cake batter or you may end with cupcakes that are gummy in texture or that sink in the centers. You want to mix until the ingredients are just blended.
Measure the flour by gently "fluffing" the flour it is container, then spooning it into a measuring cup without packing. Overfill the cup some, then use the back of a butter knife to level it off.
If you use this recipe to make standard size cupcakes, you may need to increase the bake time by a few minutes. Remember, cupcakes are done baking when a toothpick inserted into the center comes out clean.
FAQ's
How Do You Store Cupcakes?
You can store cupcakes without icing tightly covered at room temperature for a day or two, or with/without frosting in the refrigerator for up to seven days.
Can Cupcakes Be Frozen?
You can freeze cupcakes without frosting, tightly wrapped in plastic wrap, for 4-6 months.
Can Cake Frosting Be Frozen?
Yes, both buttercream and cream cheese frostings can be frozen in an airtight container for up to 3 months. Allow it to thaw in the refrigerator before using.
More Mini Cupcakes Recipes
Love this recipe for Mini Chai Cupcakes? Follow me on Pinterest, Instagram, and Facebook for more!
If you try this recipe, please leave a comment and star rating. I would really appreciate it!