Mini Lemon Cheesecakes are the perfect sweet, light dessert for spring and summer. These tasty little treats are no-bake and incredibly simple to make. You will love them!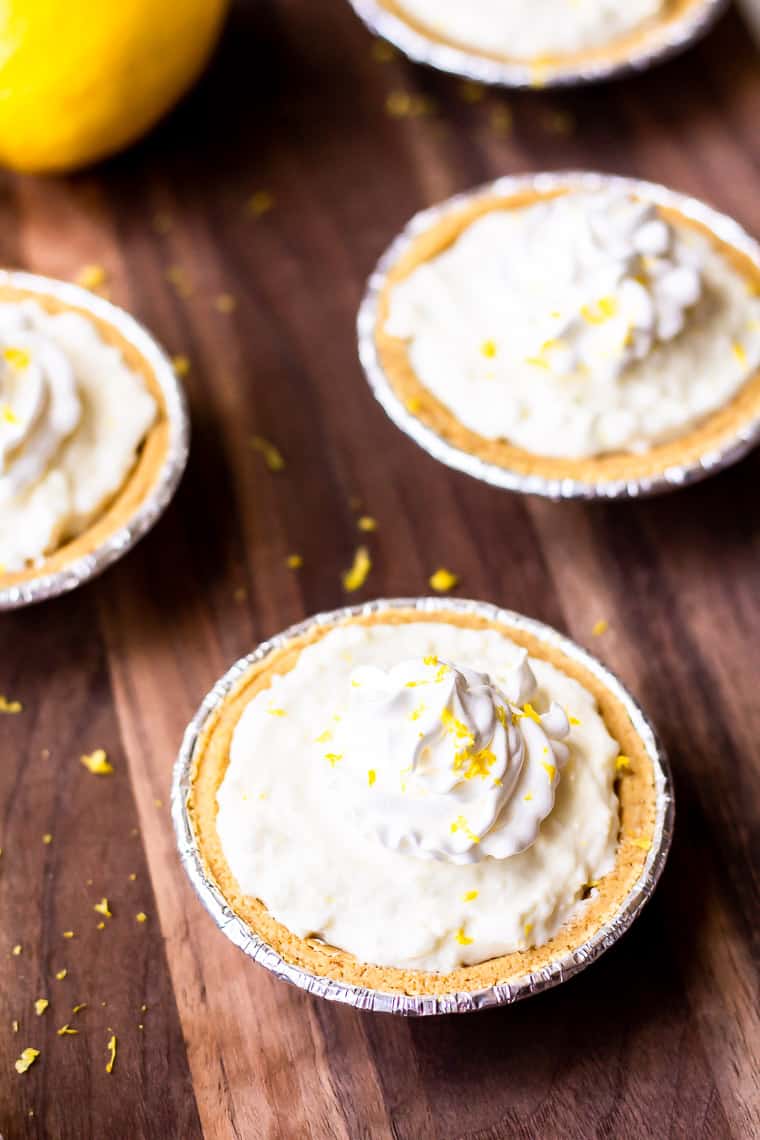 This post contains affiliate links.  See our Disclosure Statement for more information.
I'm starting to feel like a traitor. Ask anyone who knows me and they'll tell you that chocolate is, without a doubt, my favorite dessert flavor. But, I just can't stop with the lemon recipes!
The first no-bake lemon cheesecake recipe that I made was for these No-Bake Lemon Cheesecake Puff Pastry Cups. And, I still get ripped for it not being 100% no-bake, because the cups have to be pre-made.
Lesson learned, friends. In this recipe, I use store-bought, pre-made mini graham cracker pie shells. It's a time saver and prevents you from having to fire up the oven during the warmer months.
Why This Recipe Works
The creamy cheesecake filling is made with real, fresh squeezed lemon juice and zest for a light, fresh lemon flavor. This recipe is 100% no-bake if you use store-bought mini pie crusts.
These are great little desserts to set out when entertaining, especially in the spring and summer. Serve them at your next shower, birthday, or even as a beautiful Easter treat.
This recipe is also easy enough to make as an everyday treat, yet pretty enough for the fanciest of occasions. It takes only minutes to make these, then a couple of hours to chill.
How To Make No Bake Lemon Cheesecake
What You Need To Make This Recipe
To make this recipe, you will need:
2 8-ounce packages cream cheese, at room temperature (full fat)
1 14-ounce can sweetened condensed milk (full fat)
1/4 cup lemon juice (fresh squeezed)
1 teaspoon lemon zest
1 teaspoon vanilla extract
1 packet unflavored gelatin (2 1/2 teaspoons)
12 mini pie crusts (I use Keebler)
Chef's Tip: if you'd rather not use store-bought mini pie crusts, you can make your own with your favorite graham cracker pie crust recipe and mini pin pans. There is a basic pie crust recipe in this post for Coconut Cheesecake Bars. You will likely need to double it.
The entire recipe and instructions can also be found in the recipe card at the bottom of this post. You can also print the recipe from the card, if needed.
Prep!
Set out the cream cheese to come to room temperature about an hour before you begin.
Do keep in mind that the cheesecakes will need a few hours to set up in the refrigerator before serving, so plan accordingly.
Create!
Beat the cream cheese in an electric mixer fitted with a paddle and slowly add the condensed milk, lemon juice, lemon zest, vanilla extract, and non-flavored gelatin until everything is well combined and smooth.
Note: the filling will have some texture from the lemon zest.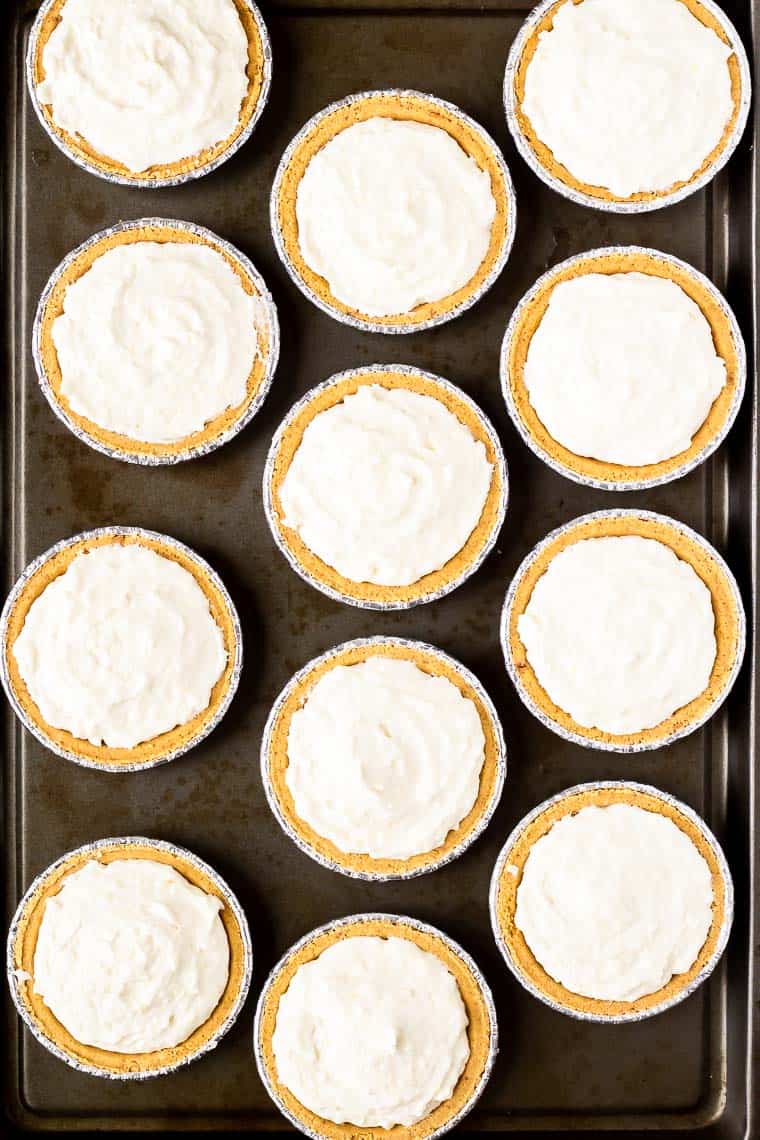 Divide the filling between the 12 mini pie crusts.
Place the mini cheesecakes on a baking sheet in the refrigerator until set, about 2-3 hours.
Present!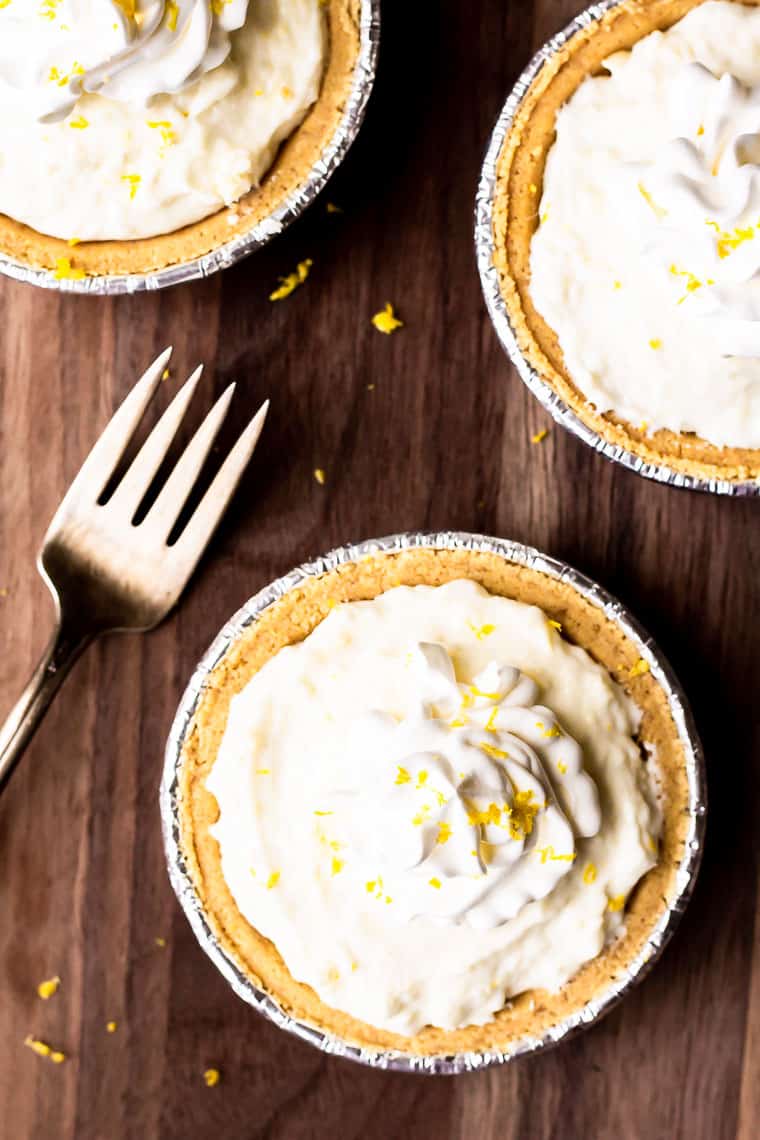 Once the cheesecakes are set, top them with whipped cream and extra lemon zest, if desired.
Tips and Techniques
You can make your own pie crust, if you prefer, with your favorite graham cracker pie crust recipe and mini pin pans. There is a basic pie crust recipe in this post for Coconut Cheesecake Bars. You will likely need to double it.
Store leftovers covered in the refrigerator. Use within 5 days. 
FAQ's
Can You Put No-Bake Cheesecake In The Freezer To Set?
It's not recommended. You want to allow the filling to set up on its own. Freezing it immediately may prevent it from setting properly.
Can You Freeze No-Bake Cheesecake?
Once a no-bake cheesecake has fully set, you can freeze it. Use it within 3 months for the best results.
Allow it to thaw in the refrigerator before serving.
How Long Can You Keep No-Bake Cheesecake Out At Room Temperature?
After 2 hours, it's best to put the cheesecake in the refrigerator or discard it.
More Lemon Dessert Recipes
Here are a few more lemon dessert recipes:
Love this Mini No-Bake Lemon Cheesecakes recipe? Follow me on Pinterest, Instagram, and Facebook for more!
If you try this recipe, I would really appreciate it if you would please leave a comment and star rating. Thanks!