Gougères are French cheese puffs made with a pâte à choux pastry and cheese. These light and airy, two-bite delights can be eaten as is or filled with a savory filling and served as an appetizer or snack.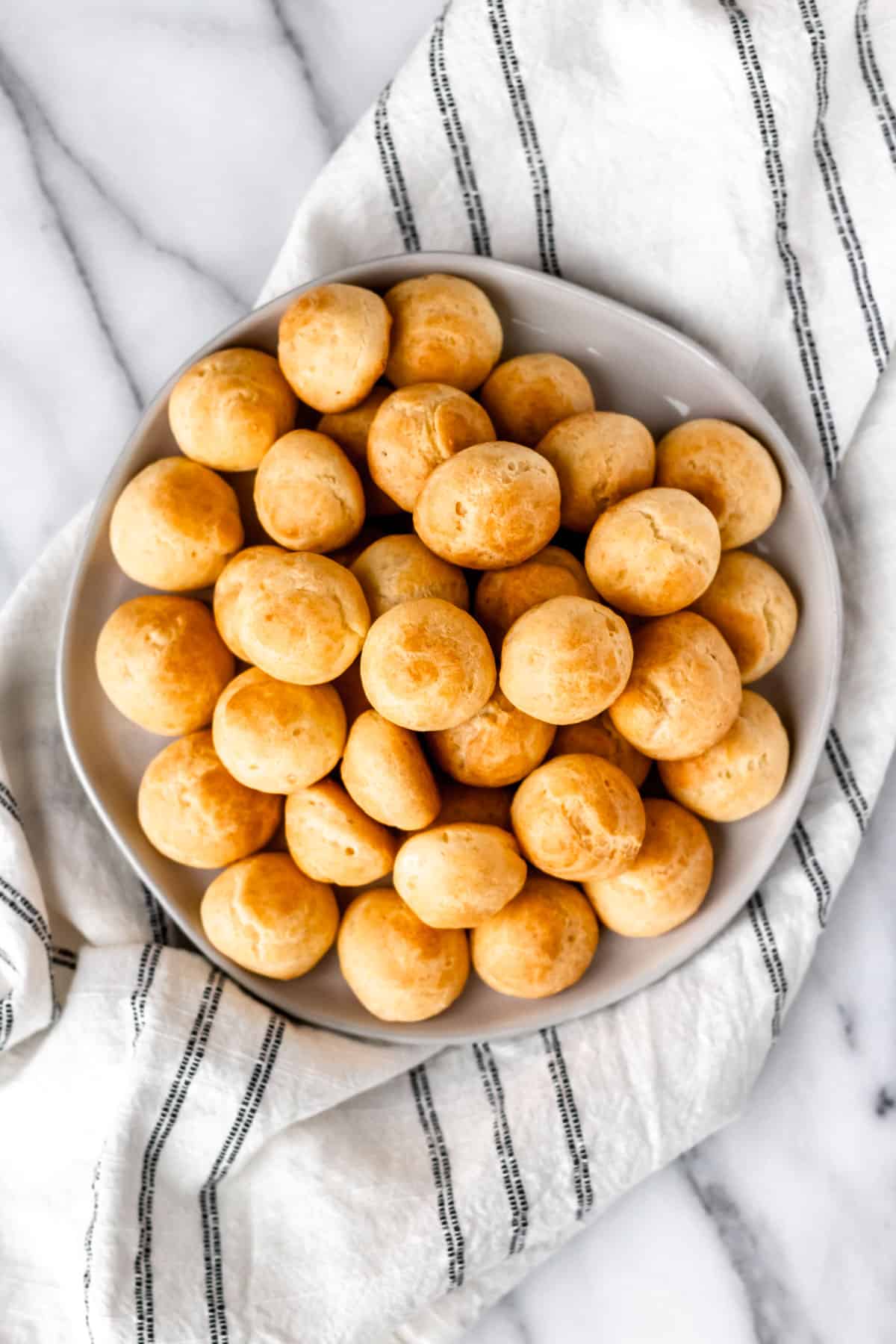 This post contains affiliate links. See our Disclosure Statement for more information.
Gougères are baked cheese puffs and a brilliant example of how pâte à choux pastry can be used in a savory way. These French cheese puffs are simply delicious – the kind of recipe where you keep going back for just one more.
Gougères are most commonly made with Gruyere or a similar French cheese. Less expensive, and often easier to find, Swiss cheese is a great alternative. Parmesan or Cheddar cheese can also be used.
Once baked, they are hollow balls with a crisp exterior. They are delicious on their own, but you can also make stuffed gougères. Chicken Salad is just one example of what you could fill gougères with. Additional suggestions are near the bottom of this post.
You may find gougères served as an amuse bouche, or chef's tasting, at some fine dining restaurants. They are also perfect to serve at parties, weddings, and other celebrations.
For more recipes made with pâte à choux pastry, check out Savory Gruyere Cheese Puffs with Raspberry Sauce, Pumpkin Cream Puffs and Lemon Cream Puffs.
Why This Recipe Works
This is a quick and easy recipe to make. Most of the ingredients are pantry staples except for the cheese.
Gougères are the perfect, savory finger-food to serve a crowd.
These cheese puffs are incredibly versatile. While they are delicious even when served plain, you can also stuff them with a savory filling.
How To Make Gougères
Ingredients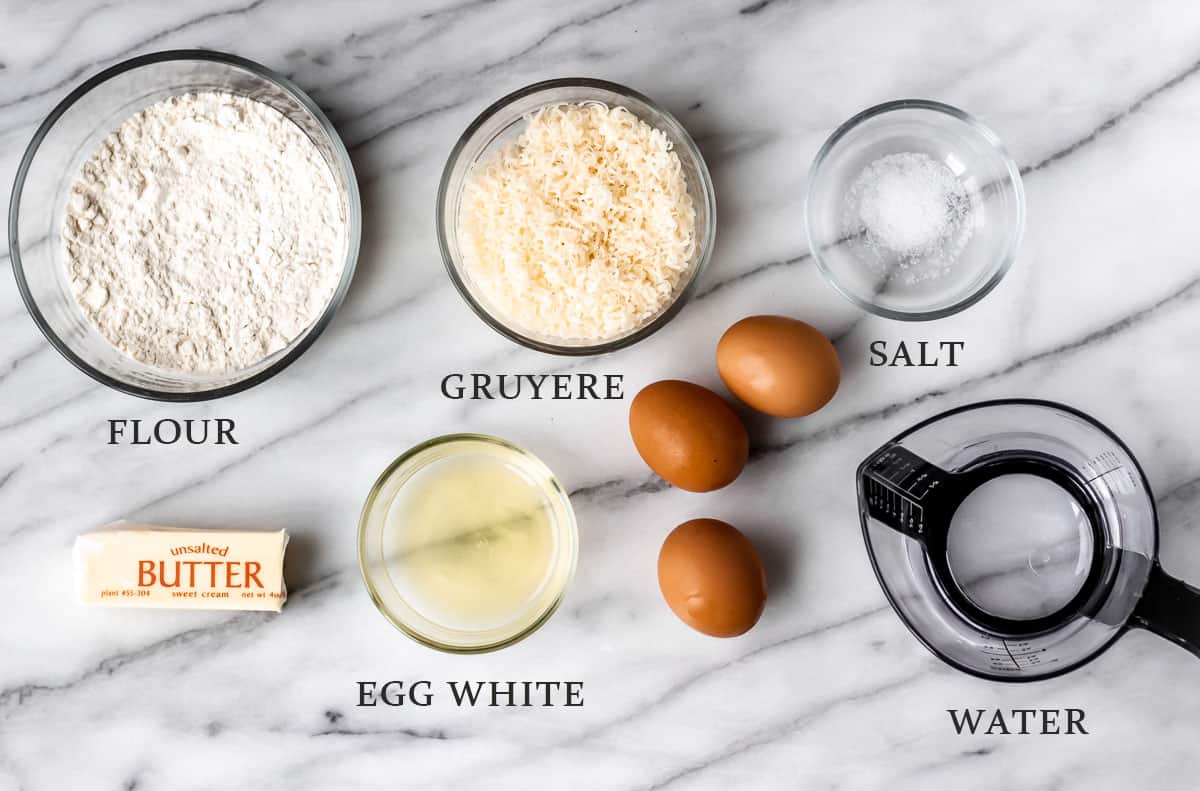 6 ounces water
6 tablespoons unsalted butter
1/4 teaspoon salt
3.38 ounces all purpose flour (about 3/4 cup)
3 whole eggs
1 egg white
2.5 ounces finely shredded Gruyere cheese (about 1 cup): you can use Swiss, Parmesan or Cheddar cheese instead.
The entire recipe and instructions can also be found in the recipe card at the bottom of this post. You can also print the recipe from the card, if needed.
Prep!
Shred the cheese and separate one egg white from the yolk. You can save the yolk for another use.
Set up your mixer with a paddle attachment so that it is ready to go when you need it. Having a digital food thermometer is also helpful, but this recipe can be made without one, as well.
Prepare a pastry bag with a half-inch circle piping tip, like a Wilton #12 tip.
Line a baking sheet with parchment paper.
Preheat oven to 400°F.
Create!
Add the water, butter and salt to a medium pot. Heat on medium high to bring to a boil.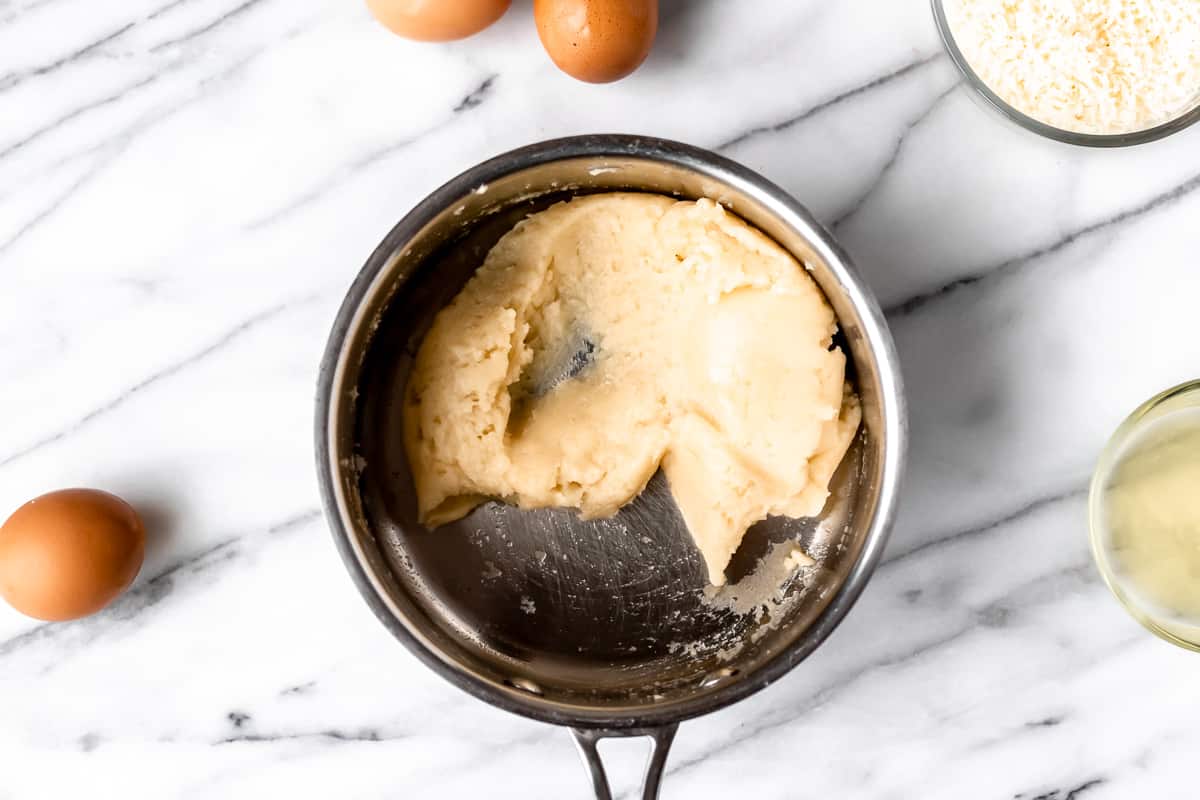 Stir in the flour all at once using a wood or silicone spoon or spatula.
Continue to cook, stirring, until the mixture forms into once mass that pulls away from the sides of the pot and leaves a film on the bottom of the pot. The dough should be about 175°F at this point.
Transfer the dough to the mixer bowl and turn onto medium speed for about 1 minute. The temperature of the dough needs to drop to 145ºF or less before adding the eggs to prevent the eggs from cooking. You can check the temperature with a food thermometer if you have one.
Add the egg white to the bowl and continue mixing until it's fully incorporated, then add the whole eggs one at a time until each of those is fully incorporated. The dough may get lumpy as you add the eggs but will smooth out fairly quickly.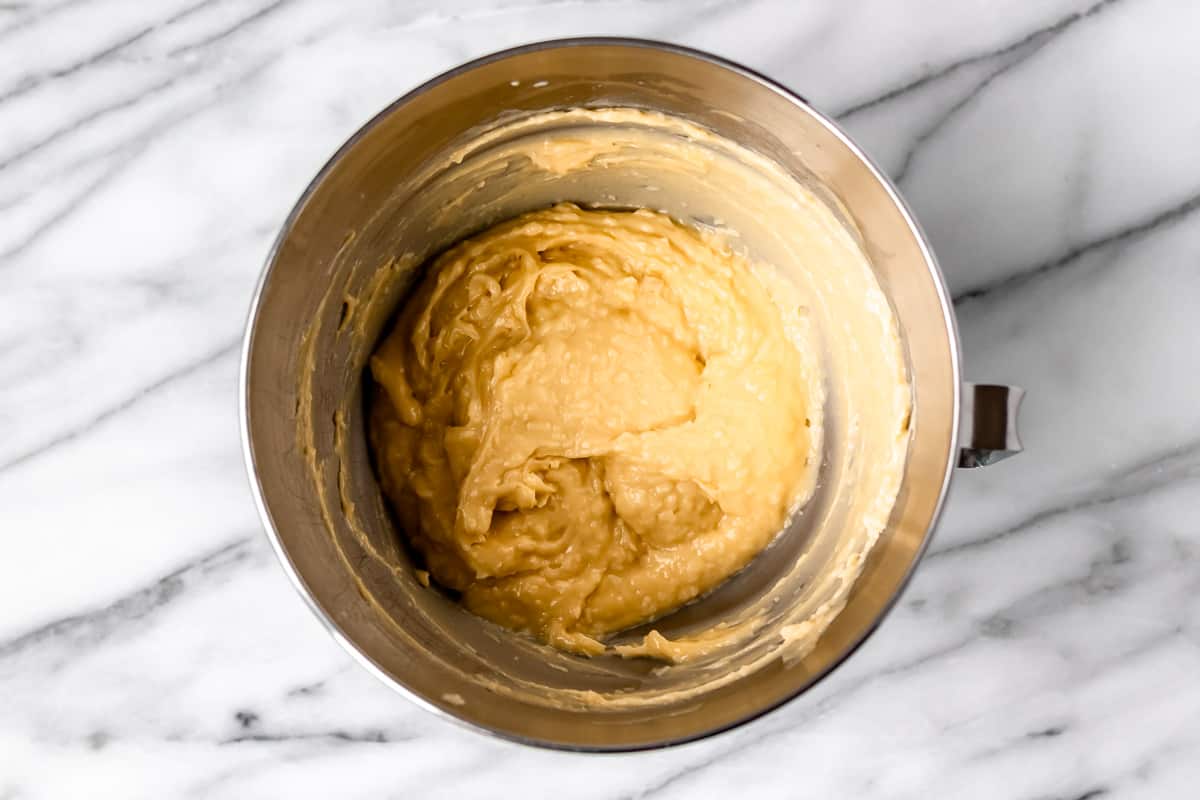 Add the cheese and continue to mix for another minute, then turn off the mixer.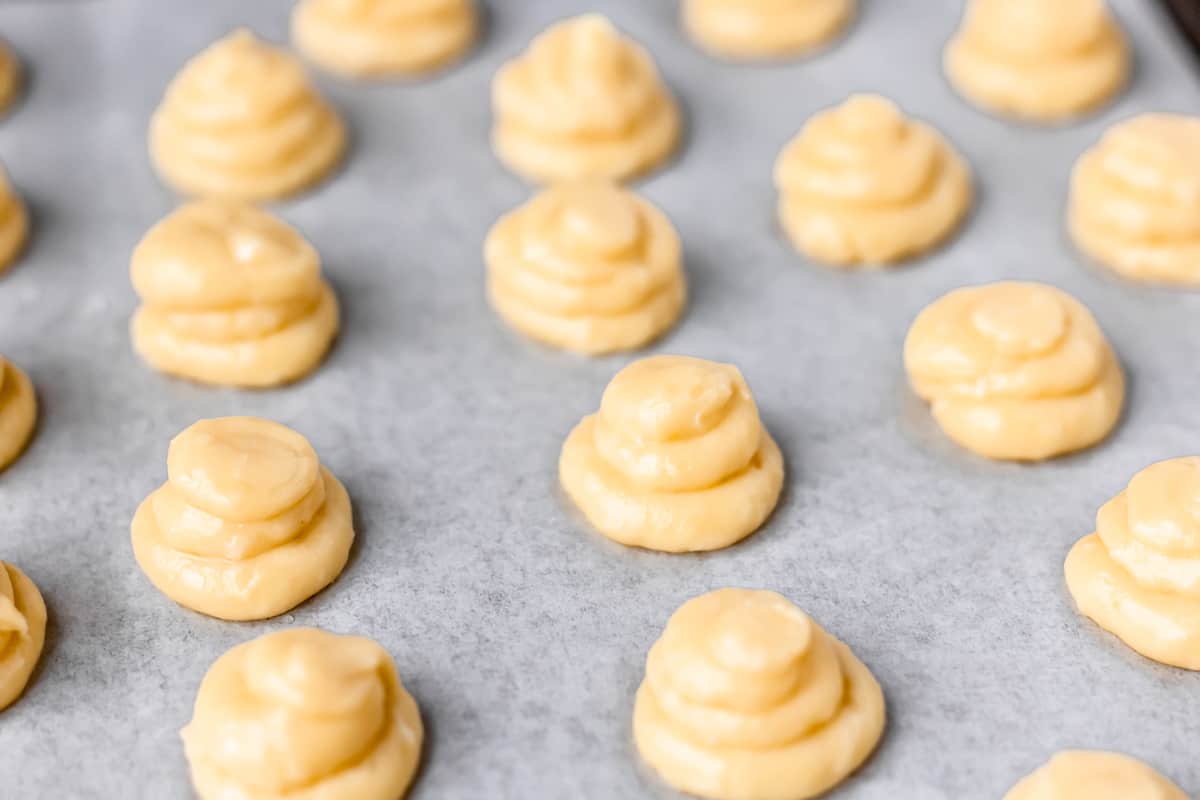 Transfer the dough to the prepared pastry bag.
Pipe small mounds of the batter out onto a parchment paper lined baking sheet. The mounds can be any size, but traditionally are about 1 inch in diameter and about 1 inch high.
Chef's Tip: you can add a small dot of batter under each corner of the parchment paper to help hold the paper down as you pipe your gougères.
Smooth off any points of batter with a wet finger so that they don't burn while baking.
Optional: you can sprinkle Parmesan cheese on top prior to baking.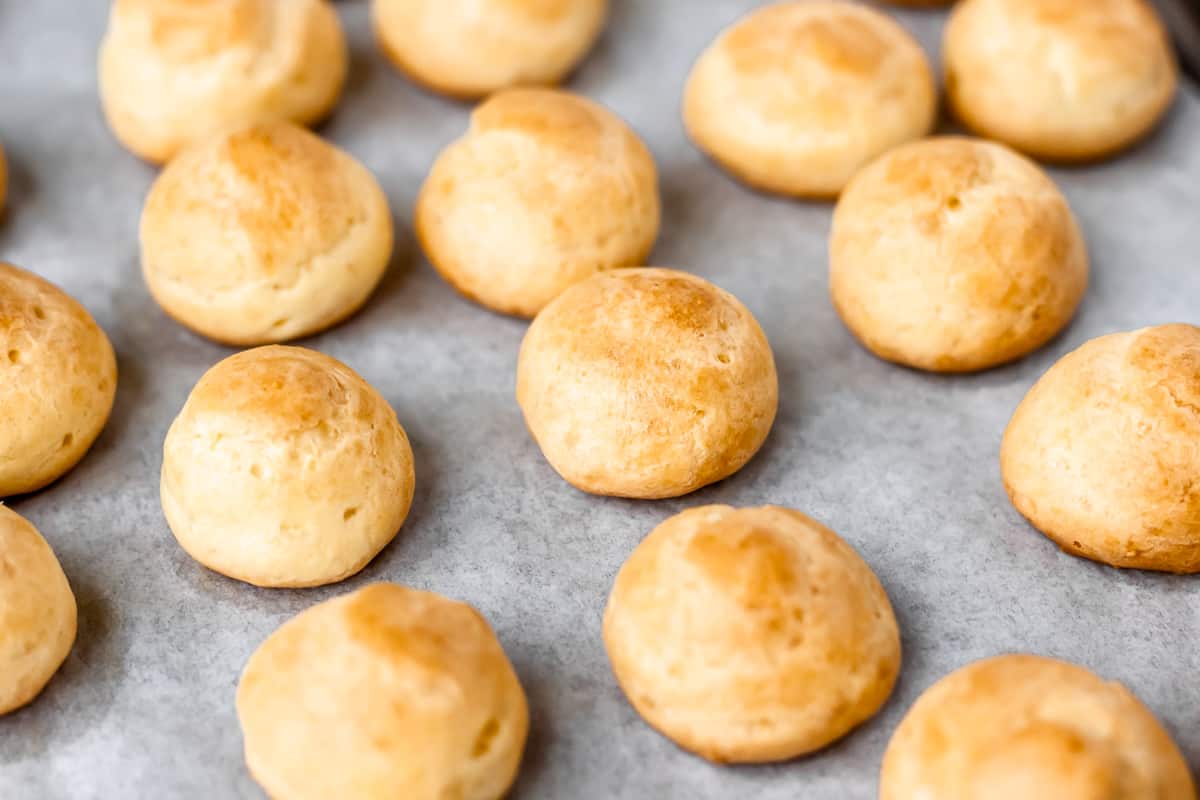 Bake for 15-18 minutes, or until golden brown. You can leave them in longer if a crispier crust is desired.
Present!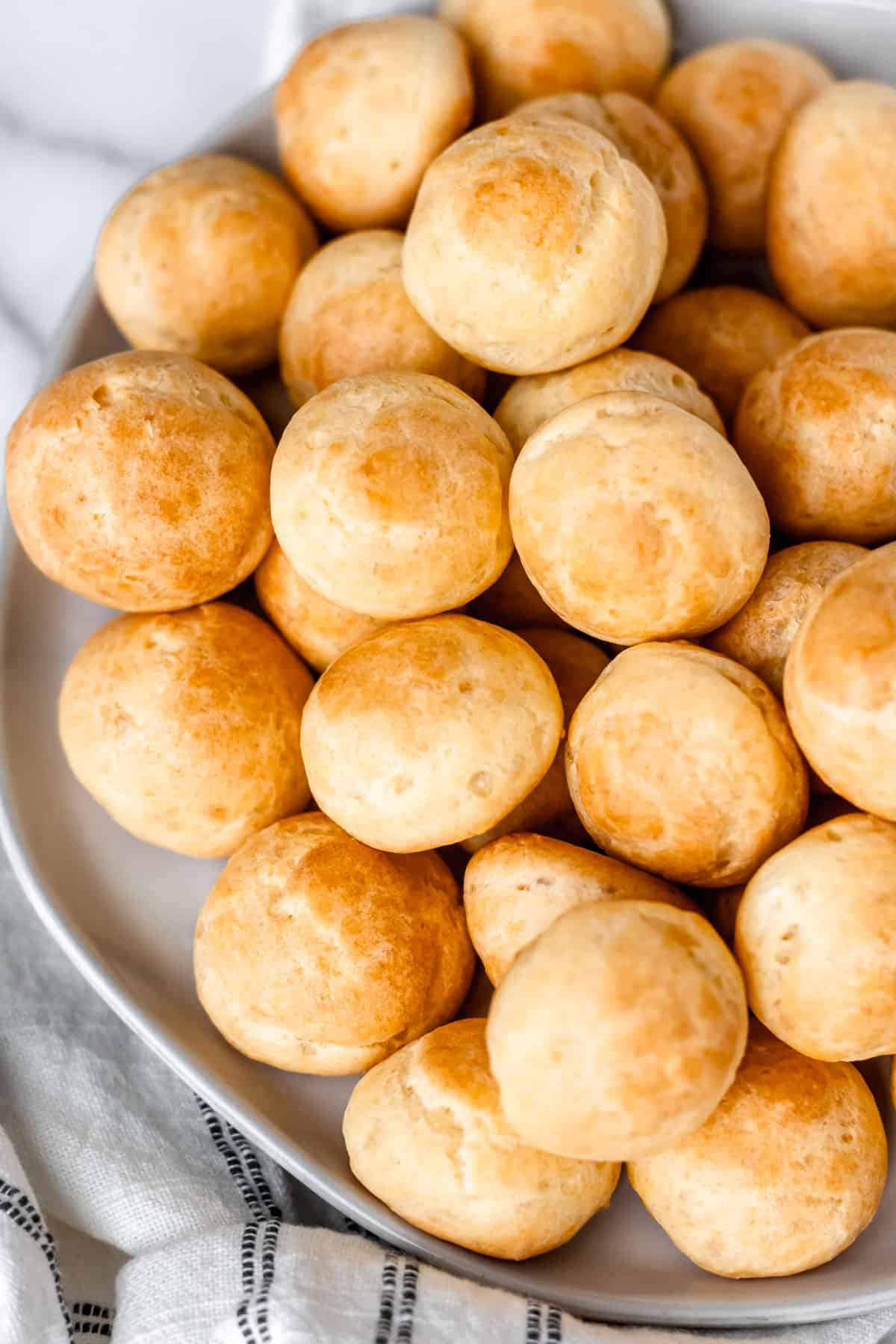 Serve warm or at room temperature.
Tips and Techniques
Good substitutions for Gruyere cheese are Swiss, Parmesan or Cheddar cheese.
Add a small dot of batter under each corner of the parchment paper to help hold the paper down as you pipe your gougères.
Store leftovers in an airtight container at room temperature. Gougères are best served the day that they are made, but will keep for a couple of days.
FAQ's
What Can You Fill Gougères With?
Gougères are delicious on their own, but can also be filled. Some ideas for stuffed gougères are:
Cold salads like tuna salad or chicken salad
Vegetables such as mushrooms or a blend of minced peppers, carrots, scallions etc.
Cream cheese or goat cheese with meat, smoked salmon, nuts or vegetables added.
Thicker dips like buffalo chicken or crab.
Gougères filling options are endless! You just want to avoid anything too liquid-y or too hot as to not soften the dough too much.
Can You Make Gougères Ahead Of Time?
Gougères are best when served the day that they are made. While you can store them at room temperature in an airtight container for a few days, they may lose some of their crispness.
Can You Freeze Gougères?
To freeze baked gougères, allow them to cool then place them in a tightly sealed freezer bag. Store in the freezer for up to 2-3 months. To reheat, place the gougères on a baking sheet and warm in a 350°F oven for 5-7 minutes.
To freeze gougères dough, pipe out the dough onto a baking sheet as you would prior to baking. Transfer the baking sheet to the freezer. Once frozen, place the unbaked, frozen gougères in a tightly sealed freezer bag. When baking from frozen, you will need to add a few extra minutes to the total bake time.
More Recipes
Love this Gougères recipe? Follow us on Pinterest, Instagram, and Facebook for more!
If you try this recipe, I would really appreciate it if you would please leave a comment and star rating. Thanks!