This pastry cream alternative requires just two ingredients and is egg free. It's incredibly quick and easy to make and tastes delicious! You can use this substitute pastry cream in most of the same ways you would use classic French pastry cream.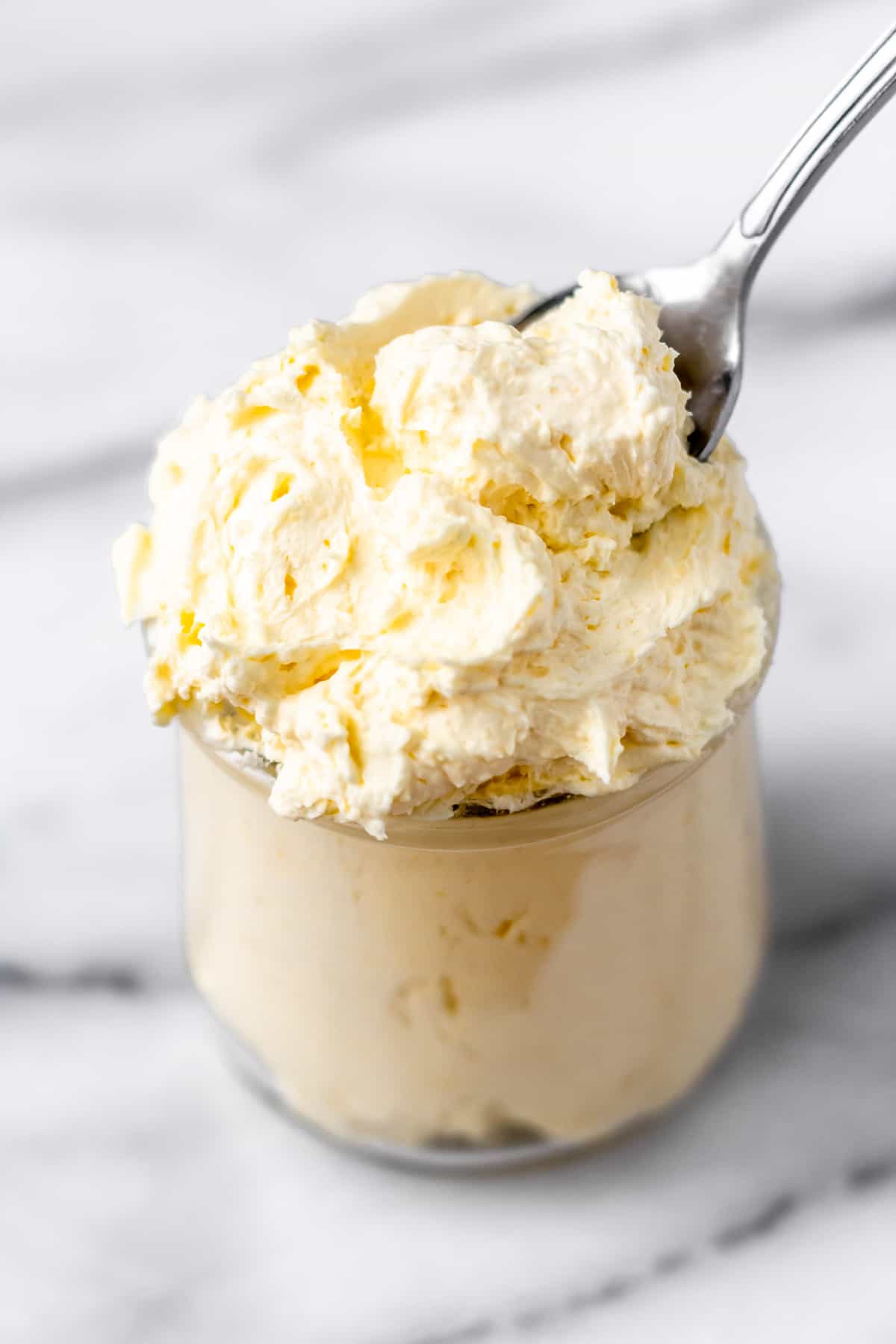 This post contains affiliate links. See our Disclosure Statement for more information.
When it comes to culinary arts school, there are not may "shortcuts" taught, especially in regards to baking and pastry. All the rules were broken when we learned how to make this pastry cream alternative recipe.
Classic Pastry Cream, also know as Crème Pâtissière, is a staple in the pastry kitchen. This alternative pastry cream is much easier to make, does not require any cooking, and tastes pretty similar, as well. Of course there is nothing like the original, but if time is of concern, or you simply prefer the ease of this substitute, it's a perfectly good option.
This version is also eggless, so there is no need to worry about if the eggs were heated properly and it's suitable for those with an egg allergy.
You can use this alternative pastry cream in any recipe that calls for classic pastry cream such as Cream Puffs or Crepes.
Why This Recipe Works
It's a quick and easy alternative to classic pastry cream. This recipe only requires 2 ingredients and about 5 minutes. It can be used immediately.
You can use this alternative pastry cream in the same ways you would traditional pastry cream. It is equally as versatile.
This pastry cream does not contain egg when made with Jello Instant Pudding, making it a great option for those with an egg allergy.
Step-By-Step Instructions
Ingredients
Instant Pudding Mix: I use Jello Instant Pudding Mix. If you use an alternative, be sure to check the ingredients for eggs, as they may vary.
Heavy Cream
Whole Milk (optional): you can use milk to thin the pastry cream, if needed.
Note: you can use any size instant pudding box that you need. Use the same amount of heavy cream as what is noted on the directions on the box for the milk.
The entire recipe and instructions can also be found in the recipe card at the bottom of this post. You can also print the recipe from the card, if needed.
Prep!
There is no prep work for this recipe.
Create!
Add the pudding mix and heavy cream to the bowl of an electric mixer fitted with a whisk attachment.
Chef's Tip: while you can whisk this pastry cream by hand, it gets very thick and will be difficult to do.
Start the mixer on low until the powder and heavy cream combine. Raise the speed to medium-high and beat until light and fluffy, about 2-3 minutes.
Chef's Tip: if a thinner pastry cream is desired, gradually add milk until the consistency is where you need it to be.
Present!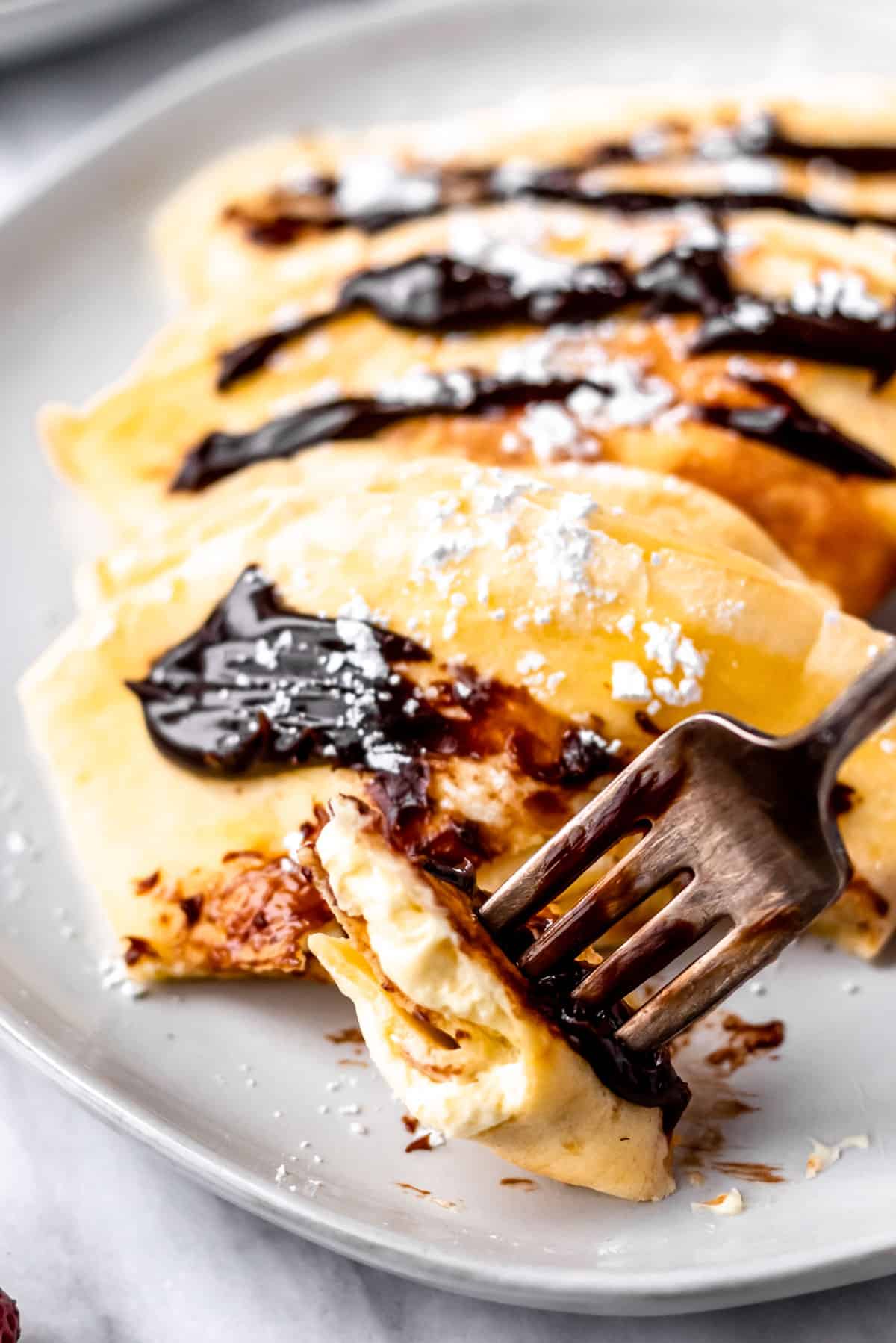 Use as desired.
Tips and Techniques
Use whole milk to thin the pastry cream to the desired consistency.
Store leftover pastry cream in an airtight container in the refrigerator. Consume within a week.
FAQ's
Does Pastry Cream Contain Eggs?
Classic pastry cream does contain eggs.
More Recipes
Love this recipe for Pastry Cream Alternative? Follow me on Pinterest, Instagram, and Facebook for more!
If you try this recipe, I would really appreciate it if you would please leave a comment and star rating. Thanks!