These Flax Seed Waffles have crispy edges and a moist center.  They are suitable for most low carb and gluten free diets!
 This post contains affiliate links for your convenience.  See our Disclosure Statement for more information.
A couple weeks ago I bought a waffle maker.  I had one years ago, never used it, and gave it away.  It was bound to happen that I would eventually want one again!   I got this Cuisinart Waffle Maker and finally got to use it a couple nights ago when we decided on making Chicken and Waffles for dinner!
I had a bit of a challenge to develop a recipe that was both gluten free and low carb, but I did it!  These Low Carb Gluten Free Flax Seed Waffles turned out good enough that even my 8-year-old son ate them without complaining!  He's always my best indicator of a successful recipe!
I would HIGHLY recommend using whole flax seeds and grinding them up yourself.  You can do this in a clean coffee bean grinder!  I read a long time ago that if you eat flax seeds whole you don't get as much benefit, and, that if you buy them pre-ground up, they aren't as beneficial either!  Like I said, it was a long time ago and it could be wrong, but I just found that crazy and ever since I read those little tidbits of information, I buy flax seeds whole and grind them myself right before using them.  You'll see in the pictures that some of those little guys escaped the blades and made it into my waffles whole, but that's okay with me too!
The batter may be runny at first, so let it stand a few minutes before baking.  However, it will thicken considerably if you let it stand too long (found that out the hard way!).  You may have to add milk to thin it again if that happens.  My waffles cooked best on the second highest setting and took around 6 minutes to cook.  This will vary with different waffle makers.
*fruit not suitable for most low carb dieters, shown as a gluten free option only*
The waffles will have a whole grain taste and texture to them.  I made one batch with vanilla and cinnamon, and one batch plain.  I found both to be super yummy with butter.  You could also use sugar free syrup if you're watching your carbs, or regular syrup, jelly or fruit if not.
My intention with recipes of this nature is to develop food that people on restricted diets or living certain lifestyles can enjoy without the guilt and/or sickness that can come along with it.  While these Low Carb Gluten Free Flax Seed Waffles will never be exactly like the carb and gluten filled original versions, I do hope you find them delicious and that they help satisfy a craving or two!
I would love to hear what you think of this recipe!  Leave me a comment or send me a message anytime!
Enjoy!
For more Keto and Low Carb recipes, you can click here to visit the Low Carb section of my Recipe Index or sign up for my Keto and Low Carb Newsletter to get new keto and low carb recipes sent right to your inbox!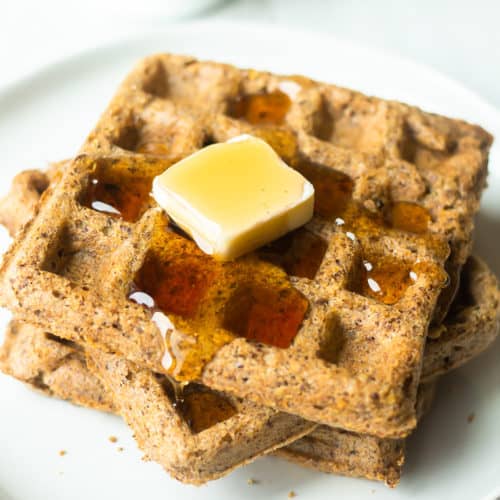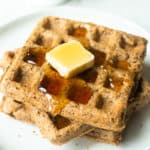 Print
Flaxseed Waffles
Flaxseed Waffles have crispy edges and a moist center. They taste like whole grain waffles and are suitable for keto, low carb, and gluten free diets.
Ingredients
2

cups

flax seeds

* ground

2

tablespoons

sugar substitute

* like Truvia or Splenda Naturals

3

teaspoons

baking powder

1/2

teaspoon

salt

1 1/2

teaspoons

cinnamon

*optional

2

eggs

1/4

cup

butter

* melted, cooled

2

teaspoons

vanilla extract

* optional

1 1/2

cups

unsweetened almond milk

* add more if batter thickens too much
Instructions
Combine the ground flaxseed, sugar substitute, baking powder, salt, and cinnamon, if using, in a medium bowl. Mix well.

Make a well in the center and add the eggs, cooled melted butter, and vanilla extract, if using.

Whisk together, then gradually whisk in the milk, pulling the flaxseed mixture in as well until everything is just wet.

Allow the batter to rest and thicken for just a few minutes, while you preheat your waffle maker to medium heat.

Spread the batter evenly on the waffle maker and close the lid.

Cook until the time is up or the waffles are crisp on the edges - up to 10 minutes.

Remove and serve with your favorite waffle toppings
Notes
Tips and Techniques for the Best Flaxseed Waffles
From a nutritional standpoint, it's best to grind flaxseed immediately before using it.
If your batter thickens too much, add milk very gradually to get it back to a thicker, but pourable consistency.
Store leftovers tightly wrapped in the refrigerator. Use within 2-3 days or freeze up to 3 months.
** Nutritional information is an estimate and may vary.
Nutrition
Serving:
1
waffle
|
Calories:
389
kcal
|
Carbohydrates:
17
g
|
Protein:
12
g
|
Fat:
32
g
|
Saturated Fat:
7
g
|
Cholesterol:
74
mg
|
Sodium:
314
mg
|
Potassium:
655
mg
|
Fiber:
15
g
|
Sugar:
1
g
|
Vitamin A:
315
IU
|
Vitamin C:
0.3
mg
|
Calcium:
313
mg
|
Iron:
3.5
mg