Preparing turkey bacon in the air fryer is an easy way to cook up a small batch at a time. Learn how to make turkey bacon in the air fryer and get crispy, delicious results every time!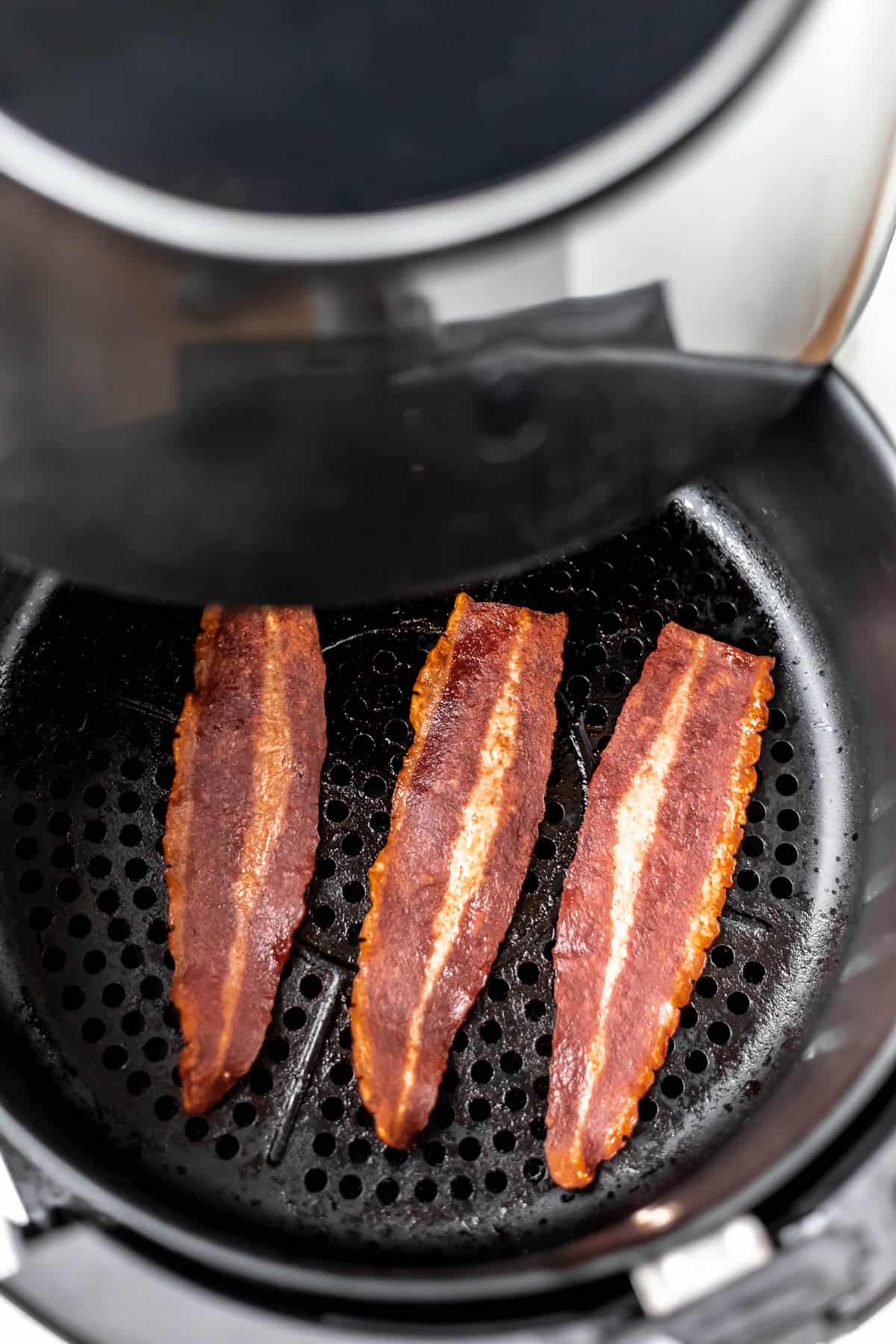 This post contains affiliate links. See our Disclosure Statement for more information.
Your air fryer is one of the best ways to cook turkey bacon. It's a tasty addition to breakfast, brunch, or even breakfast for dinner.
When you use your air fryer, bacon always comes out nice and crispy (and so much less greasy too!).
Make a whole batch to go perfectly with Homemade Sausage and Ricotta Pancakes for a weekend breakfast spread, or make a single serving as needed on busy weekday mornings.
Why This Recipe Works
It's very easy to air fry turkey bacon and takes less than 10 minutes. This method is best when you only need to cook a small amount of bacon, but can be used to make an entire pack. Air frying an entire pack of bacon will take a bit longer, depending on how many slices you can fit into your air fryer basket. A better way to cook an entire back of turkey bacon is in the oven.
Turkey bacon is a healthier alternative to pork bacon. It generally has fewer calories and fat while still being a good source of protein.
Using an air fryer will give you crispy turkey bacon every time. Turkey bacon can be used any way traditional bacon is used, such as a breakfast side, in casseroles, on sandwiches, or sprinkled on top of a salad.
How To Cook Turkey Bacon In The Air Fryer
Ingredients
1 package turkey bacon: you can use regular or low sodium, but you do not want to use packaged "full cooked" turkey bacon.
The entire recipe and instructions can also be found in the recipe card at the bottom of this post. You can print the recipe from the card, if needed.
Prep!
There is no prep work for this recipe.
Create!
Lay turkey bacon strips flat into the air fryer basket, leaving a little space between each one and place the basket into the air fryer.
Set the temperature to 390°F.
Cook for 5 minutes.
Flip the bacon and cook for an additional 3-5 minutes or until done to your preference.
Remove the turkey bacon from the basket to a paper-towel lined plate. Repeat, as needed.
Chef's Tip: the air fryer will heat up faster in cooking multiple batches. The cook time may need to be reduced as you continue air frying.
Present!
Serve as desired.
Tips and Techniques
You can use regular or low sodium turkey bacon, but you do not want to use packaged "fully cooked" turkey bacon.
If you cook multiple batches, the air fryer will heat up faster. You may need to reduce the time as you continue.
Store leftovers in an airtight container in the refrigerator. Consume within 3 days.
FAQ's
How Do You Make Turkey Bacon Crispy?
Correctly preparing turkey bacon will help to make it crispy. There is no need to add any extra butter or oil if cooking turkey bacon in a skillet. Preparing it in an oven or air fryer will also result in crispy turkey bacon.
Drain any excess oil off of the bacon by transferring it to a paper towel-line plate after cooking.
Is Turkey Bacon Already Cooked?
Most turkey bacon is cured and/or smoked, so technically it is cooked before being formed into strips. However, you will need to read the label or company website to determine for sure.
Is Turkey Bacon Healthy?
Turkey bacon can be a healthier alternative to traditional bacon because it is usually lower in fat and calories while still being a good source of protein. It may still be high in sodium, and contain preservatives or sugar so it's important to read the packaging to see if, and how much, turkey bacon is suitable for your own dietary needs.
More Breakfast Recipes
Love this Air Fryer Turkey Bacon recipe? Follow me on Pinterest, Instagram, and Facebook for more!
If you try this recipe, I would really appreciate it if you would please leave a comment and star rating. Thanks!