This January 2018 Martha & Marley Spoon Review includes two delicious recipes!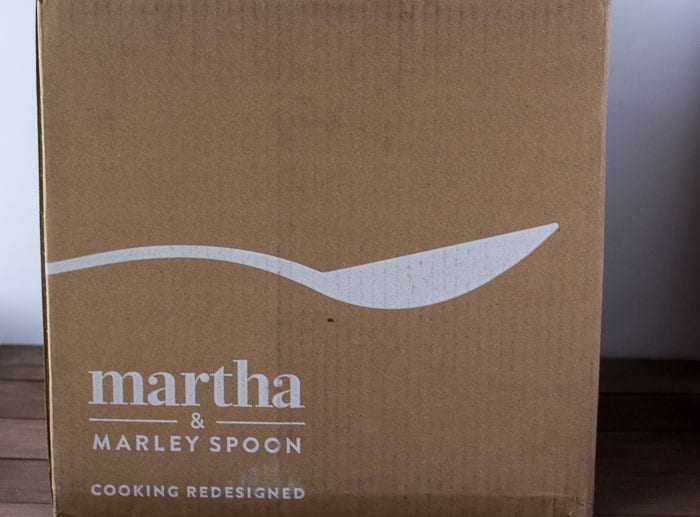 This post contains affiliate links. I received this box complimentary in order to facilitate my review.  See our Disclosure Statement for more information.
If you've visited my blog before, then you know that I am no stranger to meal kit subscriptions. I have been wanting to try Martha and Marly Spoon for quite some time and am so glad to have finally gotten the opportunity!
For those who may not be aware, Martha & Marley Spoon is a meal kit subscription featuring recipes by Martha Stewart. It works very similar to most other meal kit subscriptions, where you chose which meals you want to order each week with the ability to skip weeks, or pause your subscription, whenever you want.
There is a minimum order of 2 meals (4 servings total) and shipping is free. You can get $15 off of your first box by clicking here!
Now, let's get into the details, shall we?
January 2018 Martha & Marley Spoon Review
Packaging
Like most meal kits, my Martha & Marley Spoon order arrived in a sturdy box.  Inside were two brown bags each filled with ingredients for my two recipes.
There was a separate insulated bag with the proteins and an ice pack inside.
I do appreciate the ingredients being separated during shipping, however, one of the brown bags had torn during shipping. All of the ingredients were inside and still intact. I can definitely understand wanting to be as environmentally friendly as possible, but I'm not sure the brown bags are the best for shipping. With this only being my first box from them, it could have been a rare mishap.
There was also a whole bulb of garlic separate in the box.  The recipe cards state that whenever your recipes call for garlic, they will include a whole head.  The funny thing is, neither of my recipes called for garlic. It surely won't go to waste though!
Recipe #1: Crispy Potato Pancakes with Roasted Apple and Arugula Salad
Honestly, I wasn't really sure what I was going to think of this meal before I made it.  I don't care for red onions and they are a part of both the potato pancakes and the salad. However, I loved it! I did pick the onions off of my salad before eating it, but still…this dish was so good.
I was a vegetarian for over 10 years, and have been contemplating going back to that lifestyle, so I really appreciated this recipe.  It was so original, delicious, and easy to make!
The salad had so many flavors going on, but they all worked so well together.  The potato pancakes were simple, but the horseradish dipping sauce took them over the top!
I would definitely re-order this meal and may even recreate it on my own soon!
Recipe #2: Steak and Potatoes with Green Bean Vinaigrette
My second  meal was a spin on steak and potatoes.
The steak was a simple sirloin seared with just salt and pepper, but the meat is definitely high quality!
The Green Bean Vinaigrette on the potatoes reminded me of a warm version of a green bean and potato salad my mom used to make for family cookouts. She doesn't use mustard in hers, but I loved the little crunch from the mustard seeds!  This dressing is tangy! I couldn't stop stealing bites of it before dinner was served!
I would most definitely order this meal again as well!
Try Martha & Marley Spoon!
I found the meals I received for this January 2018 Martha & Marley Spoon Review simply amazing. They really did show that less is more! I'll definitely be ordering from Martha & Marley Spoon again and will be sure to review each time I do!
If you want to try this meal subscription box for yourself, you can save $15 off of your first order by clicking here!