This post is sponsored by Foster Farms. All content and opinions are entirely my own.
Foster Farms Take Out Chicken Wings and Tenders make staying in even more fun and relaxed. Snacks for your next movie night, game night, big game or any other occasion are done in a pinch and just as delicious as your favorite restaurants!
Some of you may know that my family just moved back into our home after being displaced for seven months. To say we have become homebodies is an understatement.
Of course our kid's school and sports schedules still keep up plenty busy, but any chance we have to stay in and watch movies or play games we definitely take.
For our movie and game nights, we always have a variety of easy-to-eat finger foods and snacks. We've ordered delivery in the past, but many places won't deliver to our home because it's just a little off the beaten path, will take an hour or longer to get to us, and just isn't the same quality after sitting in a takeout box for so long as eating in the establishment.
Enter Foster Farms Take Out Chicken Wings and Tenders. Foster Farms Take Out products are quick, easy and taste really good! My kids and I love the chicken tenders and my husband is all about the wings.
Foster Farms Take Out
Foster Farms Take Out products are restaurant-quality chicken tenders and wings that come in a variety of flavors. I love that there is something for everyone, whether you like your chicken spicy, mild or boneless.
The Crispy Tenders comes in Buttermilk Ranch and Nashville Hot. The Crispy Wings come in Classic Buffalo and Chipotle BBQ.
Preparing the chicken is really easy too – simply heat and eat! I always use the oven or toaster oven to keep the coating super crispy and the chicken super juicy inside, although they can be cooked in the microwave to save a little time, as well.
It's so much better than take out or delivery because this chicken stays crispy. Takeout chicken tenders always gets soggy after sitting in a box on its way to be delivered.
My teenage son is a chicken tenders connoisseur lately, and these are his favorite to make at home. He requests them anytime I ask him if he'd like anything on my weekly shopping trip.
The sauces that come with the chicken simply need to sit in bowl of warm water for a few minutes to thaw before serving.
I serve the Take Out Tenders and Wings, plated family-style so that everyone can help themselves. The food has definitely become the star of our family nights.
I really do love spending time together and making even the little moments, like a simple family card game, a little more special.
Where To Buy Foster Farms Take Out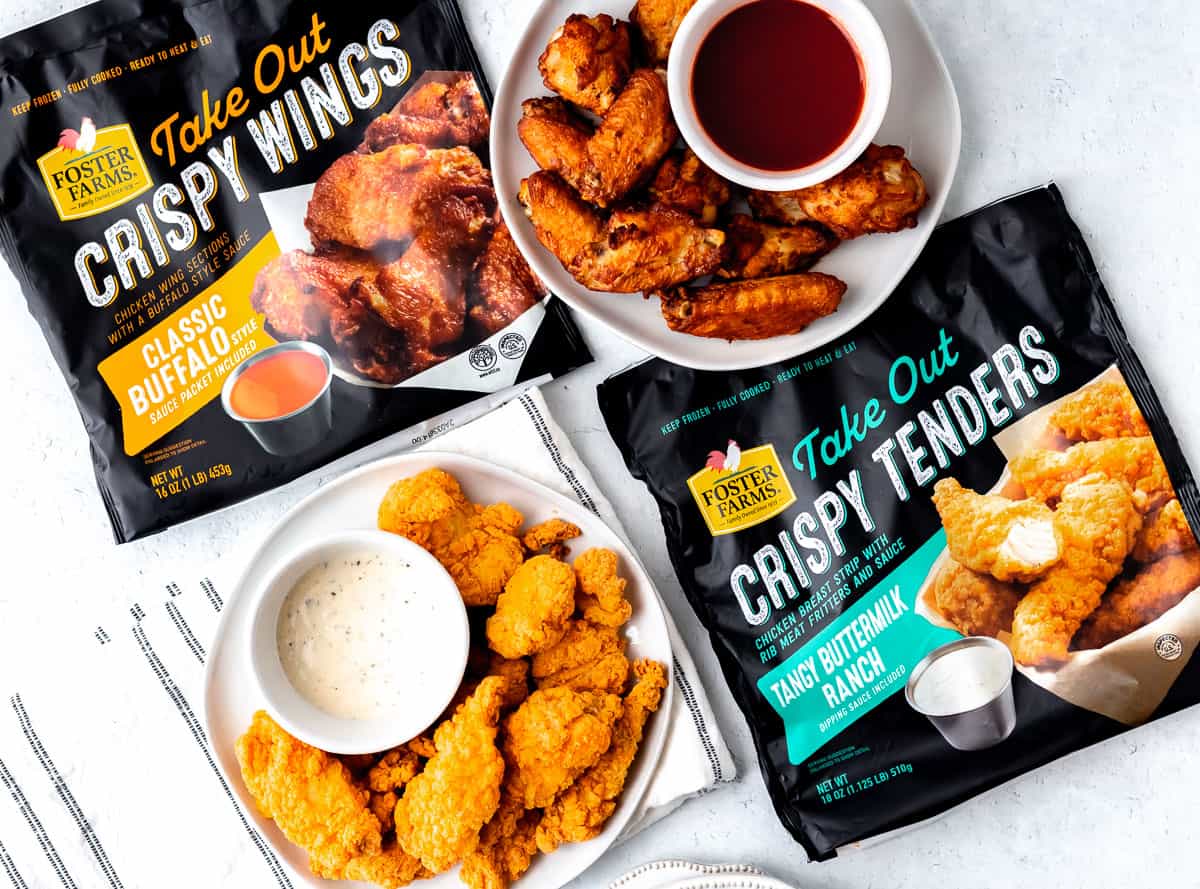 You can find Foster Farms Take Out Chicken Wings and Tenders in the frozen aisle at many grocery stores. Click here to find a store near you and download a coupon to save on your next purchase.
What flavors will you be trying first? #FosterFarmsTakeOut