This January 2018 Blue Apron Whole 30 Review includes 3 meals! Two of the meals are Whole 30 approved!
This post contains affiliate links.  I received this Blue Apron box complimentary in order to facilitate this review. See our Disclosure Statement for more information.
Blue Apron is a popular meal kit subscription box. The food is always fantastic! For 8 weeks in January and February 2018, Blue Apron has teamed up with Whole 30 to bring you even more meal choices to help you stick to your New Year's resolutions!
If you're new to Blue Apron, I included how it all works at the bottom of this post, including a special link that will give you $60 off of your first three boxes!
I was so excited to try these new meals for myself! For the week of January 22, 2018, I ordered 3 meals, including the 2 Whole 30 approved recipes!
January 2018 Blue Apron Whole 30 Review
Packaging
Blue Apron ships everything in a well insulated box.
The ingredients are loose in the box with the exception of what Blue Apron refers to as knick-knacks.  The knick-knacks are the smaller ingredient items for each recipe as well as a little pamphlet with the nutritional information.
Under the loose ingredients is a cardboard divider.  Under the divider is where you will find the proteins and ice packs to ensure they stay really cold during shipping.
Steak and Warm Lemon Salsa Verde with Roasted Broccoli and Sweet Potato
This was the first of my two Whole 30 approved meals.
First off, this meal was simple to make! There was a bit of dicing and mincing to be done, but I don't mind that part.  I actually feel like food tastes better when it's freshly cut.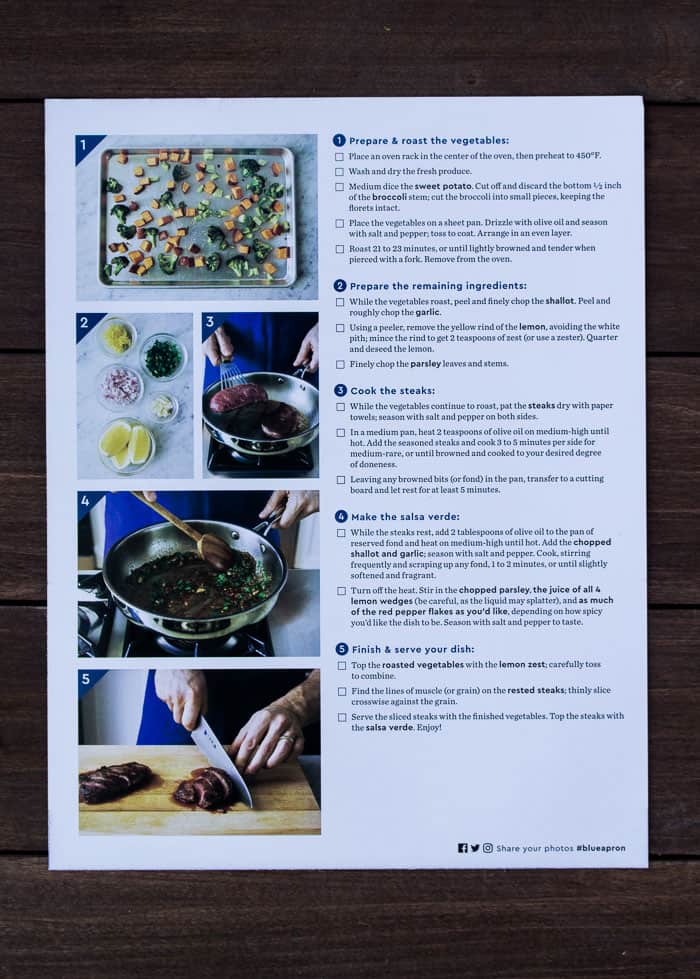 The directions were easy to follow and because the vegetables were roasting in the oven, I was able to focus just on cooking the steak as perfectly as I could!
The recipe card stated it would take between 35-45 minutes. I would estimate it took me right around 35 minutes.
This meal was delicious! It looked so simple on the recipe card, but the lemon zest on the vegetables and the lemon juice in the Warm Lemon Salsa Verde really pulled everything together.
I would definitely chose this meal again!
Chicken and Orange Kale Salad with Spicy Tahini Dressing
This salad is the second of my Whole 30 approved meals.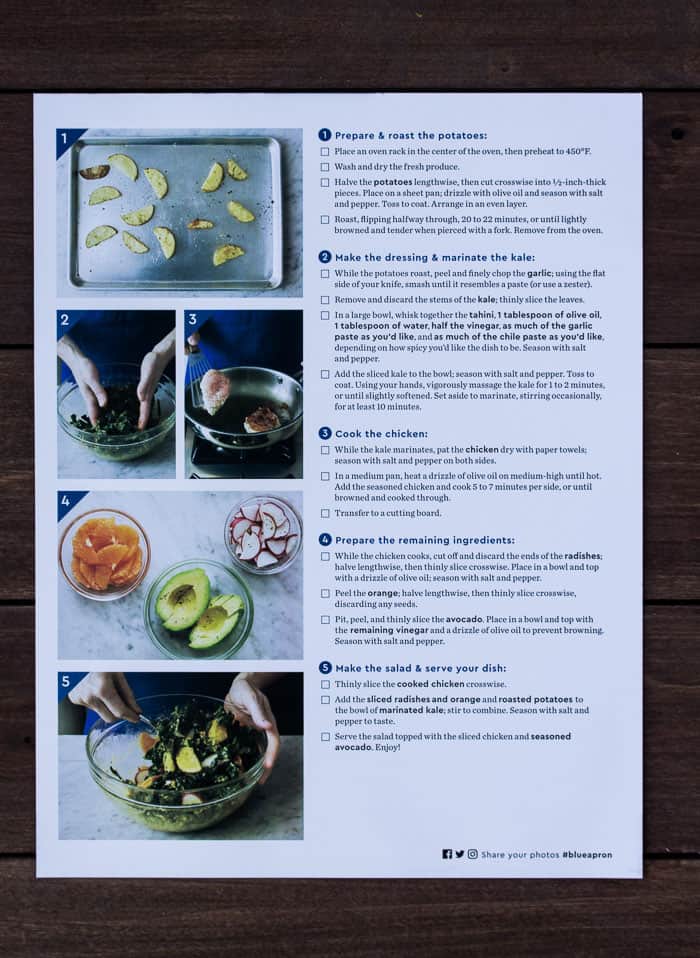 Again, it was super easy to make.  I actually made the chicken and potatoes ahead of time and kept them in the refrigerator until I was ready to assemble the rest of the salad.
There was also a bit of chopping and mincing to be done here, but it didn't take long at all.  I would estimate this entire recipe took about 20 minutes, not including the cooling time for the chicken and potatoes.
The Spicy Tahini Dressing was amazing! I'm definitely gong to be attempting to replicate it the next time we have kale salad! I did find the concept of potatoes in the salad a little odd, but still delicious.
Orange Glazed Meatballs with Bok Choy and Jasmine Rice
My final meal choice was not a Whole 30 approved meal.
I chose the Orange Glazed Meatballs because I had had a different meatball recipe from Blue Apron in the past and loved it!
Every recipe this week was easy to make, but I think this one was the easiest.
There was a little chopping and mincing, but it went really quickly.  The sauce was simple to whisk together, and cooking everything took just over 10 minutes.
This dish was another win for me! I loved the sweet sauce on the meatballs and the vegetables! There was plenty of rice, making this meal really filling too!
Try Blue Apron!
Blue Apron is a meal kit subscription, but you have the ability to skip as often as you prefer or cancel anytime.
Meals start at $9.99 per serving for the individual plan and $8.99 a serving for the family plan.
You can choose 2 or 3 recipes (each with 2 servings) per week on the individual plan or 2-4 recipes per week (each with 4 servings) on the family plan.
Shipping is free on all plans except for the 2 recipe individual plan, where it will cost $7.99 for shipping.
Blue Apron offers a variety of meals each week. If you want to try Blue Apron while they are offering the Whole 30 approved meals, you'll need to act quickly as there is only a few more weeks left at the time of this post.
You can save $60 off of your first 3 boxes ($20 each box) by clicking here!
I think you'll love it!