After a terrible experience with Gobble a few years ago, I decided to give this meal kit subscription another try. Find out how Gobble works, what kind of meals you can expect and if the company has improved since the last time we purchased from them.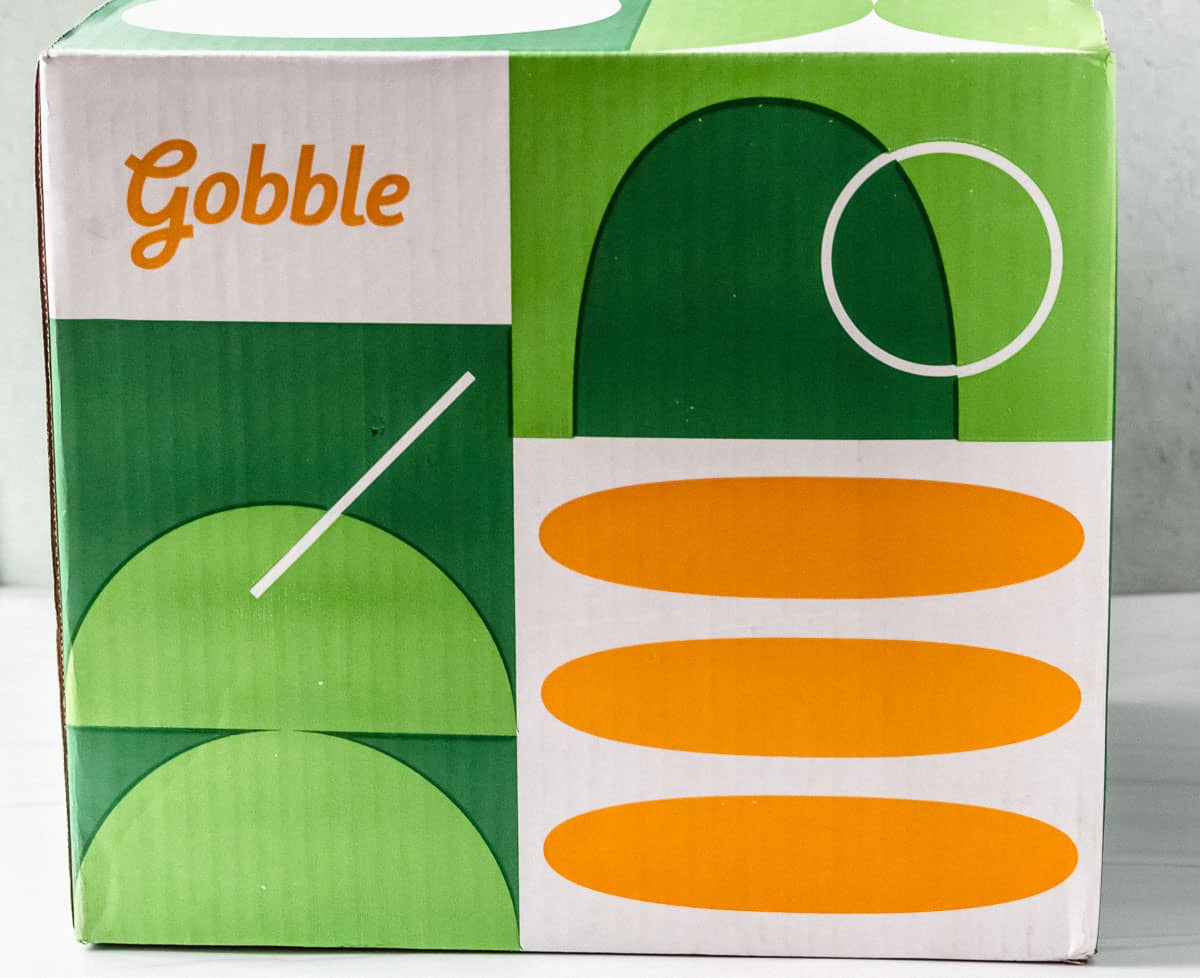 This post contains affiliate links. See our Disclosure Statement for more information.
I first tried Gobble in February 2018. I was so disappointed in the food, that it has taken me three years to finally be willing to give them another chance.
I've never had a bad experience with any other meal kit. I'm a huge fan of Sunbasket and really like Home Chef, Blue Apron and Hello Fresh, as well. There just hasn't been a need to go back to Gobble.
Why was Gobble so bad? Basically the quality of the food was below that of the other meal kits at the time, and the recipes just weren't that great. My fiancé literally threw away his steak and I've never seen this man through away steak before. We were just talking about it as we tried the first recipe from this box and even he questioned the fact that he actually threw away a steak!
So, why am I giving them another try now? I was updating my Meal Kit Guide for 2021 and was checking each one to ensure that they were all still in business and that I was linking to the best offers available.
I was actually surprised to see that even as a few other meal kits have gone out of business, Gobble is still going strong.
What Makes Gobble Unique?
Gobble claims that their meals can be made in just 15 minutes because their chefs do the majority of the prep work. You can also swap out the proteins in some of the meals.
When I was updating my notes on Gobble, I noticed that they now have what they call "Lean and Clean" meals where the carb count is a bit lower. It's not so low that it would work with most keto diets, but some of the meals are very reasonable if you are able to cut carbs out of the rest of your day.
Because I try to stay around 20 grams of carbs per day, I had to plan other super low carb meals to balance out my daily intake on the days I ate the meals from Gobble.
After reviewing the menu, I signed up to try Gobble again the week of February 7, 2021 because the 3 Lean and Clean meals offered all looked like something I would enjoy.
February 2021 Gobble Review
Plans and Cost
With Gobble, you are required to order a minimum of 2 of the main meals (not add ons) with 2 servings of each to meet their shipping requirements.
Meals are $11.99 per serving, if you order 3 or more meals (6 or more servings). Each meal is $13.99 if you only order the minimum of 2 meals (4 servings). There is no set limit as to how much you can order.
Shipping is a flat rate of $6.99 per order.
I bought my box as a new customer to get 6 meals for just $36 (additional discounts are listed at the bottom of this post) and then paid an additional $22.96 to add on 2 more items.
Packaging and Delivery
Delivery days depend on your location. You are able to change to delivery day when more than one day is available.
Because Monday is not an option where I live, I chose to receive my delivery on Tuesday. I like to make these meals for lunch when I'm working from home and the kids are at school.
My package arrived on time and very cold.
Inside the box, each meal is packaged together. I know that some may find this wasteful, while others appreciate how easy it is to gather all of the ingredients when you are ready to cook.
There were 2 large ice packs in the bottom of the box and the 3 packages of proteins were right on top of them and super cold.
The Food
Meal 1: Chicken Waldorf Salad with Blue Cheese and Walnuts
There is no reason that I should not have loved this salad. I am especially a huge fan of blue cheese and walnuts.
Other ingredients in this recipe are arugula, endive, celery, red grapes and diced apple. The dressing is a light balsamic vinaigrette.
There are 19 net carbs and 470 calories per serving. To reduce my carb intake a little more, I omitted the grapes. I don't really care for grapes in salad, and probably would leave them out regardless. I was not willing to sacrifice the apple.
As you can see in the photo above, the endive arrived in bad shape. I think it was crushed during shipping. As much as I wanted to be able to save it, I had to toss it out. The apple had a small bruise on one side, but there was more than enough good apple for the recipe.
This salad was huge even without the endive! One thing you will notice in all of the recipes below is that the serving size of the vegetables is large. I would say 1 1/2 to 2 cups per serving depending on the recipe.
This was a simple recipe that was easy to make and very tasty. It definitely fits into Gobbles 15 minute claim, as well.
Meal 2: Sicilian-Style Balsamic Glazed Steak with Cauliflower and Broccoli Rice
After my first experience with Gobble, I was a little hesitant to try the steak again, but to be able to give them a fair chance, I really did have to order a steak meal. I love balsamic glaze and if you've ever looked through the recipes on this blog, you will find a ton of cauliflower recipes, including a Cheesy Broccoli Cauliflower Rice.
This recipe has 22 net carbs per serving, mostly due to the sugar in the balsamic glaze and the golden raisins in the cauliflower and broccoli rice. There are 430 calories per serving. Personally, due to my own dietary needs, I tried to go a little light on the balsamic and omitted the raisins in my portion, except for one bite for review purposes.
When I first opened the steak, I was a little nervous that I was going to have a repeat bad experience. It wasn't cut very neatly and I did have to trim off some bigger pieces of fat. However, as I was trimming I could tell that the meat itself was very tender.
After cooking, I can happily confirm that the steaks were very good! I also really enjoyed the vegetables.
This recipe did not take that long to make either. I believe it was right around the 15 minute mark for me.
Meal 3: Pan-Seared Salmon Fillets with Colorful Vegetable Hash
I do love salmon, but am really picky about it. I am a member of Sitka Salmon Shares for several years now, so I know good seafood. They send all types of amazing seafood straight from Alaska and processed in the U.S., not China. You can use code DLB to save $25 off your first order, should you decide to check them out.
This salmon is sustainably-raised Norwegian salmon fillets. This means that it's farmed, but there are several types of farmed salmon that are actually superior to others, such as Faroe Island salmon, which I have really enjoyed. I was hopeful this would be similar and I have to admit that it was really good!
The vegetable hash is made with roasted marble potatoes, cauliflower, red cabbage and peas. It's drizzled with a creamy lemon tahini dressing, which I also enjoyed.
The choice in vegetables gave this dish a total of 21 grams of net carbohydrates and 540 calories per serving. I am a potato-addict and really didn't want to give them up for the sake of cutting a few carbs. I could do without the peas but, I kept them in as well this time and enjoyed them.
This recipe did take a bit longer than 15 minutes to get the veggies nice and tender. It was still very simple and very delicious.
Add Ons
Gobble does offer subscribers the ability to add on extra items like salads, soups, breakfasts and desserts. I opted to add on 2 more items and they sent 2 free chocolate chip cookies, as well.
Add On 1: Pesto Caprese Omelet with Mozzarella Cheese and Cherry Tomatoes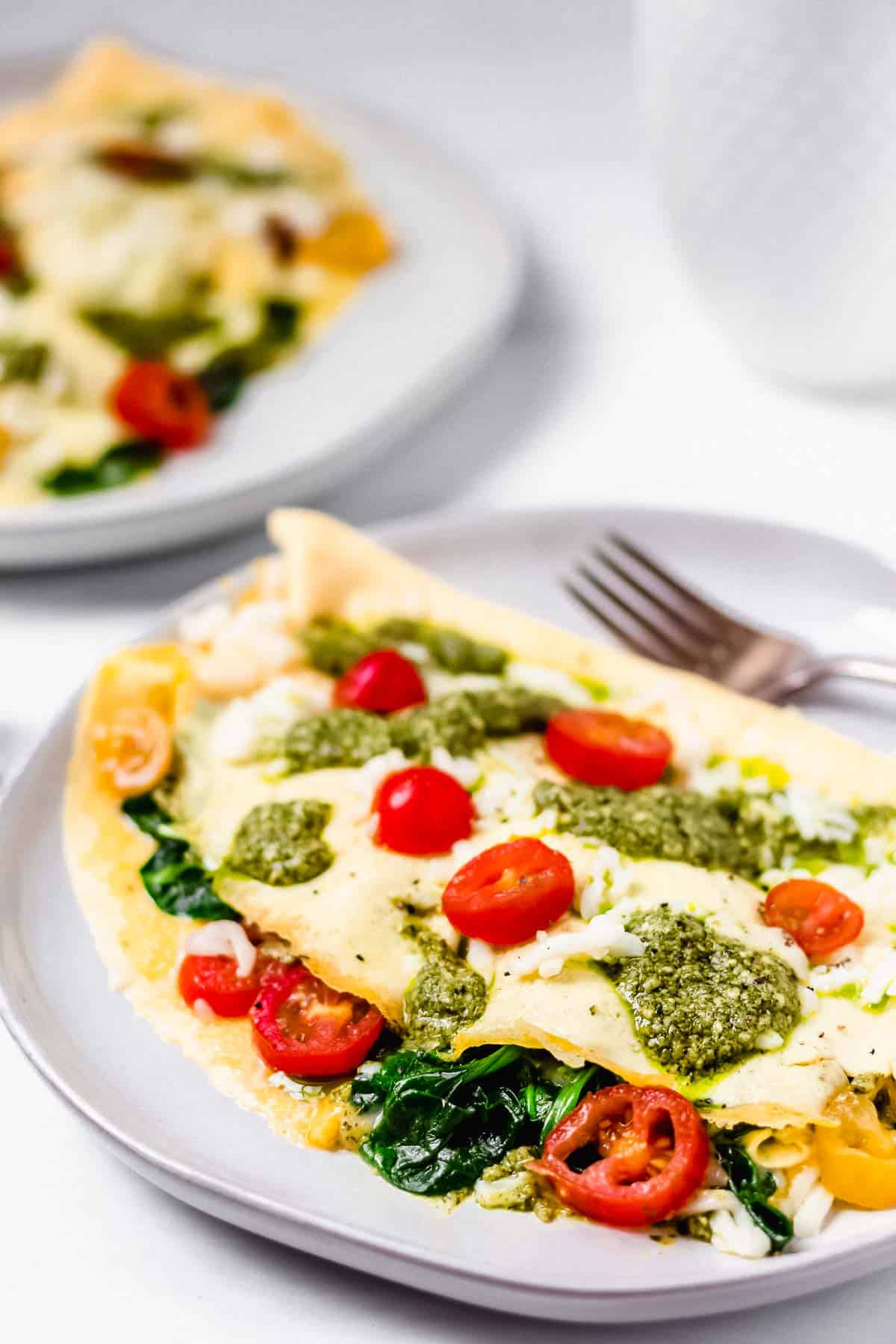 I couldn't pass up the opportunity to try this omelet. I've been eating a lot of pesto lately and love anything and everything caprese!
This is a keto-friendly recipe with only 4 net carbs and 430 calories per omelet.
My fiancé and I both enjoyed this recipe. It was the first one that I made out of the box and I was impressed.
You will notice in the photo that there are 2 bags of spinach and 2 packages of pesto. The pesto came in 2 different sizes which I thought was odd. There was no mention of it in the directions and I only ended up using the smaller package.
I found the amount of spinach to be quite a lot for this recipe, as well.
Add On 2: Hazelnut Gianduja Cake
Though I am eating low carb, I really wanted to try this cake – even if it was going to be just a single bite.
These cakes arrived in a sealed package already prepared and ready-to-eat. They were easy to remove and stayed in perfect shape.
The chocolate is very rich, but it was nicely balanced by the crust and hazelnut flavors. I really enjoyed this cake and would definitely order them again.
Free Sample: Chocolate Chip Cookies
Unfortunately I was unable to sample these cookies in time to post this review. We are in a temporary living situation and without our oven at the moment. I did sample them in the past and they were just okay. My son enjoys them.
I did pop this pack into the freezer and will bake them up as soon as I can. I'll update this section afterwards.
Final Thoughts
Overall, this experience with Gobble has far exceeded the last one. With the exception of a couple of pieces of bruised produce, the meals were very enjoyable.
The quality of the meats has most definitely improved since my last experience. The salmon tasted delicious and was not fishy at all and the steak was tender and flavorful.
I also appreciate the fact that you can add on to your order and that there are a lot of options for not only the main meals but also for add-ons.
I would definitely order from Gobble again after this experience. Looking forward the next couple of weeks, there weren't many meals that appealed to me personally, so I'll probably skip a few weeks, which is very easy to do on Gobble's website. I'll check the new menus as they come out to determine when I'll order again.
Tips For How To Order
I always see people upset that they can't view the menu before entering credit card information with many of the meal kit subscription services. The truth is, you can see the menu, but they don't always make it easy. Here are a few ordering tips should you choose to order from Gobble:
View the menu from the link in the top menu bar before entering your email to use the discount. Make note of which week you want to start based on which meals you want to try. Once you enter your email, it's a hassle to try to go back to the menu because Gobble starts moving you through the sign-up process.
There is no need to sign up specifically for the Lean and Clean plan. You can still choose from the Lean and Clean menu items from the main plan. Most weeks have 3 Lean and Clean meals, while I did notice that some weeks only have 2.
Be aware that you can't see the recipe specifics such as ingredient list and nutritional information until after you sign up for an account.
Current deals for new customers (may also work for returning customers if quite a bit of time has passed) are:
Enjoy this Gobble review? Follow me on Pinterest, Instagram, and Facebook for more!