If you are serious about cooking, then these 10 awesome kitchen items are definitely worth splurging on!
Sometimes you can get away with buying less expensive kitchen items. And, sometimes the old saying that you get what you pay for, is very true.  This list of 10 Awesome Kitchen Items Worth Splurging on will help you decide what items are worth the investment.
Knives
Good knives are not cheap.  Not by a long shot.  But, good knives will make everything you need them for a thousand times easier. They are sharper then less expensive knives and will stay sharp longer.  If you cut a lot of meat, you will most definitely appreciate high-quality knives.
Some popular brands are Wusthof, Henckels, and Shun.  You can buy knives as a set, or individually.  If you are just starting out, an 8″ Chef Knife is a very versatile knife to invest in first.
Stainless Steel Pots and Pans
Stainless steel pots and pans can be somewhat expensive, but they are the first of several items on this list that should last you a lifetime!  They cook food evenly and are are scratch-resistant.  Plus, there are no chemicals to worry about as compared to the coating on non-stick pans.
Cast Iron Skillets
With proper care, a cast iron skillet is going to last a lifetime, making it more than worth the relatively reasonable cost.  A lot of people shy away from cast iron because they think its too hard to maintain, but it's actually quite simple once you take the time to learn how to season your pans.  So, while they may take a little more time to clean than your non-stick cookware, it will help you to cook your food more evenly and never need replacing.
Another benefit of cast iron is that you can take it off the stove top and put it directly into the oven, making it a great option for searing meats, then finishing them in the oven, as well as other 1-pot style recipes.
Dutch Oven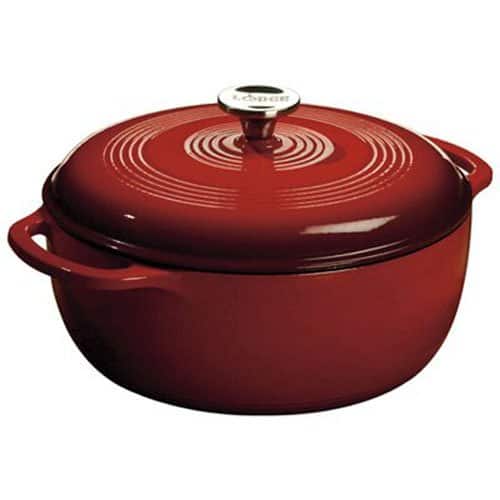 While we are on the topic of cast iron, we might as well mention Dutch Ovens.  Dutch Ovens are usually made from cast iron or an enamel coated cast iron.  They are larger and deeper than skillets with heavy lids making them ideal for braised dishes, stews, and even curries.
Dutch Ovens are another big-ticket item you may need to save up for.  You can choose a basic Dutch Oven for a lesser price, or opt for a beautiful colored enamel coated one for a higher cost.  They also come in various sizes so be sure to choose the right size for however many people you will be cooking for.
Pressure Cooker
Pressure cookers are nothing new, but have started to get really popular recently as newer, easier-to-use models came out like the Instant Pot.
The possibilities with these new and improved appliances are endless, and cook your food much quicker than other methods.  You can make soup, rice, yogurt, or an entire chicken in a fraction of the time.  It will also replace your slow cooker.
High Power Blender
It used to be that all blenders were about the same.  That's not true any longer.  High-power blenders have hit the market and what they are capable of is downright amazing.  Top of the line blenders include Vitamix and Blendtec.
If you love making smoothies or frequently need to puree soups, sauces, and dressings, a good high-power blender is a must!
Food Processor
If your blender does not have food processor capabilities, then you are going to need a good stand alone food processor as well.  It will make your life so much easier then it comes to chopping, dicing, and slicing.  The time you will save alone makes a good food processor worth it's price tag!
Food processors range in cost from very inexpensive to extremely expensive.  Make sure to thoroughly read the product descriptions and consumer reviews before making a purchase!
KitchenAid Mixer
KitchenAid Mixers have been around forever, and for good reason!  They are a powerful, long lasting, and extremely versatile appliance.  Did you know you can make ice cream with a KitchenAid Mixer?
They also come in a huge variety of colors, so they are one appliance that actually looks good sitting out on your counter top!
In addition to mixing batters and making ice cream, KitchenAid Mixers can grind meat, make pasta, slice, shred, and spiralize vegetables, and so much more.  Most of these functions require you to purchase additional attachments.
Stainless Steel Measuring Cups and Spoons
Stainless steel measuring cups and spoons are no where near the cost of some of the earlier items mentions, but compared to their plastic counterparts, they are more expensive.  Make sure to purchase a set of each that isn't too thin so that they won't get bent easily.
These measuring cups and spoons offer more accurate measurements, do not get warped or distorted easily, and may just outlive you.
Silpat Mats
Silpat Mats are another lower cost item, but one you might not have ever heard of or felt that you have a need to use.  They are silicone non-stick mats that also help baked goods cook more evenly. You won't need to use butter or shortening to prevent sticking, resulting in less calories, and they also make cleaning up so much easier!
They come in a variety of different sizes to fit all types of baking sheets.
In Conclusion
If you love cooking and regularly use these types of appliances and tools, you will never regret spending th extra money on these 10 awesome kitchen items! They are all high-quality investments! All of these items will far outlast their lesser expensive counterparts, and in some cases they will last your entire lifetime.
If you have any questions regarding the items on this list, be sure to leave a comment.  And, if you have any other awesome kitchen items you would recommend leave those in the comments down below as well!