Replace pasta with earthy and sweet spaghetti squash in this savory dinner recipe. Spaghetti Squash Chicken Parmesan is a low carb, gluten free version of the classic, chicken parmesan.
This post contains affiliate links. See our Disclosure Statement for more information.
When you're craving Italian for dinner, make this healthier version of a classic dish you likely already know and love – chicken parmesan!
Also called chicken parmigiana, this is a cheesy recipe sweetened with earthy basil. Spaghetti squash is lighter and healthier than pasta.
Instead of bread crumbs, use almond flour to keep the entire recipe gluten-free and lower in carbohydrates.
It has many of the similar ingredients and flavors as Tuscan Chicken And Spaghetti Squash, which you may also enjoy trying.
Why This Recipe Works
Don't let spaghetti squash intimidate you. This is an easy recipe that is a fun new twist on a classic dish.
It's a family-friendly recipe. Spaghetti squash has only a mild squash flavor and takes on a lot of the other flavors in the dish so even kids enjoy it.
This gluten-free recipe is also low-carb. You can cut back on the carbs even more by leaving the breading off entirely.
Step-By-Step Instructions
Ingredients
1 large spaghetti squash: you need about 6 cups cooked.
1 1/2 pounds boneless, skinless chicken breasts: pound about 1/2 inch thick or buy thin cut chicken from the grocery store to make it even easier.
salt
pepper
1 cup blanched almond flour: if you're not low carb, you can use an all purpose gluten free flour. If you're not low carb or gluten free, you can use all purpose flour.
2 eggs: lightly beaten
2 cups gluten free seasoned panko breadcrumbs: if you're not gluten free, you can use regular panko breadcrumbs.
32 ounces tomato basil sauce: you can use store bought. I used Raos sauce as it tends to be a little lower in carbohydrates than most other sauces.
8 ounces fresh mozzarella: cut into thin slices
1/4 cup grated Parmesan cheese
fresh basil: optional garnish
Chef's Tip: if you want to make the dish low carb, omit the breading. The chicken can be pan-seared or grilled instead.
The entire recipe and instructions can also be found in the recipe card at the bottom of this post. You can also print the recipe from the card, if needed.
Prep!
Preheat oven to 350°F.
If you are not using thin-cut chicken breasts, you will want to pound the chicken to about 1/2-inch thin, trying to get the pieces as even as possible so that they all cook evenly.
Cut the mozzarella into about 1/4-inch thick slices and shred the Parmesan cheese, if necessary.
Spread the almond flour and panko out onto large plates. Crack the egg into a bowl and lightly whisk.
Create!
Carefully poke several holes into the spaghetti squash.
Place on a microwave-safe plate and microwave for 8-10 minutes, or until tender.
Once cool enough to handle, cut the squash in half lengthwise. Remove the seeds and discard. Use a fork to scrape the squash out into spaghetti-like strands and place evenly into the bottom of a large casserole dish.
While the squash is roasting and cooling, prepare the chicken.
Dredge each piece of chicken into the almond flour to lightly coat.
Next, dip each piece into the egg and let the excess drip off.
Transfer the chicken into the panko and coat evenly on both sides.
Heat the oil in a large, deep skillet over medium-high. Once hot, add the chicken and cook 2-3 minutes per side, or until golden brown. The chicken may not be fully cooked through yet, but will finish cooking in the oven.
Place the chicken breasts on top of the spaghetti squash in the baking dish.
Spoon the tomato sauce evenly over the top.
Top with slices of the mozzarella cheese, then sprinkle on the Parmesan cheese.
Bake about 10 minutes, or until the cheese is melted and the chicken is cooked through. Chicken needs to reach an internal temperature of 165°F on a meat thermometer inserted into the center of the thickest portion.
Present!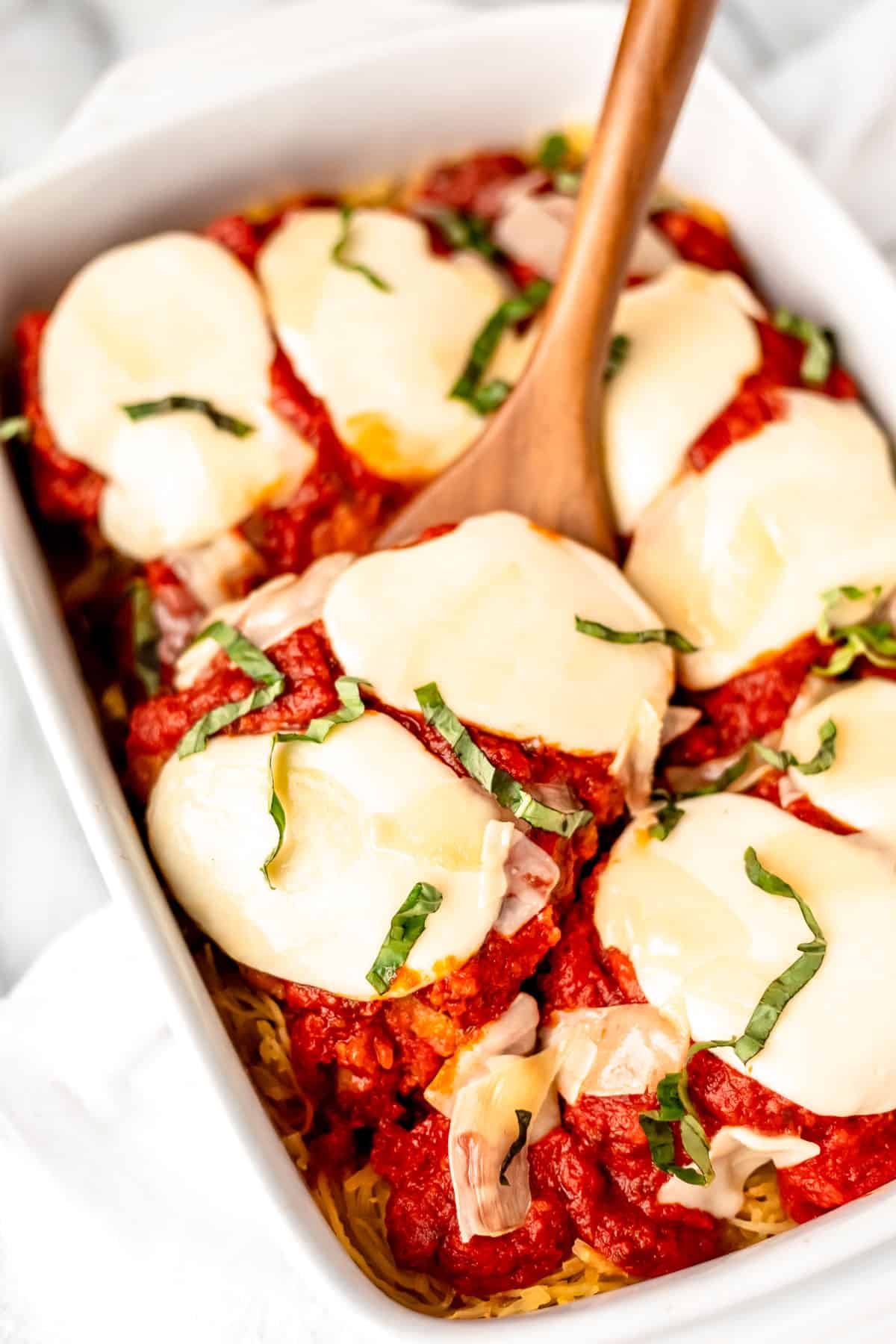 Serve hot. Garnish with fresh basil, if desired.
Tips and Techniques
If you are not using already thin-cut chicken breasts, you will need to pound them to about 1/2-inch thin. Try to keep the thickness of each piece the chicken about the same to help ensure even cooking.
The spaghetti squash can also be roasted in the oven, but this does take longer. To roast, cut the squash in half lengthwise and remove the seeds. Place on a rimmed baking sheet and drizzle with olive oil. Season with salt and pepper. Roast at 350°F for about 45-60 minutes or until tender.
Store leftovers in an airtight container in the refrigerator. Consume within 3-4 days.
FAQ's
Can You Freeze Spaghetti Squash?
Spaghetti squash can be frozen. Simply place cooled spaghetti squash in an airtight container or freezer bags before placing in the freezer. When you are ready to use it, allow to thaw or reheat from frozen in the oven or microwave until heated through.
Is Chicken Parmesan Unhealthy?
Traditional chicken parmesan is made with pieces of fried chicken, cheese and pasta, which is usually a very calorie-heavy dish. By using spaghetti squash, this recipe is much lower in calories and carbohydrates. It's also gluten free.
More Low Carb Chicken Recipes
Love this Spaghetti Squash Chicken Parmesan recipe? Follow me on Pinterest, Instagram, and Facebook for more.
If you try this recipe, I would really appreciate it if you would please leave a comment and star rating. Thanks!