This recipe using spaghetti squash is a delicious low carb, gluten free alternative to traditional pasta dishes. Tuscan Chicken and Spaghetti Squash is creamy, flavorful, and easy to prepare. Everyone loves a cheesy, rich main course.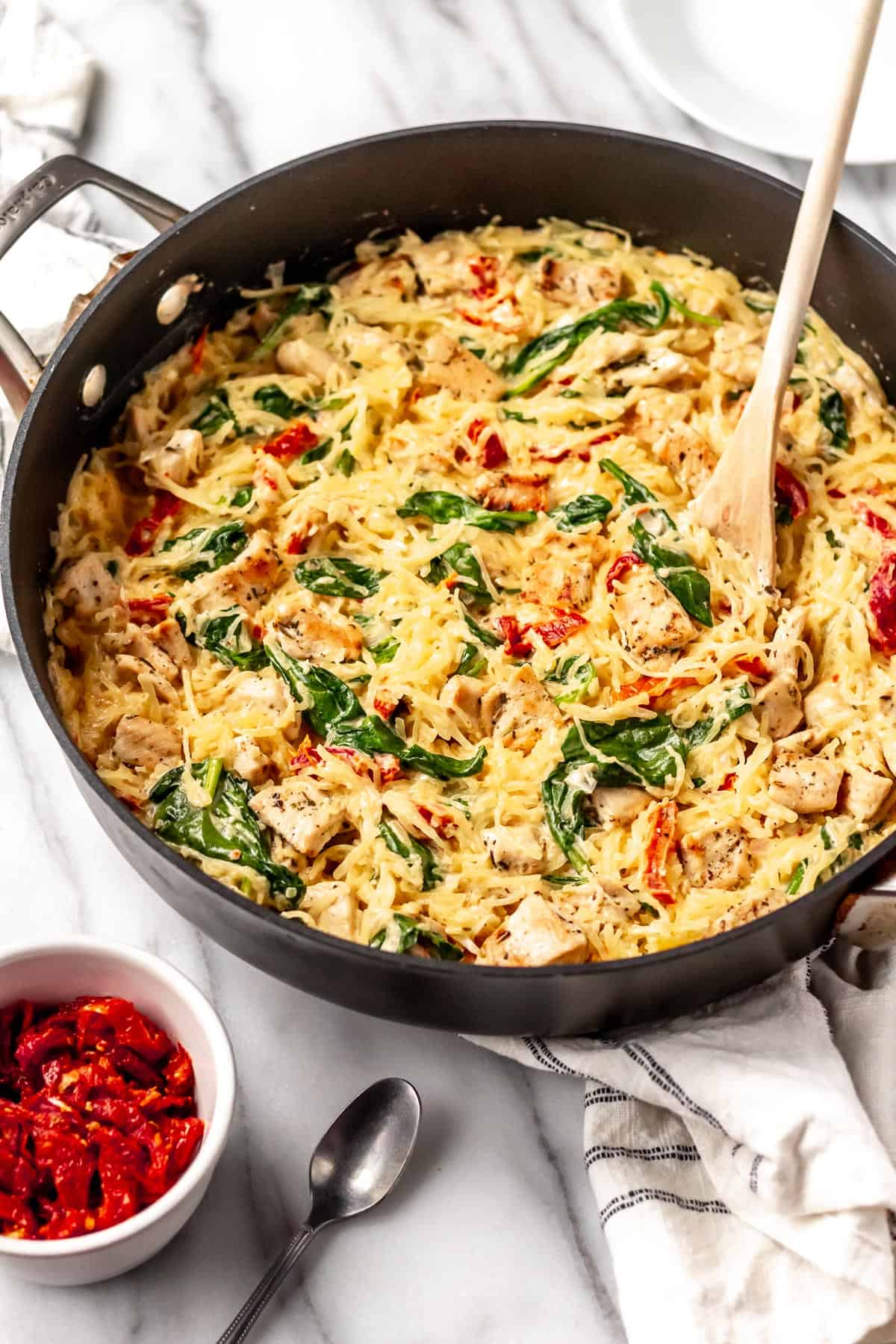 This post contains affiliate links. See our Disclosure Statement for more information.
Tuscan Chicken and Spaghetti Squash is a creamy, comforting dish that your whole family will love. The parmesan cheese, fresh garlic, and sun-dried tomatoes give this dish an incredibly rich, deep flavor.
This recipe for Tuscan Chicken and Spaghetti Squash is great if you're looking for a low calorie, low carb alternative to regular pasta.
Spaghetti Squash has a similar texture to angel hair pasta but takes on the flavor of the other ingredients used to make the dish, rather than tasting like squash. In this recipe, the creamy Parmesan sauce shines. This dish is just as quick and easy as any other traditional pasta recipes.
If you would like to try a vegetarian version of this dish, check out this recipe for Tuscan Spaghetti Squash. Other delicious spaghetti squash entrees to try include Cacio e Pepe, Garlic Parmesan Shrimp Over Spaghetti Squash, and Carbonara.
Why This Recipe Works
This recipe, as written, is gluten free, low carb and keto diet friendly. There are only 10 net carbs per generous serving.
This is a fairly quick, easy recipe that the whole family will love. The rich, cheesy sauce will have your kids gobbling up this squash-based dish.
You can make the spaghetti squash ahead of time and rewarm it when needed. Finishing the dish will be even quicker and easier when dinner time rolls around and everyone is hungry.
How To Make Tuscan Chicken and Spaghetti Squash
Ingredients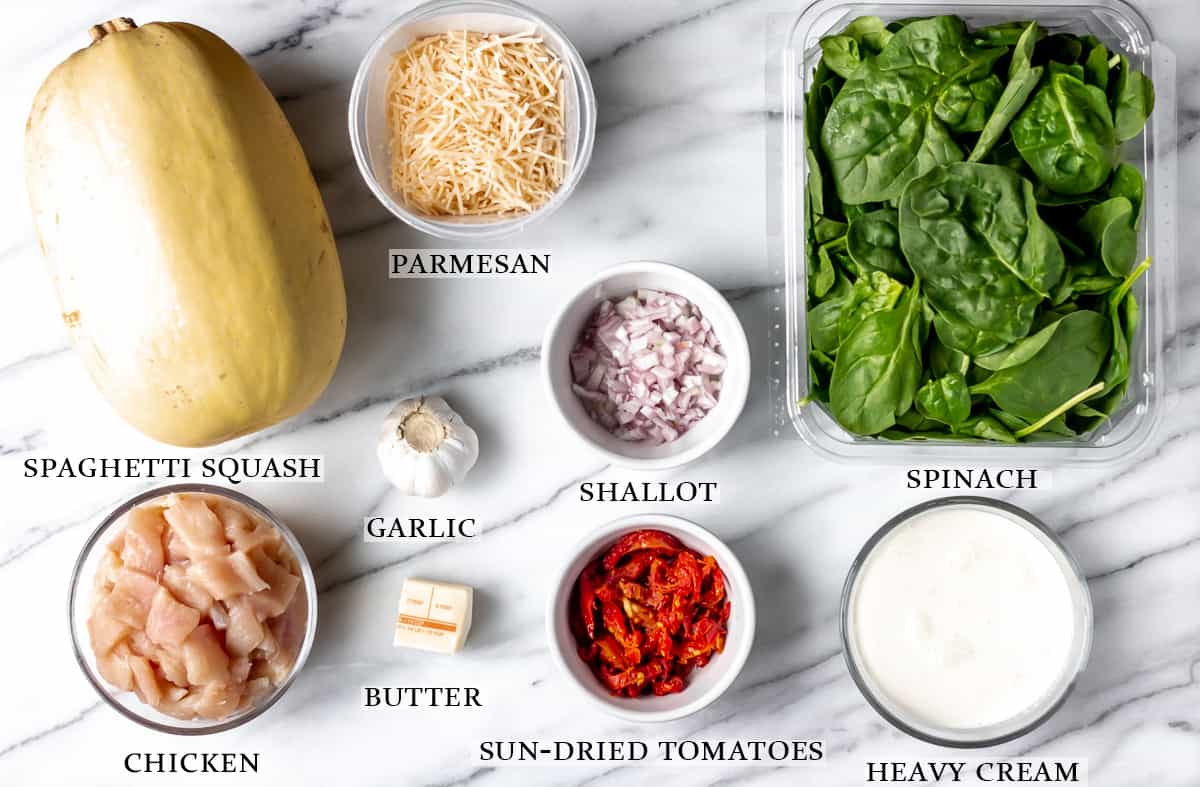 Spaghetti Squash
Chicken: boneless, skinless chicken cut into bite size pieces.
Aromatics: garlic and shallot.
Vegetables: sun-dried tomatoes (yes, I know tomatoes are technically a fruit) and spinach.
Dairy: butter, heavy cream and Parmesan cheese.
The entire recipe and instructions can also be found in the recipe card at the bottom of this post. You can also print the recipe from the card, if needed.
Prep!
Mince the garlic and shallot, and cut the tomatoes, if needed.
Chef's Tip: you can often find julienne cut sun-dried tomatoes at the grocery store.
Grate the cheese, if necessary.
Create!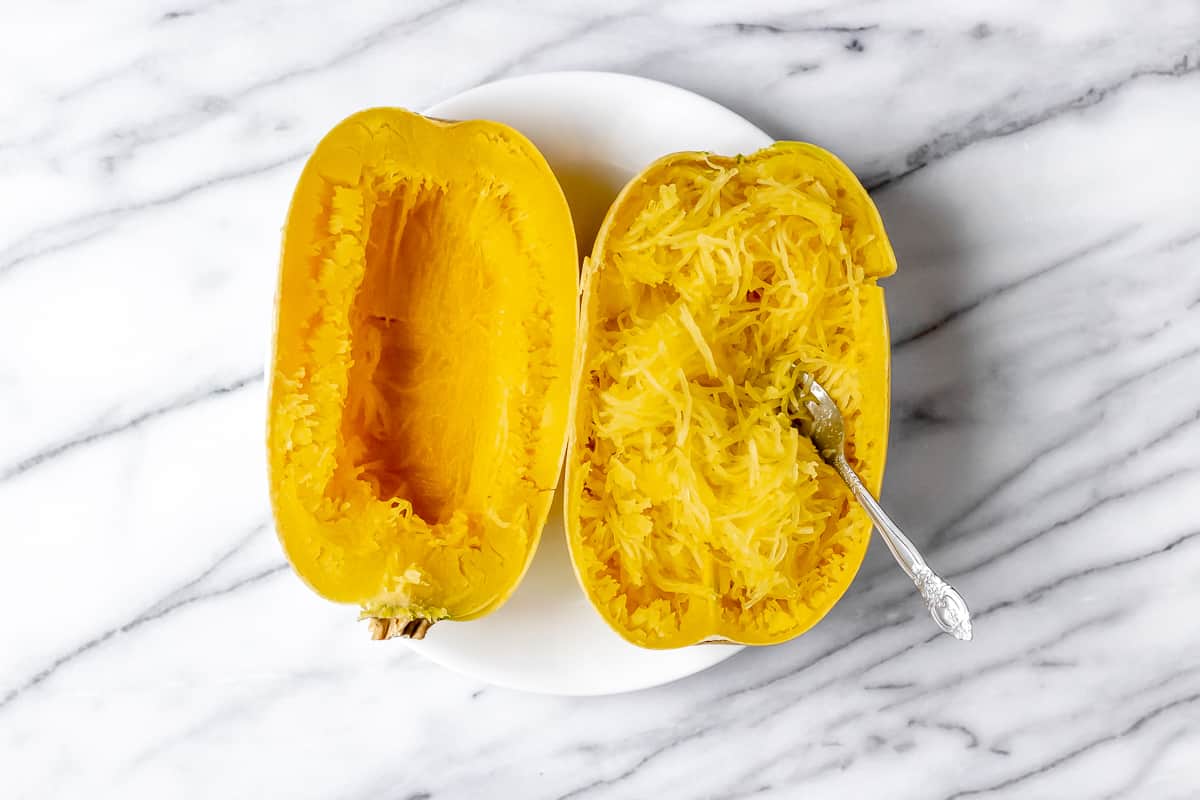 Carefully pierce the spaghetti squash into the center with a knife several times. Place on a microwave-safe plate and cook on high for 8-12 minutes or until tender. Let cool while you prepare the chicken.
Once the squash is cool enough to handle, cut it in half length-wise, remove the seeds and scrap out the strands with a fork.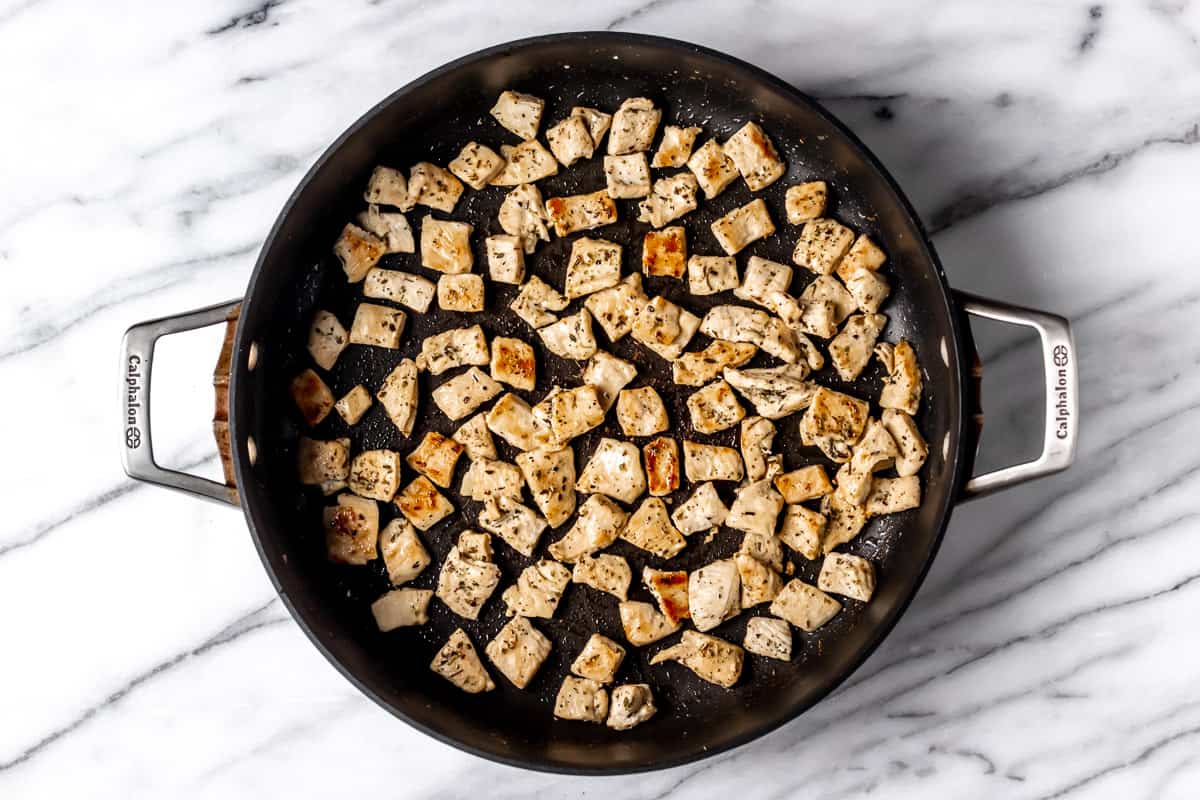 Season the chicken with salt, pepper and Italian seasoning.
Melt 1 tablespoon of the butter in a large, deep skillet over medium-high heat. Add the chicken and cook until it's no longer pink in the center, about 7 minutes.
Remove the chicken from the pan, place on a plate and tent with aluminum foil to keep warm.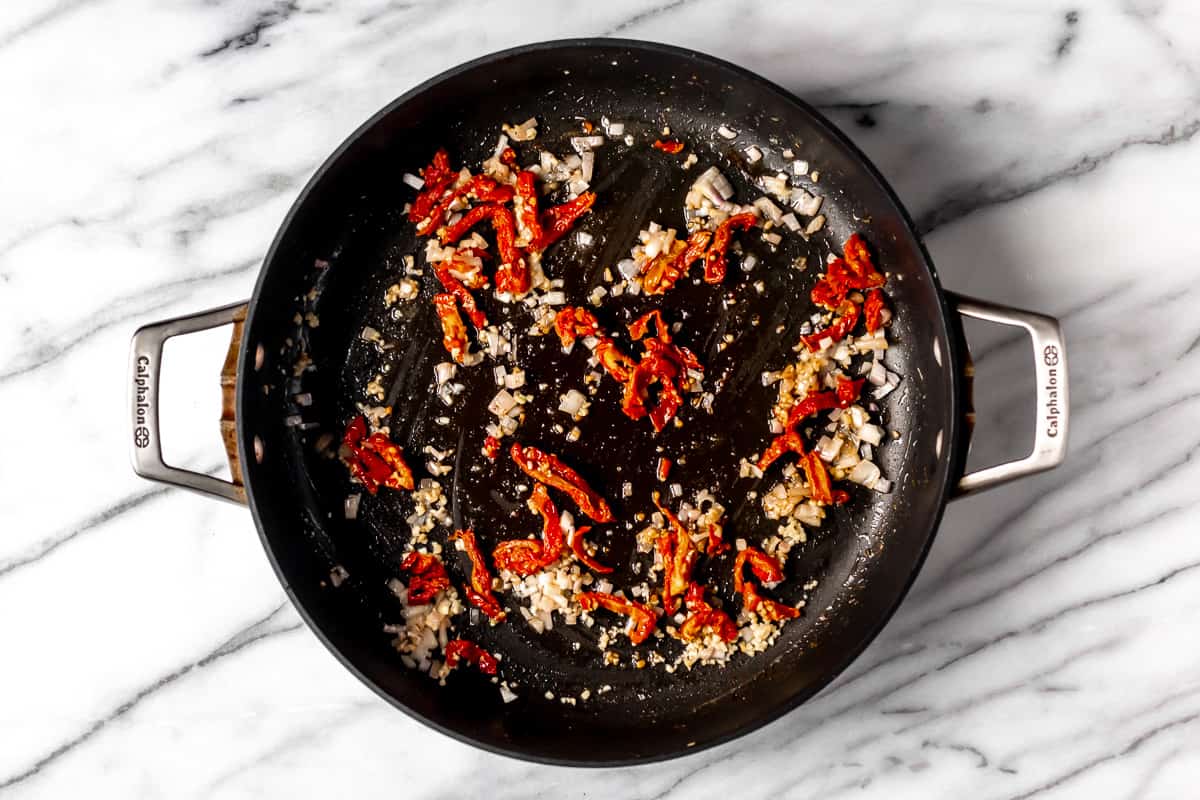 Add the remaining butter to the pan along with the garlic and shallot. Cook 1-2 minutes or until they just start to soften.
Mix in the sun-dried tomatoes and cook an additional minute.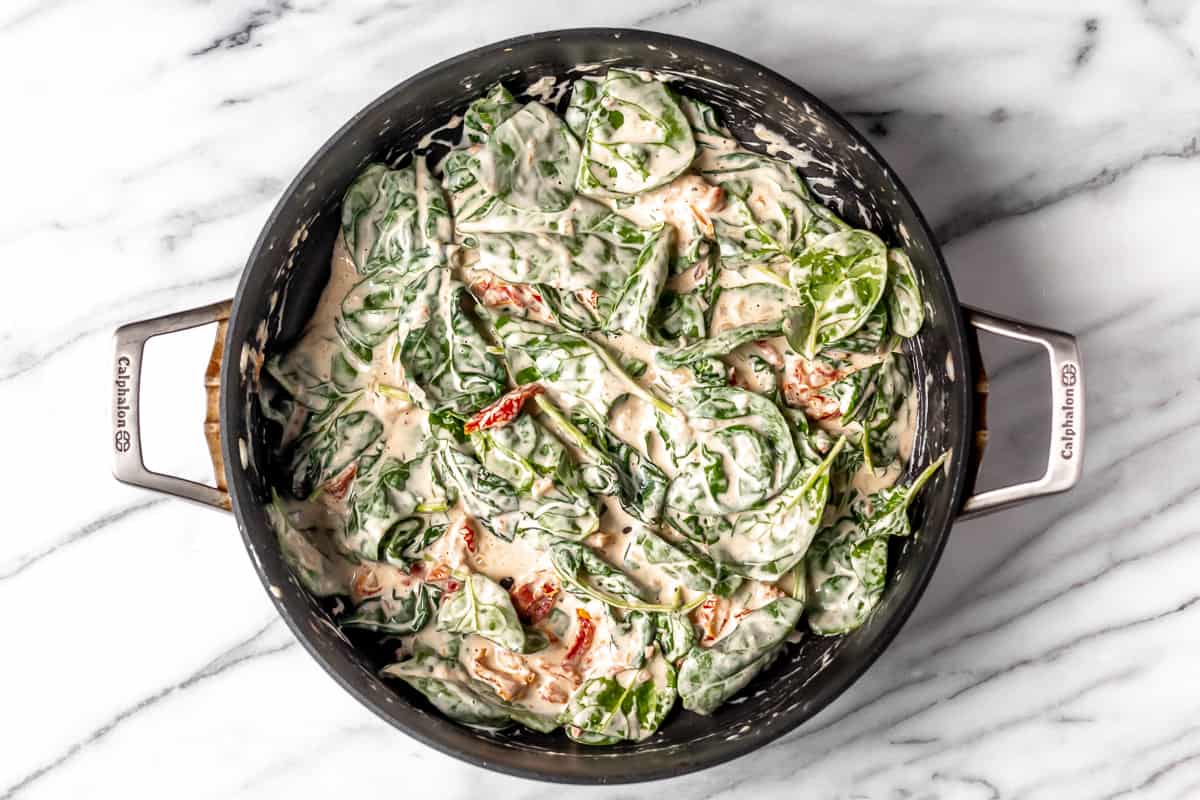 Pour in the heavy cream and cook until hot and bubbly, about 1-2 minutes.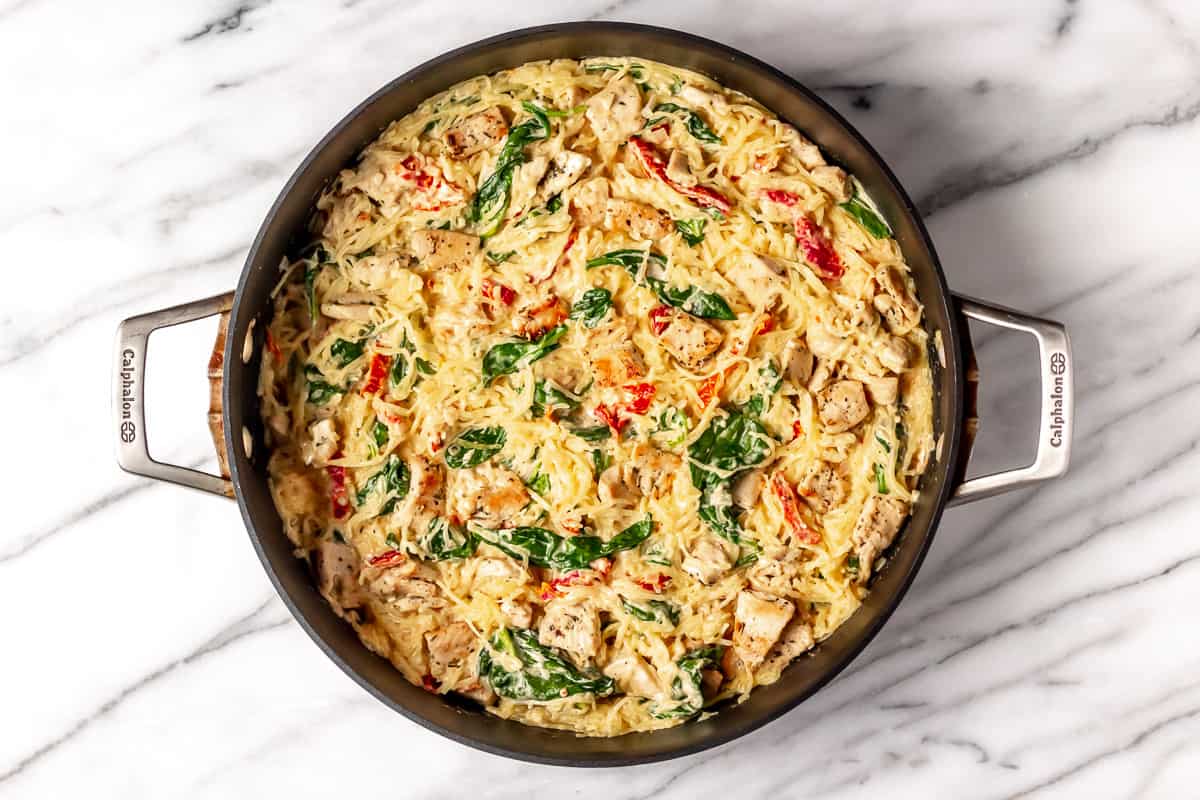 Turn off the heat and stir in the Parmesan cheese and spinach. Add the chicken and any accumulated juices back to the pan.
Stir the spaghetti squash into the cream sauce until evenly coated.
Present!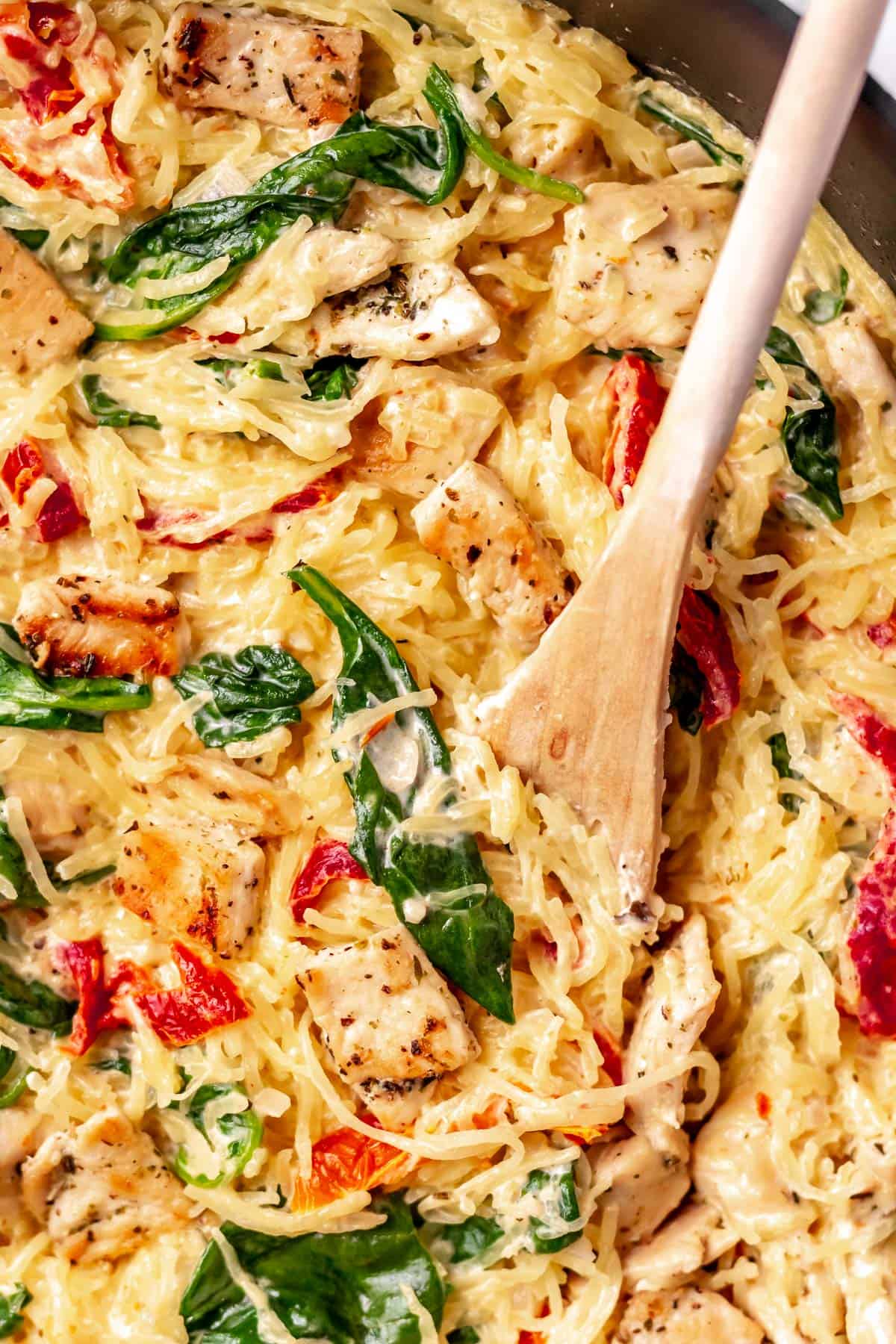 Garnish with fresh parsley, if desired.
Tips and Techniques
To save time, you can cook the spaghetti squash ahead of time and reheat it when needed.
You can roast the spaghetti squash in the oven, if preferred. Simply cut the squash in half length-wise and remove the seeds. Drizzle with olive oil and season with salt and pepper. Roast at 350°F for 45-60 minutes or until tender.
Store leftovers in an airtight container in the refrigerator. Consume within 3 to 5 days.
FAQ's
Is Spaghetti Squash Healthy?
Yes, spaghetti squash is an excellent choice as part of a healthier diet. It's low in calories and carbohydrates making it a great alternative to pasta.
Does Spaghetti Squash Taste Like Pasta?
No, spaghetti squash does not taste like pasta. It has a relatively mild squash flavor and tends to take on the other flavors in the dish.
More Spaghetti Squash Recipes
Love this Tuscan Chicken and Spaghetti Squash recipe? Follow me on Pinterest, Instagram, and Facebook for more!
If you try this recipe, I would really appreciate it if you would please leave a comment and star rating. Thanks!