Smoked Turkey Wings are smoky and flavorful with a little spice. They are the perfect way to enjoy turkey in the summer and a delicious alternative to chicken wings. These wings can be served as an appetizer or as a main dish.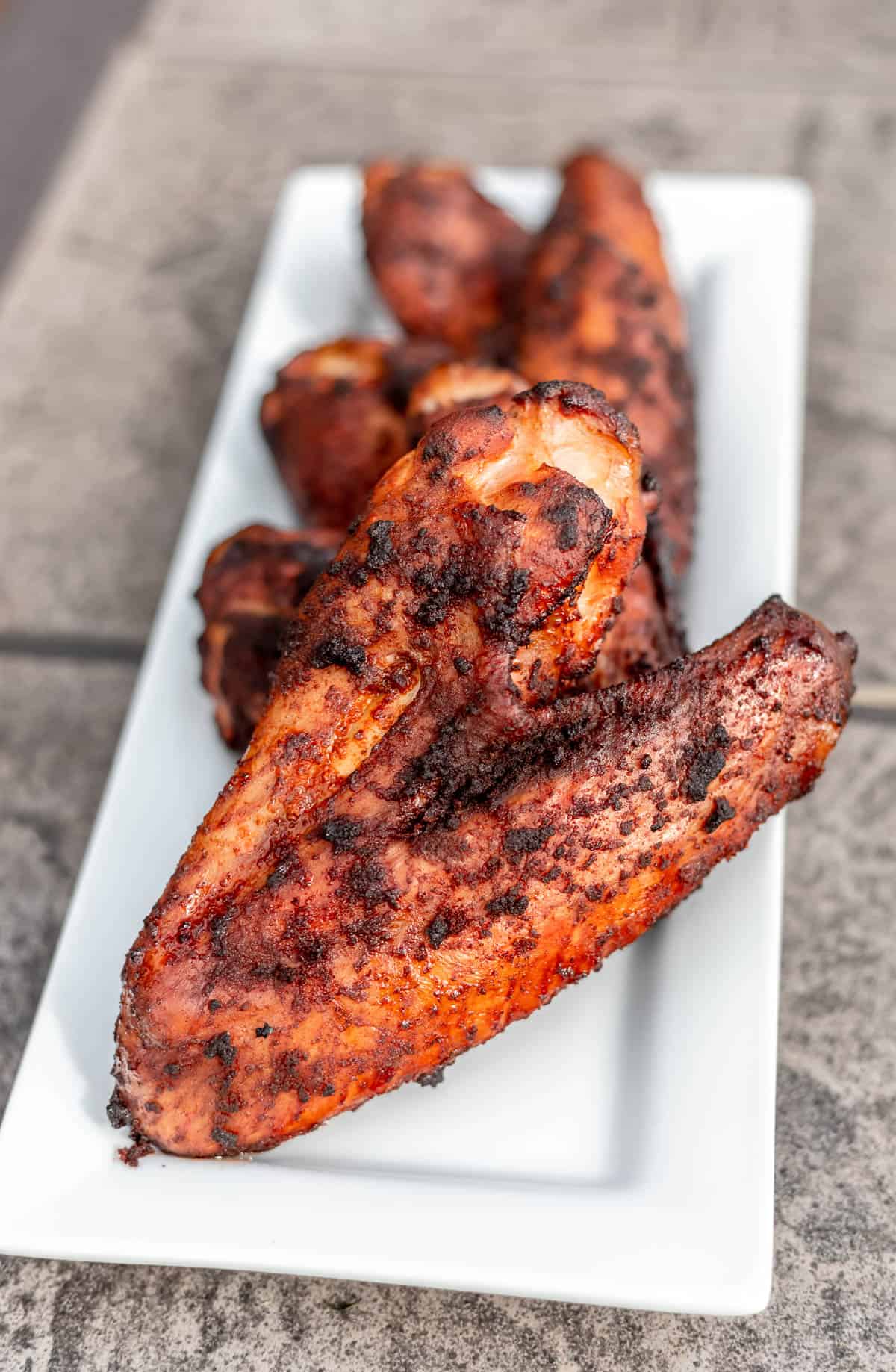 This post contains affiliate links. See our Disclosure Statement for more information.
Last Thanksgiving, my husband smoked a whole turkey. We were having a lot of family over, so I also made an oven-roasted turkey just in case the smoked one didn't come out as planned.
As it turned out, the smoked turkey was the star of the entire meal. Everyone loved it and it definitely got our wheels turning as to what other kinds of smoked turkey recipes we could make.
The obvious first choice are these Smoked Turkey Wings. I used the same chipotle dry rub that I use in my recipe for Chipotle-Honey Barbecue Ribs, but you can use regular chili powder in place of the chipotle chili powder for a less spicy version.
Why This Recipe Works
This is a very easy recipe to create. You simply apply the dry rub to the wings and let them marinate for at least an hour before tossing them on the smoker for a couple of hours.
They are the smoky and spicy. We enjoyed them right off the smoker, but you could also add a barbecue sauce if you like.
These wings are gluten free and low in carbohydrates.
Step-By-Step Instructions
Ingredients
3 pounds turkey wings: you can leave them whole or separate them into flats and drumsticks, if preferred.
2 tablespoons chipotle chili powder: use regular chili powder for a less spicy version.
1 tablespoon smoked paprika
1 teaspoon garlic powder
1 teaspoon salt
1/2 teaspoon onion powder
1 tablespoon vegetable oil: the oil will help the wings stay moist while smoking.
The entire recipe and instructions can also be found in the recipe card at the bottom of this post. You can also print the recipe from the card, if needed.
Prep!
Cut the wings into flats and drumsticks, if preferred.
Create!
Pat the wings dry with paper towels and add to a large bowl or plastic bag.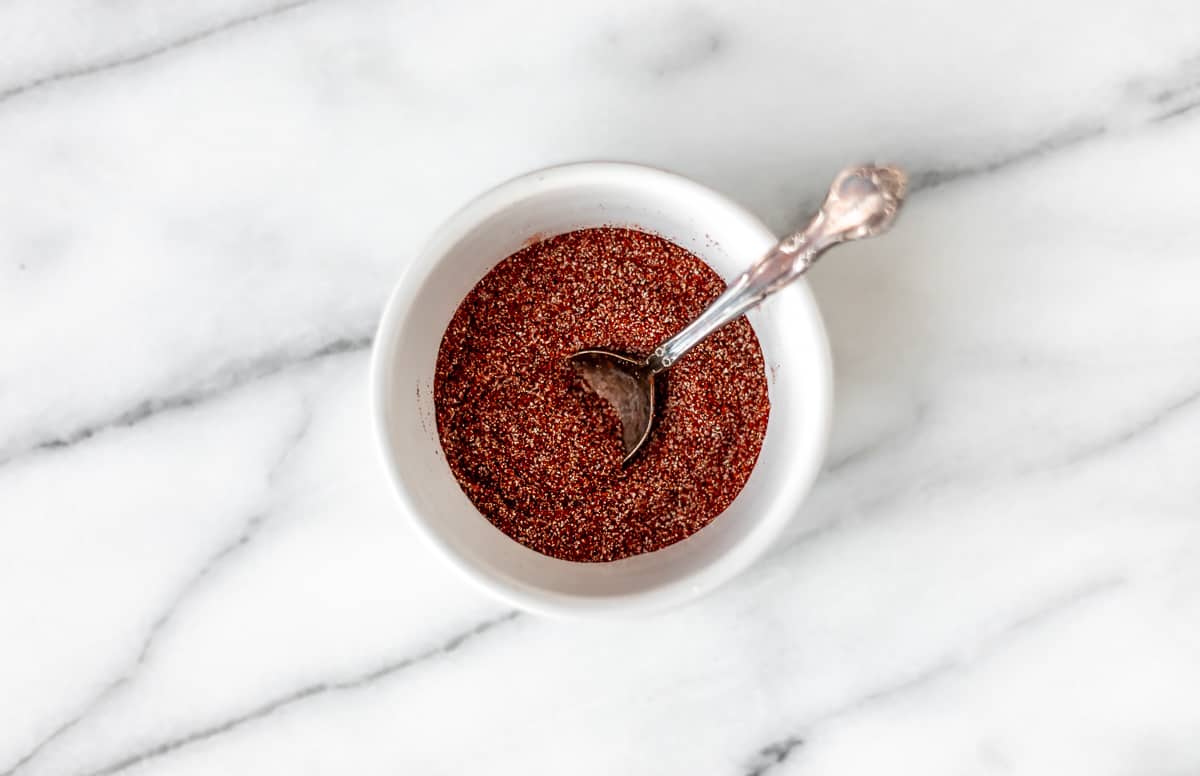 Combine the chipotle chili powder, smoked paprika, garlic powder, salt, and onion powder in a small bowl and mix well.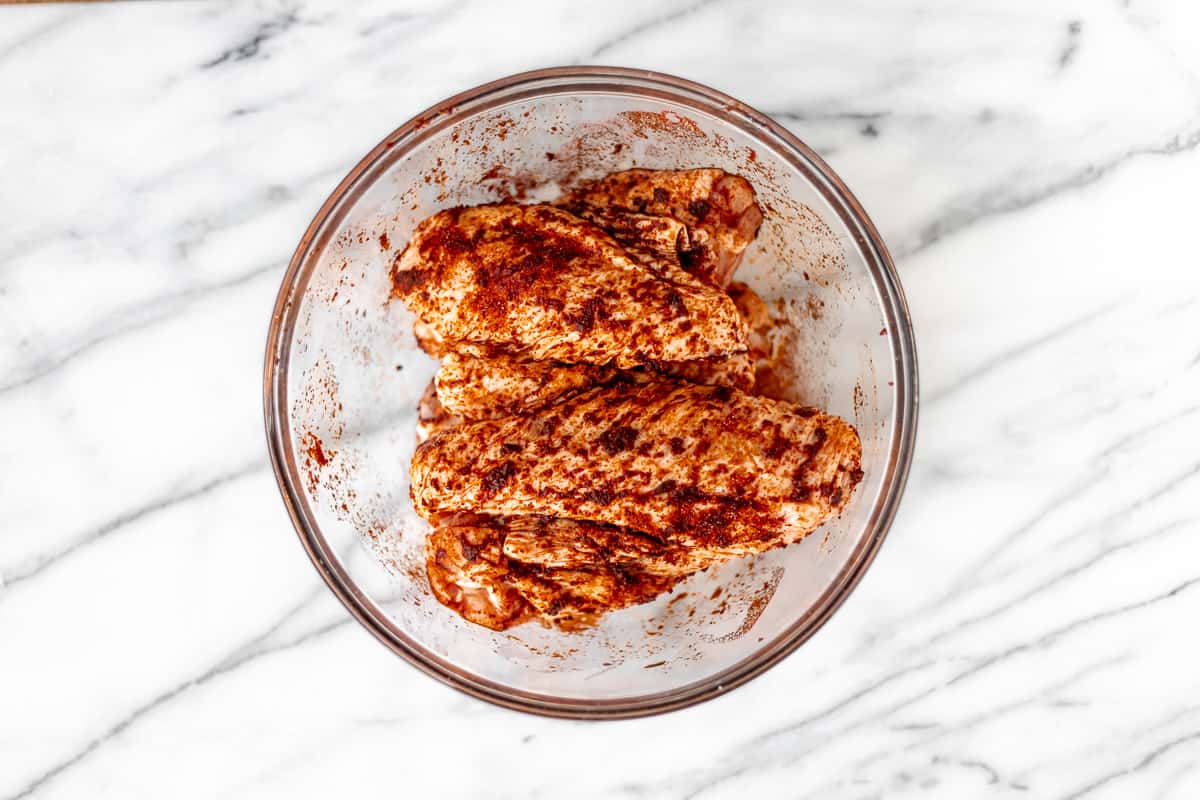 Add the oil and seasoning to the bowl with the turkey wings and toss to evenly coat the meat.
Place in the refrigerator to marinate for at least an hour.
When you are ready to begin cooking, preheat your smoker to 225-250°F.
Place the wings over indirect heat.
Add wood chips and maintain a steady smoke. We use pecan wood chips, but cherry or maple wood chips would also work well.
Cover and smoke for 1 1/2 to 2 hours or until the internal temperature reaches 165°F on a meat thermometer inserted into the center of the thickest portion (not touching the bone).
Remove the wings and let them rest for 10 to 15 minutes.
Present!
Serve as is, or with your favorite sauce.
Tips and Techniques
You can separate the wings into drumsticks and flats, if preferred, but it is not necessary.
Pecan, maple, or cherry wood chips work best with this recipe.
Store leftovers in an airtight container in the refrigerator. Consume within 3 days.
FAQ's
What Temperature Do You Smoke Turkey Wings?
You want to smoke turkey wings at a lower temperature to prevent them from cooking too quickly and drying out. Try to maintain a steady smoke between 225-250°F for the best results.
How Long Does It Take To Smoke Turkey Wings?
Depending on the size and thickness of your turkey wings, it can take anywhere from 1 1/2 hours to 2 hours or so to cook. It's important that the internal temperature reaches 165°F on a meat thermometer inserted into the center of the thickest portion (not touching the bone). If you allow the wings to smoke too long, they may become more dry.
What Do You Serve With Smoked Turkey Wings?
There is an endless amount of side dishes you could serve with smoked turkey wings. Side salad, potato salad, corn on the cob, and roasted vegetables are just some of our favorites.
More Turkey Recipes
Love this Smoked Turkey Wings recipe? Follow me on Pinterest, Instagram, and Facebook for more!
If you try this recipe, I would really appreciate it if you would please leave a comment and star rating. Thanks!