No-Bake Raspberry Cheesecake is the perfect, easy-to-make summer dessert. You can use this same recipe to make either a full size cheesecake or individual sized treats. There are many different ways this delicious cheesecake can be served.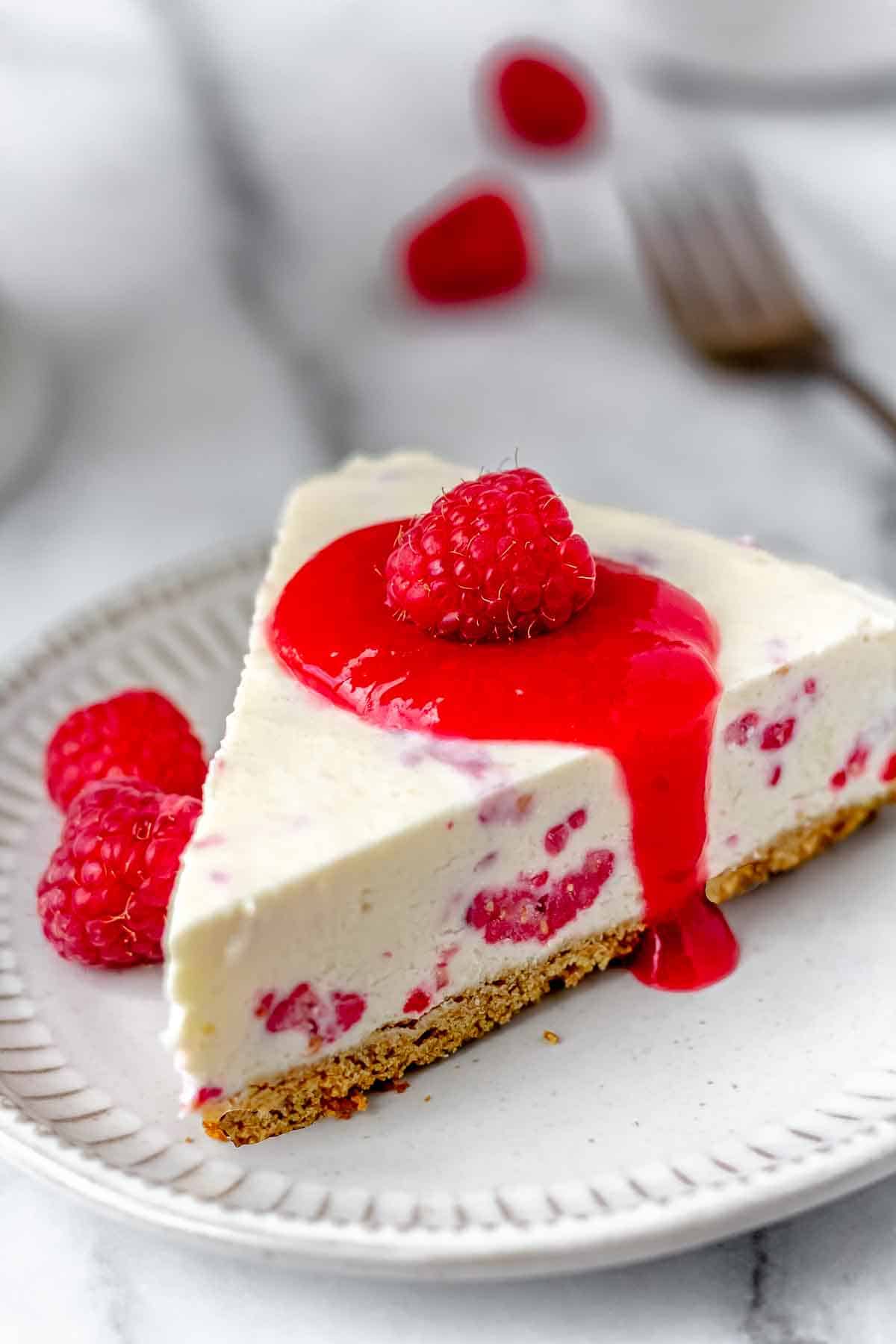 This post contains affiliate links. See our Disclosure Statement for more information.
There is something especially delicious about cheesecake made with fresh summer berries. When it's too hot to fire up the oven, no-bake desserts are definitely the way to go.
This Raspberry No-Bake Cheesecake also makes a great patriotic dessert for Memorial Day, the Fourth of July, and Labor Day. The raspberries give a pretty red swirl to the cheesecake and you can top it with Blueberry Sauce to make it red, white and blue.
This cheesecake is quick to make and can be served in a variety of ways. In the recipe below, I will give you some easy ways that you can enjoy this delicious cheesecake.
Why This Recipe Works
This cheesecake is 100% no-bake when using a pre-made pie shell or mason jars making it a great option for summer. Of course homemade pie crust can also be used if you prefer.
This is an easy recipe that takes less than 20 minutes to make.
You can make a whole pie or individual servings to suit your needs. Individual servings are especially great when serving at a party or other celebration.
Step-By-Step Instructions
Ingredients
2 8-ounce packages of full fat cream cheese at room temperature (It's important the cream cheese be at room temperature so that it can be creamed as smooth as possible.)
14 ounce can full fat sweetened condensed milk
1 tablespoon lemon juice
1 teaspoon vanilla extract
1 packet unflavored gelatin (I use Knox unflavored gelatin that comes in a small box of 4 packets. You can also use 2 1/2 teaspoons of gelatin from a larger jar.)
1 cup of fresh raspberries
The entire recipe and instructions can also be found in the recipe card at the bottom of this post. You can also print the recipe from the card, if needed.
Prep!
Set your cream cheese out about an hour before you begin to allow it time to come to room temperature.
Create!
In the bowl of an electric mixer fitted with a paddle, beat the cream cheese on medium speed until smooth and creamy.
Reduce the speed and slowly add the sweetened condensed milk, lemon juice, vanilla extract, and non-flavored gelatin.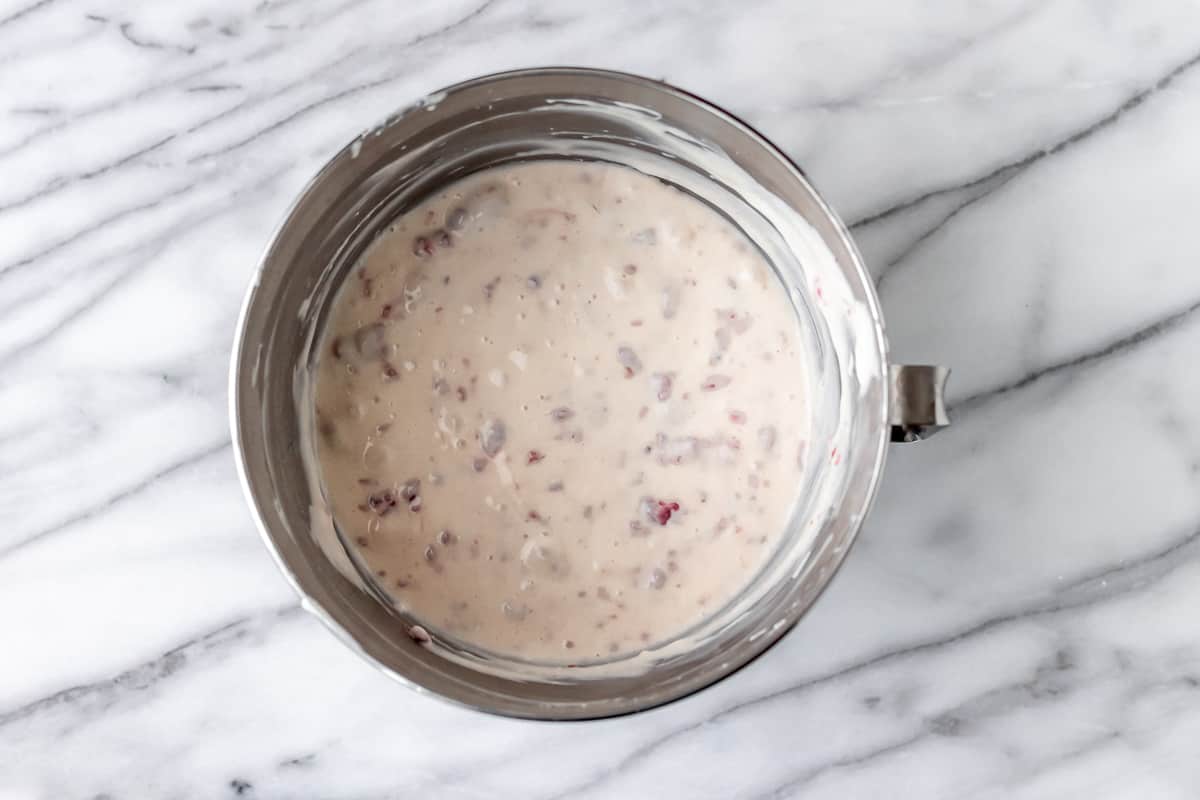 Once everything is well combined, add the raspberries while continuing to mix on low. Once they are broken up and blended in evenly, turn off the mixer.
You can leave the pieces of raspberries more chunky, or blend them until they are broken into small pieces. Either option will work out just fine.
Present!
Pour the cheesecake batter into the prepared pie crust or crusts. Refrigerate for at least 2-3 hours before serving.
Present!
Serve with Raspberry Sauce and whipped cream, if desired.
Pie Crust Options For No-Bake Cheesecake
You can serve this raspberry cheesecake in a variety of ways.
To keep this cheesecake truly no-bake, use a store-bought graham cracker crust. Often, mini graham cracker pie shells for individual servings can also be found.
You can also make your own graham cracker crust or classic pie crust. An Oreo cookie pie crust would also be delicious with this recipe.
Finally, you can make mason jar cheesecakes. Simply crumble graham crackers into the bottom of mason jars and pour the cheesecake batter on top.
Tips and Techniques
Set your cream cheese out about an hour before you begin to allow it time to come to room temperature.
Use a pre-made graham cracker crust or graham cracker crumbs to keep this recipe entirely no-bake.
Store leftovers tightly wrapped with plastic wrap in the refrigerator. Consume within 5 days for best results.
FAQ's
How Long Does No-Bake Cheesecake Keep In The Refrigerator?
You can store extra cheesecake in the refrigerator, tightly covered with plastic wrap, for up to 5 days.
Can You Freeze No-Bake Cheesecake?
Yes. Allow the cheesecake to cool then wrap it tightly in plastic wrap. You can wrap it whole or cut it into individual servings. Use within 1 month for best results.
More Raspberry Recipes
Love this No-Bake Raspberry Cheesecake recipe? Follow us on Pinterest, Instagram, and Facebook for more!
If you try this recipe, I would really appreciate it if you would please leave a comment and star rating. Thanks!
This recipe was originally published on June 12, 2018. It was updated with new images, step-by-step instructions, tips, techniques and FAQ's in April 2022.