Mini Cranberry Walnut Cups are made with tart cranberry sauce and crunchy walnuts baked into a buttery puff pasty shell. They are a delicious appetizer or bite-size treat for the holidays.
This post contains affiliate links. See our Disclosure Statement for more information.
This is the perfect appetizer for both Thanksgiving and Christmas.
Serve it alongside of other holiday dishes like Brussels sprouts, turkey, and sweet potatoes for the perfect sweet and buttery accompaniment.
These little bites are perfect the way they are, but you can also enhance them with some brie or goat cheese on top.
Why This Recipe Works
The contrasting sweet and nutty flavors enhance each other in the best way!
This is the perfect recipe for holiday entertaining. You can set them out at finger food, or serve them on a tray as an appetizer before dinner. They are also sweet enough to serve after dinner as a dessert.
The best part about these cranberry walnut cups is that this is a super-easy recipe to make, freeing up more of your time for other recipes and spending time with your guests.
Step-By-Step Instructions
Ingredients
1 sheet puff pastry (thawed)
1/2 cup cranberry sauce (store bought or homemade)
1/2 cup walnuts (chopped)
1/2 teaspoon ground cinnamon
The entire recipe and instructions can also be found in the recipe card at the bottom of this post. You can also print the recipe from the card, if needed.
Prep!
You will need to set out the puff pastry to defrost for about 40 minutes before you begin.
Create!
Preheat your oven to 400°F.
In a small bowl, combine the cranberry sauce, chopped walnuts, and cinnamon.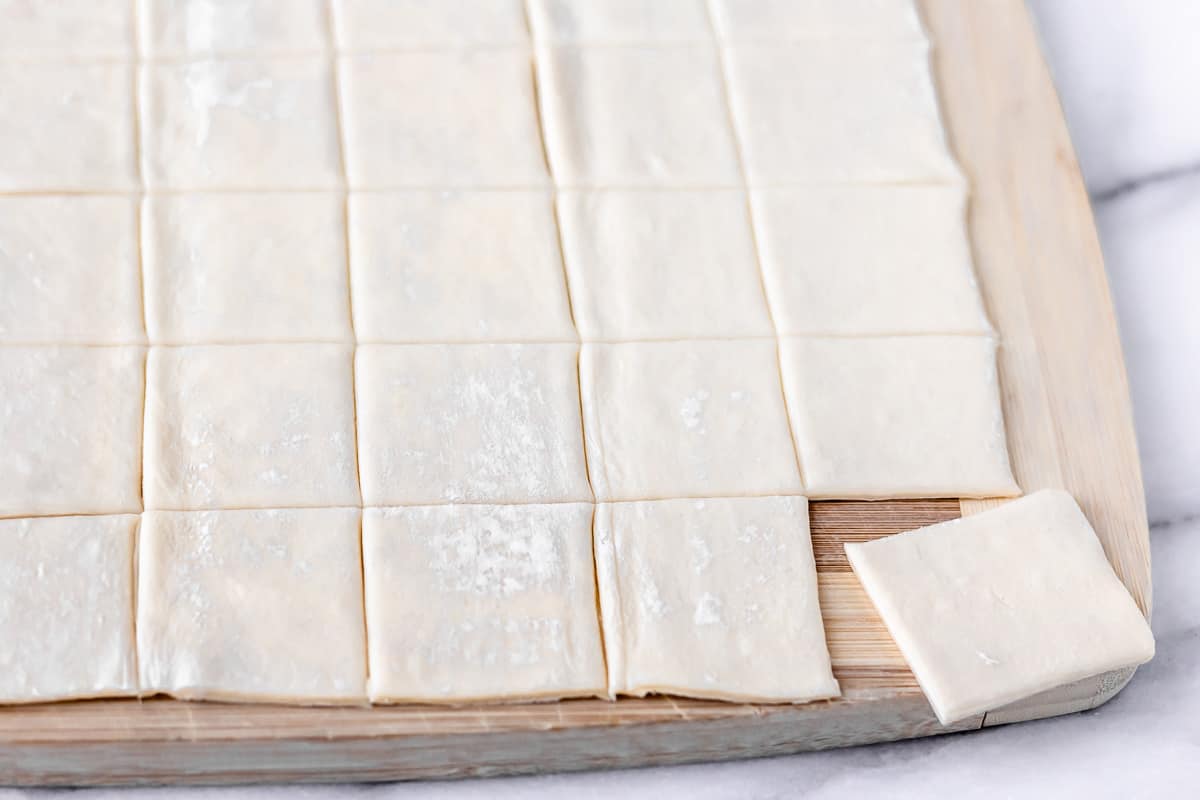 Cut your puff pastry sheet into 24 small squares.
Using a mini cupcake pan, place one puff pastry square into each well. You can stretch the dough a bit if you need to. Score the pastry with a fork.
Add 1 teaspoon of the cranberry mixture to each cup.
Optional: you can brush the edges of the puff pastry with an egg wash (1 egg lightly beaten) for a more shiny, golden crust.
Bake 12-15 minutes, or until the puff pastry is just golden.
Let cool for just a few minutes, then transfer to a wire cooling rack to cool completely. If you leave them in the pan to cool, any filling that may have spilled over the edges may become very sticky and adhere to the pan making them harder to remove.
Present!
Place on a serving tray and add fresh cranberries around them, if desired. Sugared cranberries and/or rosemary would also be really pretty to use as garnish.
Tips and Techniques
Remove the cups from the pan as soon as they are cool enough to handle. If some of the filling spills over the sides, it may harden as it cools and make them difficult to remove.
Store leftovers in an airtight container up to 1 week. Filled puff pastry cups are best consumed the day they are made.
FAQ's
Can Puff Pastry Cups Be Made Ahead Of Time?
Yes. While puff pastry is always best fresh out of the oven, you can easily make these Cranberry Walnut Cups ahead of time and store them in an airtight container until needed. They can be served warmed or at room temperature.
Can Cranberry Bites Be Served Cold?
Yes, these little bite-sized appetizers can be served either hot or cold. I prefer how they taste when they are hot and fresh out of the oven.
Are Pillsbury Crescent Rolls The Same As Puff Pastry?
No, they are not the same, but you can use them interchangeably in this recipe. Puff pastry is flakier and has a lot more layers of flaky pastry than crescent rolls.
More Cranberry Walnut Recipes
Love this Cranberry Walnut Cups recipe? Follow me on Pinterest, Instagram, and Facebook for more!
If you try this recipe, please leave a comment and star rating below. I would really appreciate it!
This recipe was originally published on November 6, 2017. It was updated with an improved recipe, step-by-step instructions, new images, tips, techniques and FAQ's in November 2022.