Christmas is coming, so make these gluten-free sugar cookies to suit the dietary needs of the whole family! This recipe is also egg and dairy-free, making it an allergen-friendly choice for any celebration or holiday spread. Each bite is soft, tender, and chewy.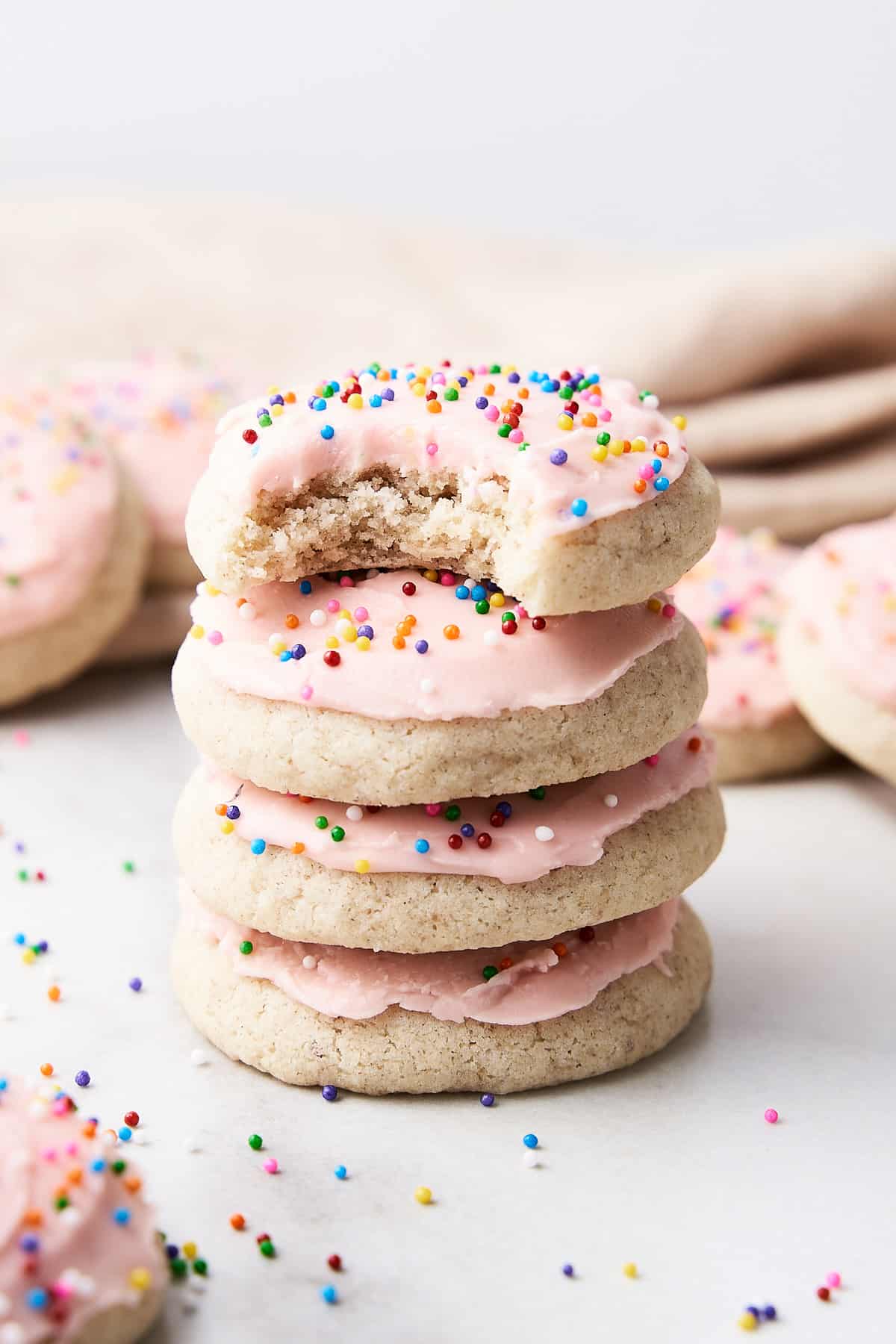 This post contains affiliate links. See our Disclosure Statement for more information.
You're getting two amazing recipes in one post!
The soft and chewy gluten-free sugar cookies are the epitome of Christmas cookies. Then, homemade frosting that is both sweet and creamy. It's easy to use, coating the cookies evenly, firmly holding the sprinkles in place.
This sugar cookie recipe is so much fun to decorate! Make a huge batch of frosting, section it out, and dye it different colors with food coloring. Then, decorate your cookies however you want.
These cookies are perfect for Christmas, birthday parties, or even Easter!
Love chocolate? Make some Gluten-free Chocolate Cookies. In the mood for salted caramel? Then you have to try these Gluten-free Salted Caramel Cookies.
Happy baking!
Why This Recipe Works
This gluten-free cookie recipe is as easy to make as regular sugar cookies. It takes around 30 minutes from start to finish.
The finished cookies are tender, soft, chewy and sweet. They taste just as good as traditional sugar cookies. You can't even tell they are gluten-free.
This recipe is perfect for anyone with food allergies (pretty much!). It's gluten-free, dairy-free, egg-free, and vegan-friendly.
Step-By-Step Instructions
Ingredients
Flax eggs
Cookies
3 cups gluten-free all-purpose flour blend: Bob's Red Mill 1:1 Gluten Free Flour Blend was used for this recipe. King Arthur brand is also very good.
¾ teaspoon salt
1 ½ teaspoons baking powder
1 cup dairy-free butter, softened
1 ½ cups granulated sugar: be sure to use organic or raw sugar, if vegan.
1 teaspoon vanilla extract
Icing & sprinkles
2 cups powdered sugar
2-3 tablespoons milk (or water): any type of milk will work, regular or plant-based.
Sprinkles of your choice
The entire recipe and instructions can also be found in the recipe card at the bottom of this post. You can also print the recipe from the card, if needed.
Prep!
Preheat oven to 375°F. Line 2 baking sheets with parchment paper or Silpat mats.
Create!
In a small bowl, mix the water and ground flaxseed until well combined. Set aside for 5 minutes to thicken.
In a medium mixing bowl, sift the flour, baking powder and salt together. Set aside.
In the bowl of a stand mixer fitted with a paddle or a large mixing bowl with a hand mixer, beat the butter and sugar, scraping down the sides throughout, for about 3-4 minutes or until light and fluffy.
Add the flax egg and vanilla, then mix for another 30-60 seconds to incorporate.
Slowly add the dry ingredients, mixing on low speed until just combined. Using a 2-tablespoon cookie scoop, shape the cookie dough into balls, rolling between your palms until smooth.
Spread out evenly on the prepared baking sheets, keeping 1-2 inches between the cookies.
Bake the cookies for 8-10 minutes, or until the edges are just set. Remove them from the oven, lightly smack the pan, then let them cool for 10 minutes on the baking sheet before transferring them to a wire cooling rack to finish cooling.
While the cookies cool, make the frosting.
In a mixing bowl, beat the powdered sugar and milk or water together until smooth, adding more milk if necessary (for an even creamier icing, add 1 tablespoon of dairy-free butter).
Present!
Once the cookies are cool, spread icing evenly over the tops of each cookie. Add a pinch of sprinkles to each cookie immediately after icing them so they stick better.
Let the icing set, then enjoy!
Tips and Techniques
If the dough is too wet, add 1 tablespoon of 1:1 gluten-free flour at a time. If it is too dry, add 1 tablespoon of milk or water to achieve the right consistency.
Milk for the icing can be regular or dairy-free.
This recipe was made using Bob's Red Mill 1 to 1 Gluten Free Flour Blend.
Celiac information: Ensure vanilla is certified gluten-free if gluten is a serious allergen.
Storage: Room temperature in an airtight container for 3-4 days; fridge for 7 days in an airtight container; freezer for up to 3 months in an airtight container or freezer-safe bag.
Substitutions: Add 1 ½ teaspoons of xanthan gum if there is none in the GF flour blend. This recipe can also be made with all-purpose flour.
FAQ's
What Is The Best Gluten Free All Purpose Flour To Use For Baking Cookies?
I have had great results with both Pillsbury Gluten Free All Purpose Flour and Bob's Red Mill Gluten Free All Purpose Flour when making different types of gluten free cookies.
What Is The Best Frosting To Use On Gluten-Free Sugar Cookies?
Mix together some powdered sugar and milk for an easy homemade frosting. Then, add your favorite food coloring and decorate the cookies.
More Gluten Free Cookie Recipes
Love this Gluten Free Sugar Cookies recipe? Follow me on Pinterest, Instagram, and Facebook for more!
If you try this recipe, I would really appreciate it if you would please leave a comment and star rating. Thanks!