This Green Bean Cauliflower Salad recipe is the perfect side dish recipe for all your summer cookouts!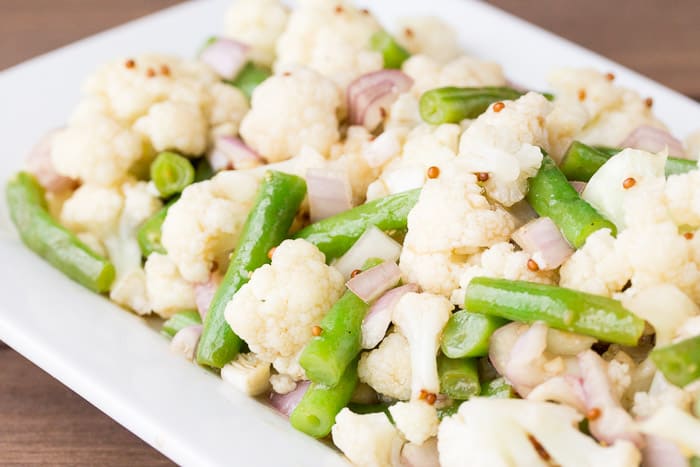 This post contains affiliate links. See our Disclosure Statement for more information.
I recently made a recipe for Green Bean Potato Salad. It's an old favorite of mine that's very similar to what my mom would make when I was growing up. I love the balsamic vinegar and mustard dressing! I just wanna keep eating it. But, therein lies the problem. I love potatoes, but they just don't love me back.
Because I have to limit my carb intake, and eat a keto or low carb diet most of the time, I decided to swap in cauliflower. I kept the dressing and other ingredients the same and it turned out just as good as the original . Now, I can look forward to eating this modified version all summer long and not feel guilty! And, you can too!  This is definitely a recipe that everyone can enjoy, though. You don't even have to say it's low carb or keto friendly. Just put it out and let your guests dig in!
It's not just a summer recipe, though. I think I just feel that way because that's when my mom would make it. It's a great dish that can be eaten warm, chilled, or at room temperature so it's perfect to serve as a side dish during cookouts and barbecues!
Low Carb Green Bean Cauliflower Salad
Prep!
Cut the green beans and cauliflower into bite size pieces.
Dice the shallot and mince the garlic.
Create!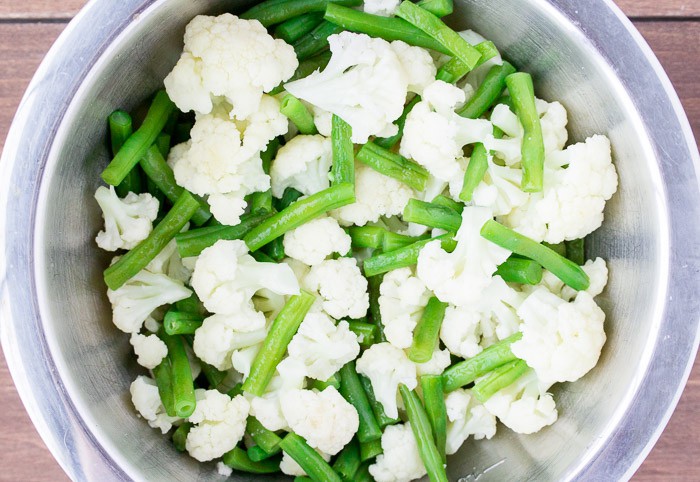 Place the green beans and cauliflower in a microwave safe bowl. Add 1 Tablespoon of water and microwave on high for 4 minutes. Drain and run cold water over them to stop the cooking process.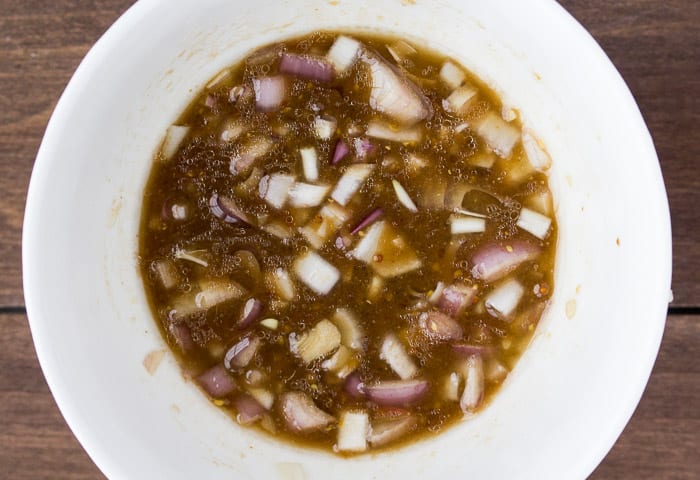 To make the dressing, whisk together the olive oil, balsamic vinegar, lemon juice, and stone ground mustard. Stir in the shallots and garlic.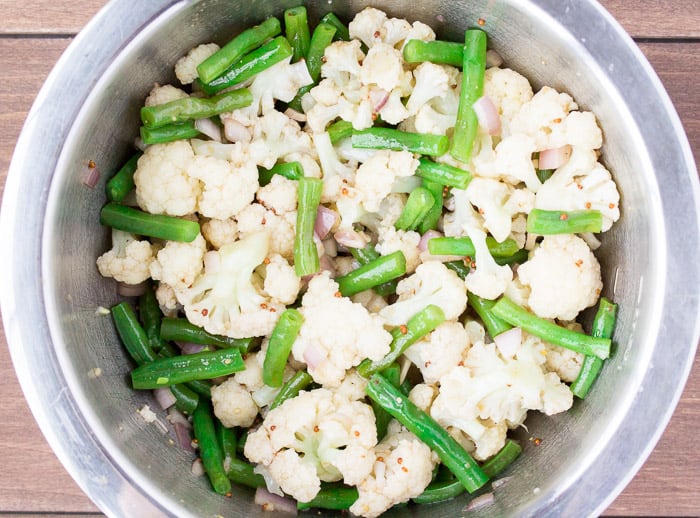 Pour the over the green beans and cauliflower, then toss gently to combine.
Present!
Serve this Green Bean Potato Salad in a pretty serving bowl or tray!
Enjoy!
Love this Low Carb Green Bean Potato Salad recipe? Follow us on Pinterest, Instagram, and Facebook for more!
For more Keto and Low Carb recipes, you can click here to visit the Low Carb section of my Recipe Index or sign up for my Keto and Low Carb Newsletter to get new keto and low carb recipes sent right to your inbox!