Cheesy Cauliflower Rice is sure to be your new favorite rice-alternative side dish recipe. Riced cauliflower is coated in a super creamy cheese sauce that is naturally low carb, keto-friendly, and gluten free. Even the most cauliflower-adversed will love this recipe!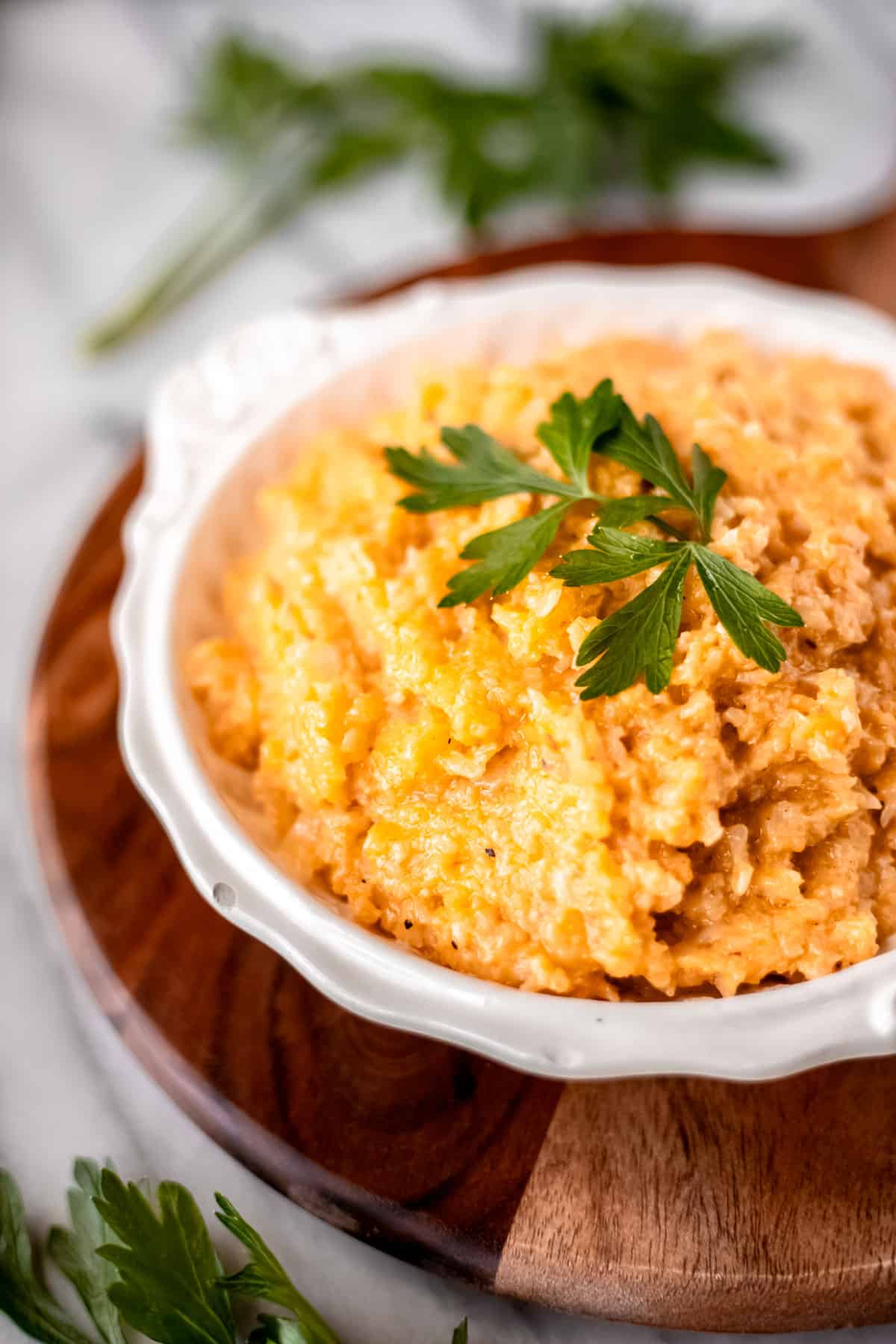 This post contains affiliate links. See our Disclosure Statement for more information.
Our recipe for Cheesy Broccoli Cauliflower Rice has been pretty popular with those following low carb diets or simply looking for an enjoyable way to eat more vegetables. So, naturally, I decided to make a cauliflower-only version too.
Cauliflower seems to be the most common veggie that people either seem to really love or really hate.
I'm most definitely in the "really love it category," but my kids? Not so much. Add a rich, creamy cheese sauce and there is not a single complaint. This dish is delicious!
Why This Recipe Works
Cheesy Cauliflower Rice is quick and easy to prepare. It requires just a handful of ingredients. The most time consuming part is ricing the cauliflower, but you can most definitely use store-bought riced cauliflower.
It's a delicious alternative to cheesy rice recipes that is not only lower in carbohydrates, but also lower in calories per the same size serving.
This recipe fits into most low carb or keto diets. It's also naturally gluten free and vegetarian.
Step-By-Step Instructions
Ingredients
1 tablespoon extra virgin olive oil
4 cups cauliflower (riced, from about 2 medium size heads)
salt
pepper
2 tablespoons butter
1/4 cup heavy whipping cream
1/2 teaspoon mustard powder
4 ounces cheddar cheese (grated)
The entire recipe and instructions can also be found in the recipe card at the bottom of this post. You can also print the recipe from the card, if needed.
Prep!
Rice the cauliflower and shred the cheese.
You can reference this post on How to Rice Cauliflower, if needed. Some grocery stores carry riced cauliflower in the produce section now, as well.
Use fresh cauliflower for the best flavor. If you choose to use frozen, you may have to cook it longer to get all of the extra moisture out.
It is strongly recommended to shred the cheese from a block rather than using pre-shredded bagged cheese. Cheese from a block melts better and doesn't contain any added starches.
Create!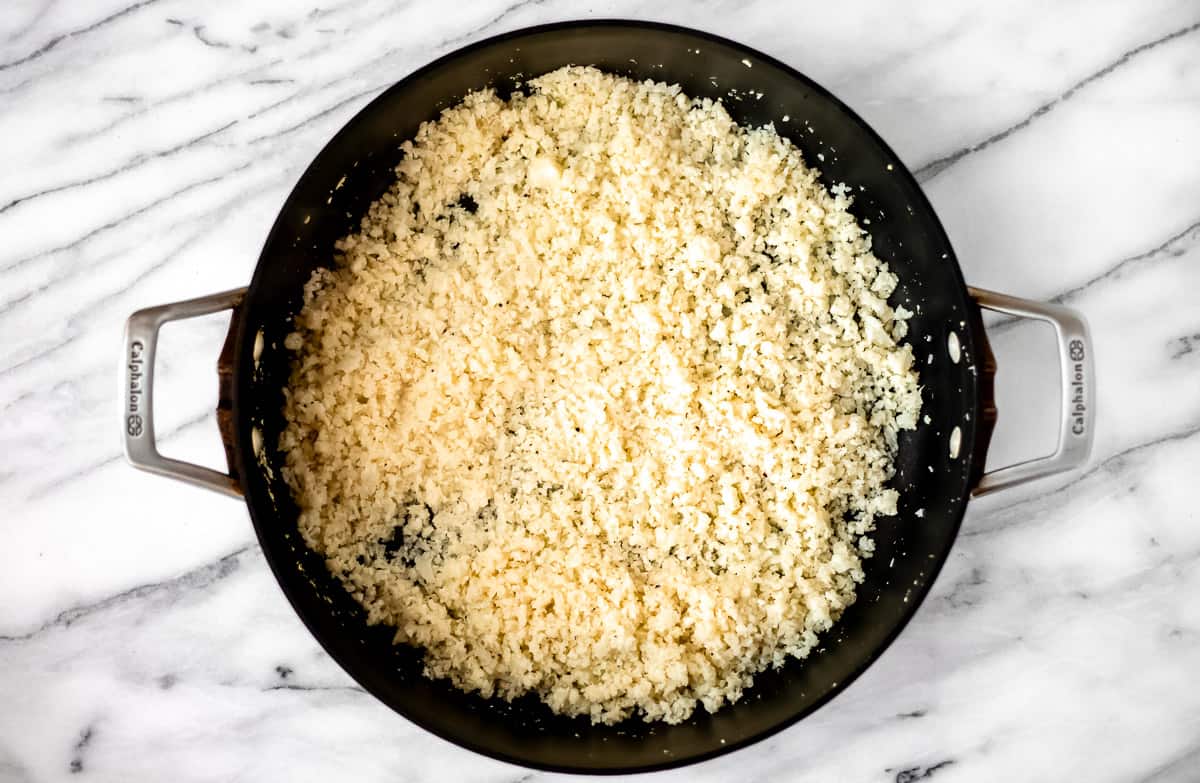 Heat olive oil in a large skillet over medium high heat.
Once hot, add the riced cauliflower. Season with salt and pepper.
Cook, stirring often, until just tender – about 8-9 minutes.
Meanwhile, make the cheese sauce.
Add the butter to a small saucepan.
Once melted, whisk in the heavy whipping cream and mustard powder. Cook until hot and bubbly.
Stir in the cheddar cheese until melted and fully blended with the butter and cream mixture.
Stir the cauliflower into the cheese sauce and continue to cook an additional 2-3 minutes, or until everything is well combine and heated through.
Present!
Serve straight out of the skillet or transfer to a serving dish.
Garnish with extra cheese and/or fresh, minced herbs, if desired.
Tips and Techniques
You can reference this post on How to Rice Cauliflower, if needed.
Shred the cheese from a block rather than using pre-shredded bagged cheese. Cheese from a block melts better and doesn't contain any added starches.
Use fresh cauliflower rather than frozen for the best flavor and finished results. Many readers have substituted frozen cauliflower in similar recipes with great results – we just strongly prefer the flavor of fresh better.
Add in some cooked chicken, crumbled bacon, sausage, or diced ham for added protein, flavor, and heartiness.
Store any leftovers in an airtight container in the refrigerator. Consume within 3-5 days.
FAQ's
Can You Substitute The Heavy Cream With Half-And-Half Or Milk?
Yes, you can use milk or half-and-half instead of heavy cream. Be aware that the cheese sauce may be on the thinner side should you choose not to use heavy cream.
Is Cauliflower Rice Good For You?
Cauliflower rice is a better choice than traditional rice because it's much lower in calories and carbohydrates. It's also rich in antioxidants.
More Cauliflower Rice Recipes
Love this Cheesy Cauliflower Rice recipe? Follow me on Pinterest, Instagram, and Facebook for more!
If you try this recipe, please leave a comment and star rating. I would really appreciate it!