This post is sponsored by Foster Farms. All content and opinions are entirely my own.
Foster Farms Smart Crust™ Pizza is a new line of low carb, gluten free frozen pizzas that come in 3 delicious guilt-free varieties. These pizzas not only taste amazing, but they are also keto certified.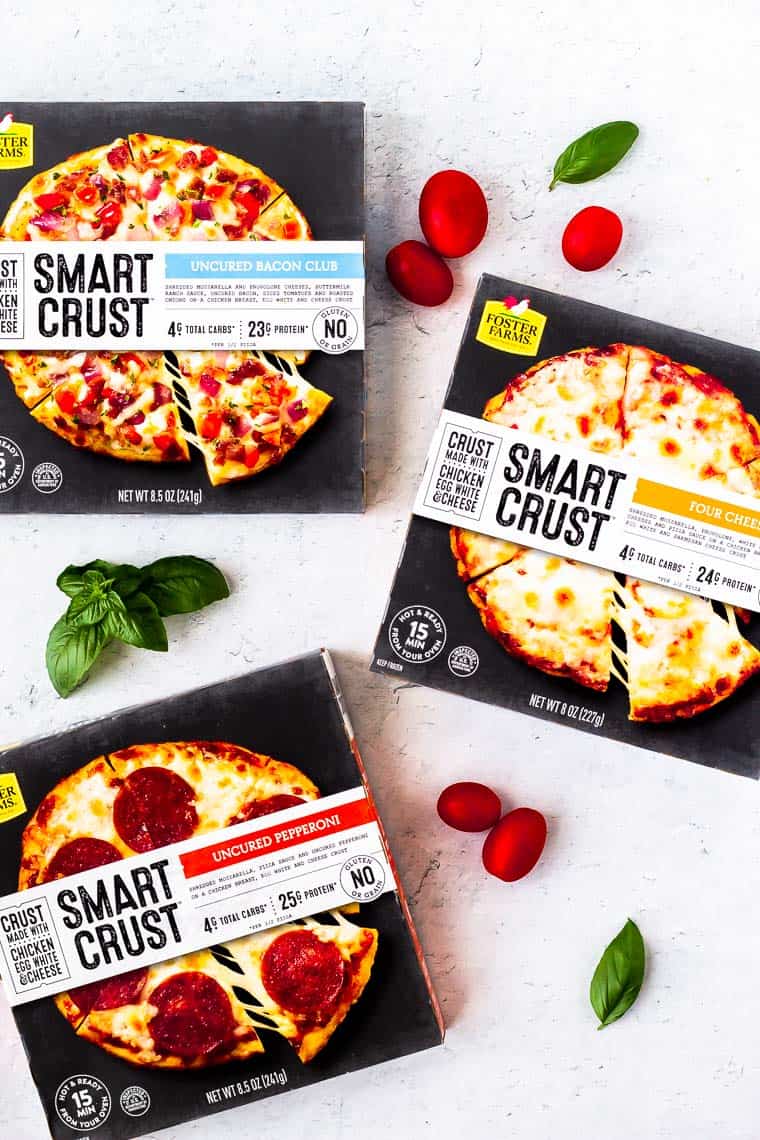 While I am a huge fan of keto cauliflower pizza crust, making my own can often be too time consuming. In addition to that, I'm not a fan of the frozen cauliflower crust pizzas that I've tried. They have either had way too many carbohydrates to fit into my mostly keto diet, or have greatly lacked flavor.
This pretty much leaves me to fend for myself, or give in and go over my personal daily carbohydrate limit, when the rest of the family wants to have a pizza night.
Because of my past experiences and my love of bold flavors, at first I was hesitant to try out Foster Farms Smart Crust™ Pizza. However, when I looked more into why this pizza is a lot different from others on the market, I was super intrigued to give it a try.
I have to admit that this is the best tasting, keto friendly frozen pizza that I've had yet!
What Is Smart Crust Pizza?
Smart Crust Pizza is a line of frozen pizzas made by Foster Farms. They are low carb, high protein, grain free, and gluten free. With only 4 grams of carbohydrates and 25 grams of protein per serving, these pizzas are actually keto certified.
What really makes these pizzas truly unique though, is the crust. It's made with simple ingredients like chicken, egg whites, and cheese. That's right cauliflower haters – this is the perfect pizza crust alternative for you too!
These are personal size pizzas making them a great option for a quick and easy lunch or dinner. They are also a great option for those of you who may be the only one in your household who needs to eat an alternative pizza crust – like me!
Smart Crust Pizza comes in 3 different varieties: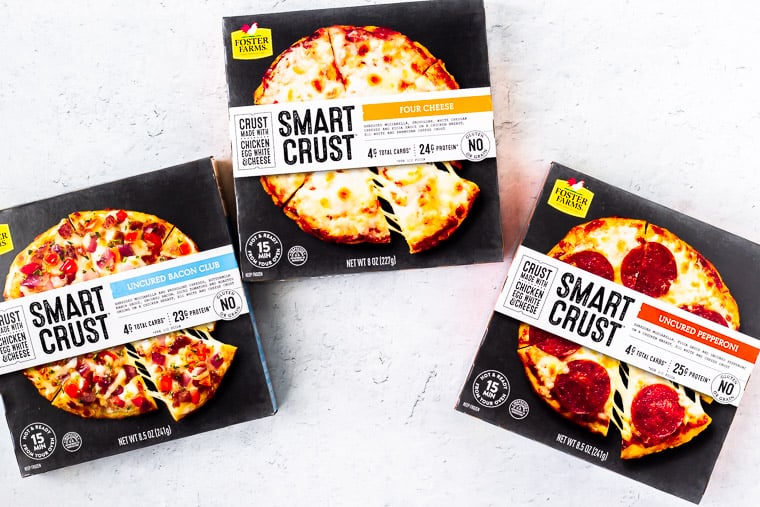 Four Cheese:

made with a combination of mozzarella, provolone, white cheddar, and Parmesan cheese. You can enjoy this pizza as is, or add any combination of your favorite pizza toppings.

Be sure to check out my Greek-inspired pizza further down this post.

Uncured Pepperoni:

this variety is made with pizza sauce, mozzarella, and pepperoni. It's a delicious take on classic pepperoni pizza.

Uncured Bacon Club: this pizza has a super tasty combination of toppings including mozzarella cheese, Parmesan cheese, uncured bacon, diced tomatoes, roasted onions, and a buttermilk ranch sauce.
Prefer other toppings? No problem! You can dress up a Four Cheese Smart Crust Pizza with any combination of your favorite pizza toppings.
How To Cook Smart Crust Pizzas
Smart Crust Pizzas can either be baked in the oven or cooked in the microwave.
To make them in the oven, simply place the pizza on a lightly coated baking sheet or pizza pan. Bake for just 15 minutes and enjoy!
Microwaving takes only 4-5 minutes if you're short on time or don't want to turn on the oven.
My Personal Greek Inspired Smart Crust Pizza
To transform the Four Cheese Smart Crust Pizza into my own creation, I tossed on a few low carb ingredients popular in Greek cuisine. I simply added roasted red pepper strips, olives, and a sprinkle of feta cheese, then baked as directed.
I love the flavors of all of these pizzas. The sauce is robust and flavorful, the pizzas are loaded with cheese, and the crust is surprisingly chewy and sturdy. You can eat it just as you would traditional pizza. And, even though there is some flavor from the chicken, I found that it really enhances the overall flavor of each pizza.
The other thing that I was really surprised by was how filling these pizzas are. I really enjoy the flavor and thought for sure that I would eat the entire pizza, no problem. But, I was wrong. I ate just half and was more than full. Leftovers were just as good the next day.
Try Foster Farms Smart Crust Pizza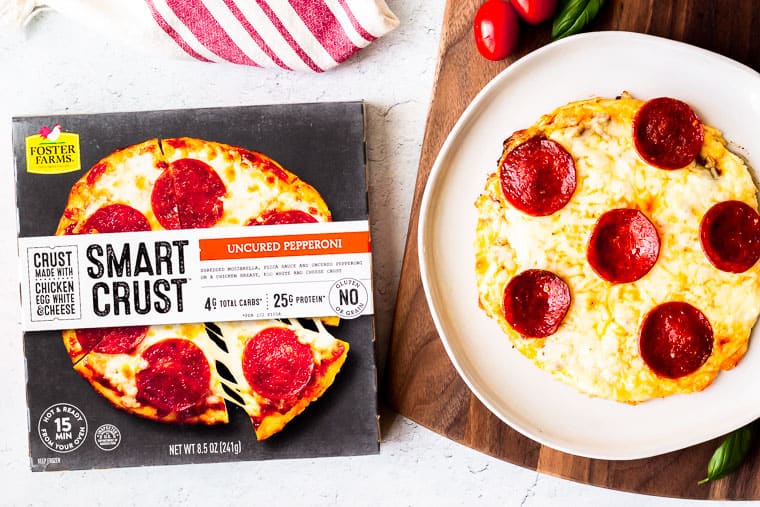 So, are you excited about the new Foster Farms Smart Crust Pizza now too? Learn more, save now, and find out where to purchase Smart Crust Pizza in your area – CLICK HERE!
Interested in trying more products from Foster Farms? My family also really loves the Take Out Crispy Wings and Tenders!