Double Bacon Jalapeno Poppers..because you can't really have too much bacon, can you?
This post contains affiliate links for your convenience.  See our Disclosure Statement for more information.
I have a new love of peppers.  Wait.  Let me rephrase.  I have a new love of hot peppers, especially jalapenos lately!  We put them on our Slow Cooker Pork Carnitas and Festive Chicken tostadas and sandwiches, but I want to try new things!  Well, new to me.  See, I wouldn't touch peppers with a 6 foot pole for most of my life.
A few years ago I tried a jalapeno roll up thing (I forgot what they called them, but it was basically a tortilla filled with cream cheese and diced jalapenos rolled up and fried) from a convenience store I normally would never set foot in.  Someone I was with wanted to go in and I tried this roll up thing and fell in love with them!  So much so, that I went back several more times by myself to buy more!
I moved away from that area a few years ago and haven't thought about jalapenos and cream cheese together much since. But, something triggered the memory recently and my craving has returned! I'm currently watching my carbs, so I wanted to recreate the flavors I loved so much, minus the tortilla.
My recipe for Double Bacon Jalapeno Poppers aren't your traditional bacon-wrapped jalapeno poppers! Wrapping poppers in bacon just wasn't enough. You'll get even more of that smoky, delicious bacon-y flavor with these poppers because there is extra bacon stuffed inside of each one!
Double Bacon Jalapeno Poppers
To make up for the lack of a tortilla,  I add more bacon, of course.  What better name for these spicy little guys than Double Bacon Jalapeno Poppers!
Prep!
You will need all your ingredients, a cutting board, spoon, knife, baking tray, baking rack (optional), and toothpicks out and ready to go!  If you're not using leftover bacon, you will need to cook and crumble 3 of the slices.  Preheat your oven to 375°F.
Create!
The first step is to prepare your peppers. You can cut the stem off, or leave it, it doesn't really matter.
Next, slice each pepper in half, lengthwise.
Scoop out some, or all, of the seeds and membrane.  The more you leave, the spicier your poppers will be.  If you want mild jalapeno poppers, make sure to get out as much as possible.
I didn't want to have just plain ole cream cheese inside the pepper, but I also didn't want too add too much else and take away from the perfectness of the main 3 ingredients.  I decided to add some sharp cheddar cheese and crumble some cooked bacon into the cheese mixture.
Prepare the filling by mixing together the two cheeses and crumbled bacon!
Now, stuff each pepper with the cheese mixture!
Wrap each popper with a half of a slice of bacon and secure with a toothpick. Place the poppers on a wire rack over a baking sheet.  This helps the bacon get crispy all the way around.
I pin the toothpick onto the back side to help keep the bacon from sticking to the wire rack. They look like little samurai poppers!
Bake or about 25 minutes, until the peppers are soft and the bacon is nice and crispy!
Present!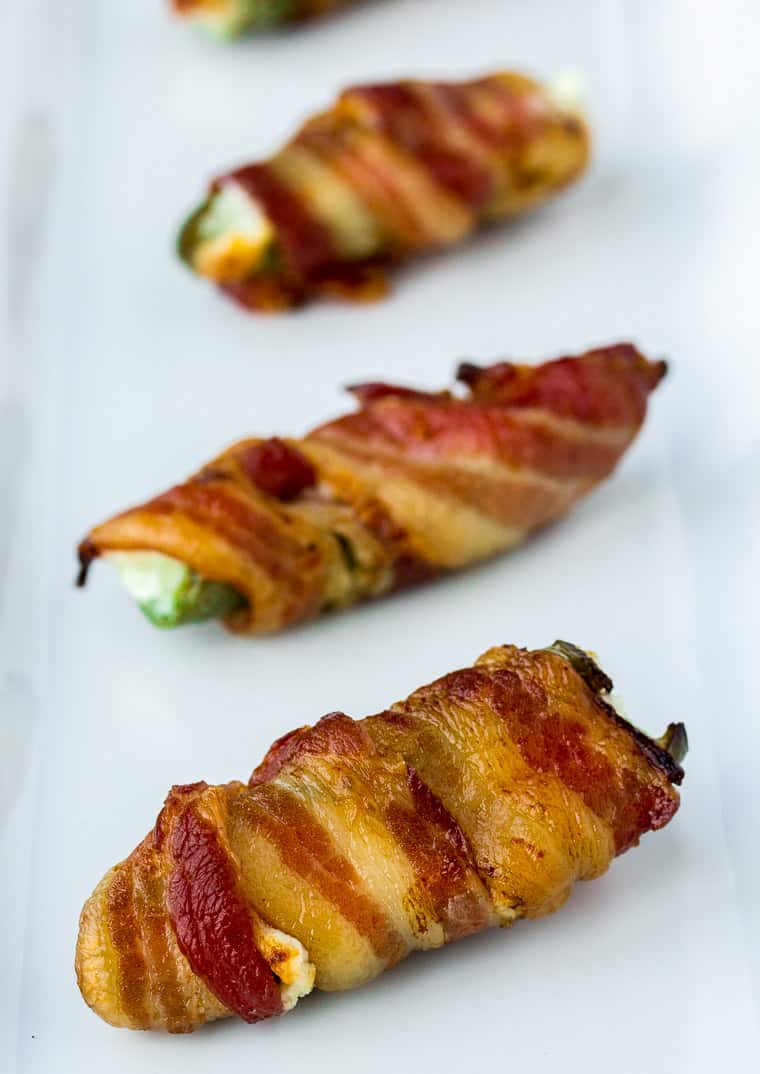 Stack them up and dig in! Be sure to remove the toothpicks before serving!
Every single bite of these Double Bacon Jalapeno Poppers is full of jalapeno, cheese, and bacon flavor.  Every. Single. Bite.  So good!
If you can't get enough jalapeno poppers (I feel ya!) then you might also want to try these:
Enjoy!
Love this recipe?  Follow me on Pinterest, Instagram, and Facebook for more!
For more Keto and Low Carb recipes, you can click here to visit the Low Carb section of my Recipe Index or sign up for my Keto and Low Carb Newsletter to get new keto and low carb recipes sent right to your inbox!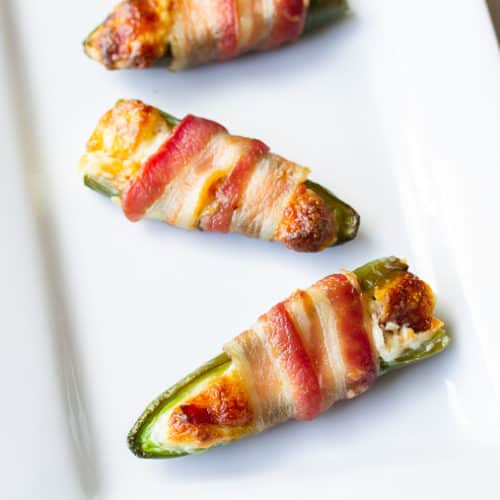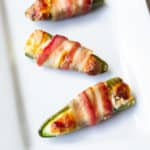 Print
Extreme Bacon Jalapeno Poppers
Extreme Bacon Jalapeno Poppers are not only wrapped in bacon, but stuffed with a combination of cheeses and even more bacon! This is a delicious appetizer option for all, including those on low carb and keto diets, as well!
Ingredients
6

jalapeno peppers

* medium sized

2

ounces

cream cheese

* at room temperature

2

ounces

sharp cheddar cheese

* grated

3

slices

bacon

* cooked and crumbled

6

slices

bacon

* cut in half
Instructions
Line a baking sheet with foil and place a wire rack over it.

Slice the stem off of each jalapeno, then cut each in half length-wise and remove the seeds and membrane, if desired.

In a small bowl, use a fork to mash together the cream cheese, sharp cheddar cheese, and crumbled bacon.

Fill each jalapeno half with enough cheese mixture to just reach the top edges.

Wrap each pepper with a half slice of bacon and secure with a toothpick.

Spread the jalapeno poppers out onto the baking rack.

Bake for about 25 minutes, or until the bacon is crisp.

You can place the poppers under the broiler for a few minutes, watching closely to prevent burning, to crisp the bacon more, if desired.
Notes
Tips and Techniques for the Best Bacon Jalapeno Poppers
Set the cream cheese out about an hour ahead of time to allow it to come to room temperature. This will make blending it with the cheddar cheese and bacon much easier.
If you prefer mild jalapeno poppers, simply remove all of the seeds and membrane from each pepper. Leave it all for the spiciest poppers, or just remove some for medium spiciness.
For crispier bacon, you can put the poppers under the broiler for a couple of minutes, watching closely and turning as needed to prevent burning.
Store leftover jalapeno poppers in an air-tight container in the refrigerator. Use within 5-7 days.
** Nutritional information is an estimate and may vary.
Nutrition
Serving:
1
popper
|
Calories:
106
kcal
|
Protein:
3
g
|
Fat:
9
g
|
Saturated Fat:
4
g
|
Cholesterol:
21
mg
|
Sodium:
153
mg
|
Potassium:
61
mg
|
Vitamin A:
185
IU
|
Vitamin C:
8.3
mg
|
Calcium:
40
mg
|
Iron:
0.1
mg
This recipe was originally published on April 6, 2016. Some images were updated in August 2018.