This low carb dish is filled with delicious garlicky flavor and is an easy replacement for regular rice. Garlic Cauliflower Rice is quick to make and an easy recipe to follow. This simple side dish pairs well with most main dishes and may also be adapted to your liking.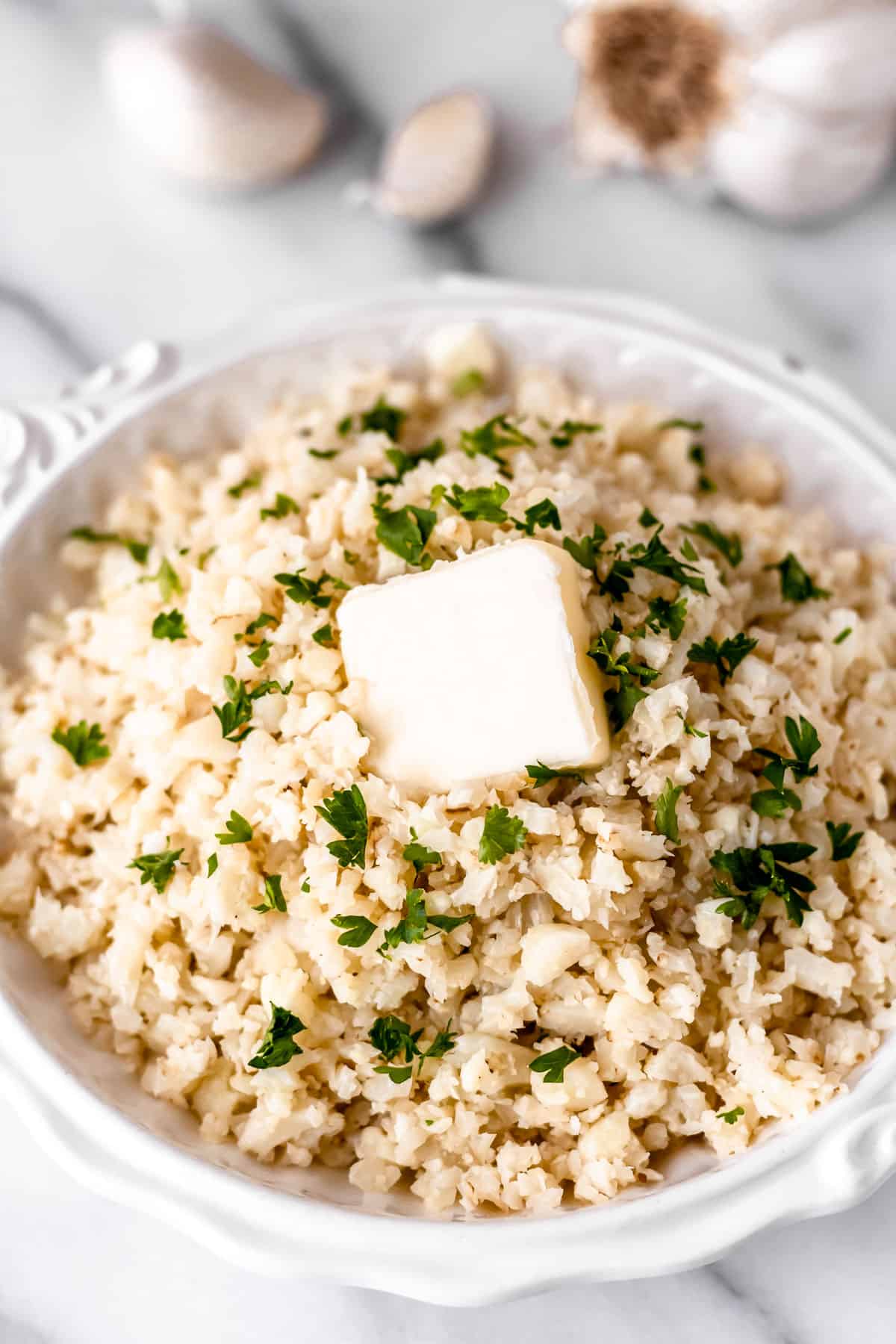 This post contains affiliate links. See our Disclosure Statement for more information.
Garlic Cauliflower Rice is a wonderful replacement for regular rice, especially if you're following a low carb diet or prefer a bit of extra vegetal flavor compared to the mild flavor of traditional rice.
This dish is healthy, but it is not lacking in delicious garlic flavor. Cauliflower Rice can be served as a stand-alone side dish and is a great accompaniment to most main dishes.
This is a quick recipe which only takes 20 minutes total to prepare and cook. It's also an easy recipe to follow.
You can substitute cauliflower rice in just about any recipe that calls for regular rice.
A couple great ways to use cauliflower rice is in Fajita Bowls or Lemon Soup. If you enjoy the flavor of cauliflower, or any of these recipes, you should try Cheesy Barbecue Ground Beef and Cauliflower Skillet, which is a bit more decadent.
Why This Recipe Works
This dish is extremely flavorful. The garlicky aroma is enticing and appetizing making this a very tasty recipe.
This recipe is adaptable. You can mix in cheese, herbs, or spices to make it taste exactly how you like. This gives you the freedom to pair this dish with a variety of entrees.
Garlic Cauliflower Rice is low carb, keto friendly, and gluten free. Each generous serving contains 6 net carbs.
How To Make Garlic Cauliflower Rice
Ingredients
Cauliflower Rice: I find that using fresh cauliflower, rather than frozen, tastes best. You can reference my tutorial on How To Rice Cauliflower, if you need to.
Garlic: again, fresh garlic will give you more flavor than jarred. That's not to say that jarred garlic can't be used. It absolutely can.
Butter
Salt and Pepper
Parsley: optional.
The entire recipe and instructions can be found in the recipe card at the bottom of this post. You can also print the recipe from the card, if needed.
Prep!
Rice the cauliflower, if needed, and mince the garlic.
Create!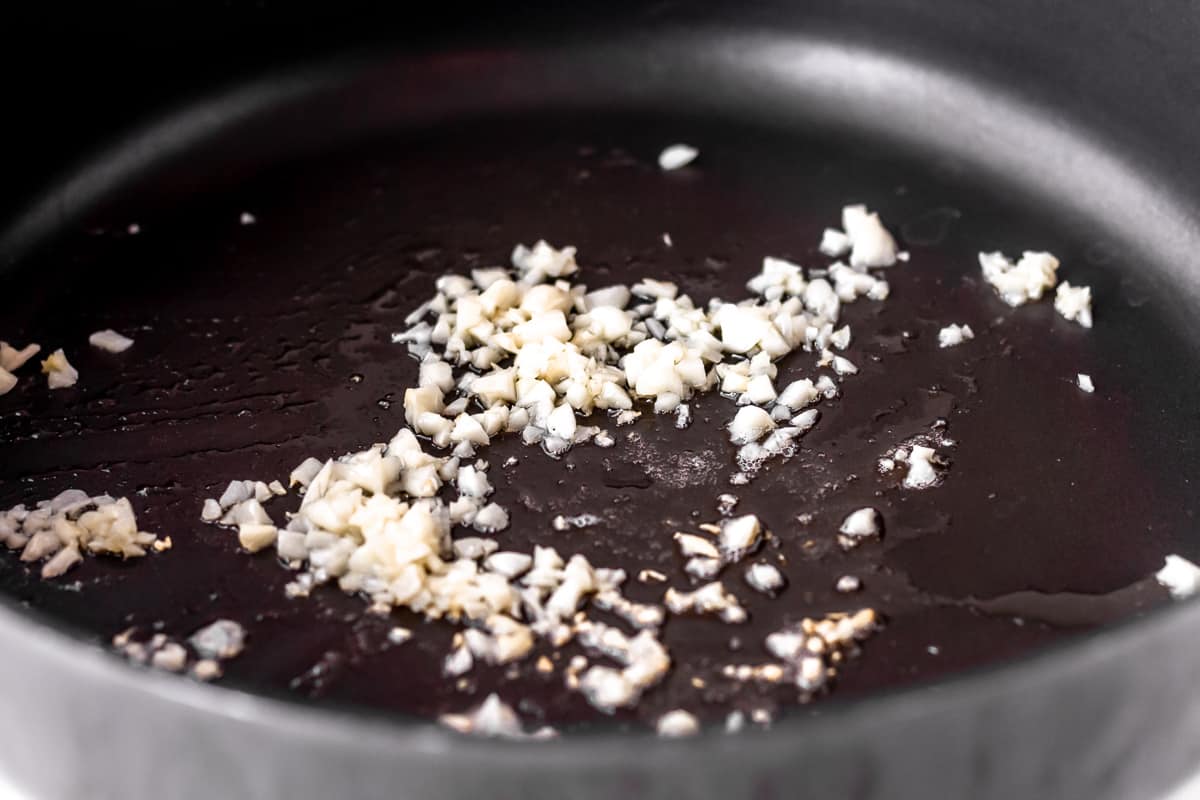 Melt the butter in a large skillet over medium heat. Add the garlic and cook, stirring frequently, for 1 minute until fragrant.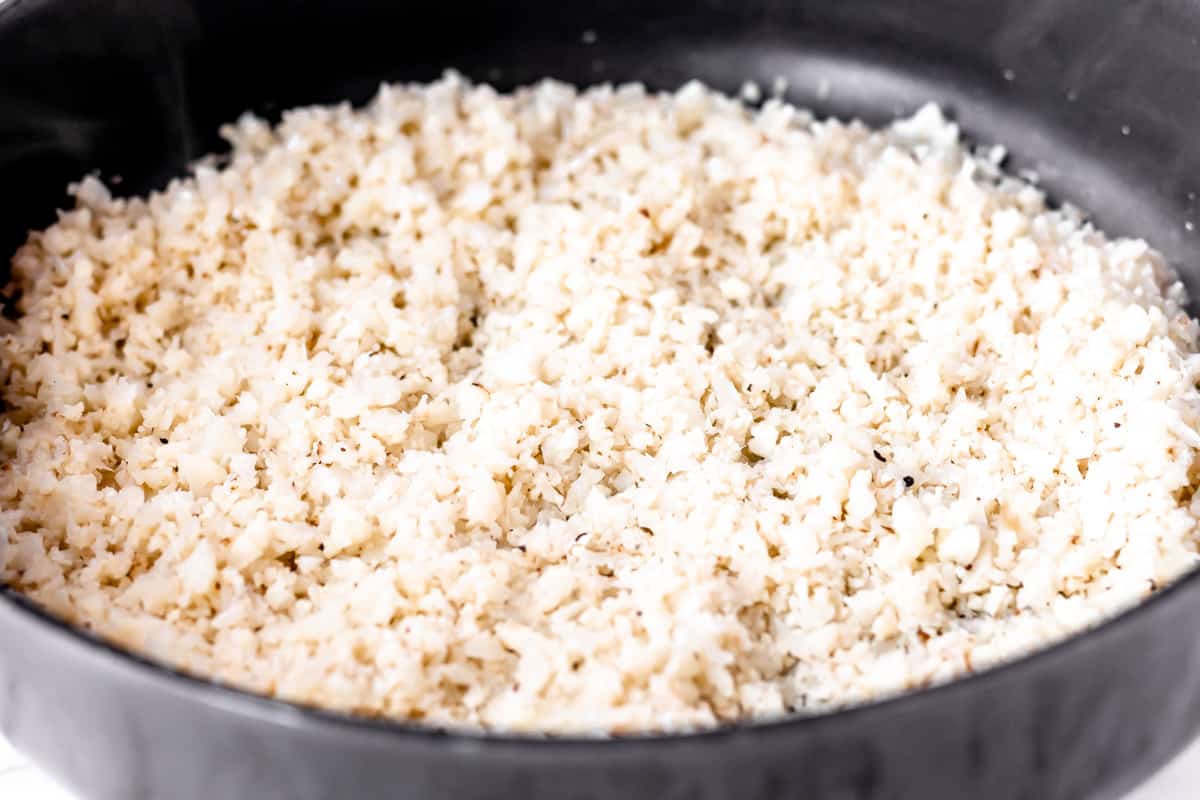 Add the riced cauliflower and season with salt and pepper. Stir to coat the rice in the garlic butter.
Cover and cook, about 5-7 minutes, stirring often until tender. It's okay if the cauliflower starts to brown a little, it will actually give it more of a nutty flavor.
Taste and adjust the seasonings as preferred.
Present!
Garnish with fresh parsley, if desired.
Tips and Techniques
Your measurements for the riced cauliflower don't have to be exact. If the amount that you are using is significantly more or less, you will need to adjust the amount of butter and garlic accordingly.
You can easily adapt this recipe. Try adding Parmesan cheese, cheddar cheese and sour cream, or your favorite herbs to enhance the flavor even more.
Store leftovers in an airtight container in the refrigerator. Consume within 3-4 days.
FAQ's
Does Cauliflower Rice Taste Like Rice?
While cauliflower is pretty bland for a vegetable, it's still not as bland as regular rice. You will be able to taste some of cauliflowers signature flavor when using it as a stand-in for traditional rice.
Is Cauliflower Rice Better Than Rice?
Cauliflower rice is much lower in calories and carbohydrates than regular rice. It's an excellent option for those trying to lower their carb intake or lose weight.
Is Cauliflower Rice Keto?
Yes, cauliflower is a good choice for those following a keto diet. Depending on how strictly you follow the diet, you may have to limit how much cauliflower you consume as it does still contain some carbohydrates.
More Cauliflower Rice Recipes
Love this Garlic Cauliflower Rice recipe? Follow me on Pinterest, Instagram, and Facebook for more!
If you try this recipe, I would really appreciate it if you would please leave a comment and star rating. Thanks!