This easy recipe for Tomatillo Chicken Enchilada Casserole contains layers of cheesy, melted Monterey Jack, shredded chicken and flavorful tomatillo enchilada sauce. It is the best dish to make when you are craving Mexican flavors, like green chicken enchiladas, but also need to quickly get dinner on the table for a crowd of hungry people.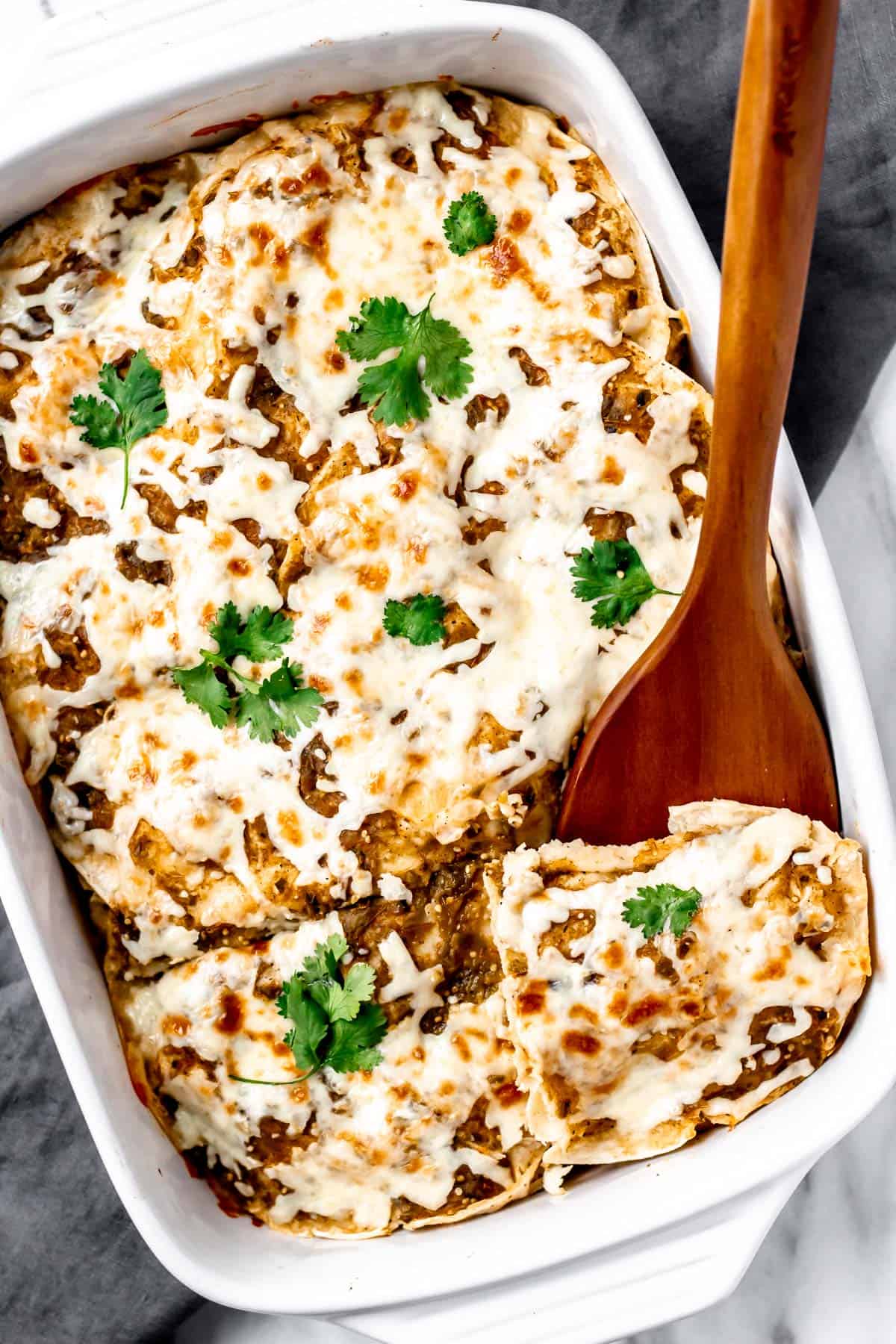 This post contains affiliate links. See our Disclosure Statement for more information.
The creation of this recipe for Tomatillo Chicken Enchilada Casserole happened on a whim. I was planning to make enchiladas, but only had small corn tortillas and a large baking dish, so I decided to change it up last minute.
The delicious dish resulted in this lasagna-like Mexican inspired casserole, with similar flavors like my recipes for Keto Mexican Casserole and Salsa Verde Chicken Casserole.
This layered casserole consists of delicious Tomatillo Enchilada Sauce, shredded chicken, gluten free corn tortillas, and cheesy Monterey Jack.
Tomatillo Chicken Enchilada Casserole is one of the best ways to prepare green chicken enchiladas, because it is quite easy and much quicker to prepare than traditional enchilada recipes.
The flavors of this dish really stand out thanks to the traditional herbs and spices, like cilantro and cumin, which are extremely common in Mexican cuisine.
Tomatillo Chicken Enchilada Casserole is quite the crowd pleaser with its flavorful, cheesy layers, and luckily for the cook, this dish comes together in just about 30 minutes.
Why This Recipe Works
Simple ingredients and ease of preparation make this Tomatillo Chicken Enchilada Casserole a wonderful dish. This casserole is also incredibly flavorful, so it is sure to impress guests.
It is the perfect weeknight dinner, since this recipe can be assembled ahead of time and may easily be doubled to serve a crowd.
By using corn tortillas, rather than flour tortillas, Tomatillo Chicken Enchilada Casserole remains naturally gluten free. This dish is also high in protein and tremendously satiating.
How To Make A Tomatillo Chicken Enchilada Casserole
Ingredients
Chicken: You can either cut the chicken into small pieces and cook them in a skillet, or bake the chicken and shred it. You can also use leftover or rotisserie chicken, if you'd like.
Tomatillo Enchilada Sauce or Salsa Verde: I have a recipe for Tomatillo Enchilada Sauce that works fabulously in this recipe and can be made ahead of time. Or, you can use store-bought salsa verde or tomatillo salsa. Just be aware that store bought sauces often have a lot more sodium in them.
Ground Cumin
Chicken Stock
6-Inch Corn Tortillas: I can only ever find the small tortillas, so that is what I use. It takes 6 for each layer of the casserole for a total of 18.
Monterey Jack Cheese: shred it fresh from a block for the best melting and texture.
The full recipe and instructions can be found in the recipe card at the bottom of this post.
Prep!
Preheat your oven to 350ºF.
Shred the cheese.
Create!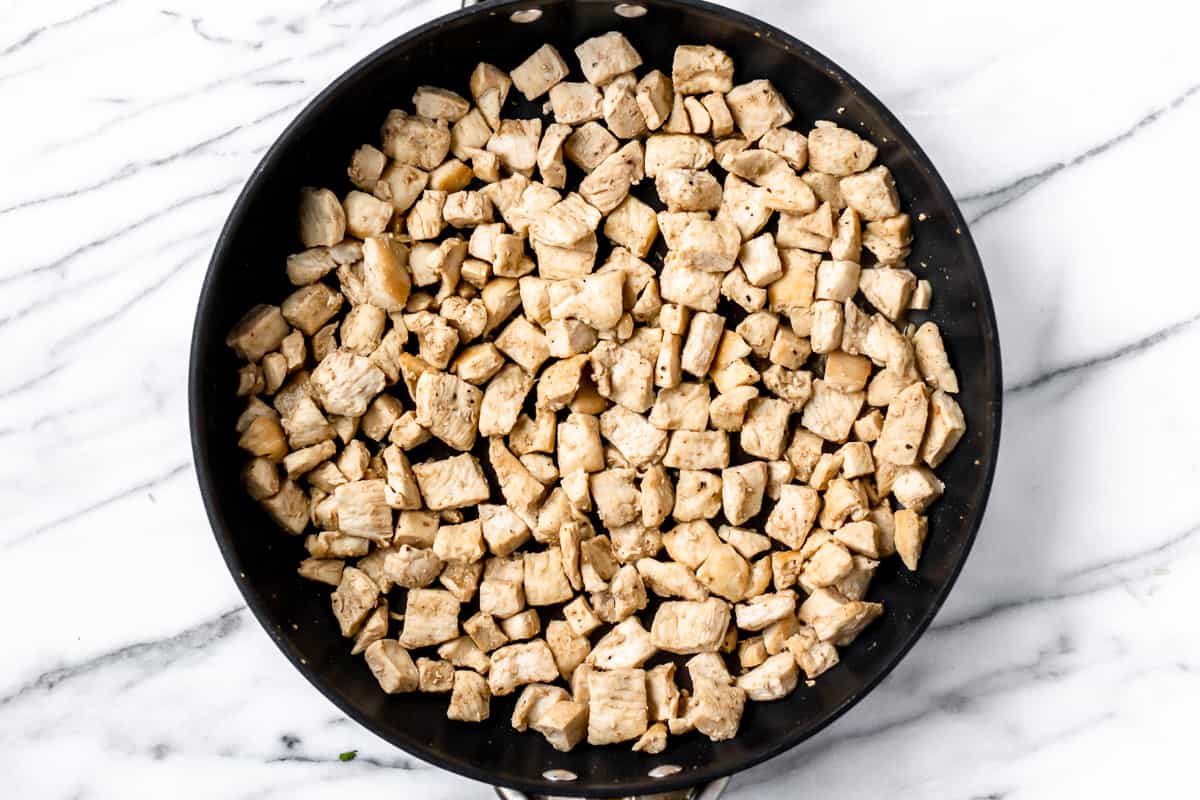 Heat oil in a large skillet over medium-high. Season the chicken with salt, pepper and cumin and add to the pan.
Cook until the chicken is done through and no longer pink in the center, about 5-7 minutes.
Chef's Tip: if you'd rather bake the chicken and shred it, place the chicken in a baking dish and season with salt, pepper and cumin. Cook until no longer pink in the center and the internal temperature reaches 165°F, about 20 minutes.
Add the stock and 1/2 cup of the tomatillo sauce. Cook over medium for just a minute or two to blend and warm everything through.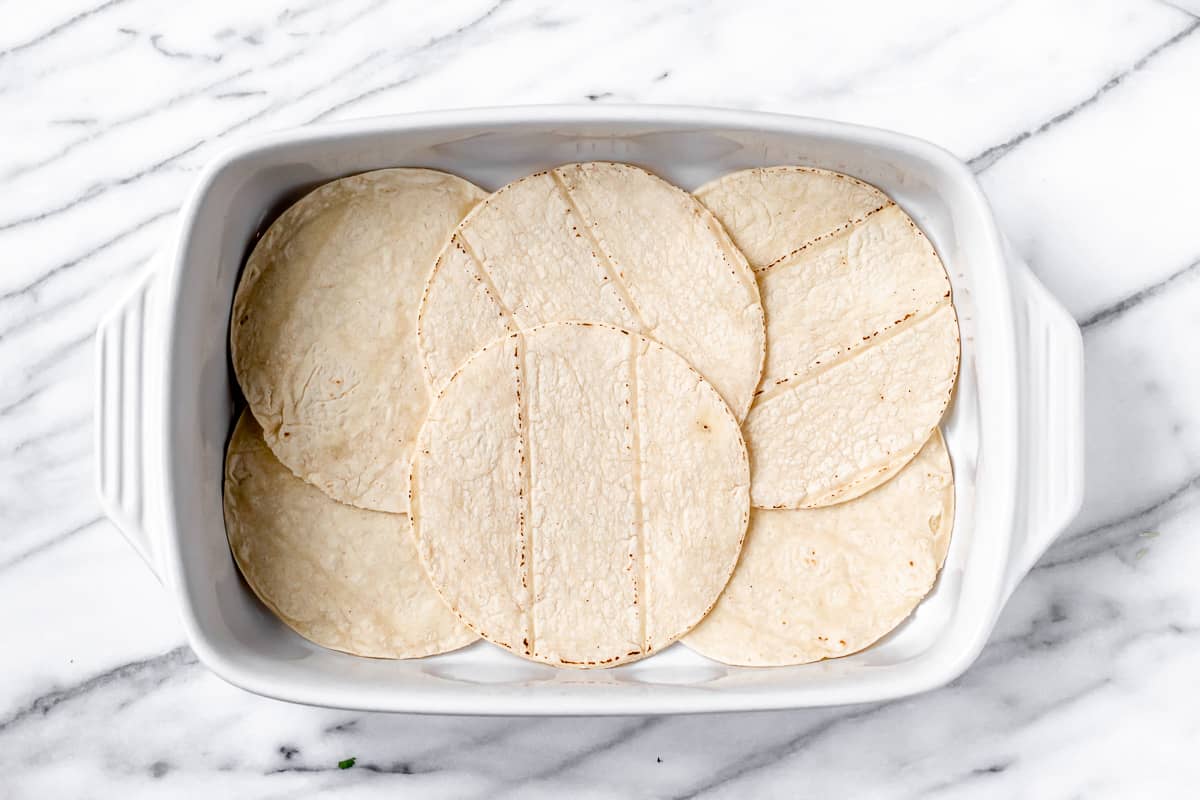 Place a layer of corn tortillas into the bottom of a 9×13 baking dish.
Top with half of the chicken mixture, drizzle 1/4 cup of the tomatillo sauce over the chicken, and top with 1/2 cup of the cheese.
Add a second layer and top with the remaining chicken and another 1/4 cup of tomatillo sauce and 1/2 cup of cheese.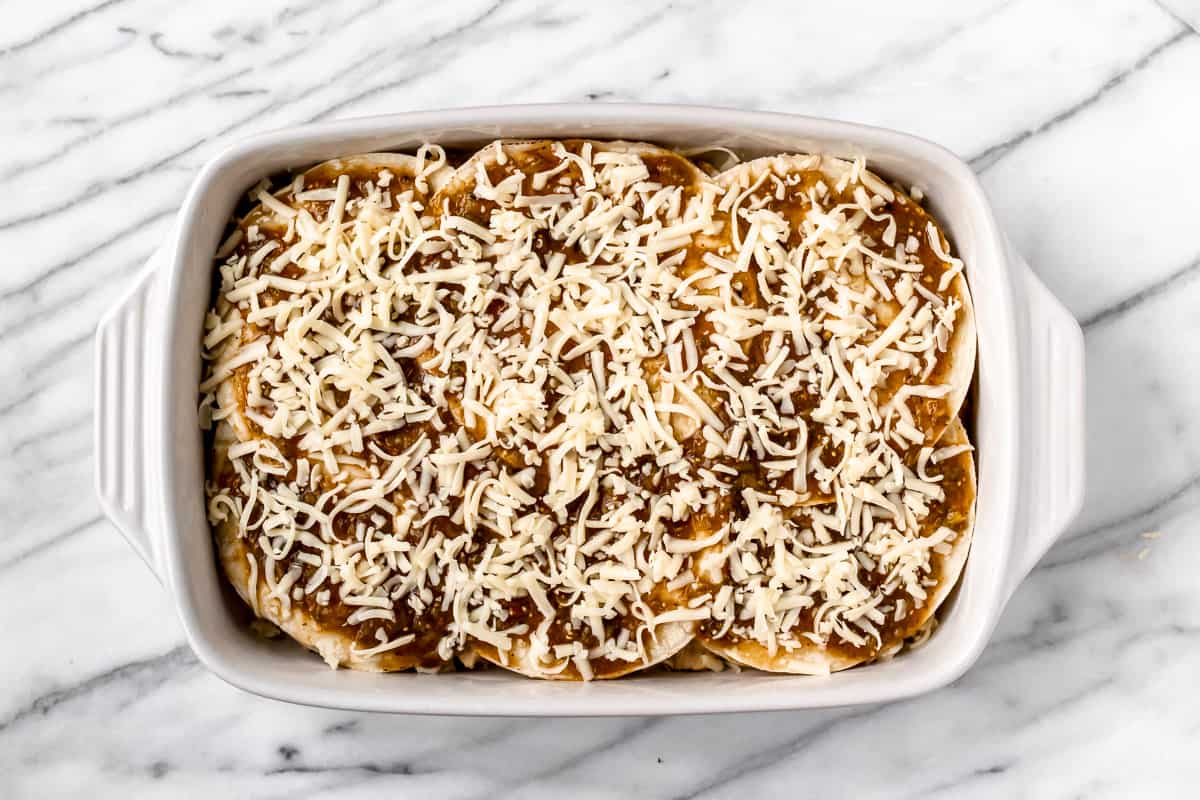 Add a final layer of tortillas to the top of the casserole. Top with the remaining tomatillo sauce and cheese.
Cover with foil and transfer the baking dish bake to the oven. Cook for 15 minutes, then remove the foil and cook an additional 5-10 minutes or until everything is heated through and the cheese on top is hot and melted.
Present!
Serve topped with fresh cilantro, sour cream, jalapeño pepper slices, and/or avocado, if desired.
Tips and Techniques
You can use any cut of chicken that you like for this recipe, just be aware that the cook time may vary. You can also leftover or rotisserie chicken to make this recipe even quicker.
Shred the cheese from a block for the best results. Pre-shredded bags of cheese have added starch which doesn't melt as smoothly and may give your dish a bit of a grainy texture.
Store leftovers in an airtight container in the refrigerator. Consume within 3-4 days.
FAQ's
Can You Freeze An Enchilada Casserole?
Yes. You can freeze this casserole either before or after baking. Let cool, if baked, then wrap tightly with plastic wrap and aluminum foil. Allow to thaw in the refrigerator overnight. Be sure to remove the plastic wrap prior to cooking or reheating.
More Mexican Recipes
Love this Tomatillo Chicken Enchilada Casserole recipe? Follow me on Pinterest, Instagram, and Facebook for more!
If you try this recipe, I would really appreciate it if you would please leave a comment and star rating. Thanks!