Stuffed Butternut Squash is a comforting, fall meal. This easy-to-make recipe is made with ground beef, vegetables, herbs, spices and cheese stuffed into a partially hollowed out roasted squash. It presents beautifully and tastes absolutely delicious!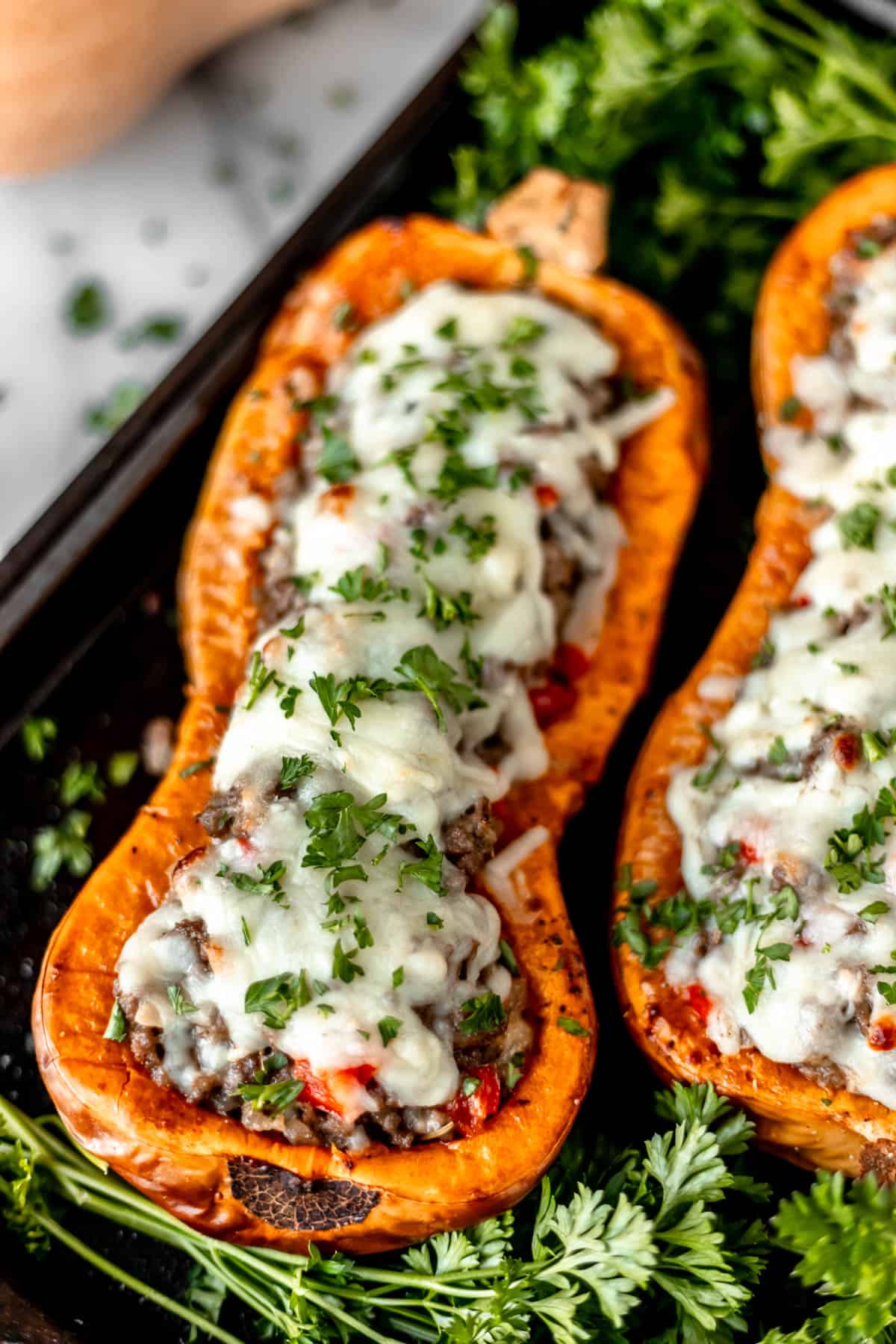 This post contains affiliate links. See our Disclosure Statement for more information.
Butternut squash is a fall staple that can be prepared in so many different ways. While I usually make Butternut Soup or cube it and add it to risotto or Garlic Rice, stuffing it is also a delicious way to prepare it.
There are probably a thousand ways to stuff a butternut squash. This recipe uses ground beef, red pepper, onion, garlic, and herbs and spices to give it a bit of an Italian touch. Of course there's also plenty of mozzarella cheese to bring it all together.
I originally wanted to make this recipe with honeynut squash, but they can be hard to find. If you're lucky enough to get your hands on some, you can use it instead of butternut. Acorn squash may also be a good alternative too!
Why This Recipe Works
This recipe is very easy to prepare. There are just two components – roasted squash and a simple meat, vegetable, and cheese mixture to stuff into it.
It's presents so beautifully. This is a great option if you want to impress guests this fall, and simple enough even for a novice cook to make.
It's naturally gluten free and lower in carbohydrates.
Step-By-Step Instructions
Ingredients
1 large butternut squash: you could also use 2 small butternut squash or 3-4 honeynut squash, if preferred.
2 tablespoons extra virgin olive oil (divided)
salt
pepper
1 onion (finely diced)
1 red pepper (finely diced)
2 cloves garlic (minced)
1 pound ground beef: I recommend using a leaner ground beef so that there isn't excess grease in the pan.
1/2 teaspoon dried thyme
1/2 teaspoon dried rosemary
1/4 teaspoon ground nutmeg
1/8 teaspoon crushed red pepper (optional)
1/4 cup heavy cream
2 cups mozzarella cheese (shredded, divided)
fresh parsley (minced, optional garnish)
Prep!
Preheat your oven to 425°F.
Dice the onion and pepper and minced the garlic.
Create!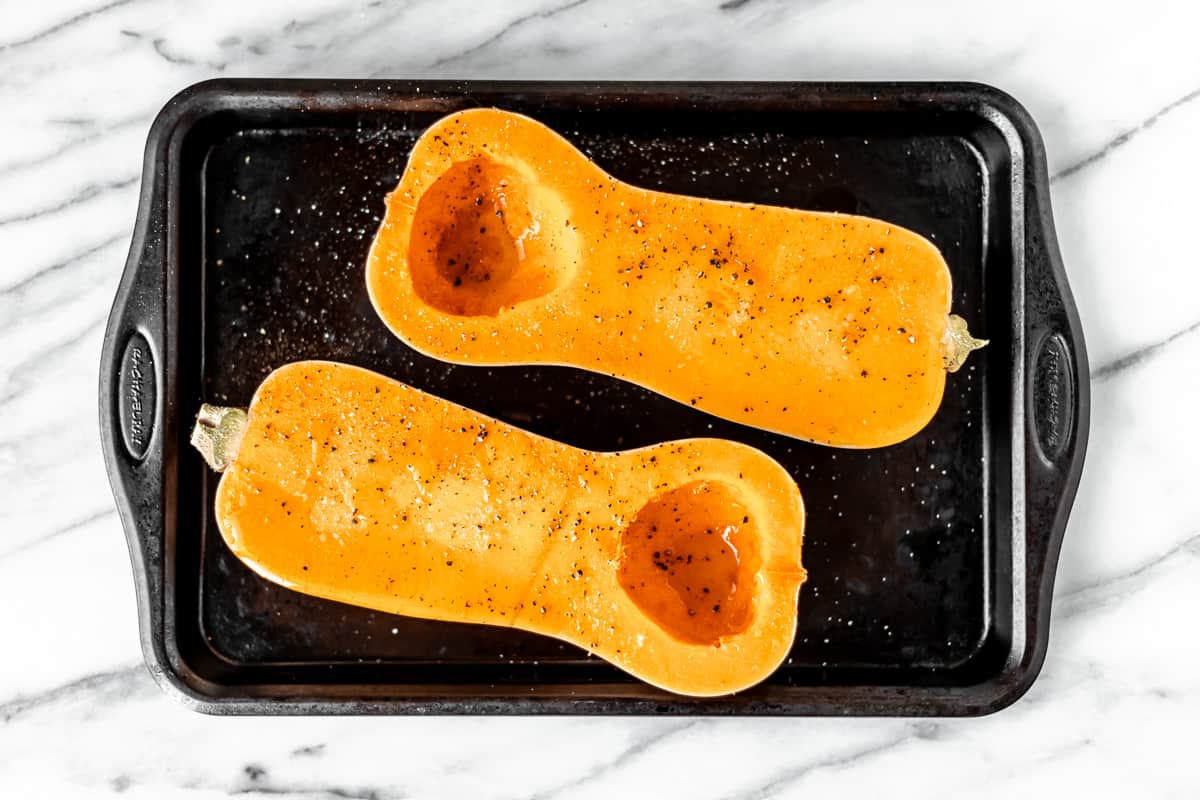 Cut the butternut squash in half lengthwise. Scoop out the seeds and discard or save for another use.
Drizzle both halves with 1 tablespoon of the olive oil. Season with salt and pepper.
Roast for approximately 45 minutes or until fork-tender.
While the squash is roasting, prepare the filling.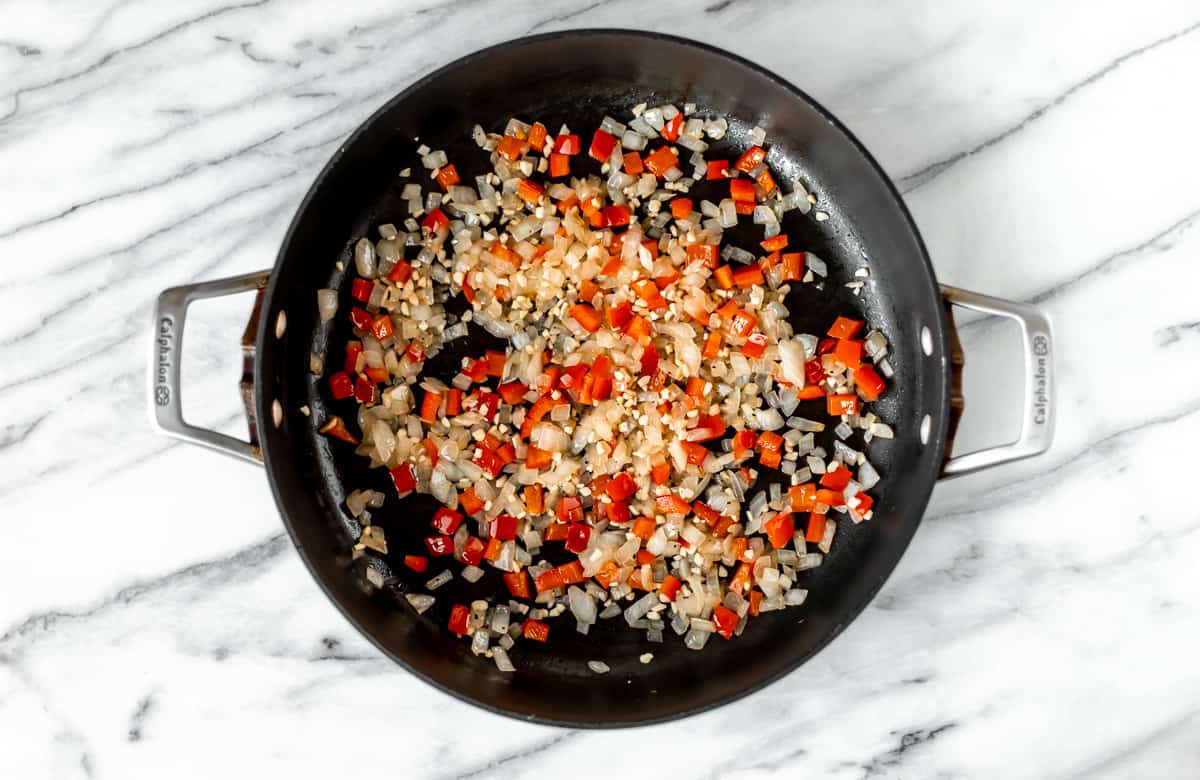 Heat the remaining 1 tablespoon of olive oil in a large, deep skillet over medium heat.
Add the onion and pepper and cook until starting to soften, about 5 minutes.
Stir in the garlic and cook 30-60 seconds longer.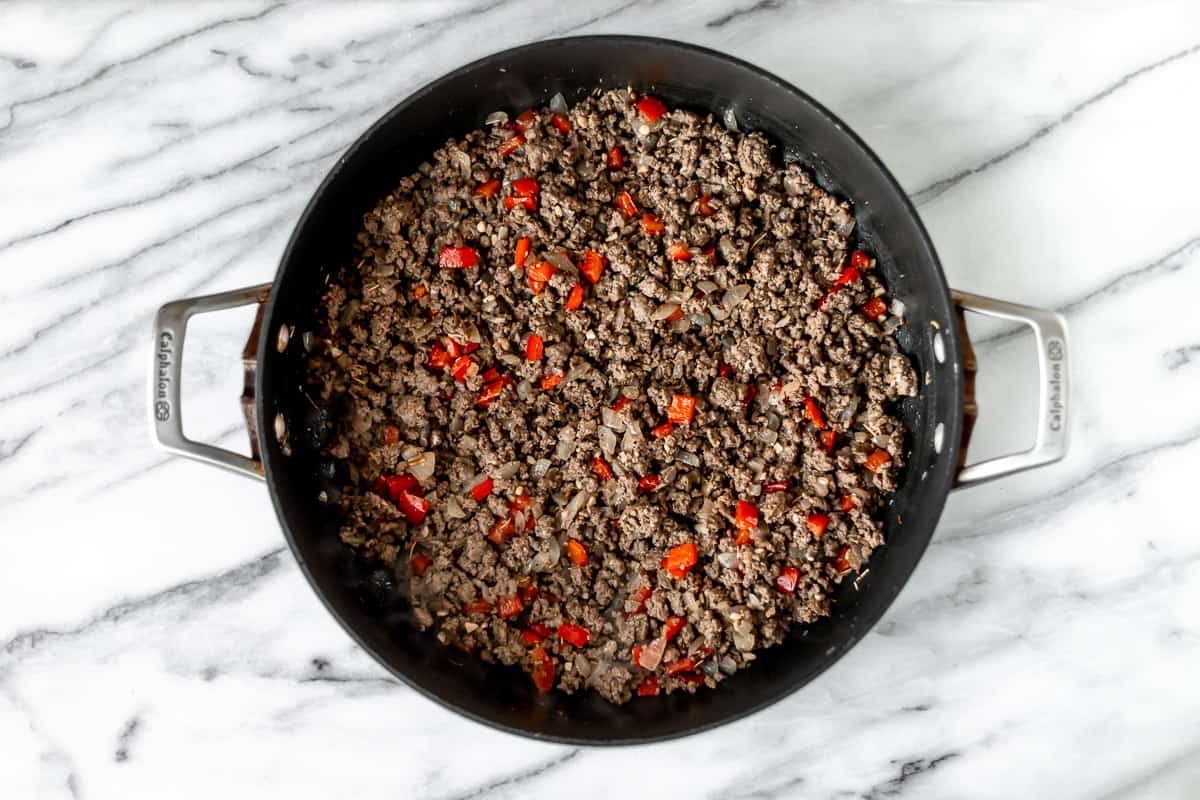 Add the ground beef. Season with salt, pepper, thyme, rosemary, nutmeg, and crushed red pepper, if using.
Cook, breaking up, until the beef is no longer pink, about 5-7 minutes.
Stir in the heavy cream.
Add 1 cup of the mozzarella cheese and stir until fully melted and well blended with the beef.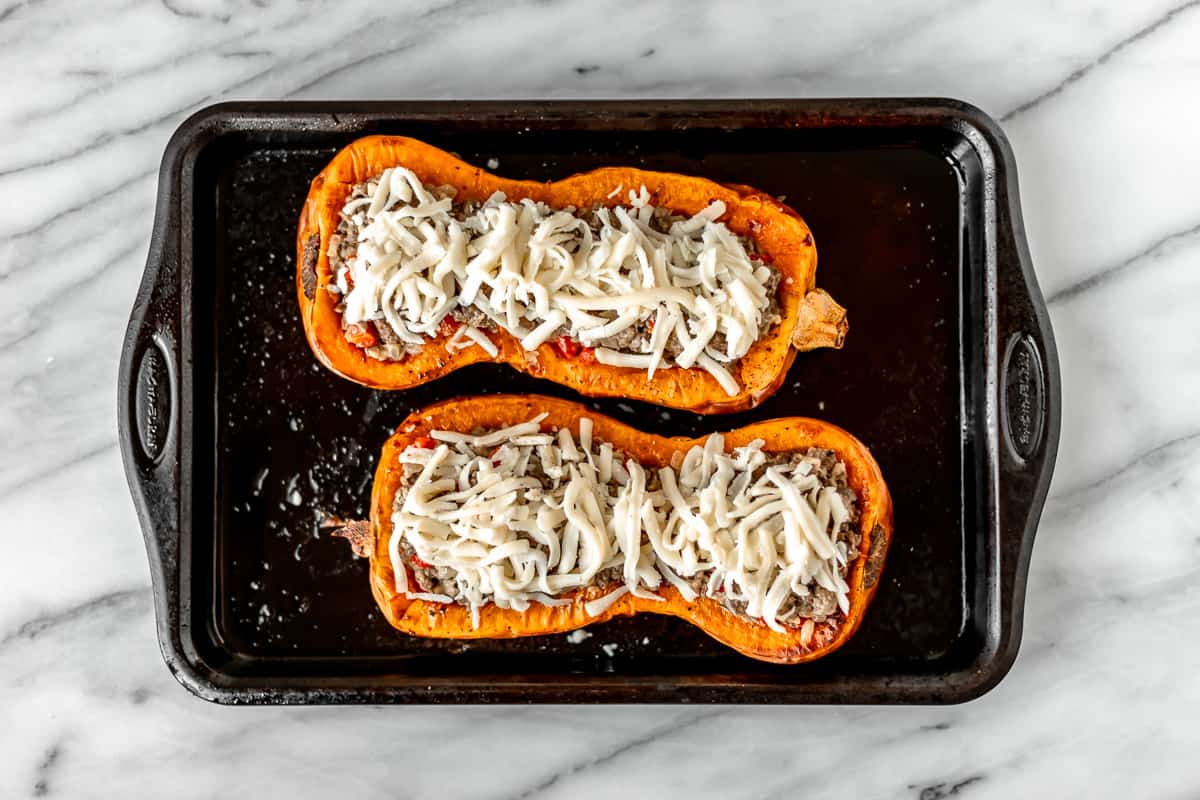 Scoop out some of the butternut squash, leaving about 1/2 to 1-inch around the edges and along the bottom. You can mix the squash into the beef mixture or save it for another use.
Fill the squash with the ground beef mixture. It's okay if the beef comes up over the edge of the squash some.
Top with the remaining mozzarella cheese.
Return the stuffed squash to the oven and bake for about 5 more minutes, or until the cheesy is fully melted.
Present!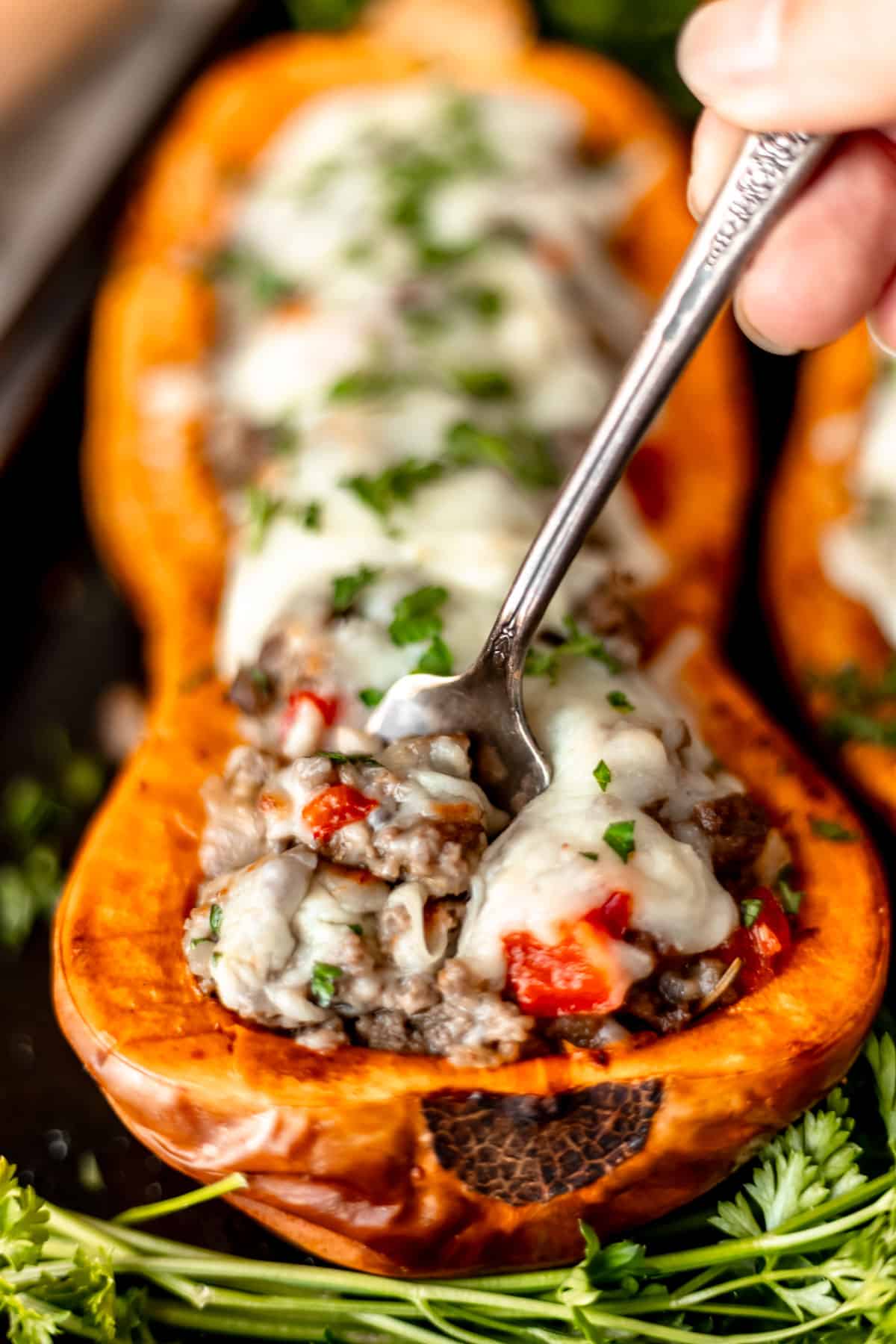 Garnish with minced parsley, if desired. Serve right out of the squash halves, scooping along the edges and bottom to remove the squash along with the beef.
Tips and Techniques
You can substitute honeynut or acorn squash, if preferred. You may need 2-3 due to the smaller size.
Use a lean ground beef to help avoid excess grease in the pan. It can be drained out, if needed.
Store leftovers tightly covered in the refrigerator. Consume within 3 days.
FAQ's
Should I Peel Butternut Squash Before Roasting It?
If you're roasting butternut halves, there is no need to remove the skin. If you want to cube it and roast it, then it's recommended to remove the skin, although some people do prefer to leave it on. It is edible.
Peeling butternut squash can be tough. Using a really sharp vegetable peeler, or carefully trimming the outer skin off with a knife makes it easier.
More Butternut Squash Recipes
Love this Stuffed Butternut Squash recipe? Follow me on Pinterest, Instagram, and Facebook for more!
If you try this recipe, I would really appreciate it if you would please leave a comment and star rating. Thanks!