Italian Sausage Spaghetti Squash Skillet is a delicious dinner recipe that combines smoked or Italian sausage, sweet bell peppers, onions and savory squash all into one creamy sauce. It's a family-friendly recipe that is suitable for a variety of diets including low carb and gluten free.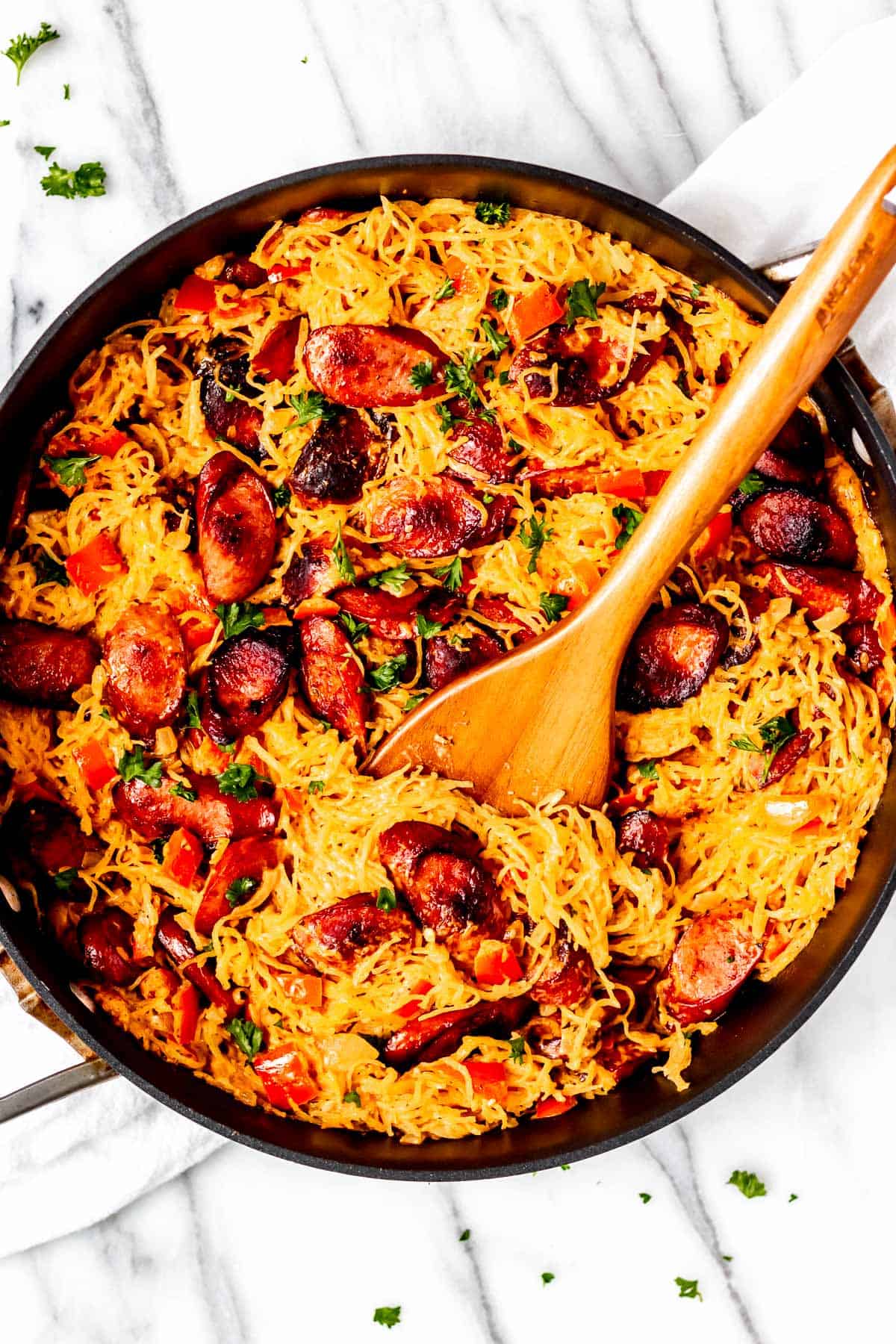 This post contains affiliate links. See our Disclosure Statement for more information.
The idea for a sausage and spaghetti squash skillet stemmed from my recipes for Tuscan Spaghetti Squash and Tuscan Spaghetti Squash with Chicken as well as my love for a smoked sausage and potato skillet recipe that I occasionally make.
This Sausage Spaghetti Squash Skillet is made with sausage, peppers, onion, and squash with a cream and tomato based sauce. While I prefer to use smoked beef sausage, Italian sausage or even smoked turkey sausage can be used, as well.
The dish is mild, but can be made spicy by using a dash of crushed red pepper or spicy Italian sausage. And while it's already loaded with vegetables, if you're missing the green, spinach or kale can be stirred in, as well.
Why This Recipe Works
The recipe is actually very easy to prepare. Roasting the squash takes the longest, but can be done ahead of time or microwaved to save time. There are less than 10 ingredients in the recipe.
It's loaded with sweet and savory flavors yet still provides so many healthy benefits from all of the vegetables that makeup this dish.
This recipe is suitable for those following a low carb or gluten free diet. It is also keto friendly.
Step-By-Step Instructions
Ingredients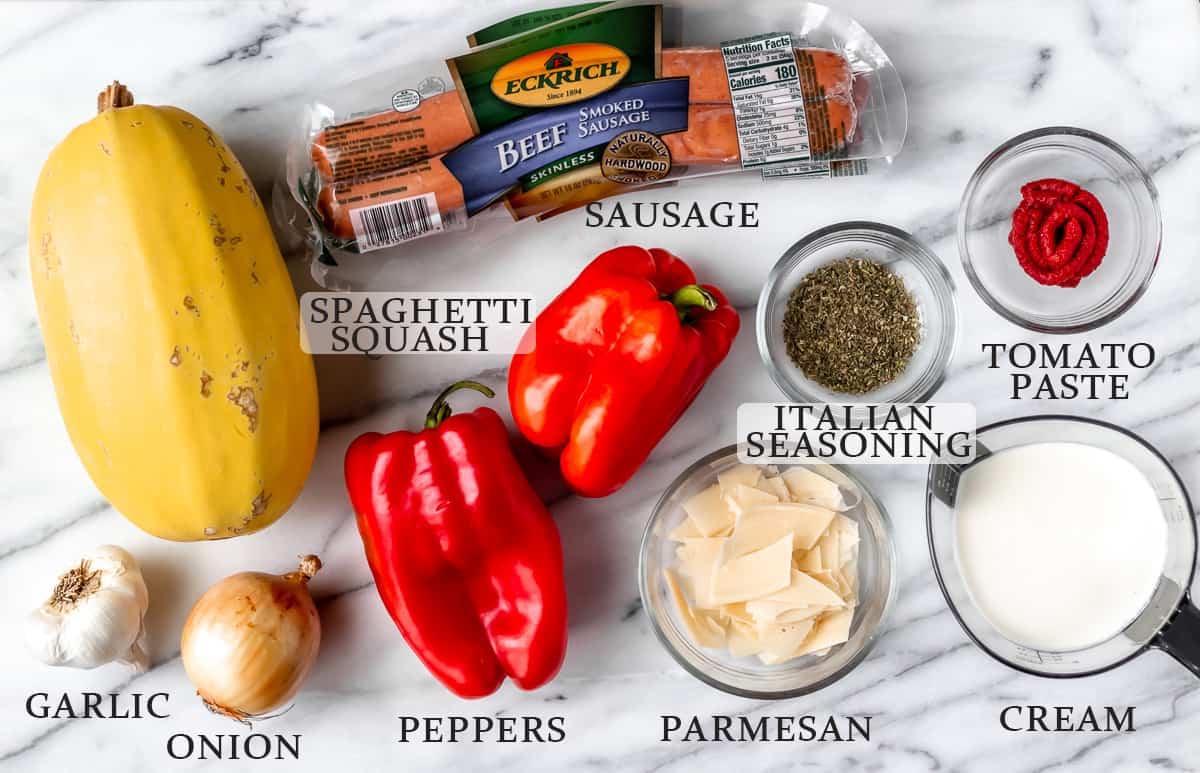 1 medium spaghetti squash
1 tablespoon extra virgin olive oil
salt and pepper
1 1/2 pounds sausage, cut into 1/2 thick rounds or slices: I prefer to use smoked sausage, but hot or mild Italian sausage also works perfectly in this recipe. You can also use turkey sausage, if you like.
2 red bell peppers, diced
1 onion, diced
4 cloves garlic, minced
1 tablespoon Italian seasoning
2 tablespoons tomato paste
1 cup heavy cream
1/3 cup Parmesan cheese
fresh parsley, optional
The entire recipe and instructions can also be found in the recipe card at the bottom of this post. You can also print the recipe from the card, if needed.
Prep!
To prepare for this recipe, it is best to get the spaghetti squash roasting first. Then you can prep the remaining vegetables and start cooking while waiting for it to finish.
Preheat your oven to 350°F.
Cut the squash in half length-wise and remove the seeds.
Drizzle with olive oil and season with salt and pepper.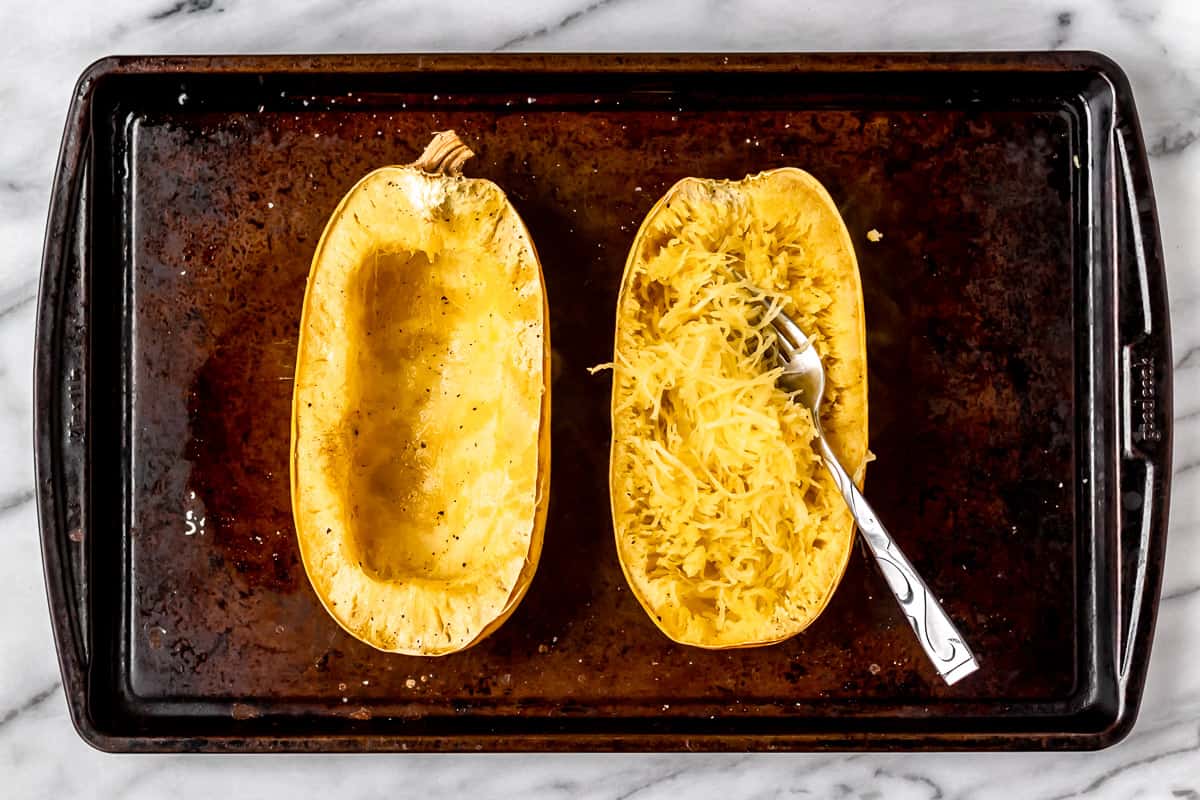 Roast at 350°F for 45-60 minutes or until tender.
Use a fork to scrape out strands of squash that resemble spaghetti.
Chef's Tip: you can also cook the squash in the microwave to save time. Instructions for how to do this are in the Tips and Techniques section further below as well as in the Notes section of the recipe card.
While the squash is roasting, dice the peppers and onion and mince the garlic. Cut the sausage into 1/2-inch thick rounds or slices.
Create!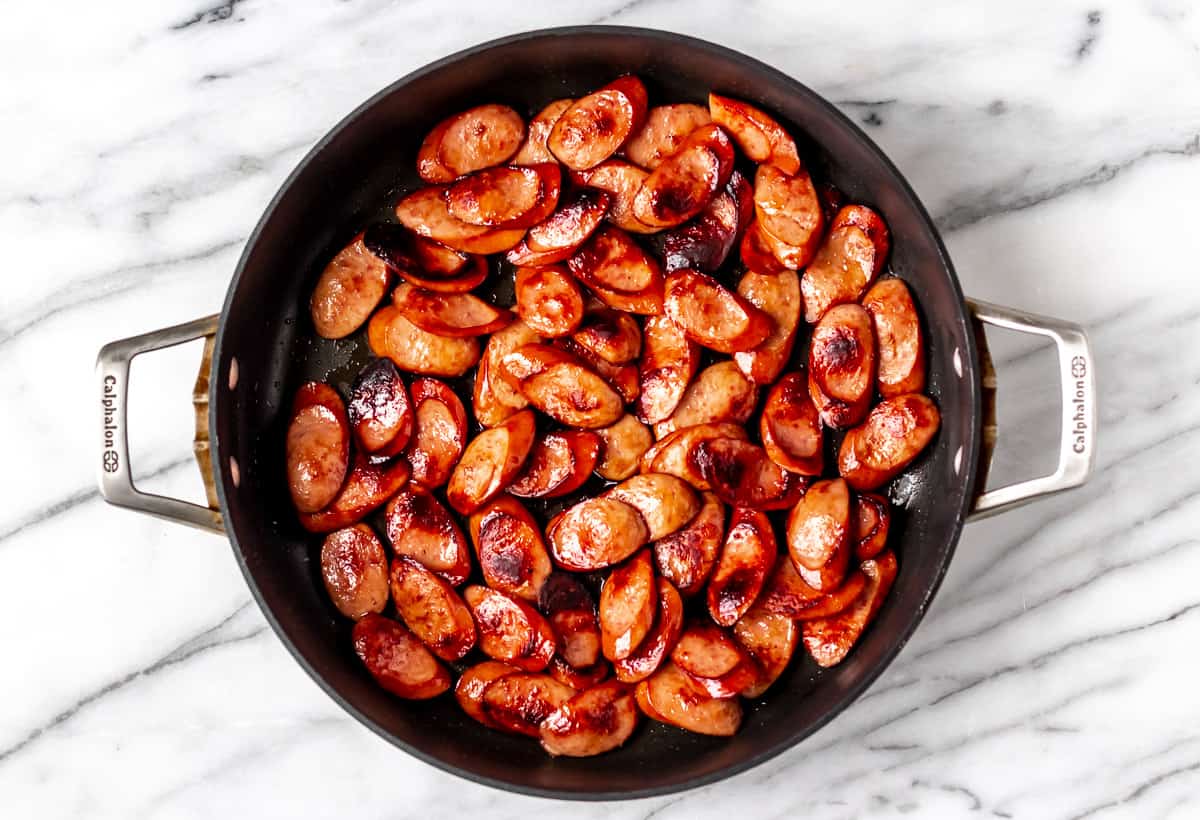 Heat a large skillet over medium and add the sausage. Cook until heated through and browned to your liking, about 5-10 minutes.
Remove to a plate and tent with aluminum foil to keep warm.
There may be enough oil from the sausage left in the pan, but if not add a drizzle of olive oil and the diced peppers and onion. Season with just a pinch of salt and pepper.
Cook, stirring often, for 3-5 minutes or until softened.
Stir in the garlic and cook an additional 30 seconds.
Add the Italian seasoning, tomato paste and heavy cream to the skillet and stir to blend well. Raise the heat and cook 1-2 minutes or until the cream is hot and bubbly, stirring often.
Turn off the heat and stir in the Parmesan cheese until melted and well combined.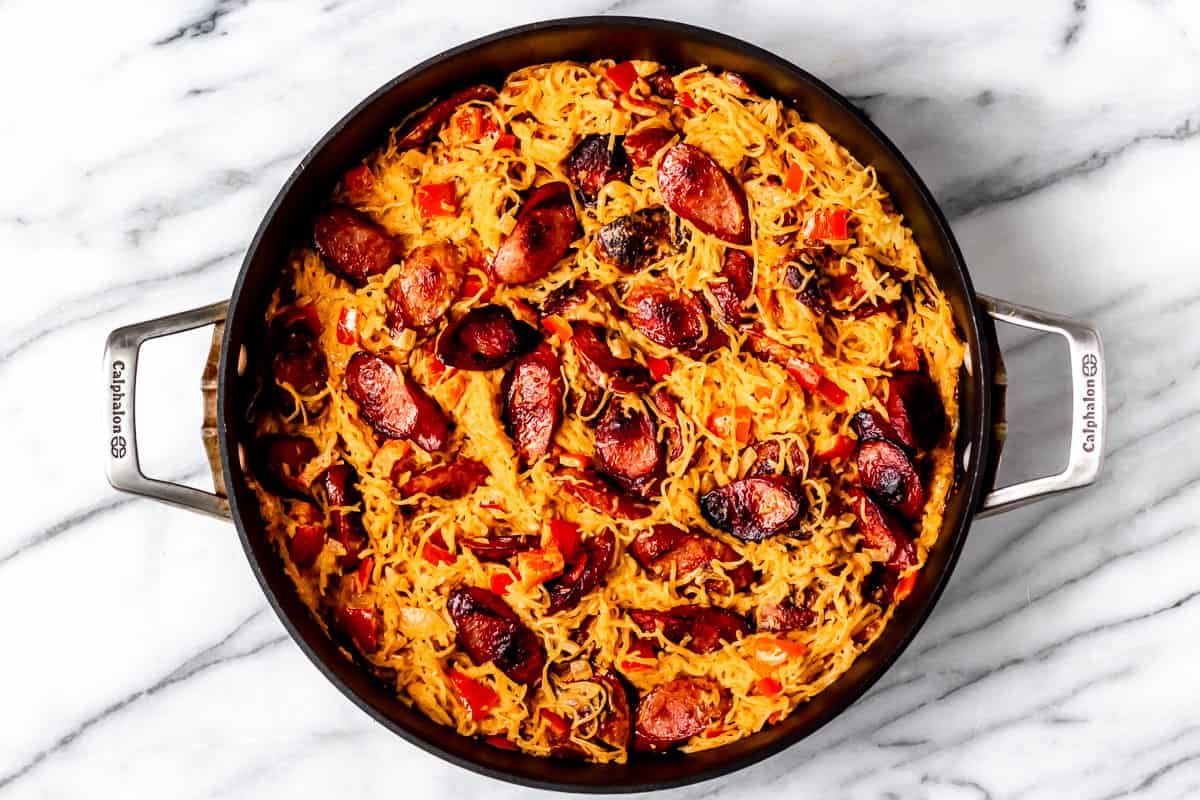 Add the sausage back to the skillet, along with the spaghetti squash. Toss to coat evenly.
Taste and season with salt and pepper if needed.
Present!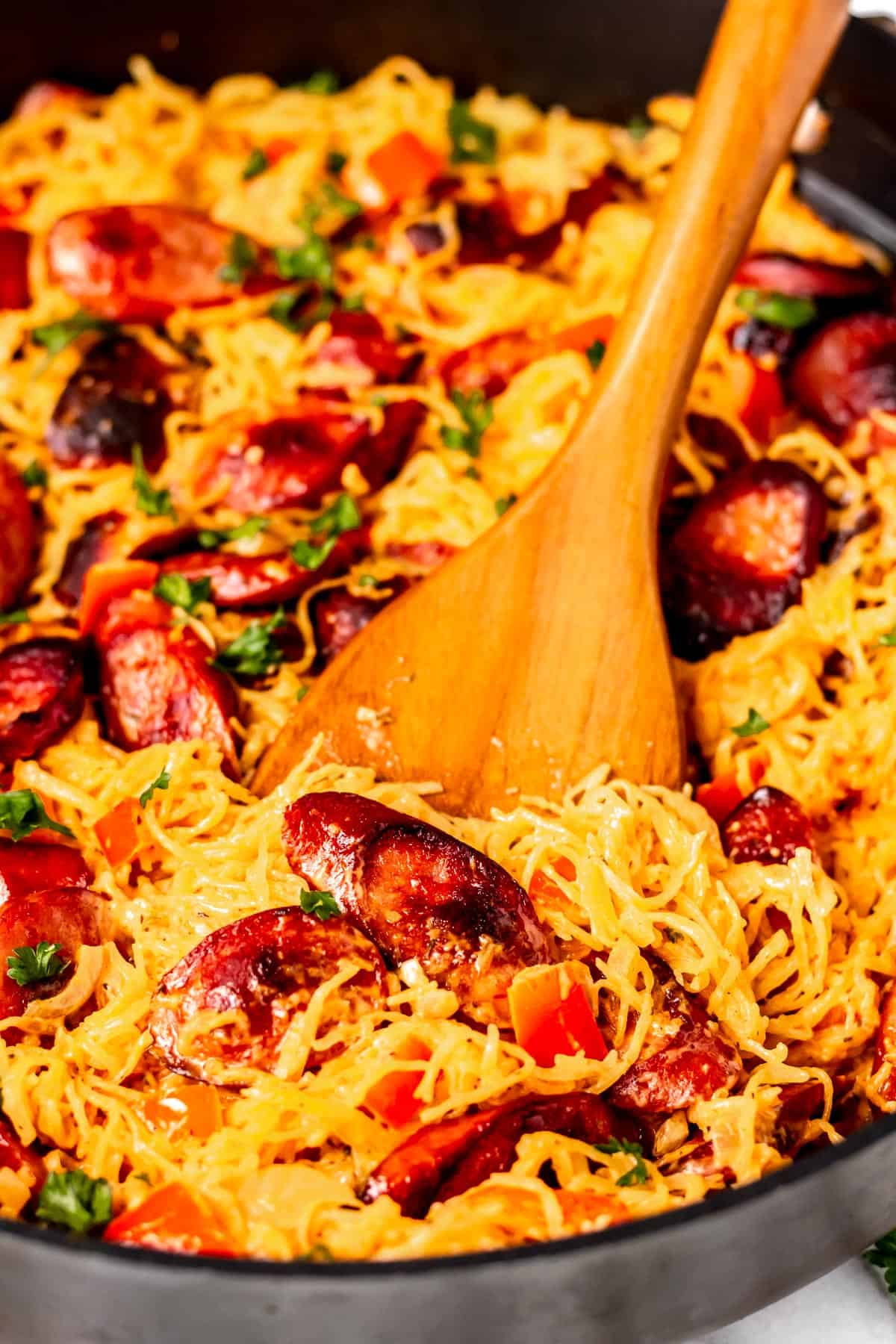 Garnish with fresh parsley, if desired.
Tips and Techniques
To save time, you can cook the spaghetti squash ahead of time and reheat it when needed.
You can cook the spaghetti squash in the microwave to save time, if preferred. Simply pierce the squash into the center several times. Place on a microwave-safe plate. Cook on high for about 8-12 minutes, or until the squash is tender. Once the squash is cool enough to handle, cut it in half length-wise, remove the seeds and scrape out the strands with a fork.
You can add crushed red pepper for a spicier dish or mix in spinach or kale for even more vegetables.
Store leftovers in an airtight container in the refrigerator. Consume within 3 to 5 days.
FAQ's
Is Spaghetti Squash Healthy?
Yes, spaghetti squash is an excellent choice as part of a healthier diet. It's low in calories and carbohydrates making it a great alternative to pasta.
Does Spaghetti Squash Taste Like Pasta?
No, spaghetti squash does not taste like pasta. It has a relatively mild squash flavor and tends to take on the other flavors in the dish.
More Spaghetti Squash Recipes
Love this Italian Sausage Spaghetti Squash Skillet recipe? Follow me on Pinterest, Instagram, and Facebook for more!
If you try this recipe, I would really appreciate it if you would please leave a comment and star rating. Thanks!