Steak Diane is a classic recipe made with tender sautéed beef and a creamy mushroom sauce. While this dish has a reputation of being more fancy, it's easy enough to make even on busy weeknights. This recipe is naturally gluten free and very low in carbohydrates making it easily adaptable to suit many different diets.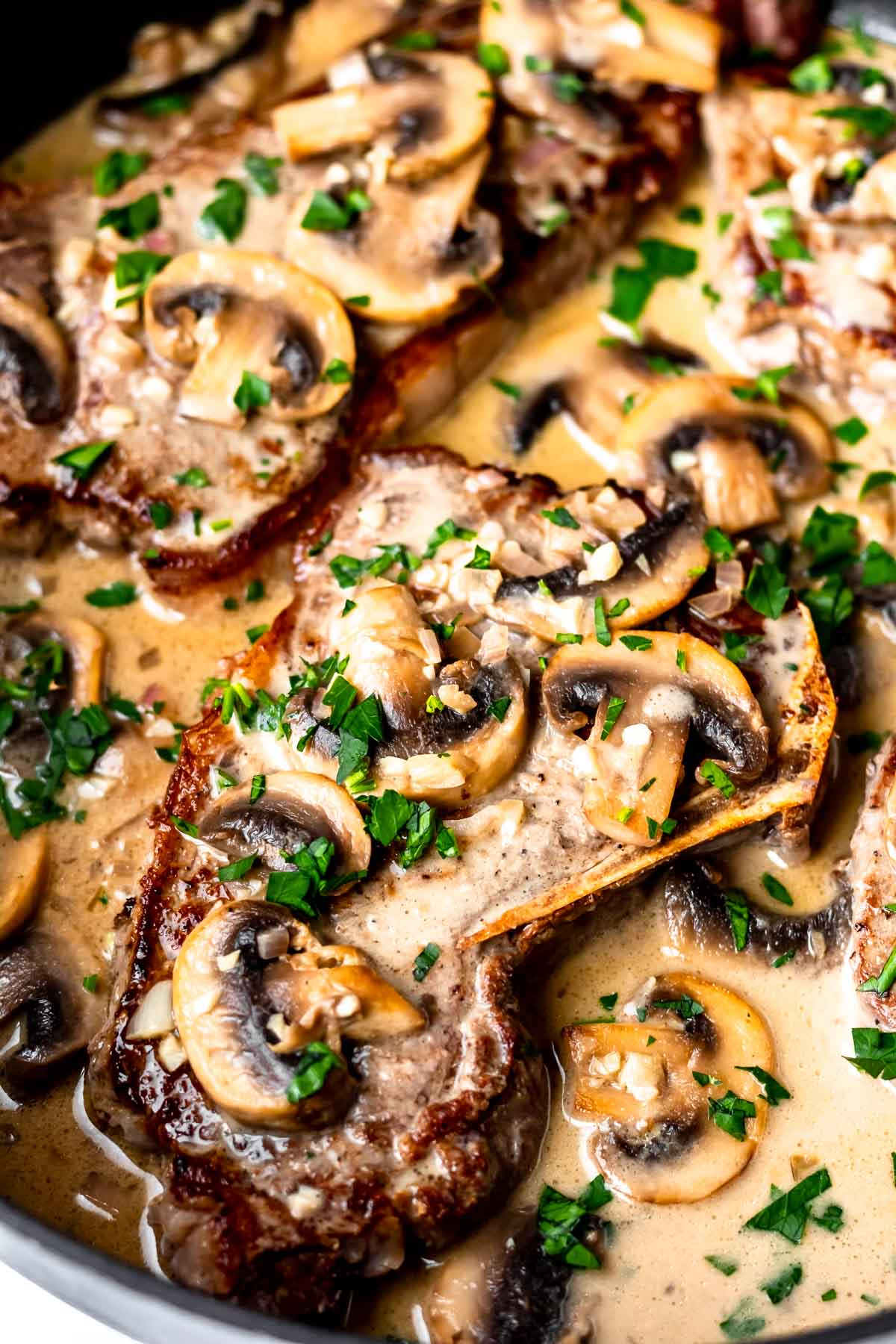 This post contains affiliate links. See our Disclosure Statement for more information.
Steak Diane was once the talk of the town. It was a very popular dish served in upscale restaurants in big cities, like New York City, in the 1950's.
What made it so "fancy" was the fact that it was often served table side and flambéed, with an exciting display of flames from the added alcohol burning off as it cooked.
This recipe for Classic Steak Diane is a simple adaptation of the original recipe. The addition of cognac or brandy, and maybe some show-stopping flames, is optional.
If you enjoy the flavor of brandy in main dishes, you may also love this recipe for Maple Apple Pork Chops, and you'll definitely enjoy my recipe for Chicken Diane!
Why This Recipe Works
Easy: while this recipe has a reputation of being more "fancy," it's actually quite easy to make. It takes just 10 ingredients and less than 30 minutes from start to finish. This recipe calls for thinner cuts of steak to make it easier to prepare quickly and all in one pan.
Flavorful: simple pan seared steaks are elevated in flavor with Diane sauce. The sauce is made with beef stock, shallots, garlic, lemon juice, Dijon mustard, parsley and a touch of cream.
Adaptable: this recipe is naturally low in carbohydrates and suitable for keto and/or gluten free diets. It can be served as is, with a side of vegetables or on top of a base. Steak Diane is often served with potatoes or pasta, but gluten free pasta, zoodles, spaghetti squash or even cauliflower rice can be used, if needed.
How To Make Steak Diane
Ingredients
Steak: filet mignon, pounded thin, is traditionally used to make Steak Diane, however, you can use any thinner cut of steak that you like. I have used both filet mignon and thinner cut New York strip steaks.
Mushrooms
Beef Stock: you can also use demi-glace for more intense flavor.
Shallot
Garlic
Lemon Juice: use fresh squeezed for the best flavor.
Dijon Mustard
Heavy Cream
Parsley
Butter
The entire recipe and instructions can also be found in the recipe card at the bottom of this post. You can also print the recipe from the card, if needed.
Prep!
Slice the mushrooms, dice the shallot, mince the garlic and parsley, and juice the lemon.
If your steaks are on the thicker side, pound them thinner to about 1/2-inch thick.
Create!
Melt 1 tablespoon of the butter over medium-high heat in a large skillet. Season both sides of the steaks with salt and pepper and add to the hot skillet.
Cook until nicely browned, about 3-5 minutes, then flip and cook an additional 3-5 minutes or until the steaks are done to your preference.
Remove to a plate and tent with foil to keep warm.
Return the skillet to the stovetop and add the remaining tablespoon of butter. Add the mushrooms and cook 2-3 minutes, stirring frequently.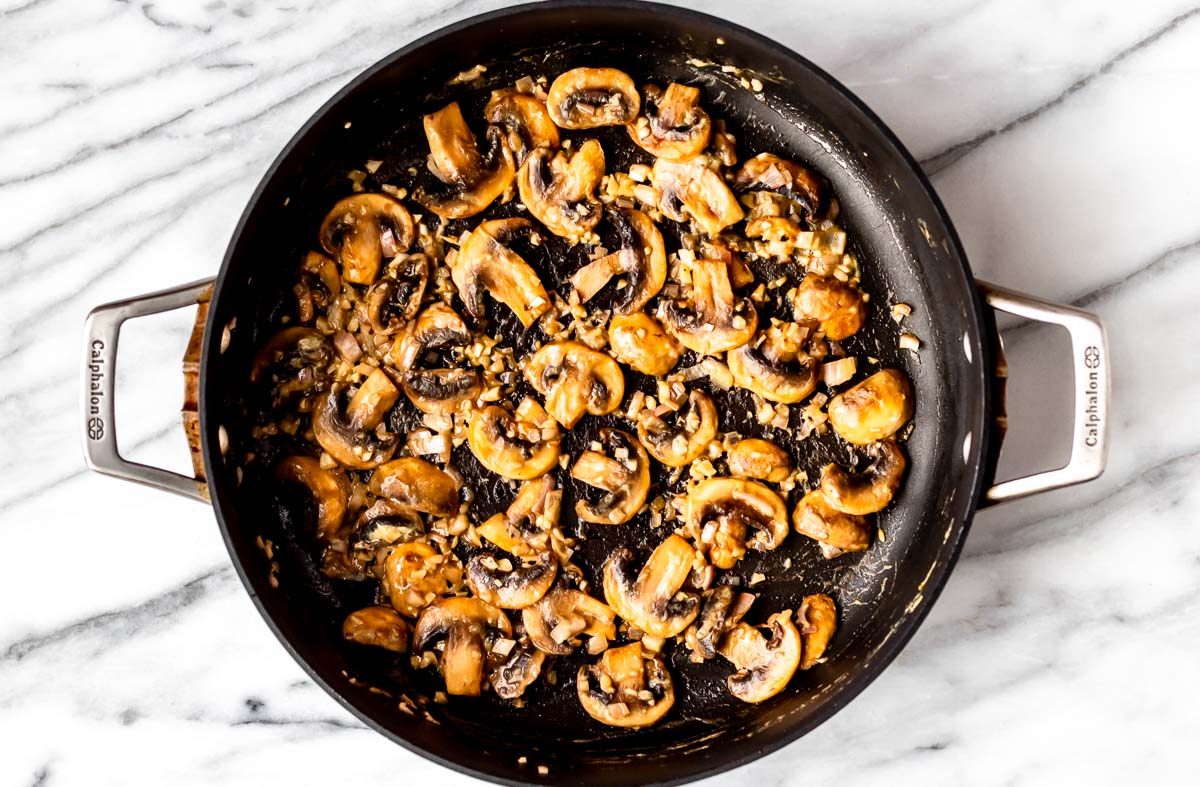 Stir in the shallot, garlic, lemon juice and Dijon mustard. Cook about 1 minute. Carefully add the cognac or brandy, if using
Chef's Tip: if using cognac or brandy, add it very carefully during this step – it may flame as the alcohol cooks off.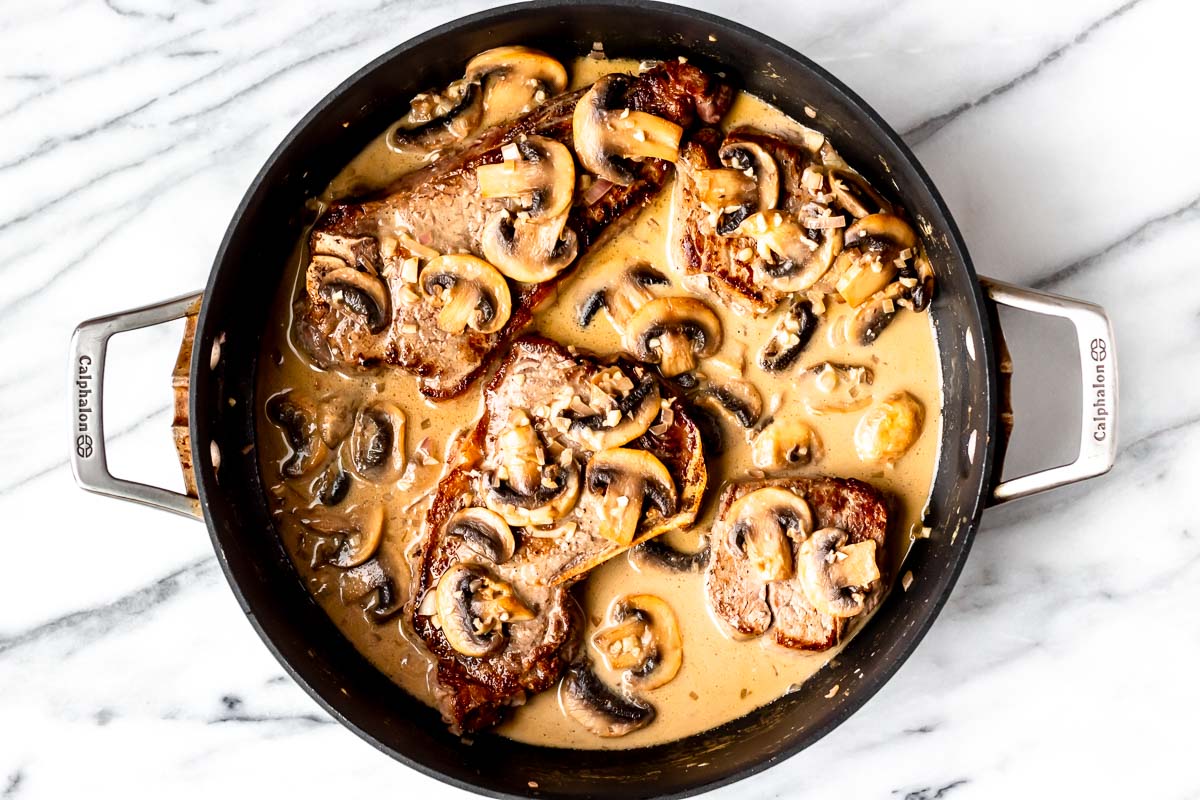 Pour in the stock and cook an additional minute or two to heat through.
Slowly whisk in the cream.
Taste as season as desired, if needed.
Chef's Tip: if you'd rather not use cream, or don't regularly keep it on hand, you can also finish this dish "monte au beurre" (adding very cold pieces of butter slowly until the desired level of creaminess and flavor is achieved).
Return the steak and any accumulated juices back to the pan.
Present!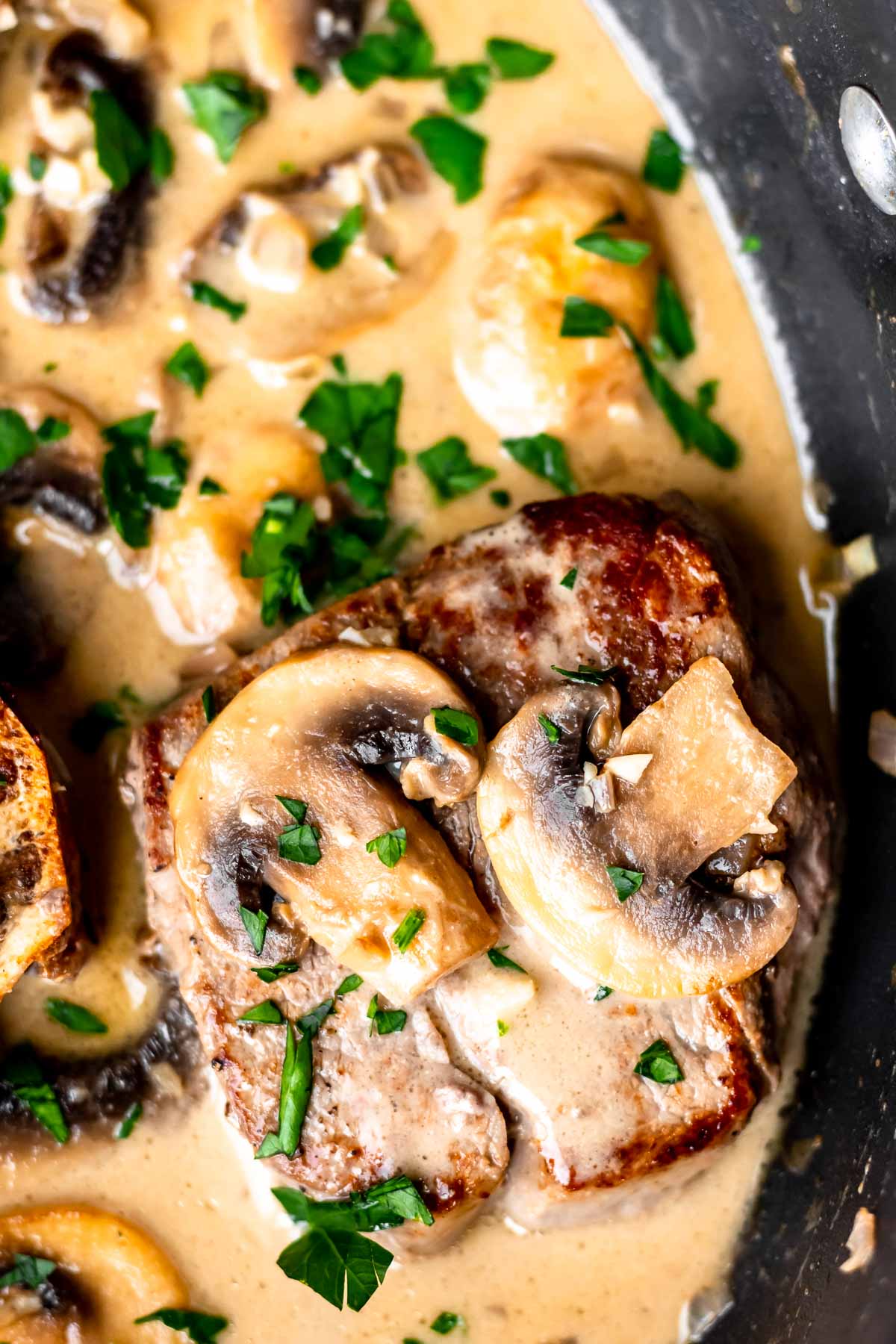 Spoon sauce and mushrooms over the steak and garnish with parsley.
Serve as is with a side of vegetables, or serve over pasta, rice, zoodles, cauliflower rice, or any other base that you like.
Tips and Techniques
Use fresh lemon juice and fresh parsley for the best flavor.
If using brandy or cognac, add it very carefully – it may flame as the alcohol cooks off.
Store leftovers in an airtight container in the refrigerator. Consume within 3-4 days.
FAQ's
Who Is Diane Sauce Named After?
Is it assumed that Diane sauce is named after a Roman goddess of the same name.
Can You Freeze Steak Diane?
Yes. You can freeze this dish, however the creamy mushroom sauce may not reheat quite as nicely as when freshly made due to the cream in it.
More Skillet Beef Recipes
Love this Steak Diane recipe? Follow me on Pinterest, Instagram, and Facebook for more!
If you try this recipe, I would really appreciate it if you would please leave a comment and star rating. Thanks!