Two-bite Mini Sprinkle Cupcakes with vanilla buttercream frosting are sweet, petite and absolutely delightful. They are a copycat version of everyone's favorite funfetti birthday cake. These delicious little bites are a fun dessert option for all types of gatherings and celebrations.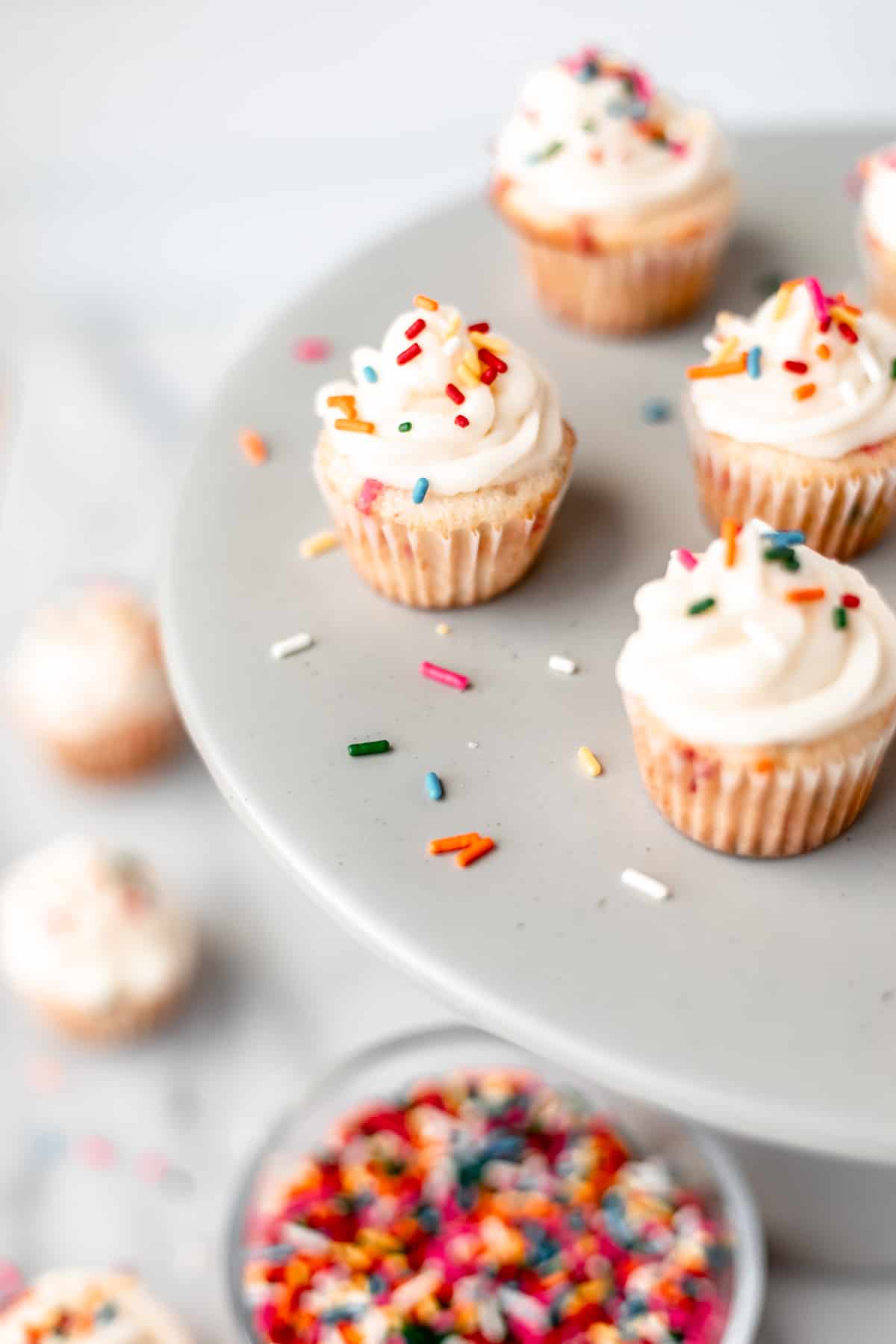 This post contains affiliate links. See our Disclosure Statement for more information.
Ever since first making Mini Lemon Cupcakes, I've been kind of obsessed with making any and every mini cupcake flavor I can think of.
Of course I've covered some of the basics, like Mini Vanilla Cupcakes and Mini Chocolate Cupcakes, but I've ventured into more exciting flavors too, like coconut and these Mini Sprinkle Cupcakes.
These little treats are pretty much perfect. This is an easy mini cupcake recipe that results in a delicious dessert that will take you back to your childhood. Who didn't love seeing a cake dotted with rainbow colors on the dessert table?
Learn how to make your own homemade mini funfetti cupcakes below!
Why This Recipe Works
This is an easy to make homemade funfetti cupcake recipe. Homemade cakes and desserts really are the best! The texture and flavor is superior to store bought, as well as the ingredients.
These cupcakes are fun, colorful, moist and fluffy. The vanilla buttercream frosting is the perfect combination of sweet and creamy.
Mini desserts of any kind are perfect at all sorts of gatherings, parties, holidays, and celebrations. These cupcakes are especially great for birthday parties.
How to Make Mini Cupcakes
Ingredients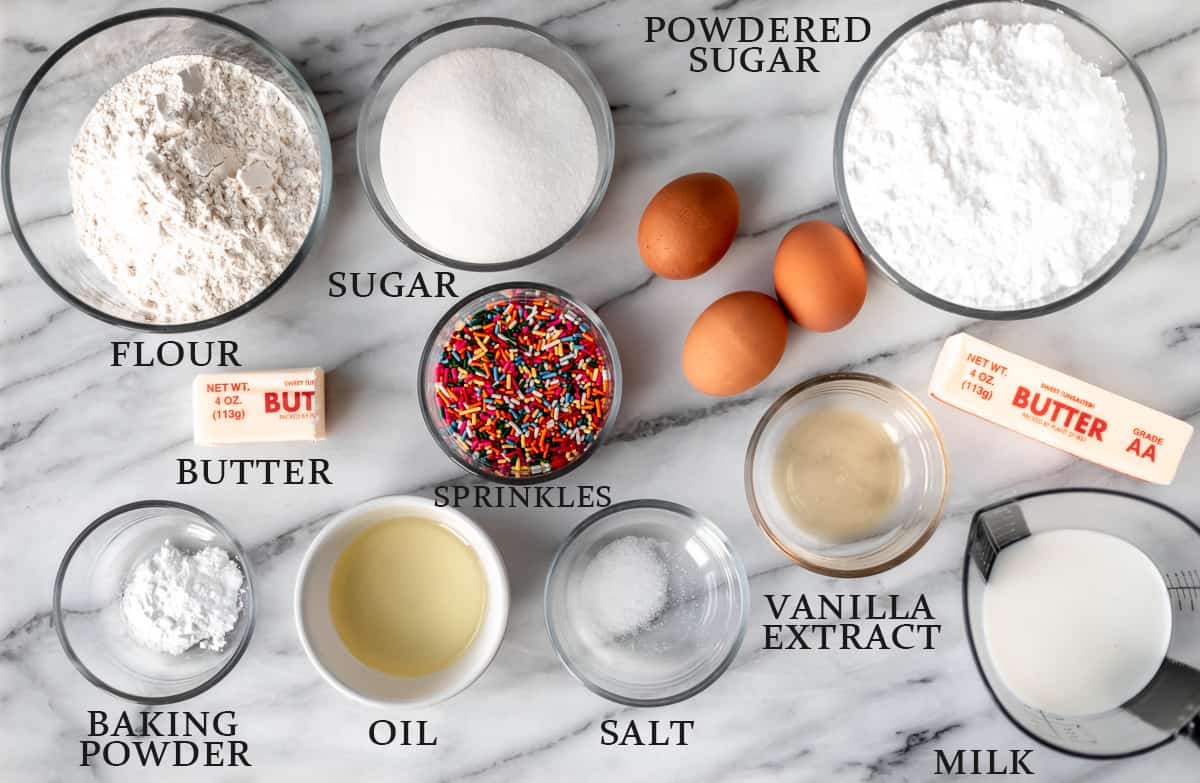 Mini Sprinkle Cupcakes
1 1/3 cups all purpose flour
1 1/2 teaspoons baking powder
1/2 teaspoon salt
4 tablespoons unsalted butter (at room temperature): this is important so that you can properly cream the butter until it's light and fluffy.
1/4 cup vegetable oil (you can use canola oil, if needed)
1 cup granulated sugar
1 1/2 teaspoons vanilla extract (use clear vanilla extract for even whiter cake)
1/2 cup whole milk (room temperature)
3 egg whites (room temperature)
1/4 to 1/2 cup of rainbow sprinkles (the jimmies type, like those in the photo above)
Vanilla Buttercream Frosting
4 cups powdered sugar
1/2 cup unsalted butter (at room temperature): room temperature butter is much easier to cream.
2-3 tablespoons heavy cream (can use whole milk)
2 teaspoons vanilla extract (use clear vanilla extract for whiter frosting, if desired)
food coloring (optional, if you want to color the frosting a specific color)
The entire recipe and instructions can also be found in the recipe card at the bottom of this post. You can also print the recipe from the card, if needed.
Equipment needed to make this recipe:
stand mixer or a hand-held electric mixer and two large mixing bowls. If you don't have two bowls for your stand mixer, you can transfer the batter to a different bowl then wash and dry the mixer bowl.
silicone spatula (for scraping every last drop of batter out of the bowl)
toothpicks
piping bag and piping tips (if you want to make your frosting look fancier)
Prep!
Set the butter, milk and eggs out about an hour before you begin to allow them to come to room temperature.
Note: It's really important that the butter and eggs for the cupcakes is at room temperature. This is so that it can be whipped into the batter for the most perfectly, fluffy, best mini cupcakes ever!
Preheat your oven to 350°F. Line a mini cupcake pan with mini paper liners.
Create!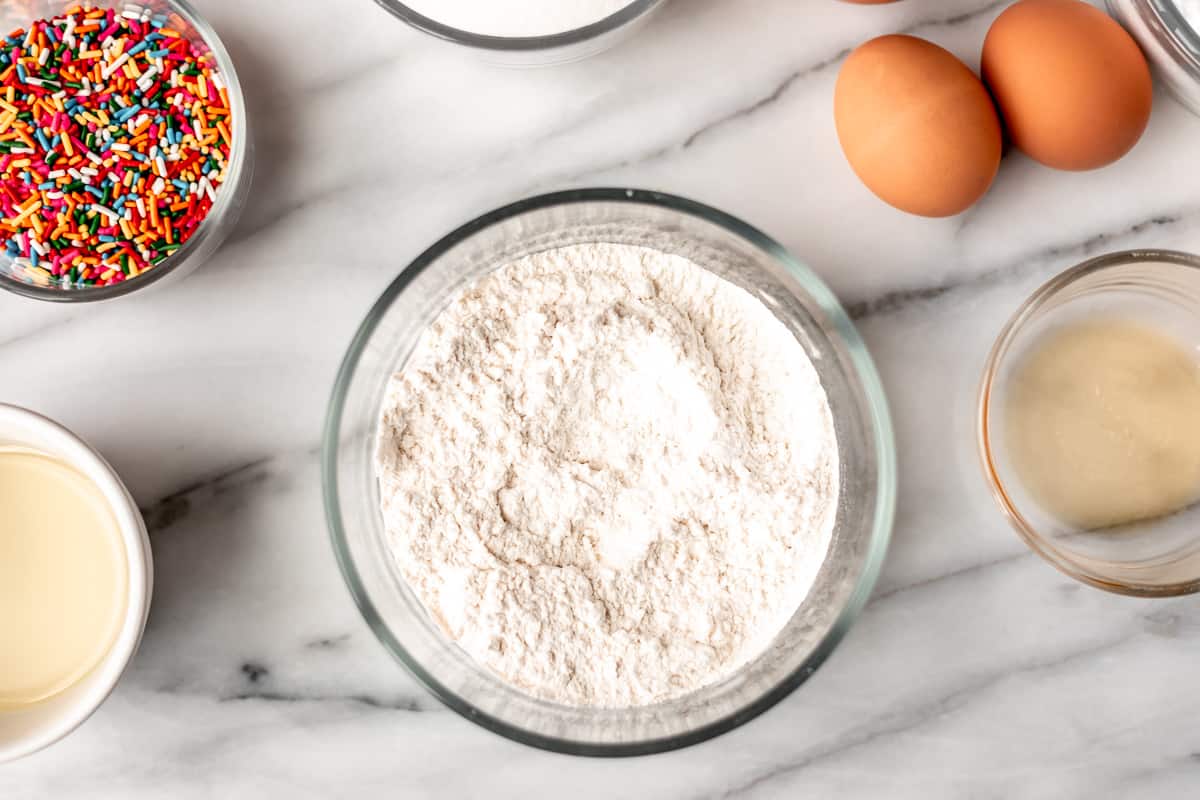 Combine the flour, baking powder, and salt in a small bowl and set aside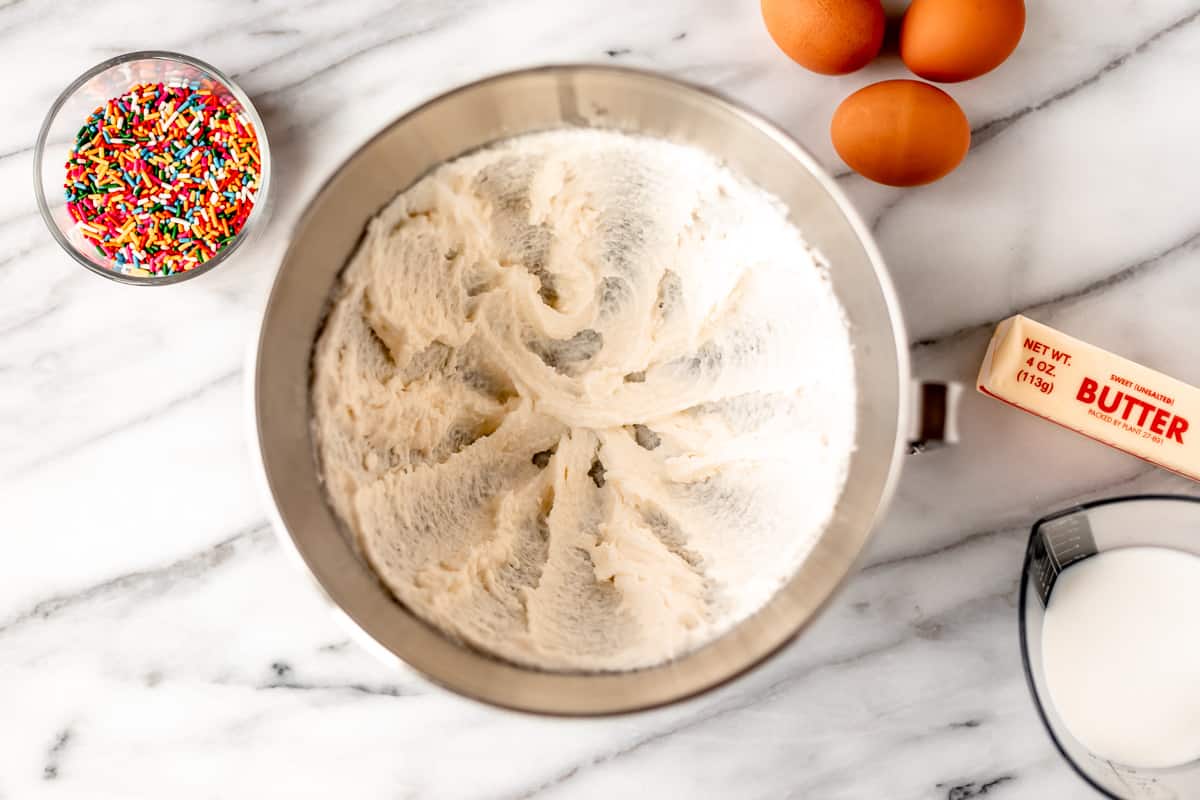 In the bowl of an electric stand mixer fitted with a paddle, add the butter, oil and sugar and beat until light and fluffy, about 3 to 5 minutes. Mix in vanilla extract.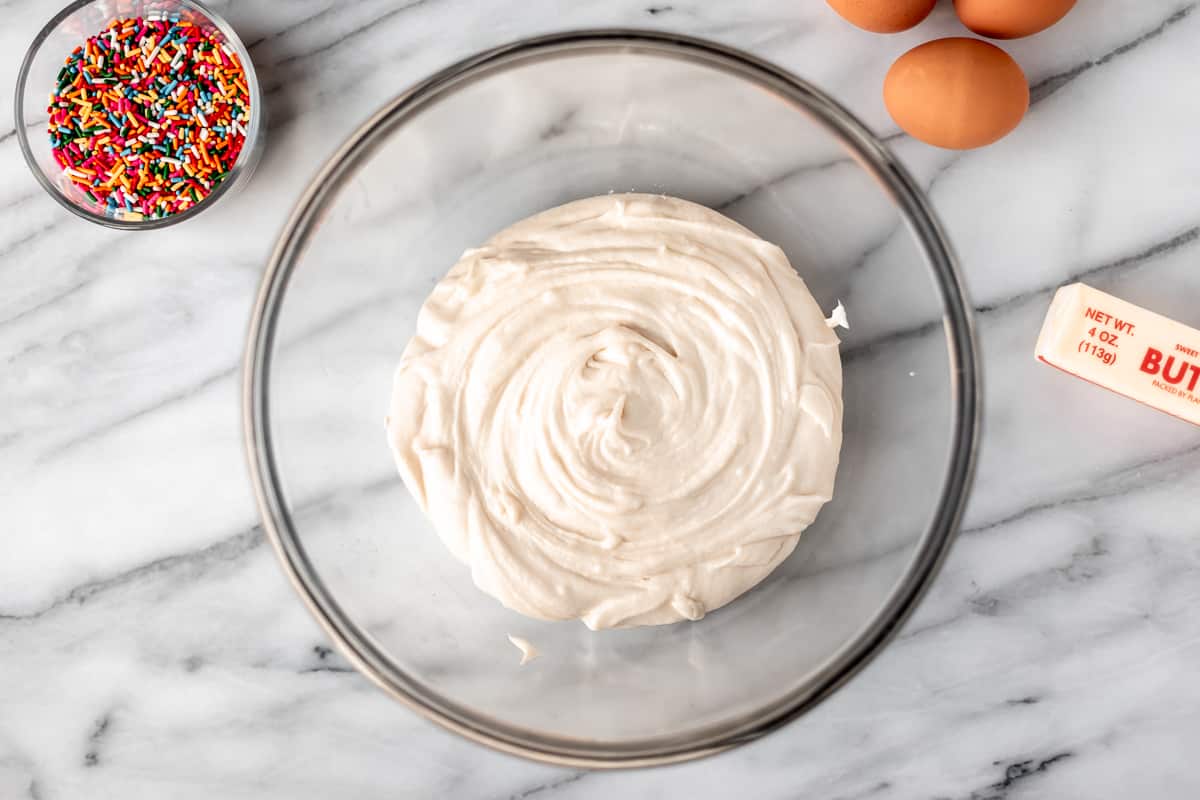 Gradually alternate adding the flour mixture and milk until everything is well combined.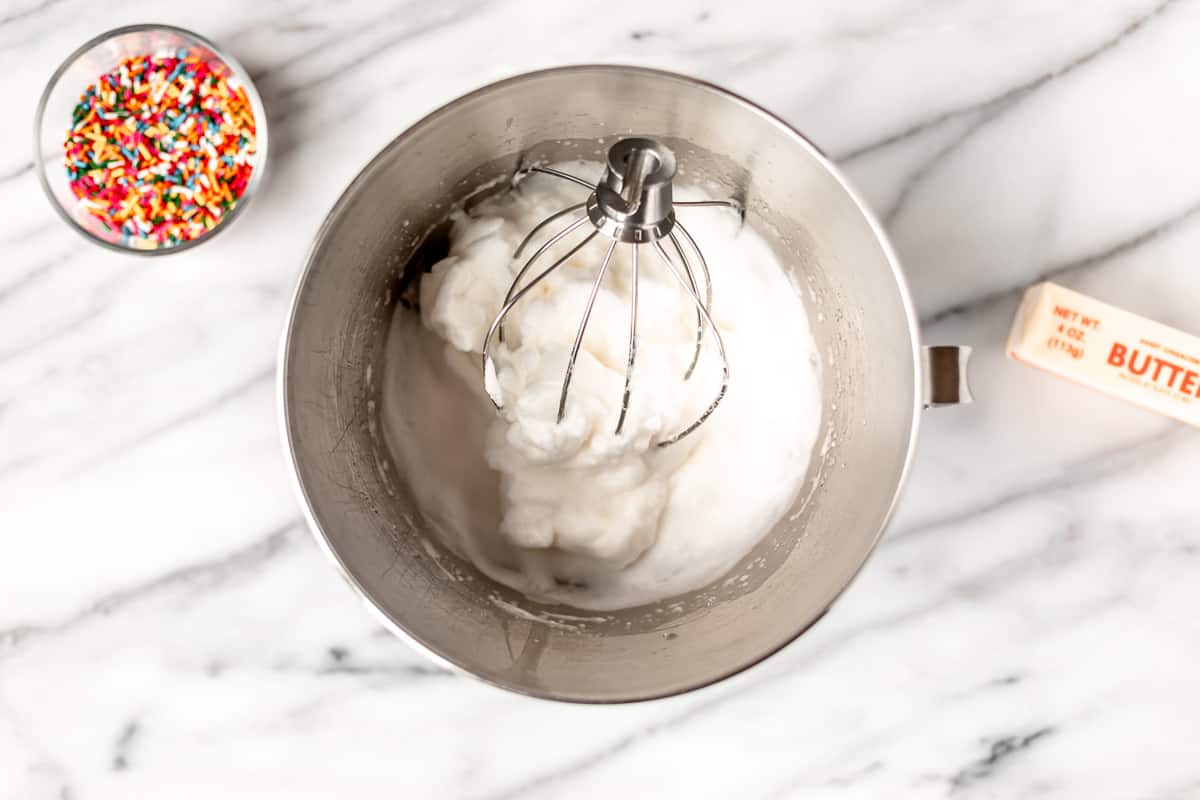 In a second bowl beat the egg whites with a whisk attachment on high speed until stiff peaks form.
Chef's Tip: if you don't have a second mixing bowl for your stand mixer, you can transfer the cake batter to a second bowl and wash and dry the mixing bowl. Be sure there is no residual oil in the mixing bowl used to whip the egg whites or they make not form stiff peaks.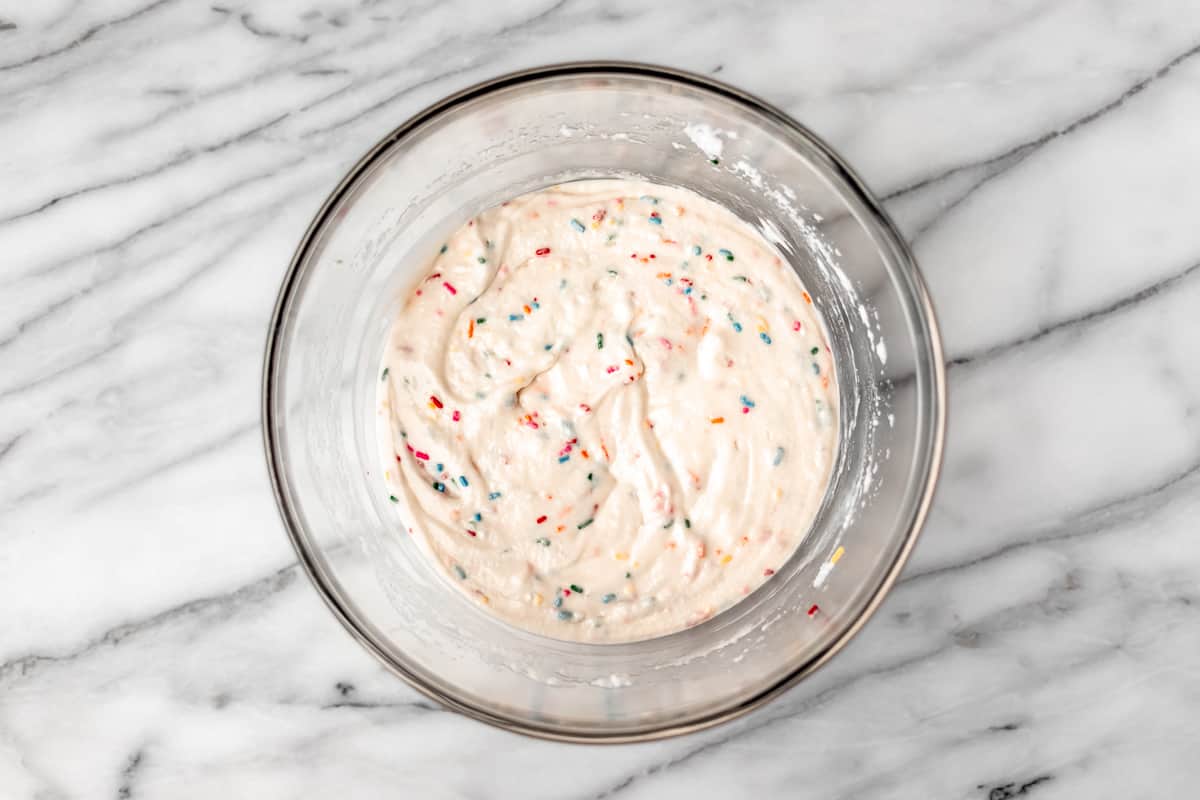 Fold the whipped egg whites into the cupcake batter. Stir in the sprinkles.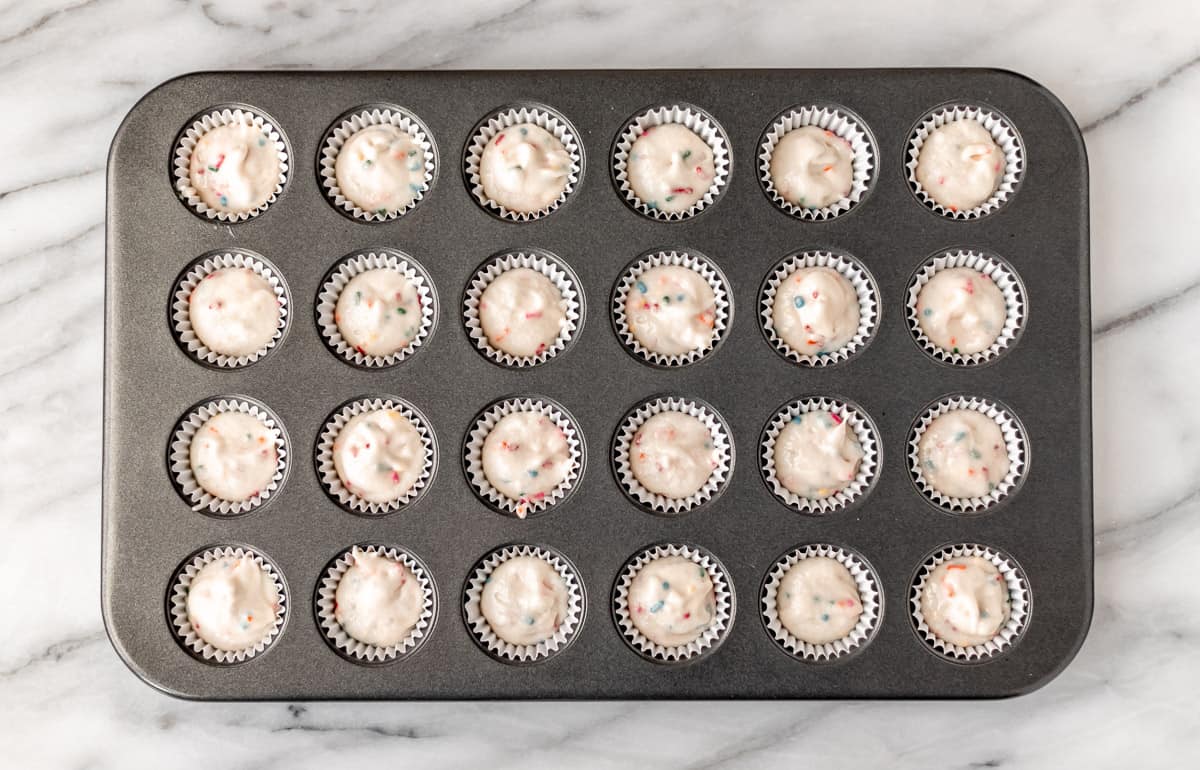 Fill each cupcake liner about 1/2 to 2/3rds full.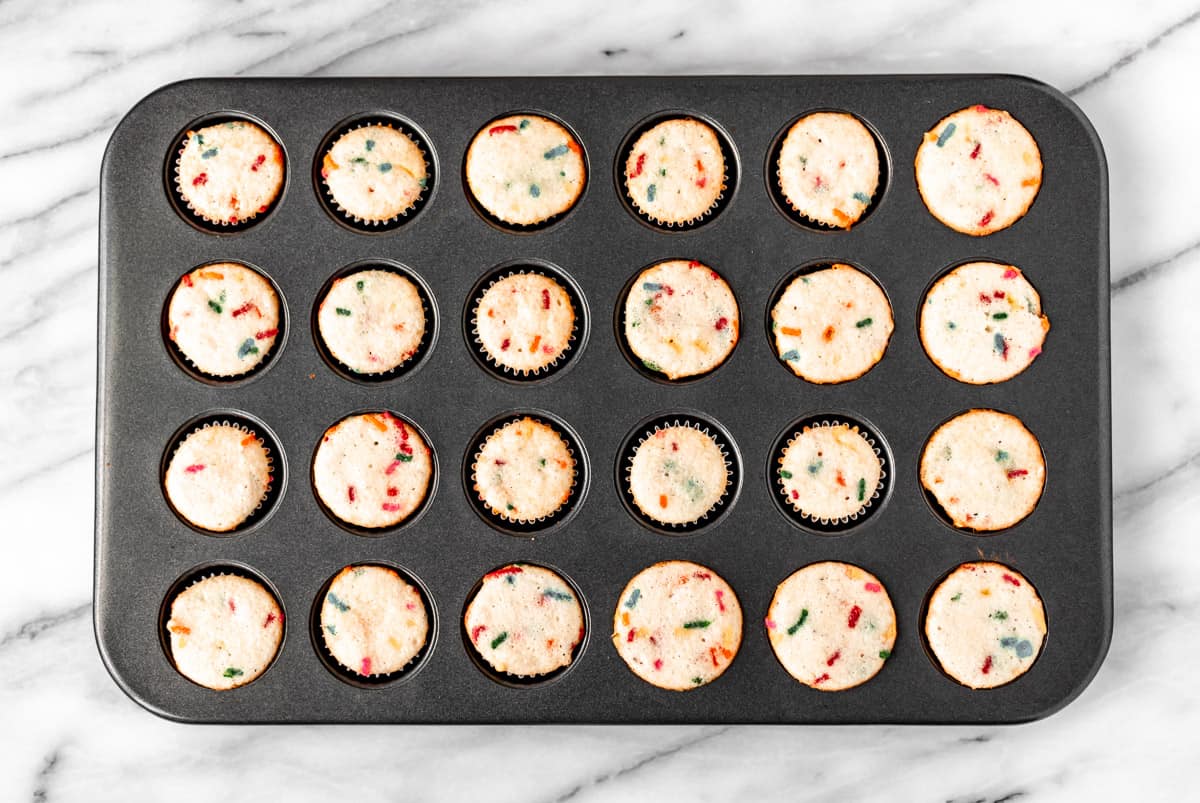 Bake for 10-12 minutes, or until a toothpick inserted into the center comes out clean. Remove from the pan and allow to cool.
How Long to Bake Mini Cupcakes
You can turn almost any cupcake recipe into mini cupcakes. The biggest issue is knowing how long to bake mini cupcakes for.
I have found that baking mini cupcakes at 350°F for 12-15 minutes to be the usual sweet spot. However, all recipes vary so it's best to check them frequently when modifying a recipe.
How To Make Vanilla Buttercream Frosting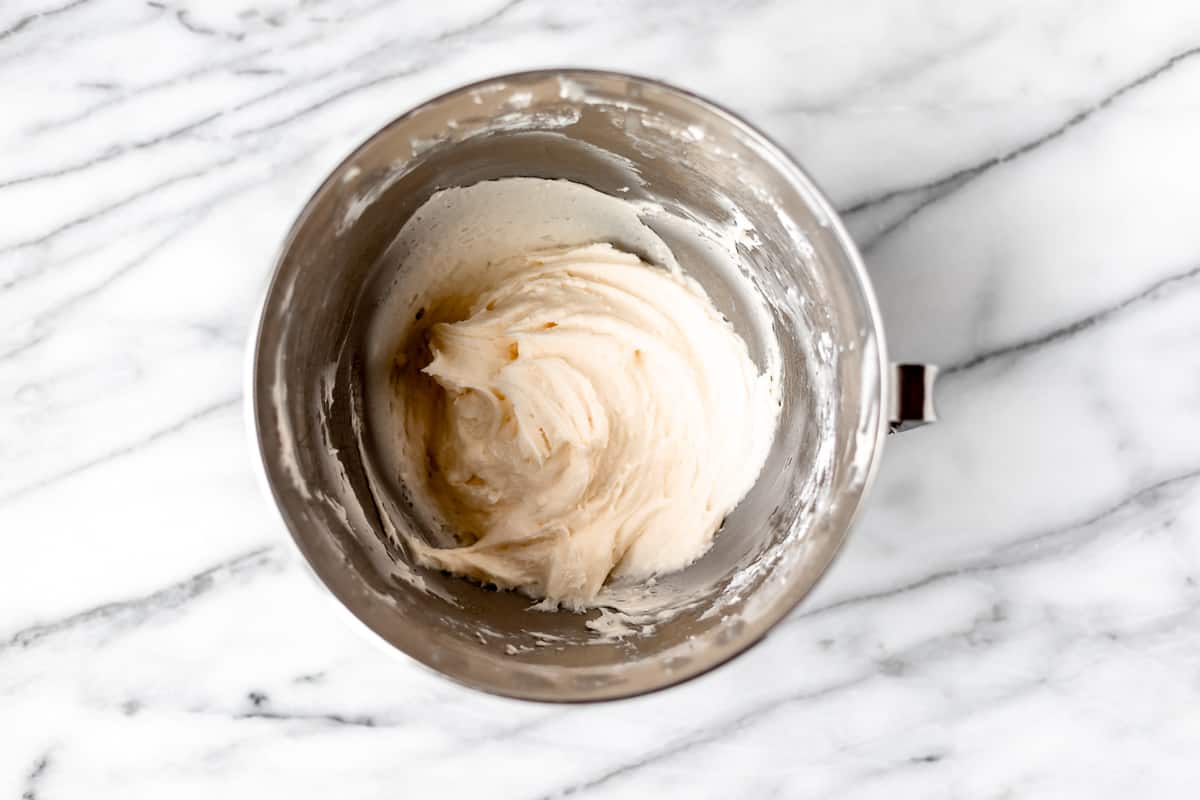 To make the frosting, combine all of the ingredients for the frosting in the bowl of an electric mixer fitting with a whisk attachment. Mix on low speed for a minute, then medium speed until everything its well combined and smooth.
I prefer to use heavy cream for the buttercream frosting to give it a richer, creamier flavor. You can use milk, if preferred.
Tip: you can color the cake frosting using food color or food coloring gels. For a whiter frosting, use a clear vanilla extract. Clear vanilla extract is not pure vanilla, if that is of concern.
Present!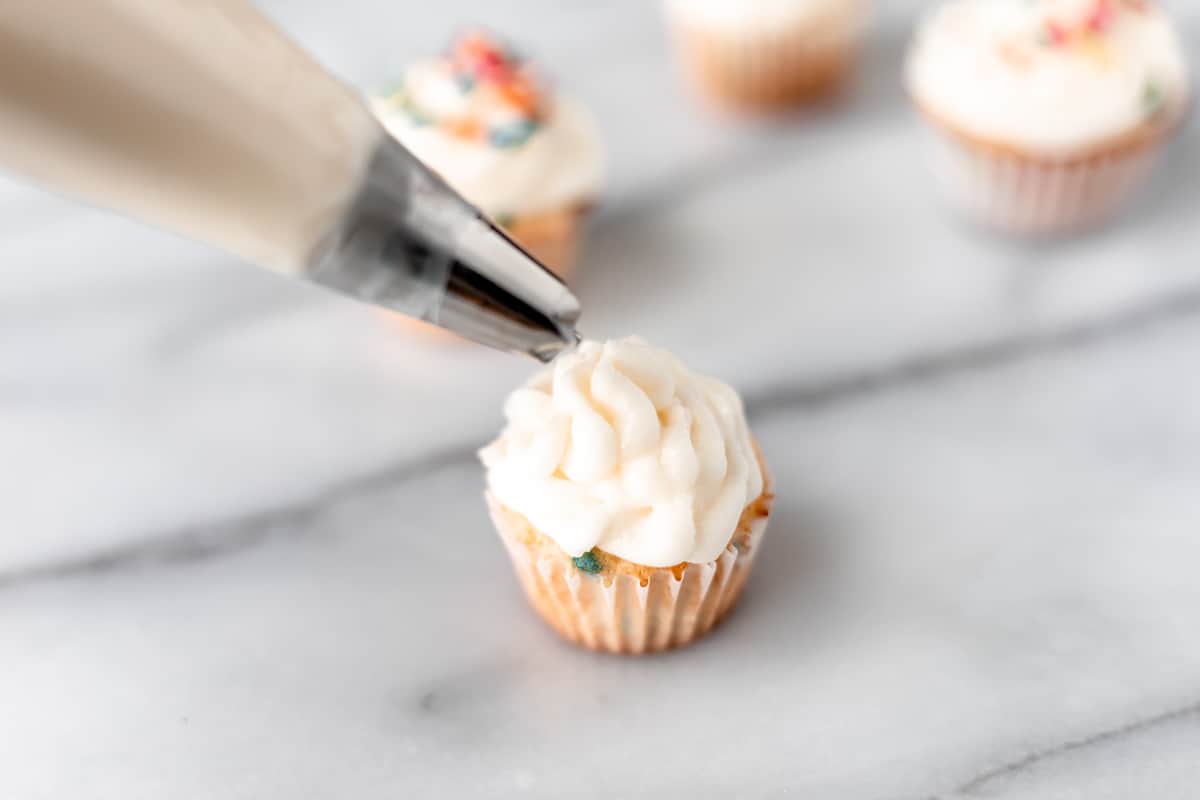 Once the baked cupcakes have cooled, top them with the frosting using a piping bag and tip (I use this one), or a butter knife.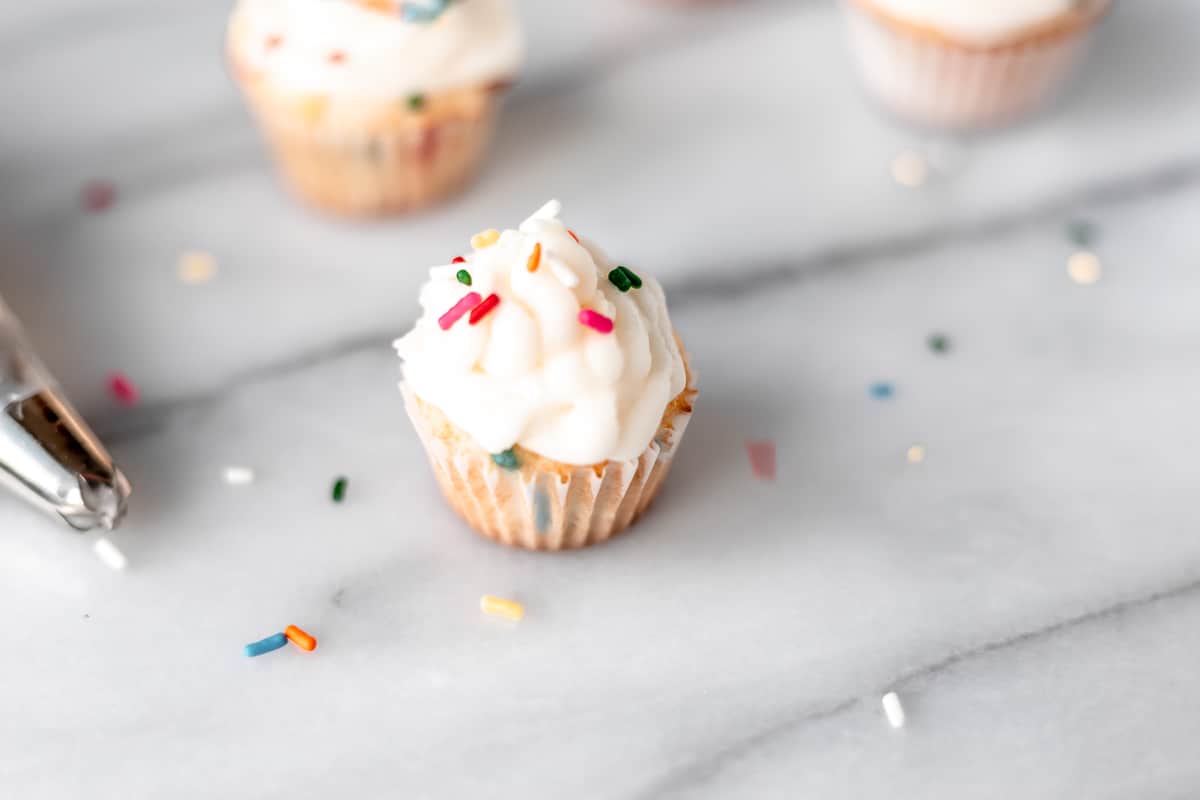 Add extra sprinkles to the tops.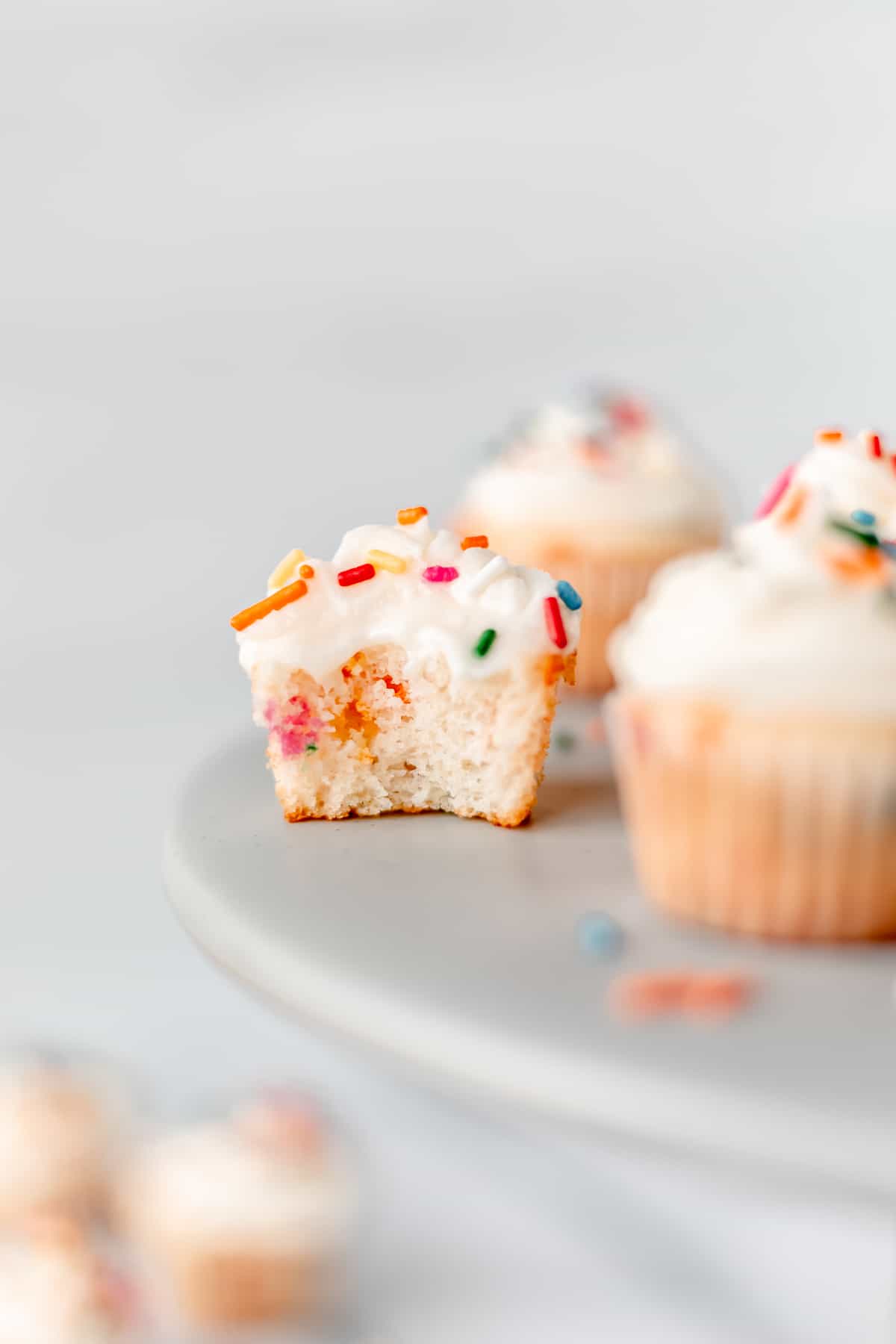 Enjoy!
Tips & Techniques
You can add food coloring to turn the frosting any color you would like for it to be.
Use clear vanilla extract for even whiter cake and frosting.
If you use this recipe to make standard size cupcakes, you may need to increase the bake time by a few minutes. Remember, cupcakes are done baking when a toothpick inserted into the center comes out clean.
FAQ's
How Do You Store Cupcakes?
You can store cupcakes without icing tightly covered at room temperature for a day or two, or with/without frosting in the refrigerator for up to seven days.
Can Cupcakes Be Frozen?
You can freeze cupcakes without frosting, tightly wrapped in plastic wrap, for 4-6 months.
Can Buttercream Frosting Be Frozen?
Yes. You can freeze buttercream frosting in an airtight container for up to 3 months. Allow it to thaw in the refrigerator before using.
More Mini Cupcake Recipes
Love this Mini Sprinkle Cupcakes recipe? Follow me on Pinterest, Instagram, and Facebook for more!
If you try this recipe, please leave a comment and star rating. I would really appreciate it!