This classic, spring recipe is the perfect celebratory dessert to serve on special occasions such as Easter. Mini Carrot Cake Cupcakes are made completely from scratch, with homemade cream cheese frosting too. These bite-size cakes taste sweet, creamy, tangy, and spicy from warming spices such as cinnamon, ginger, and nutmeg.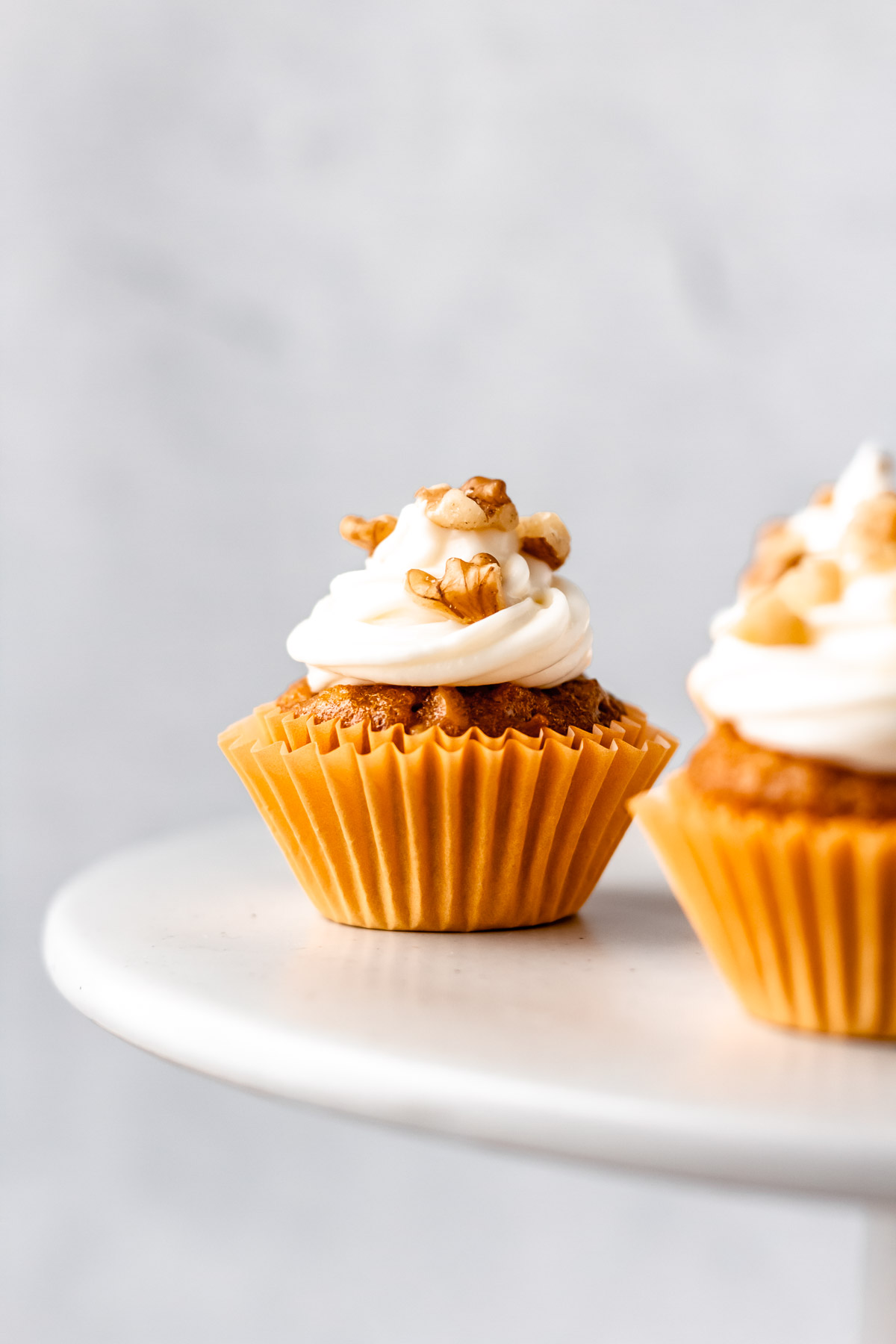 This post contains affiliate links. See our Disclosure Statement for more information.
Mini Carrot Cake Cupcakes are the perfect balance of sweet and spice. The homemade cream cheese frosting on top is perfectly creamy and tangy too. This contrasting combination of flavors and ingredients make these mini cupcakes taste extra delicious; plus, optional mix-ins such as walnuts, shredded coconut, and raisins provide plenty of texture.
This is a classic recipe, which is typically made during spring, and is especially popular for serving at Easter celebrations. Nothing beats fresh Mini Carrot Cake Cupcakes made from scratch.
Another amazing recipe I suggest making special for Easter is White Chocolate Easter Bark.
If you love miniature cupcakes like me, since they're so snack-able and cute, checkout my other recipes for Mini Lemon Cupcakes, Vanilla Cupcakes, Coconut Cupcakes, Red Velvet Cupcakes, and Chocolate Cupcakes. Mini cupcakes are wonderful for serving groups, because portion sizes are smaller and you can choose to serve them with variety of different miniature desserts too.
Why This Recipe Works
This is an easy to make, homemade cupcake recipe. There really is nothing like from-scratch, homemade baked goods.
These cupcakes are adaptable. Choose the mix-ins that you want or leave them out altogether. The vanilla cream cheese frosting is the perfect combination of sweet and creamy to top these cupcakes with.
Mini desserts of any kind are great at all sorts of gatherings, parties, holidays, and celebrations. This beautiful recipe is especially good for Easter, but delicious any time of the year.
Step-By-Step Instructions
Cake Ingredients
1 cup all purpose flour
1 teaspoon baking powder
1 teaspoon baking soda
3/4 teaspoon cinnamon
1/4 teaspoon ground ginger
1/4 t ground nutmeg
1/2 teaspoon salt
1/2 cup granulated sugar
1/4 cup brown sugar (packed)
1/2 cup vegetable oil (or canola)
2 eggs
3 medium carrots (finely shredded)
1/3 cup shredded, sweetened coconut
1/3 cup chopped walnuts (or pecans)
1/3 cup raisins (dark or golden)
Chef's Tip: you can use any combination of mix-ins that you prefer, just keep the total amount around 1 cup.
Cream Cheese Frosting Ingredients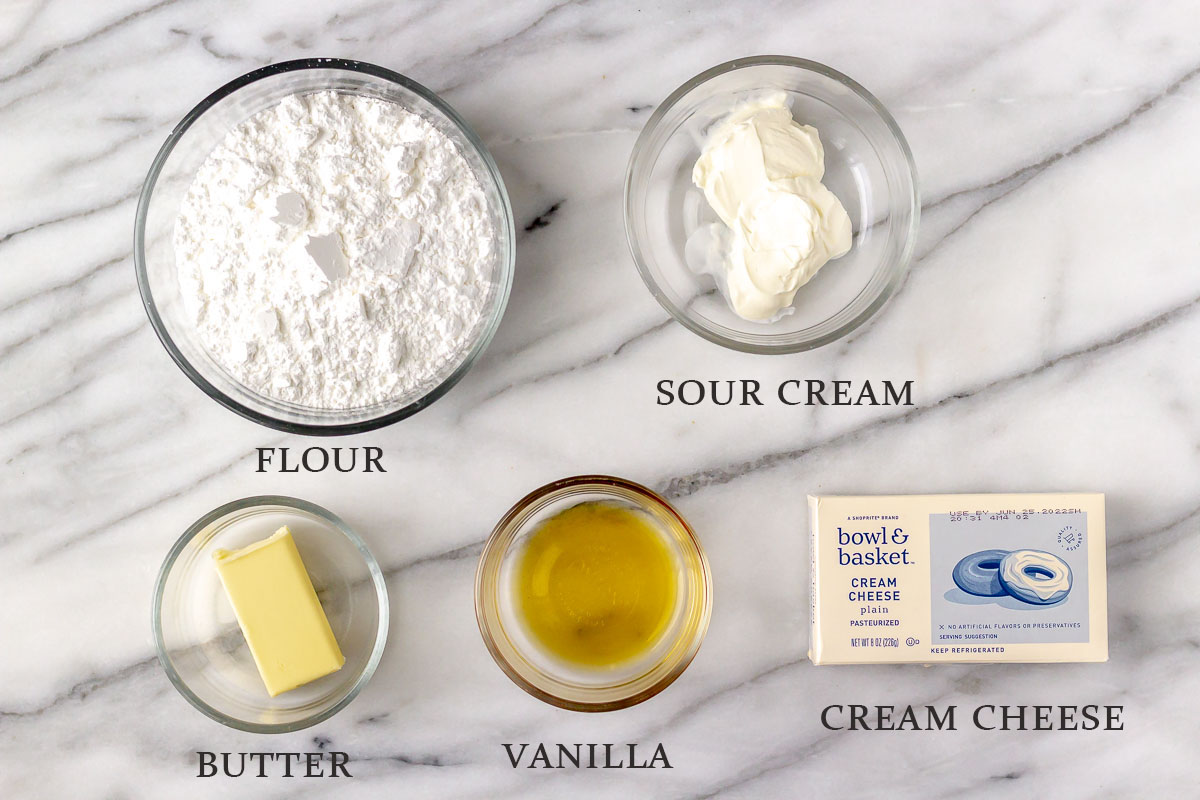 8 ounces cream cheese (at room temperature)
1/4 cup unsalted butter (at room temperature)
2 tablespoons sour cream
2 teaspoons vanilla extract(or coconut extract)
2 cups powdered sugar
Chef's Tip: you can frost these cupcakes with the cinnamon vanilla buttercream from this Gingerbread Cupcakes recipe, if preferred.
Equipment Needed To Make This Recipe
The entire recipe and instructions can also be found in the recipe card at the bottom of this post. You can also print the recipe from the card, if needed.
Prep!
Set the cream cheese and butter out at least an hour before you plan to make the frosting. Finely grate the carrots.
Preheat your oven to 350°F.
Line a mini cupcake pan with mini cupcake liners.
Create!
Combine the flour, baking powder, baking soda, cinnamon, ginger, nutmeg and salt in a small bowl and mix well.
Beat the sugar, brown sugar and vegetable oil together in the bowl of an electric mixer fitted with a paddle until well combined. It will be wet.
Add the eggs one at a time, letting the first one fully incorporates into the batter before adding the next.
Turn the mixer down to the lowest speed. Gradually add the flour mixture until just incorporated, then the grated carrots.
Gently fold in the shredded coconut, nuts and raisins, if using, with a silicone spatula.
Fill each cupcake liner 2/3rds full with batter.
Bake for 12-14 minutes or until a toothpick inserted into the center comes out clean.
Allow to cool before frosting.
To make the frosting, add the cream cheese, butter, sour cream and vanilla extract to the bowl of an electric mixer fitted with a whisk attachment.
Blend well, then gradually add the powdered sugar until fully incorporated.
Present!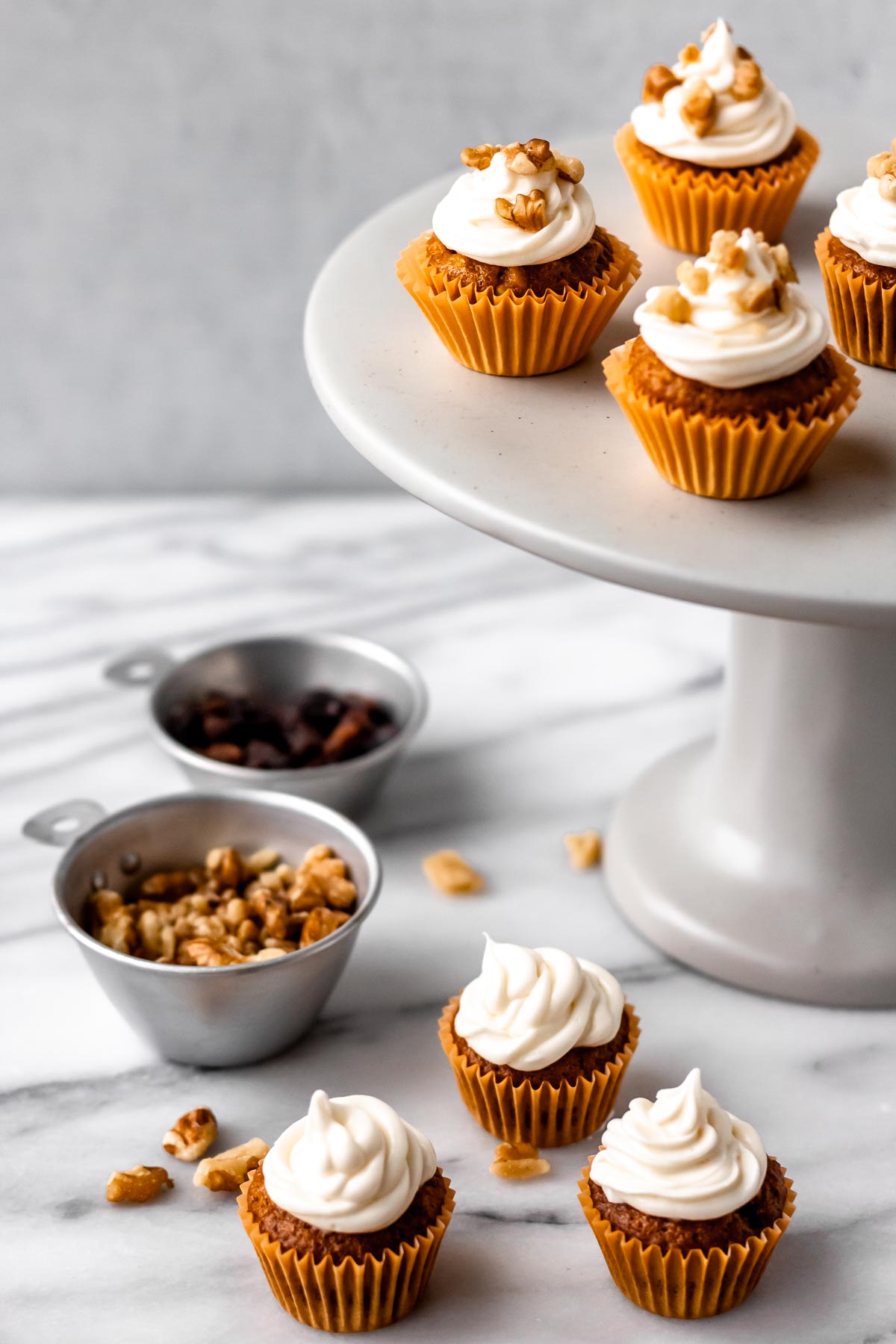 Top the cooled cupcakes with the frosting using a piping bag and tip or a butter knife.
Add some sprinkles or candy, if desired.
Tips and Techniques
Be careful not to over mix the cake batter or you may end with cupcakes that are gummy in texture. You want to mix until the ingredients are just blended.
You can use any combination of mix-ins that you prefer, just keep the total amount around 1 cup.
Measure the flour by gently "fluffing" the flour it is container, then spooning it into a measuring cup without packing. Overfill the cup some, then use the back of a butter knife to level it off.
If you use this recipe to make standard size cupcakes, you may need to increase the bake time by a few minutes. Remember, cupcakes are done baking when a toothpick inserted into the center comes out clean.
If you want to use this recipe to make a carrot cake, you will need to double the recipe.
FAQ's
How Do You Store Cupcakes?
You can store cupcakes without icing tightly covered at room temperature for a day or two, or with/without frosting in the refrigerator for up to seven days.
Can Cupcakes Be Frozen?
You can freeze cupcakes without frosting, tightly wrapped in plastic wrap, for 4-6 months.
Can Cream Cheese Frosting Be Frozen?
Yes. You can freeze cream cheese frosting in an airtight container for up to 3 months. Allow it to thaw in the refrigerator before using.
More Mini Cupcakes Recipes
Love this recipe for Mini Carrot Cake Cupcakes? Follow me on Pinterest, Instagram, and Facebook for more!
If you try this recipe, please leave a comment and star rating. I would really appreciate it!