Warm cinnamon and nutmeg stand out in these wintery eggnog cupcakes. They are topped with a velvety-smooth eggnog buttercream frosting that sparks happy memories with every bite.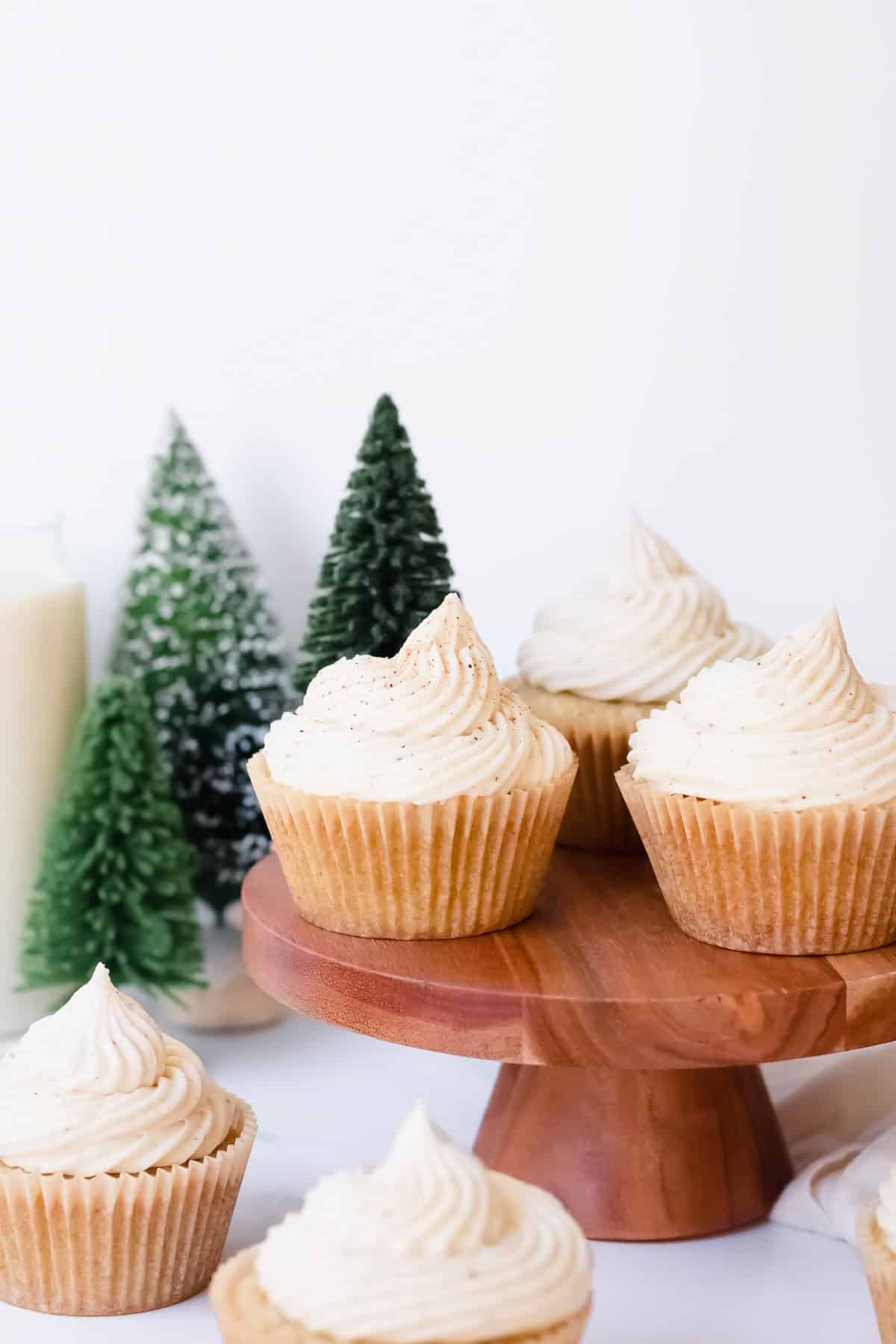 This post contains affiliate links. See our Disclosure Statement for more information.
Homemade cupcakes always taste the best, and these Eggnog Cupcakes are made completely from scratch. After making them once, you'll understand why eggnog is considered one of the best Christmas flavors – even in cupcakes!
They are sweet and moist, but don't fall apart when you peel the cupcake liners away. The cupcakes are topped with a fluffy and creamy buttercream frosting that you may even want to devour first.
As you get busy with holiday baking, whip up a batch of these cupcakes. They are perfect when you serve them with other holiday favorites like Gingerbread Cookies, Gingerbread Cupcakes, or Cranberry Walnut Cups if you want something savory.
What Is Eggnog?
It used to be called milk punch (I'm so glad they changed it!). Eggnog is a drink that can be served warm, chilled, and with or without alcohol in it. It's usually made with milk, cream, sugar, egg yolks, and egg whites. Yes, most eggnog, similar to true custards, really is made with eggs.
There is an eggnog flavor that most people can point out – cinnamon, nutmeg (and sometimes cloves). I used nutmeg in the frosting and both cinnamon and nutmeg in the cupcakes, so you'll really taste that eggnog flavor.
Why This Recipe Works
They look extra-fancy, so they'll impress everyone that sees them, but they are actually really easy to make! If you can make boxed cupcakes, then you can make these.
The addition of cinnamon and nutmeg gives them a flavorful taste and enticing aroma.
They are perfect for the holidays. Your kitchen will be filled with warm and spicy scents!
Step-By-Step Instructions
Ingredients
Eggnog Cupcakes
1 1/4 cups all purpose flour
1 teaspoon baking powder
1 teaspoon ground nutmeg
1/2 teaspoon ground cinnamon
1/4 teaspoon baking soda
1/2 cup unsalted butter (at room temperature)
1 cup granulated sugar
2 eggs
1/2 cup eggnog: use full fat eggnog for the best results. Using reduced fat or vegan eggnog may result in a dryer crumb)
1 teaspoon vanilla extract (or you can substitute 1 teaspoon of rum extract)
Eggnog Buttercream Frosting
1 cup unsalted butter (at room temperature)
3 1/4 cup powdered sugar
1/4 cup eggnog
2 teaspoons vanilla extract (or you can substitute 1 teaspoon of rum extract)
1 1/2 teaspoon ground nutmeg
The entire recipe and instructions can also be found in the recipe card at the bottom of this post. You can also print the recipe from the card, if needed.
Prep!
Set the butter out at least an hour ahead of time to allow it to come to room temperature.
Preheat your oven to 350°F. Line a standard cupcake pan with paper cupcake liners.
Create!
In a medium bowl, mix together the flour, baking powder, nutmeg, cinnamon and baking soda until well combined. Set aside.
In the mixing bowl of an electric mixer fitted with a paddle, add the butter and sugar. Beat on medium to high speed until light and fluffy, about 3-5 minutes.
Lower the speed and add the eggs, one at a time, and continue to beat until fully incorporated.
Add the eggnog and vanilla extract.
With the mixer on low speed, gradually add the dry ingredients until just blended. Be careful not to over-mix the batter.
Fill each cupcake liner about halfway full with the batter.
Bake 17-18 minutes, or until a toothpick inserted into the center comes out clean.
Allow the cupcakes to fully cool before frosting.
To make the frosting, add the butter to the clean bowl of an electric mixture fitted with a paddle. Cream on medium to high speed until very smooth.
Lower the speed and add the powdered sugar. Mix until light and fluffy.
Add the eggnog, vanilla extract and nutmeg and mix until evenly incorporated.
Frost the cooled cupcakes with a piping bag and tip or with a spatula or butterknife
Chef's Tip: I used a Wilton 8B frosting tip for the cupcakes in the photos. A Wilton 1M frosting tip would also work really well.
Present!
Tips and Techniques
Be careful not to over mix the cake batter or you may end with cupcakes that are gummy in texture or that sink in the centers. You want to mix until the ingredients are just blended.
Measure the flour by gently "fluffing" the flour it is container, then spooning it into a measuring cup without packing. Overfill the cup some, then use the back of a butter knife to level it off.
You can use rum extract in place of the vanilla extract in both the cake and frosting. For the frosting, reduce the rum extract to 1 teaspoon, as it is a little strong.
To make mini eggnog cupcakes, use a mini cupcake pan and mini cupcake liners. You will need to reduce the baking time to about 12-15 minutes.
Frosting can be made up to 3 days in advance and stored in an airtight container in the refrigerator. Allow it to sit out at room temperature for at least an hour to soften before using it.
FAQ's
How Do You Store Cupcakes?
You can store cupcakes without frosting tightly covered at room temperature for a day or two, or with/without frosting in the refrigerator for up to seven days.
Can Cupcakes Be Frozen?
You can freeze cupcakes without frosting, tightly wrapped in plastic wrap, for 4-6 months.
Can Cake Frosting Be Frozen?
Yes, both buttercream and cream cheese frostings can be frozen in an airtight container for up to 3 months. Allow it to thaw in the refrigerator, then allow it to sit out at room temperature for an hour or so before using it.
More Cupcake Recipes
Love this Eggnog Cupcakes recipe? Follow me on Pinterest, Instagram, and Facebook for more!
If you try this recipe, I would really appreciate it if you would please leave a comment and star rating. Thanks!