This old-fashioned recipe for homemade chicken gravy and biscuits is easy comfort food. Creamed Chicken Over Biscuits is filling and flavorful. Tarragon adds a special taste to this main dish, but this quick recipe will likely still remind you of grandma's kitchen.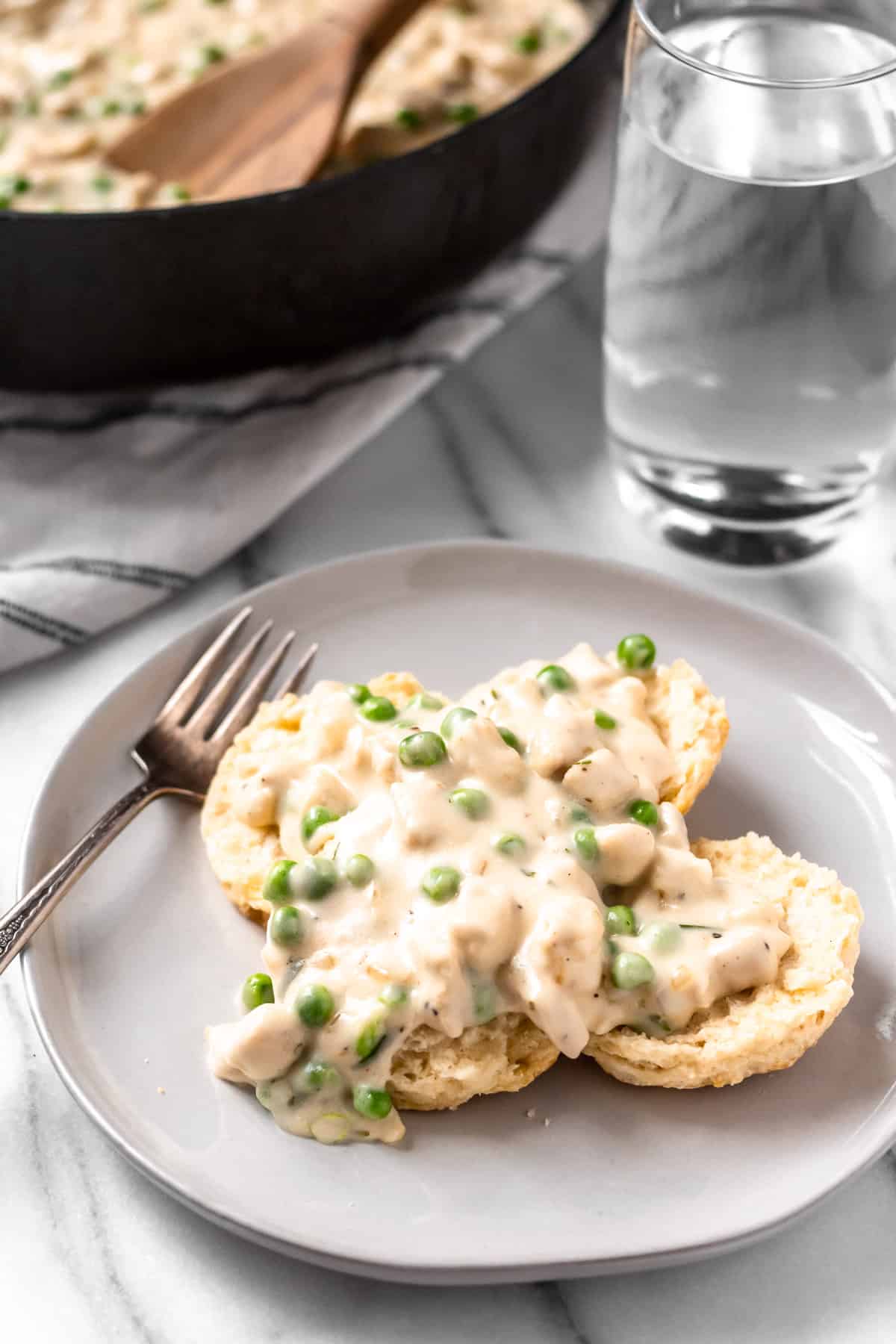 This post contains affiliate links. See our Disclosure Statement for more information.
My mom used to make Creamed Chipped Beef over mashed potatoes, and it was one of my favorite dishes that she cooked. I often requested it for my birthday dinner because I loved it so much.
I also really enjoyed a similar dish made with chicken, which I only ever ate at my grandma's house for dinner. I believe they ate it over toast, but I prefer biscuits with the chicken version.
Creamed Chicken and Biscuits is an easy, old-fashioned meal, which is filling and comforting too. This version uses homemade gravy, no canned soup shortcut is necessary, though the dish still comes together quickly.
You can even substitute the meat for turkey, which makes it a great adaptable recipe for thanksgiving leftovers – just like my recipe for White Turkey Chili.
This chicken dish is a creamy and flavorful comfort food. I use tarragon to season this dish, as it is a strongly flavored herb which pairs well with most chicken dishes, like Creamy Chicken Pot Pie. Tarragon has a similar taste to dill and anise.
Try making Creamed Chicken Over Biscuits the next time you need a savory meal to warm the soul.
Why This Recipe Works
Creamed Chicken and Biscuits comes together in 20 minutes. This recipe is super quick and easy to prepare.
It's a filling and family-friendly dish, which everyone will enjoy. This meal is comfort food and well suited for cold nights.
This recipe is very adaptable. You can add other veggies like carrots, mushrooms, or celery. It is also delicious served over toast, mashed potatoes, noodles, or rice.
How To Make Creamed Chicken Over Biscuits
Ingredients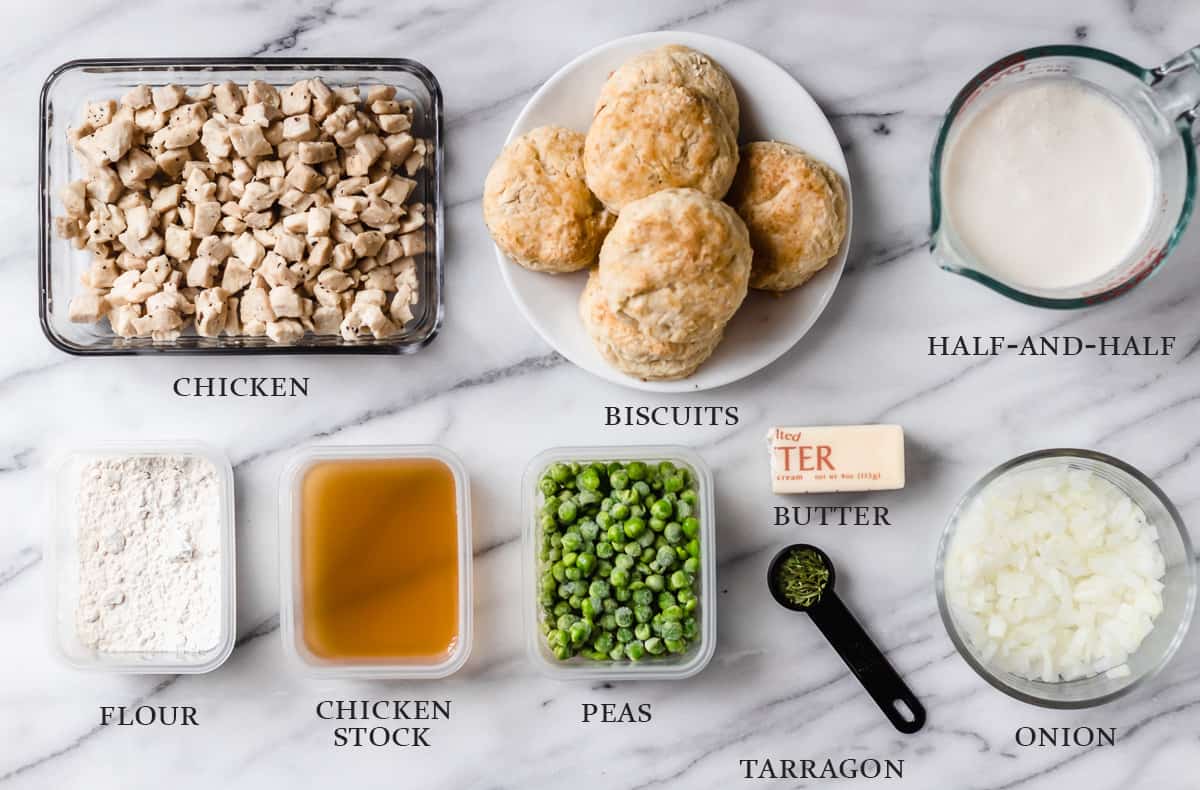 1 pound chicken: you can cook the chicken immediately before making this recipe, or you can use rotisserie or leftover chicken.
8 biscuits: use any biscuits that you like. I use my recipe for Homemade Country Biscuits, but you can use refrigerated or frozen biscuits instead.
1 1/2 cups half-and-half: you can also use whole milk or heavy cream.
1/4 cup all purpose flour
1/2 cup chicken stock
1 onion
1/2 cup peas
1 teaspoon dried tarragon
4 tablespoons butter
salt and pepper
The entire recipe and instructions can also be found in the recipe card at the bottom of this post. You can also print the recipe from the card, if needed.
Prep!
If you are not using leftover or rotisserie chicken, you will need to cook and shred or dice the chicken. You can also prepare the biscuits and get those in the oven before starting this recipe.
Dice the onion.
Create!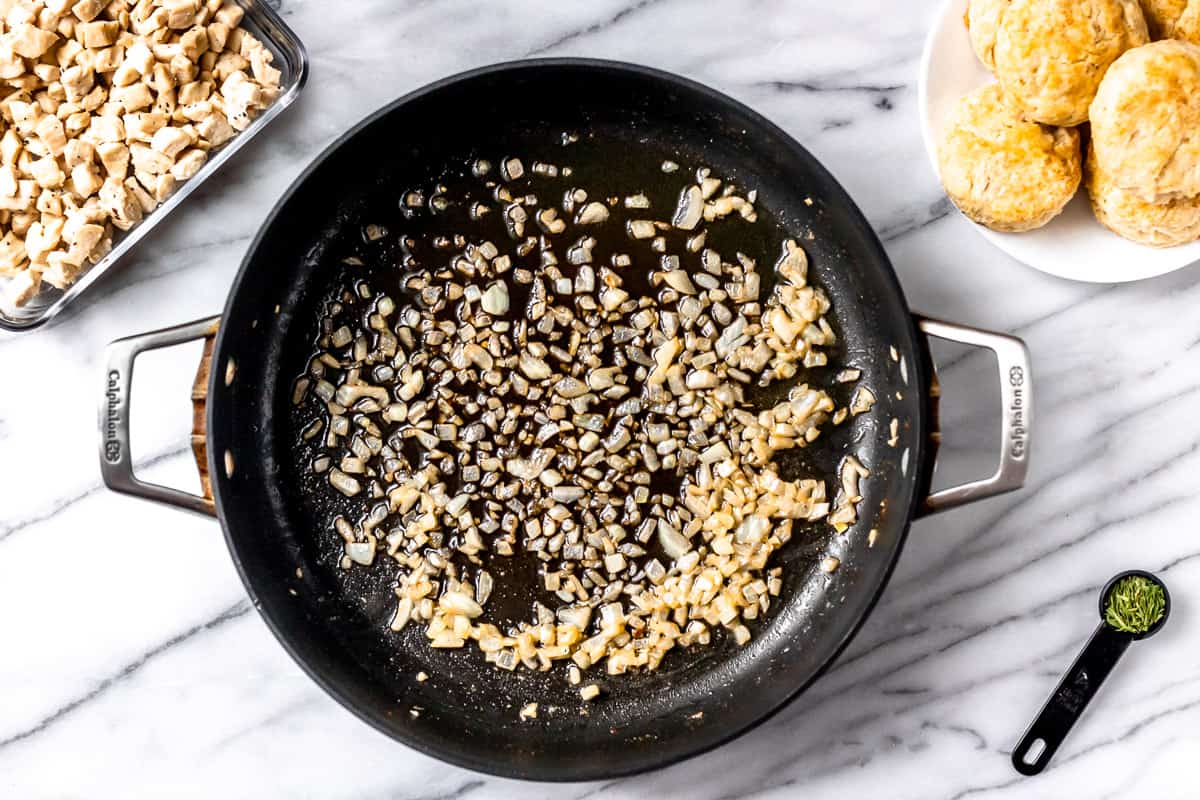 Melt butter in a large deep skillet over medium heat.
Add the diced onions and cook, stirring occasionally, until translucent and starting to brown slightly, about 3-5 minutes.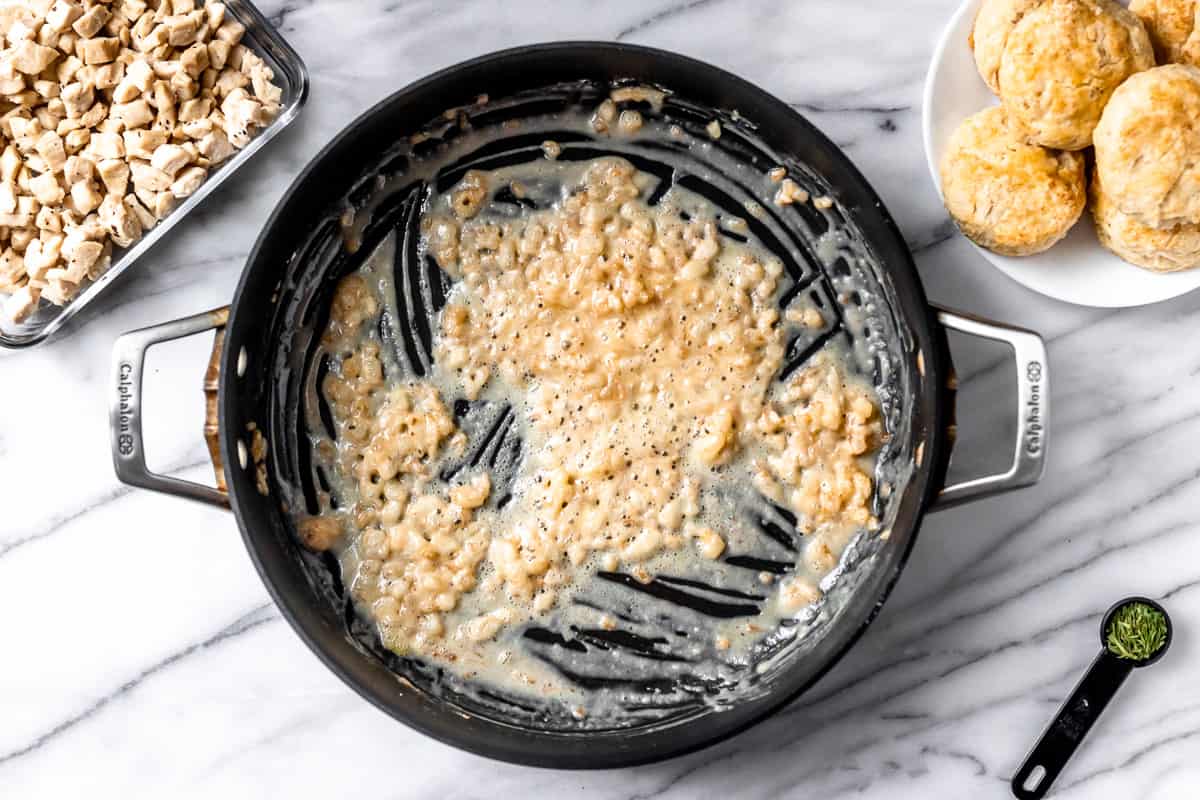 Stir in the flour and season with salt and pepper.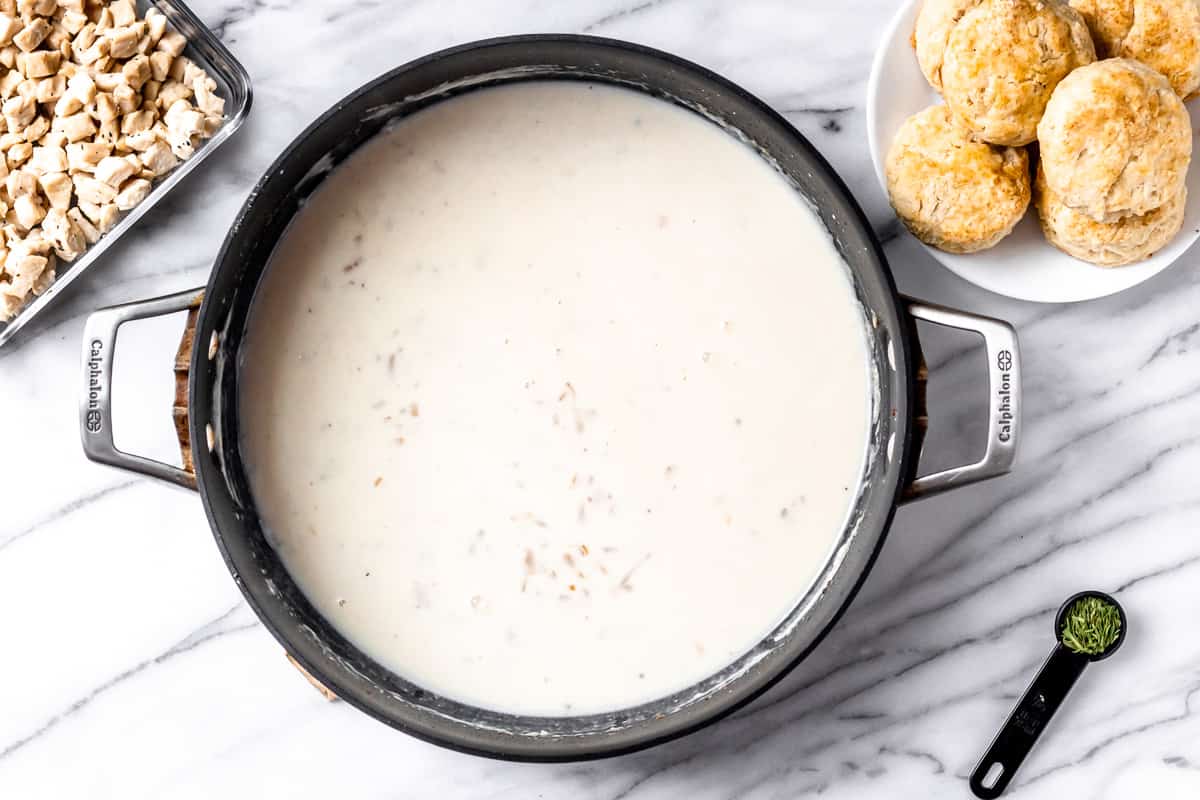 Pour in the chicken stock and stir until blended with the flour.
Slowly pour in the half-and-half while stirring until well-blended. Raise the heat and cook until thickened, stirring constantly, about 1-2 minutes.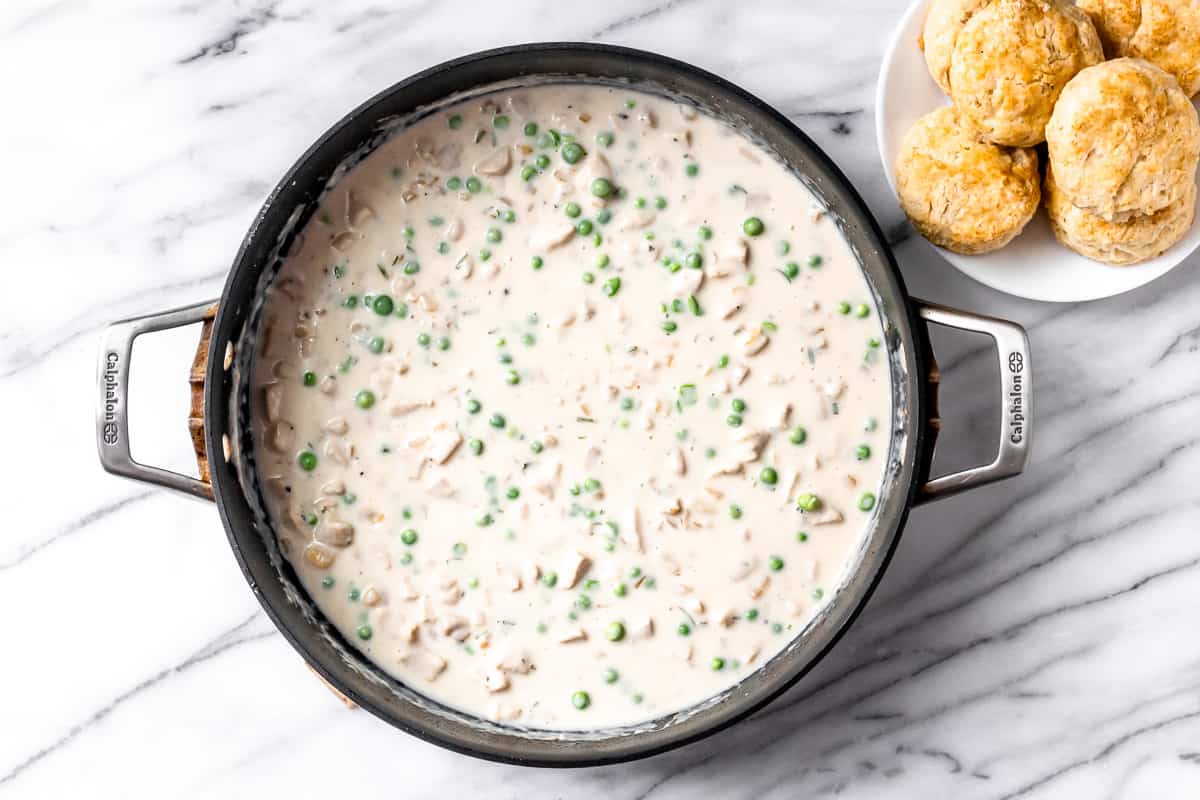 Stir in the tarragon, peas and chicken and cook a few more minutes or until warmed through. Season with salt and pepper as needed.
Present!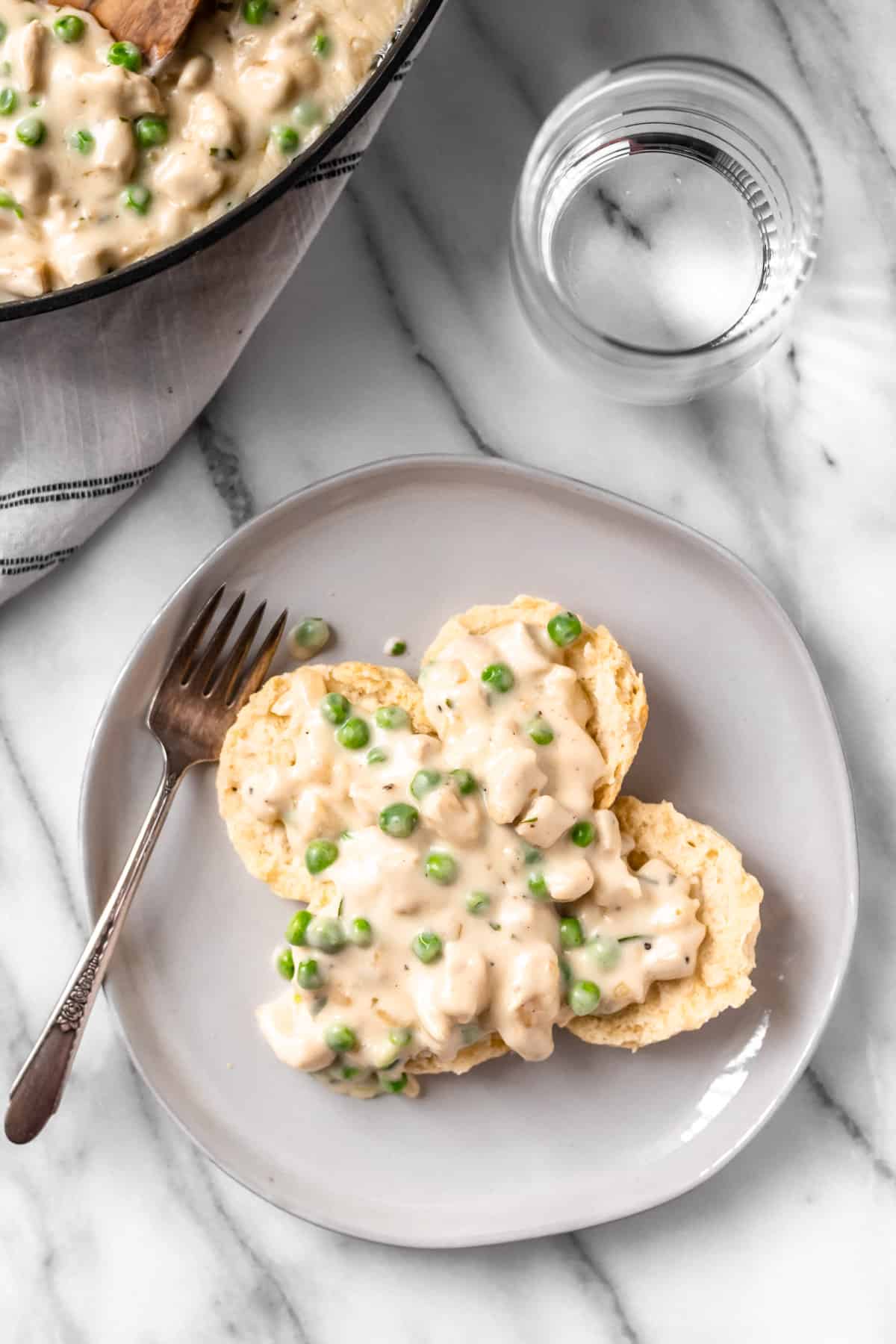 Serve over biscuits, or as desired.
Tips and Techniques
To save time you can use rotisserie or leftover chicken. You can also use refrigerated or frozen biscuits.
If you don't have half-and-half, you can use whole milk or heavy cream. A 50/50 combination of whole milk and heavy cream can also be used.
Store leftovers in an airtight container in the refrigerator. Consume within 3-4 days. When reheating, ensure that the temperature reaches 165°F.
FAQ's
Can You Freeze Creamed Chicken?
It is not recommended to freeze cream-based dishes like this. The cream can become grainy and unpleasant when thawed and reheated.
More Creamy Chicken Recipes
Love this Creamed Chicken Over Biscuits Recipe? Follow me on Pinterest, Instagram, and Facebook for more!
If you try this recipe, I would really appreciate it if you would please leave a comment and star rating. Thanks!