This shop has been compensated by Collective Bias, Inc. and its advertiser. All opinions are mine alone. #ShopRitePBJLove #CollectiveBias
It's back to school time!  This Big Kid PBJ Sandwich is sure to keep your child energized all day long!
Parent's everywhere are celebrating the fact that the kids are back in school! For many families, including my own, that also means packing school lunches. Now that my child is older, his appetite is even bigger, so I came up with this idea for a Big Kid PBJ Sandwich!
I grew up on Jif® Peanut Butter and Smucker's® Fruit Spreads. My son is most definitely following in my footsteps.  He loves Jif® Creamy Peanut Butter and will only eat Smucker's® Natural Strawberry Fruit Spread, just like his mama!  We made sure to stock up on plenty of both, as well as Ziploc® Sandwich Bags, when we were shopping at ShopRite last week! These are the perfect pairing for back to school lunches!
Big Kid PBJ Sandwich Instructions
Part of the reason I decided to start sending my son to school with these Big Kid PBJ Sandwiches is because he was always coming home hungry, and cranky.  He would literally walk in the door, throw down his book bag and just grumble.  That isn't exactly how I want to spend our afternoons, so I knew I needed to do something.
Rather than packing more snacks, I decided to make his favorite school lunch sandwich bigger!
Making a Big Kid PBJ Sandwich is simple!  Here's how I do it:
You will need three pieces of bread.
Spread Jif® Peanut Butter on one slice and Smucker's® Fruit Spreads on the other two slices.
Now, flip one of the pieces of bread with the fruit spread onto the slice with the peanut butter – just like you would when making a typical peanut butter and jelly sandwich.
Spread more Jif® Peanut Butter onto the top slice of bread.
Finally, flip the last slice of bread with fruit spread onto the top of the entire sandwich!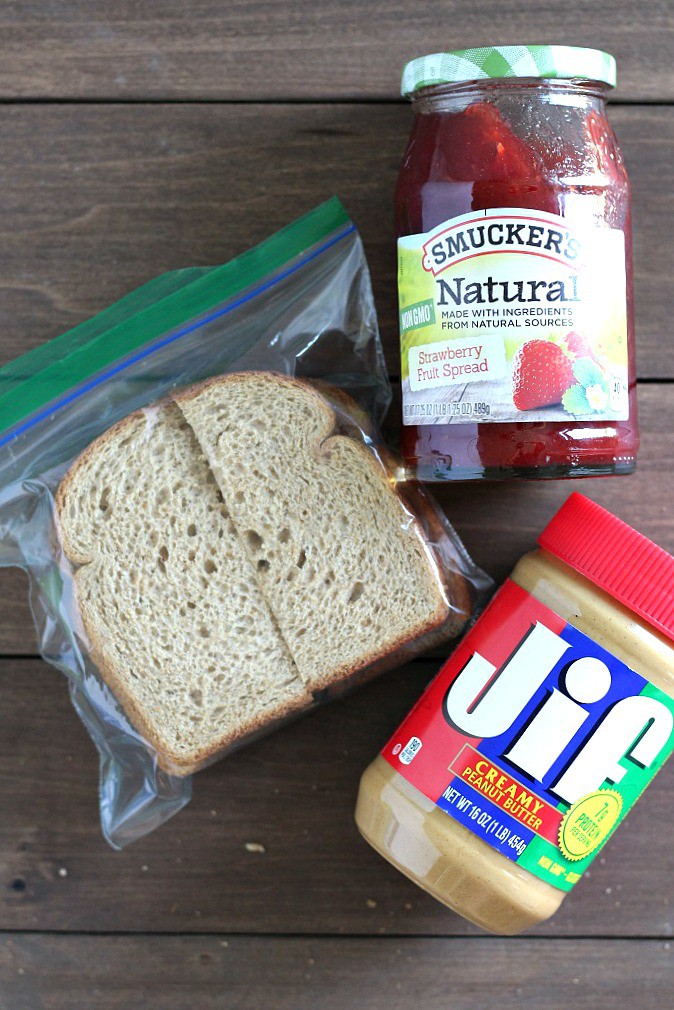 Cut, if desired and slide into a Ziploc® Sandwich bag!
And there you have it! A Big Kid PBJ Sandwich.  We also like to refer to these as Double Decker Peanut Butter and Jelly Sandwiches too! I hope you and your kids love this sandwich as much as we do!