Beer Battered Cod is a delicious, light, and crispy fish recipe that is perfect for a quick and easy dinner any night of the week. Cod fillets are coated in a seasoned flour and beer mixture, then quickly fried in a deep fryer.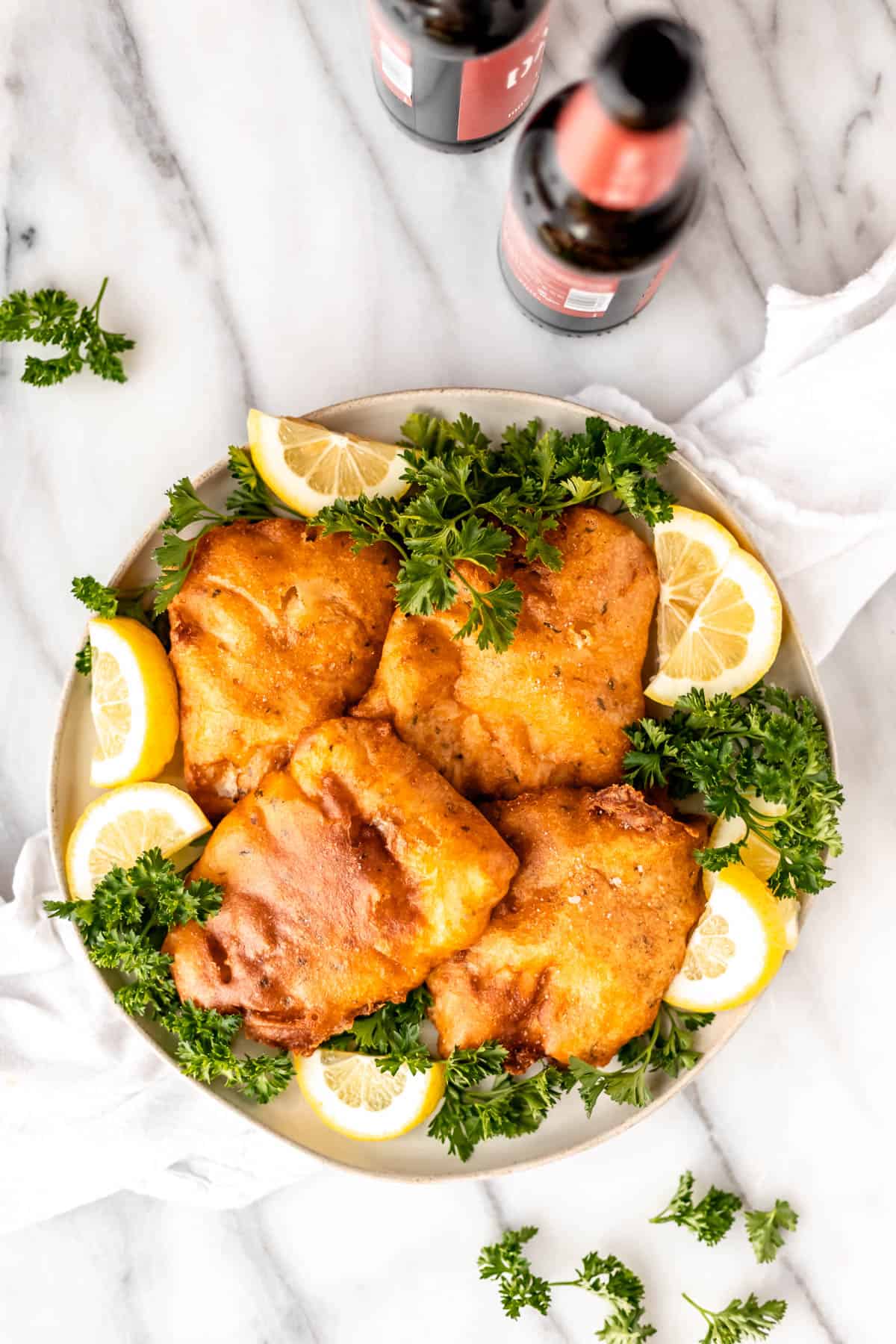 This post contains affiliate links. See our Disclosure Statement for more information.
This recipe for Beer Battered Cod, cooked in a deep fryer, is the perfect main dish to make for a quick, delicious meal. It's so easy to make; all you have to do is whip up the batter, dip the fish, and fry it until golden.
Since the cod is deep fried, it takes only a few minutes to cook completely, and you will have dinner ready on the table in no time at all.
The light, yet crunchy exterior is a tasty contrast to the juicy, tender fish. Everyone will agree that these cod filets are absolutely delicious.
Deep fried fish is definitely a comfort food pleasure, but if you prefer a lighter way to prepare cod, check out my recipe for Broiled Cod or Cod Picatta. If you would like to enjoy crispy fish, but without the deep frying, Pan-fried Cod is the recipe for you.
Why This Recipe Works
This is a super quick and easy recipe. From start to finish, it takes just 15 minutes.
If you don't have cod, or don't care for it, you can use pretty much any white fish. White fish, like cod, is very versatile and can be easily baked or fried, as well as used in a wide variety of recipes like fish stew and fish tacos.
This recipe has been tested, and turns out just as beautifully, when using gluten free flour and gluten free beer.
Step-By-Step Instructions
Ingredients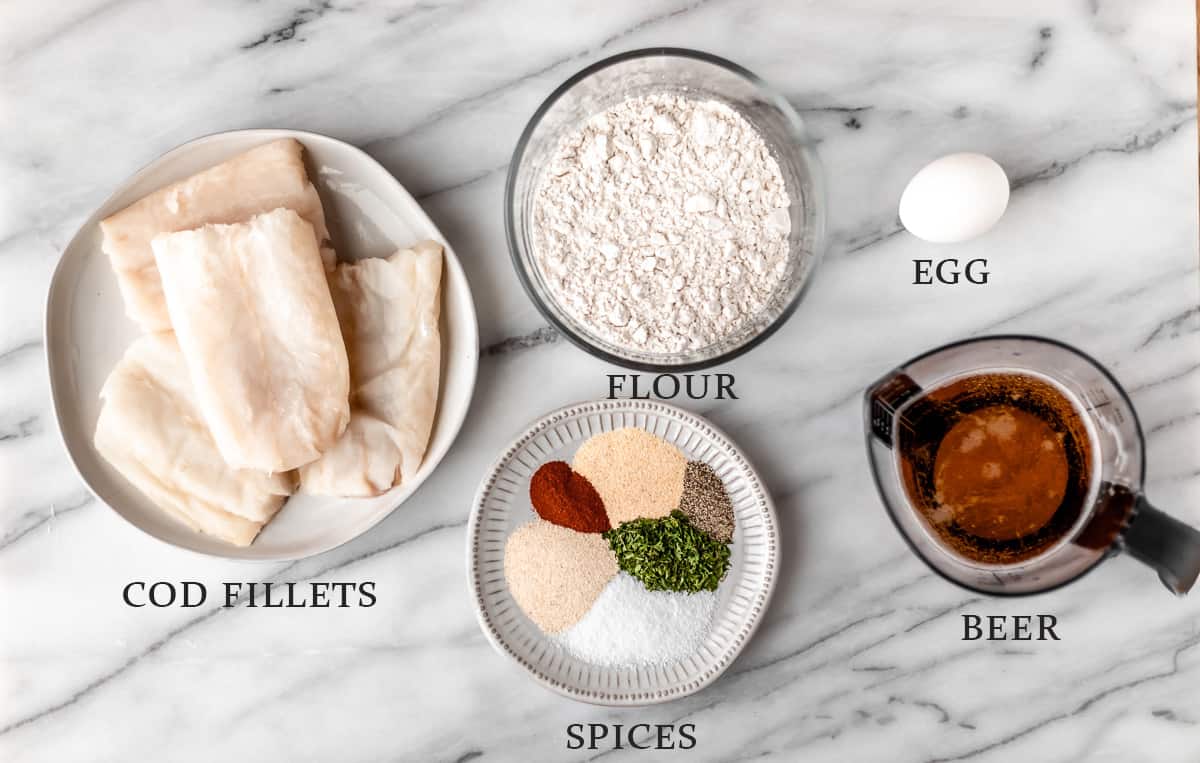 1 pound cod fillets
1 cup all purpose flour: you can use all purpose gluten free flour, if needed.
1 teaspoon garlic powder
1 teaspoon onion powder
1 teaspoon dried parsley
1/2 teaspoon paprika
1 teaspoon salt
1/4 teaspoon pepper
1 egg (lightly whisked)
1 cup beer: you can use gluten free beer, if needed.
Oil for frying: I use peanut oil when using the deep fryer.
The entire recipe and instructions can also be found in the recipe card at the bottom of this post. You can also print the recipe from the card, if needed.
Prep!
Cut your cod fillets into individual serving sizes, if necessary. Pat dry with paper towels.
Preheat your deep fryer to 350°F.
Note: if you don't have a deep fryer, please see this recipe for Pan-Fried Cod for instructions on how to fry cod in a skillet on the stove top.
Create!
In a large bowl combine the flour, garlic powder, onion powder, parsley, paprika, salt, and pepper. Add the whisked egg and beer and combine with a whisk until evenly combined.
Dip each fish fillet into the beer batter, then carefully place it in the deep fryer. You may have to work in batches.
Chef's Tip: when frying battered fish, I like to leave the fryer basket in the oil, then carefully place the coated fish into the oil. This helps keep the fish from sticking to the basket as much.
Fry for 3 to 4 minutes, depending on the thickness of your fillets.
Cod is done when it's golden brown and opaque and flaky when cut into. You can also check for doneness with a meat thermometer. Insert the thermometer into the center of the thickest piece of fish. The temperature needs to reach 145°F.
Transfer to a paper towel-lined plate to absorb any excess oil before serving. Sprinkle with a pinch of salt, if desired.
Present!
Serve with a squeeze a lemon or cocktail sauce, if you prefer.
Tips and Techniques
If you don't have cod, or don't care for it, you can use pretty much any white fish. Other fish that would work great in this recipe are halibut, haddock, flounder, grouper, and snapper.
You can use gluten free flour and gluten free beer, if needed.
Store leftovers in an airtight container. Consume within 3 to 4 days.
FAQ's
Can You Use Frozen Cod?
Yes, just allow the cod to thaw in the refrigerator before cooking it. You want to defrost it as close to cooking it as possible.
How Do You Know When Fish Is Done Cooking?
Fin fish is done cooking when it's opaque, flakes easily with a fork, and the internal temperature, when checked with a meat thermometer inserted into the center of the thickest portion, reaches 145°F.
What Do You Serve with Fried Fish?
Fried fish is often served with chips, or french fries, but you can serve a huge variety of sides with fried fish. Potatoes, rice, pasta, or pretty much any vegetable are all delicious side dishes to try with fish.
More Cod Recipes
Love this Beer Battered Cod recipe? Follow me on Pinterest, Instagram, and Facebook for more!
If you try this recipe, I would really appreciate it if you would please leave a comment and star rating. Thanks!