Bacon Roasted Potatoes are the absolute best comfort food side dish to pair alongside just about any meal. These potatoes are crisp on the outside and melt-in-your mouth creamy in the center. They are perfectly paired with sweet, caramelized shallots and bits of crispy bacon and whole grain mustard in every bite.
This post contains affiliate links. See our Disclosure Statement for more information.
Mashed potatoes have always been my favorite. When my birthday came around, every year my request dinner was with roast beef with mashed potatoes and peas or creamed chipped beef over mashed potatoes.
But honestly, I love potatoes in all forms. Crispy Oven Roasted Potatoes are a close second to mashed these days.
But now, I've done gone and added bacon to them?! It doesn't get much better than this.
This recipe was inspired by a similar recipe I came across is a Good Housekeeping magazine. Their recipe used an air-fryer, so I modified it. This version is started on the stovetop and finished in the oven. The potatoes are actually cooked in the bacon grease for the most delicious bacon-y flavor throughout.
Why This Recipe Works
It's an easy side dish recipe that you can pair with tons of main dishes.
You only need 4 ingredients and 45 minutes to make these potatoes.
It's potatoes and bacon. Bacon. Need I say more?
How To Make Bacon Roasted Potatoes
Ingredients
Yukon Gold or russet potatoes work best in this recipe.
You can substitute a small onion for the shallot, if preferred.
The entire recipe and instructions can be found in the recipe card at the bottom of this post. You can also print the recipe from the card, if needed.
Prep!
Scrub and rinse the potatoes. Cut into bite size pieces. You do not need to peel the potatoes.
Chef's Tip: keep the potatoes as close to the same size as possible so that they cook evenly.
Dice the bacon and slice the shallot in 1/4-inch thick pieces.
Preheat your oven to 425°F.
Create!
Add the diced bacon to an oven-proof skillet or cast iron skillet on medium heat.
Chef's Tip: if you do not have an over-proof skillet, you can transfer the potatoes and shallots to a baking sheet instead.
Cook stirring often, until crisp. Remove the bacon with a slotted spoon to paper towel-lined plate and set aside.
Drain all but 2 tablespoons of the bacon grease from the pan.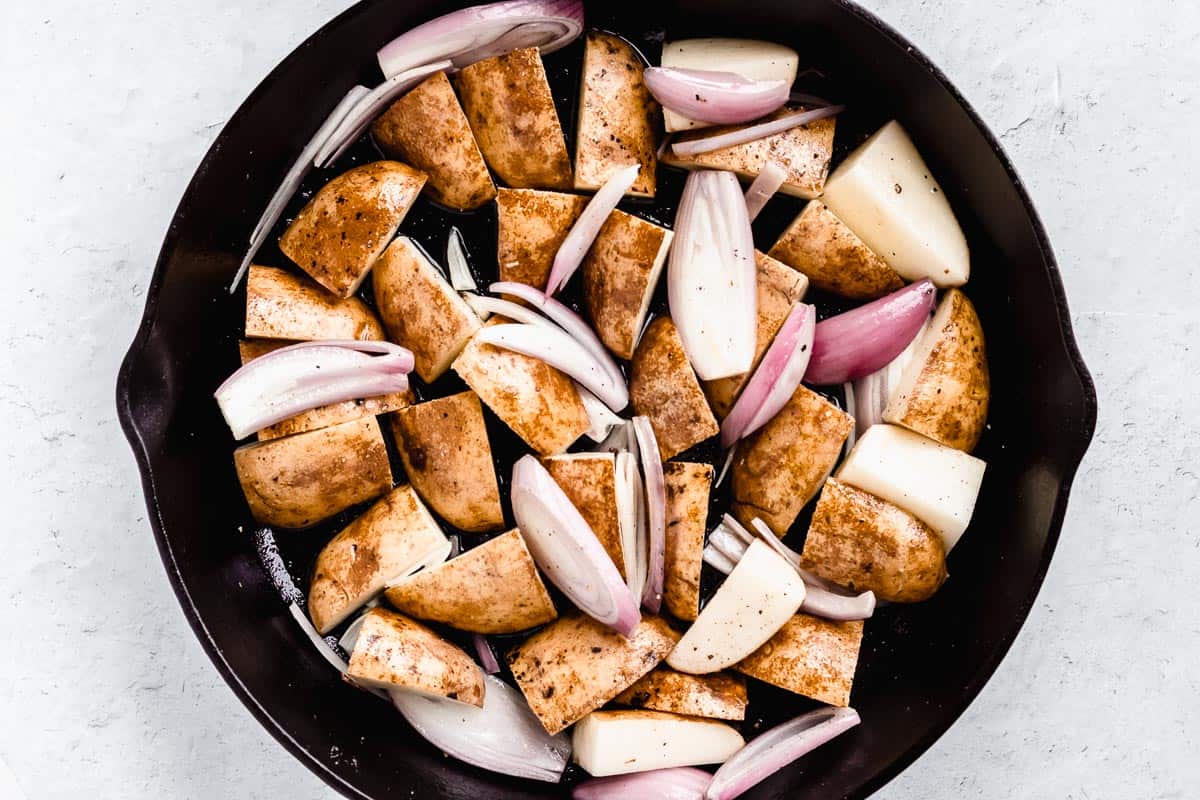 Add the potatoes, shallots, salt and pepper to the pan. Toss to coat the vegetables in the bacon grease and then spread into a single layer.
Transfer the pan to the oven.
Cook for 35-45 minutes, tossing every 5-10 minutes until the potatoes are tender and the shallots are caramelized.
Chef's Tip: be sure to toss the vegetables regularly, as the shallots may burn if not stirred frequently enough. If you don't want caramelized shallots, add them halfway through cooking the potatoes.
Remove the potatoes from the oven and immediately toss with the whole-grain mustard and reserved bacon.
Present!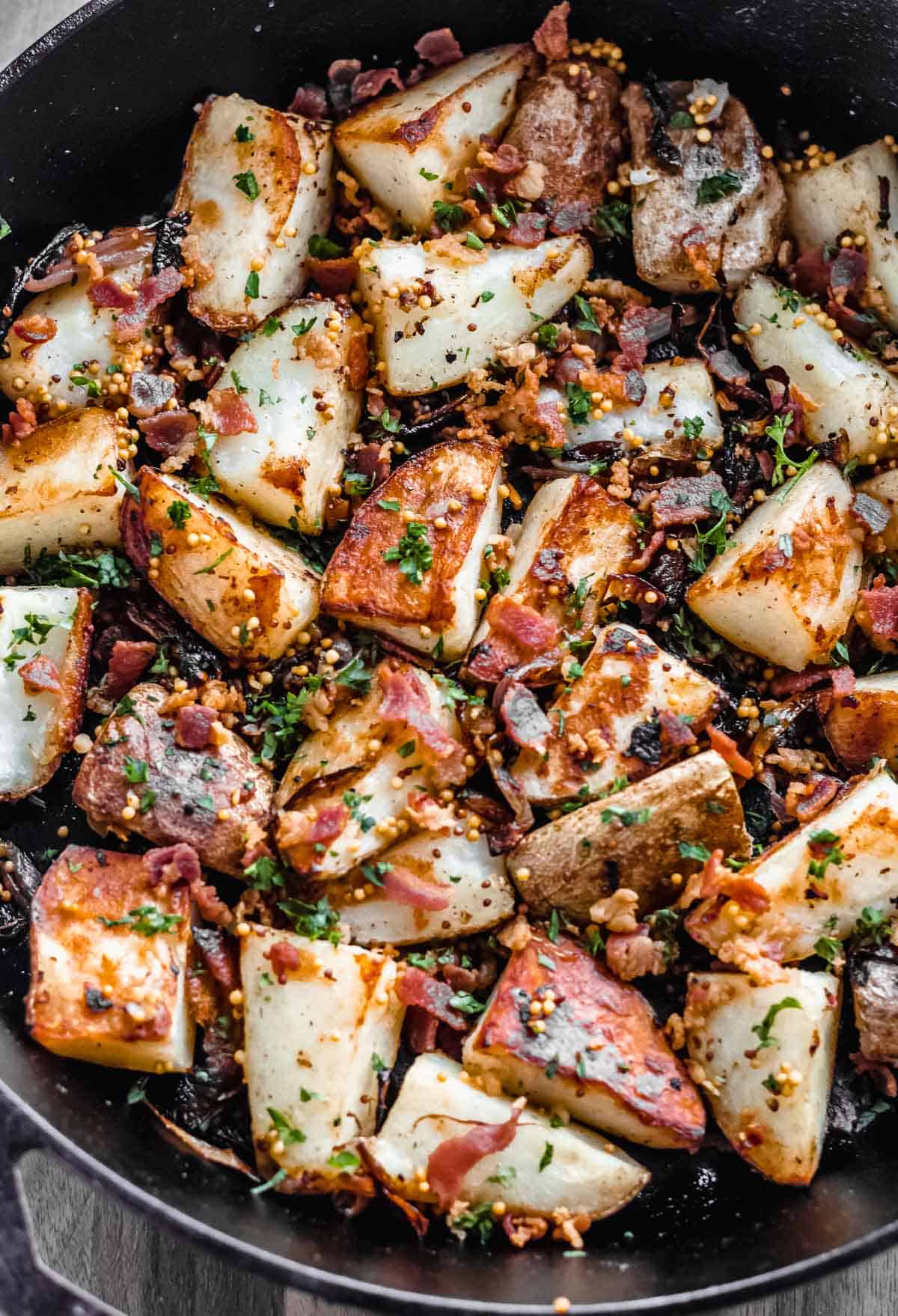 Garnish with a sprinkle of fresh minced parsley, chives or thyme, if desired. Serve hot.
Tips and Techniques
Use russet or Yukon Gold for the best results. Although all potatoes can be roasted, not all get crispy or have the same results.
Make sure to cut your potatoes approximately the same size for even cooking.
Store leftovers in an airtight container in the refrigerator. Use within 3-5 days. You can also freeze roasted potatoes for up to year, although there may be some slight changes in texture.
FAQ's
What Potatoes Are Best For Roasting?
You can roast pretty much any kind of potato, but russet and Yukon Gold potatoes give the best results.
Should You Boil Potatoes Before Roasting Them?
You don't have to boil potatoes before roasting them. It does reduce the time you have to roast them and may help make the skins crispier.
More Potato Side Dish Recipes
Love this Bacon Roasted Potatoes recipe? Follow me on Pinterest, Instagram, and Facebook for more!
If you try this recipe, I would really appreciate it if you would please leave a comment and star rating. Thanks!