Amish Potato Salad is a summer time staple. This side dish recipe is made with chunks of potatoes, onion and red pepper tossed in a sweet and tangy dressing. Amish Potato Salad is the best for serving at backyard barbecues and cookouts.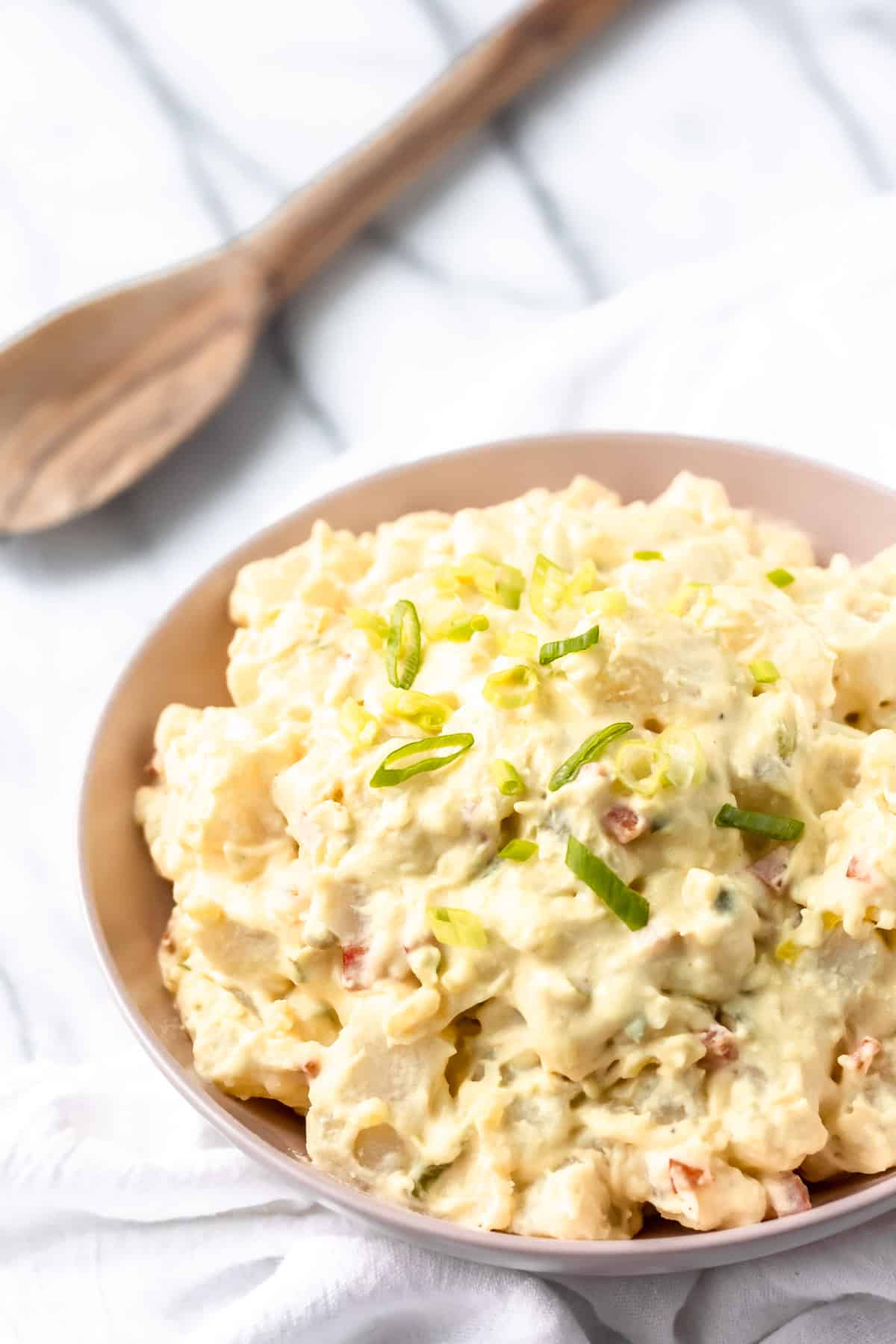 This post contains affiliate links. See our Disclosure Statement for more information.
Growing up near an Amish community in Delaware meant having some of their most popular recipes available anytime we wanted them. We often buy Amish Potato Salad and Amish Pasta Salad, but I just recently learned how to make Amish Broccoli Salad too!
Having recently bought Amish Potato Salad from just about every local grocery store, including Byler's which is an Amish-owned grocery store, I quickly realized that they are all slightly different.
My recipe below is a copycat recipe using some of the most commonly found ingredients in all of the different variations that I tried. I've also included some of the most common adaptations.
Why This Recipe Works
Potato salad is a quick and easy side dish. It can be made ahead of time, if needed.
Amish potato salad dressing is sweeter and tangier than traditional potato salad. This recipe tastes very similar to store-bought Amish potato salad but without all of the added preservatives and thickeners.
This recipe is perfect for summer barbecues, cookouts and potlucks.
Ingredients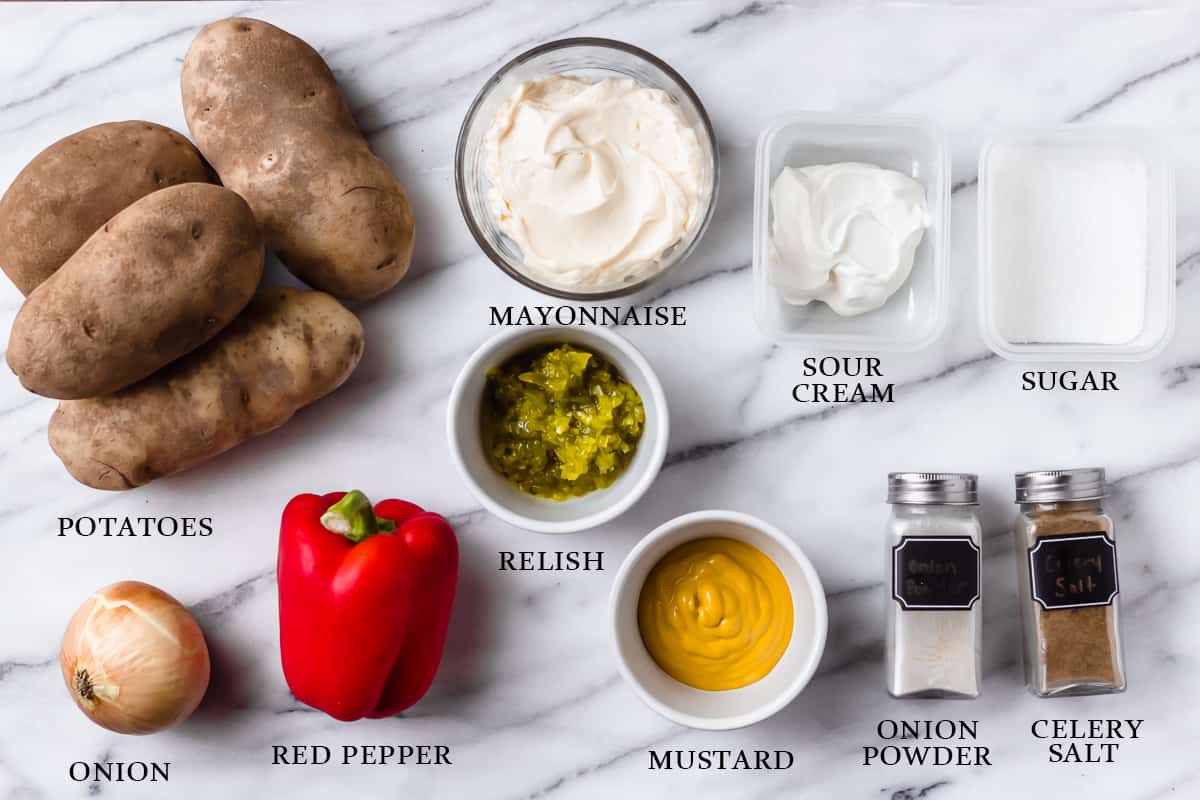 Potatoes: waxy varieties like new or Yukon gold potatoes, work best.
Onion
Red Pepper
Sweet Relish
Mayonnaise
Sour Cream
Yellow Mustard
Sugar
Spices: onion powder, celery salt or celery seed.
The entire recipe and instructions can also be found in the recipe card at the bottom of this post. You can also print the recipe from the card, if needed.
Prep!
Peel your potatoes and cut into bite size pieces.
Finely dice the onion and red pepper.
Create!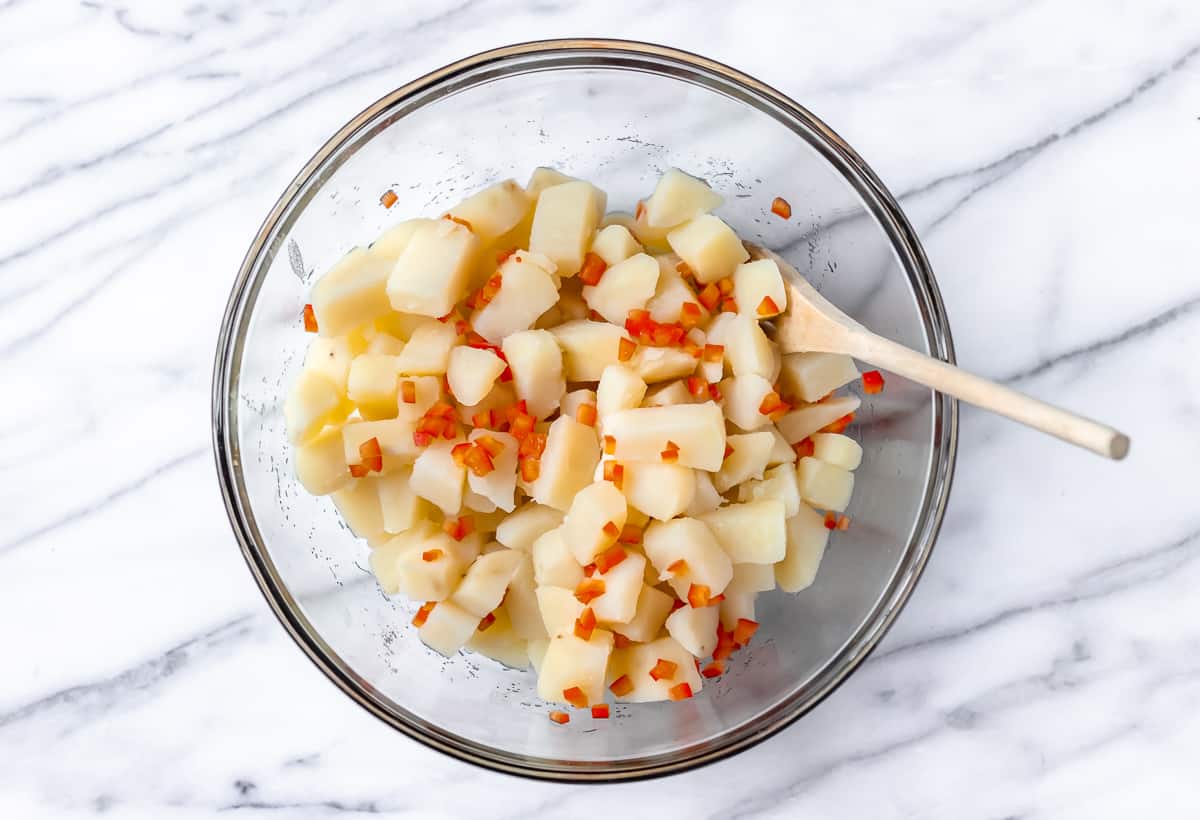 Add potatoes to a large pot of cold, salted water. Bring to a boil and cook until just fork tender, about 5-10 minutes depending on the size of the potatoes.
Drain potatoes and rinse under cold water to stop the cooking process and cool them. Transfer to a large bowl with the onion and red pepper.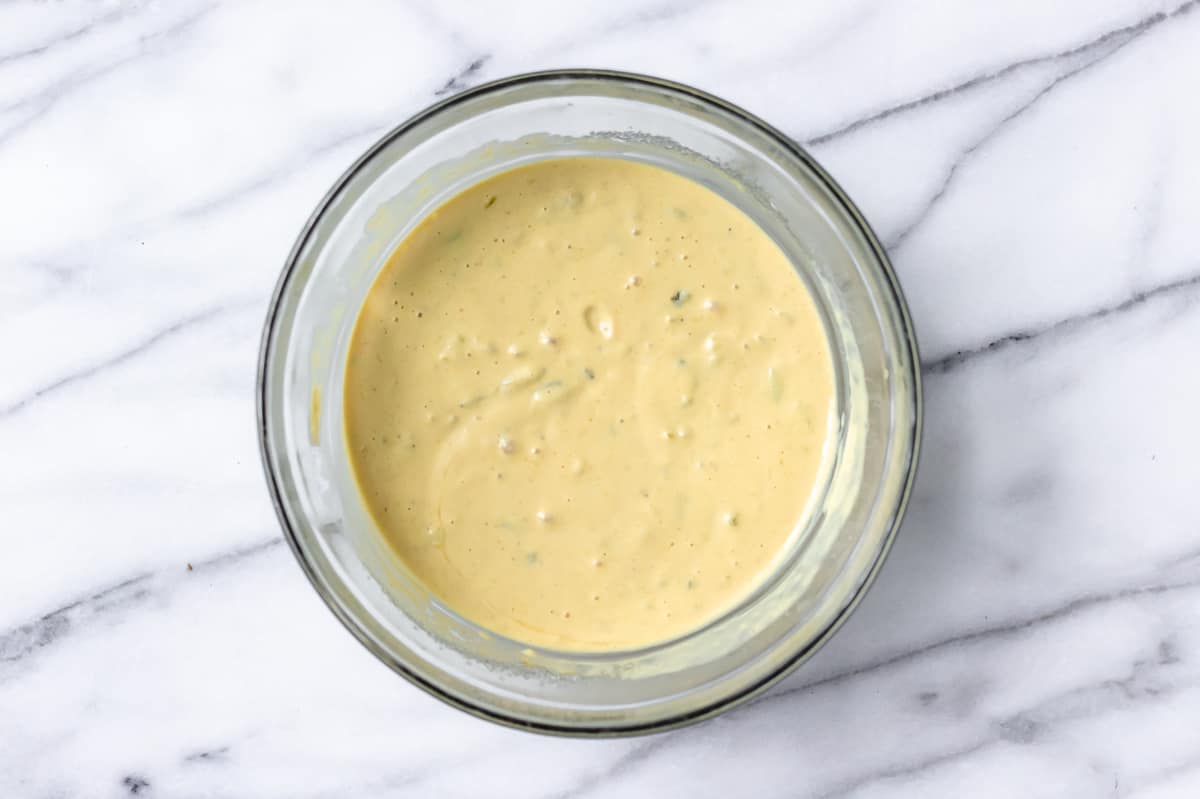 In a medium bowl, combine the mayonnaise, sour cream, relish, mustard, sugar, onion powder and celery salt. Taste and adjust seasonings, as desired.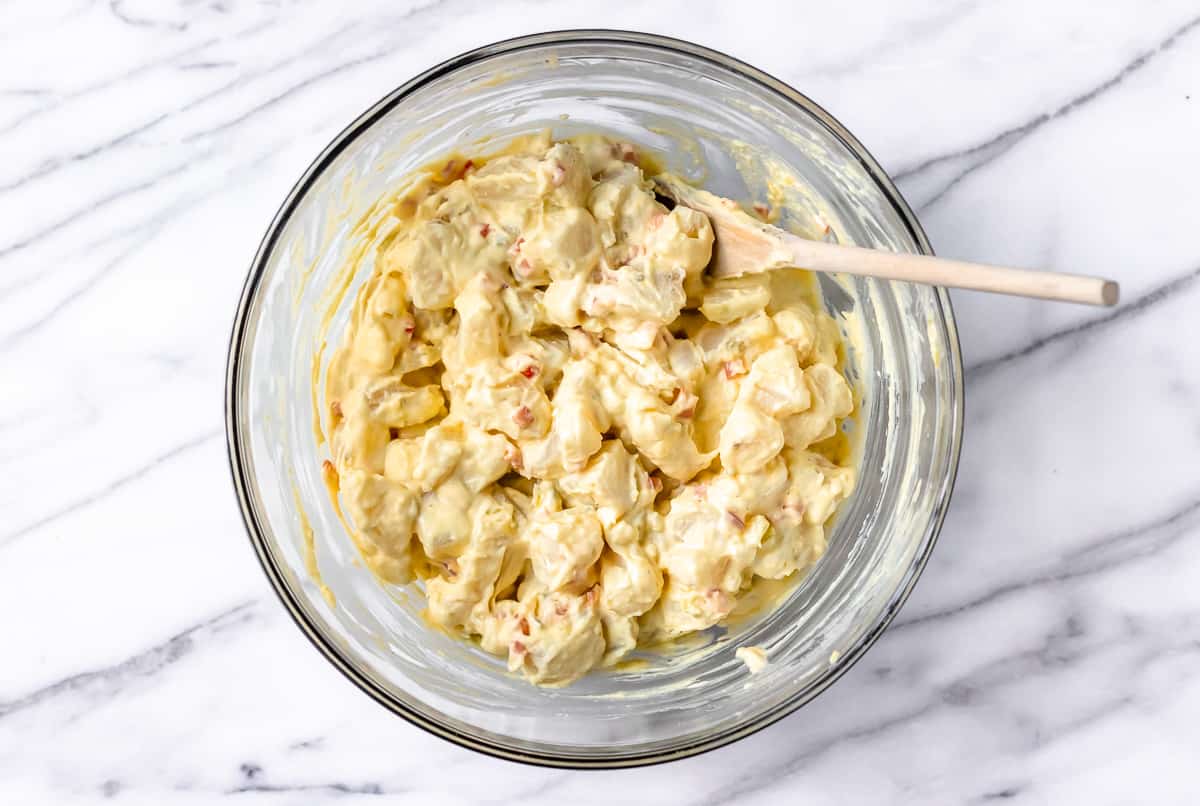 Add the dressing to the potatoes and toss to combine.
Present!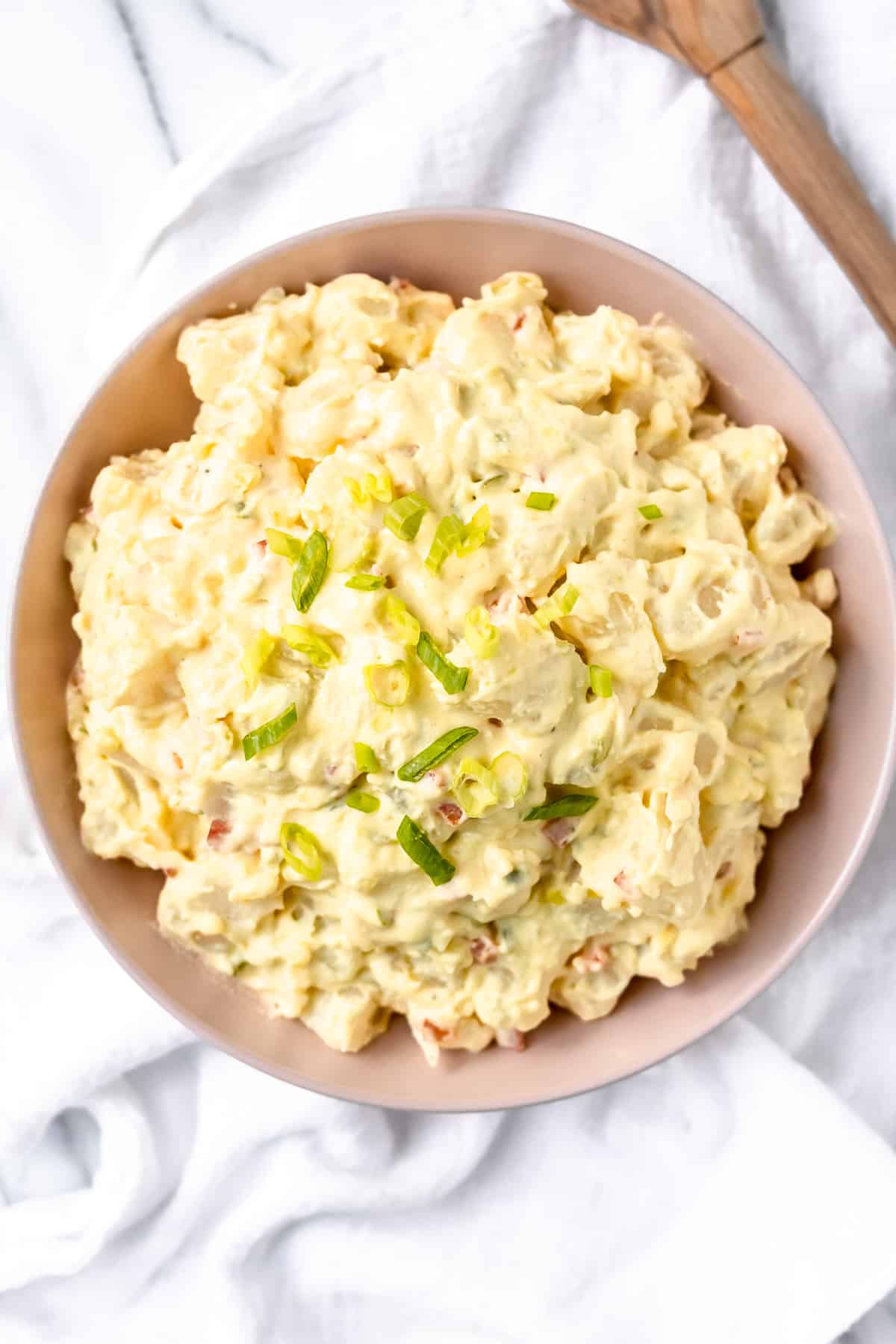 Garnish with green onion slices or parsley, if desired.
Common Adaptations
Amish potato salad recipes vary greatly. Here are some of the most common adaptations that you may want to take. For the most part, the dressing is very similar between all of the recipes that I tried.
Omit relish.
Omit red pepper.
Add 3 or 4 chopped hard boiled eggs.
Add 1/4 cup diced celery.
Tips and Techniques
While you can use any type of potato, waxy potato varieties, like new or Yukon gold, are the best to use for potato salad.
Store any leftover potato salad in an airtight container in the refrigerator. Use within 3-5 days. If the potato salad sat out for longer than 2 hours in temperatures above 40°F, discard it.
FAQ's
Can You Make Amish Potato Salad Ahead Of Time?
Yes. You can make potato salad ahead of time and store it in the refrigerator, tightly covered, for up to 5 days.
Can You Freeze Amish Potato Salad?
Freezing potato salad is not recommended.
Can You Make Potato Salad Ahead Of Time?
Yes. You can make potato salad up to 3 days in advance so long as you store it in the refrigerator right away.
Should Potato Salad Be Served Warm Or Cold?
You can serve potato salad either warm or chilled. If potato salad is kept at 40°F or above for longer than 2 hours, it should be discarded. However, keeping it in the refrigerator extends its shelf life to 3-5 days.
What Is The Best Type Of Potato To Use For Potato Salad?
While you can use any type of potato, waxy potato varieties are the best to use for potato salad. They hold their shape and prevent your potato salad from getting too watery. Some varieties to look for are red, fingerling, new, and Yukon gold.
More Summer Side Dish Recipes
Love this Amish Potato Salad Recipe? Follow me on Pinterest, Instagram, and Facebook for more!
If you try this recipe, please leave a comment and star rating. I would really appreciate it!