This flavorful Cauliflower Potato Salad is a quicker, low carb alternative to classic potato salad and is a delicious summer side dish. It is an easy keto friendly potato salad recipe, without the potatoes, but with all of the classic flavors from your favorite traditional potato salad.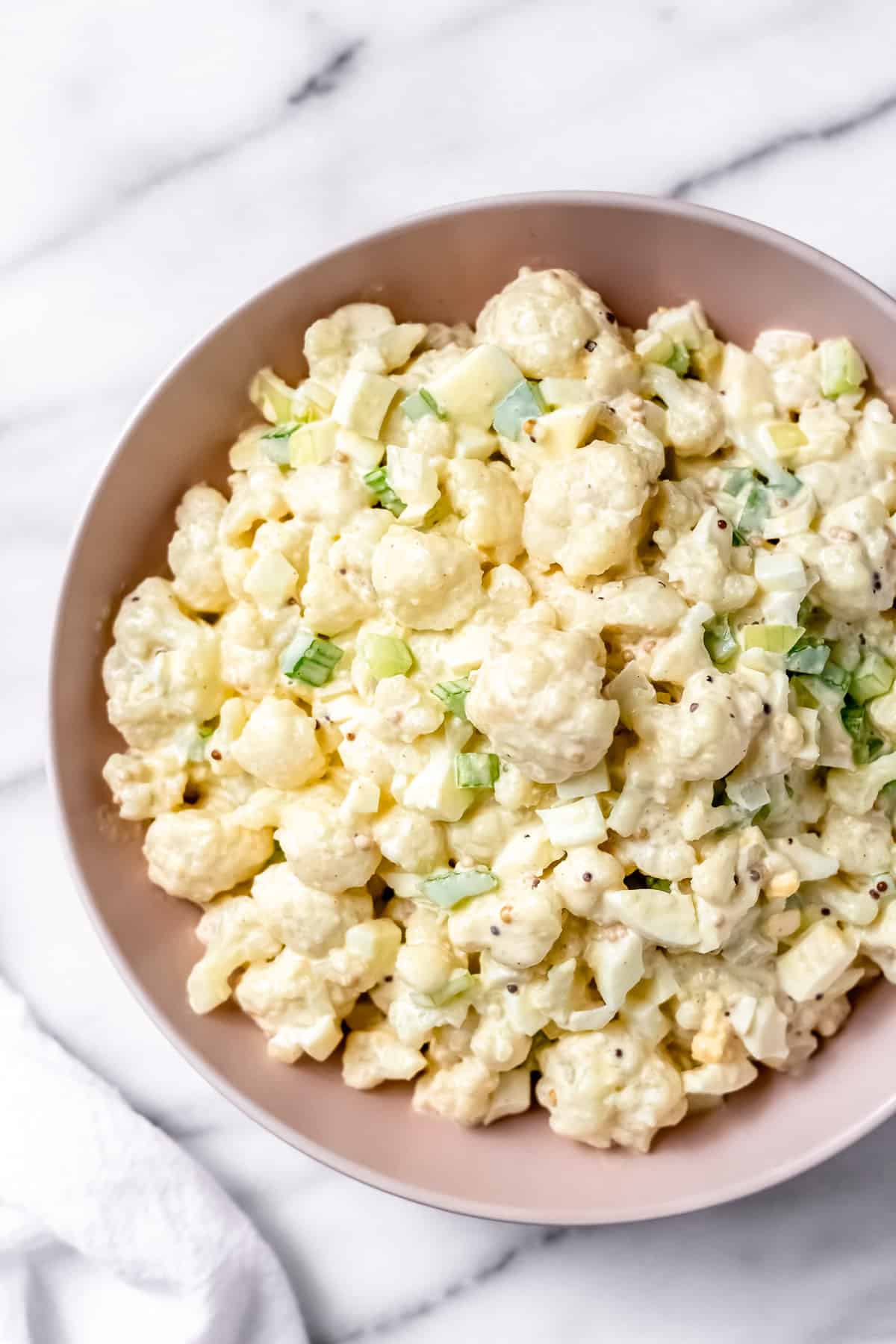 This post contains affiliate links. See our Disclosure Statement for more information.
You are sure to love this recipe for Cauliflower Potato Salad because it is quicker to prepare and lower in calories than classic potato salad but tastes just the same.
There are only 2 net carbs per serving, and it is a wonderful side dish to serve at summer cookouts and barbecues. This is the keto friendly version of potato salad.
You will still enjoy all the delicious flavors of traditional potato salad with this cauliflower salad since the recipe replaces the potatoes with cauliflower for a lighter, healthy alternative.
Just be sure not to overcook the cauliflower. The key is to cook it until it is just crisp-tender in order to mimic the texture of potatoes as much as possible.
Pair this easy to make side dish with a wide variety of main dishes for a complete homemade meal. Cauliflower Potato Salad is wonderful served outdoors at barbecues alongside entrees such as Grilled Turkey BLT Sandwiches, Mustard Chicken, and Chipotle Pork Chops, just to name a few.
It is an easy side dish to bring to potlucks, as well. If you enjoy this Cauliflower Potato Salad, be sure to try this similar low carb recipe, Loaded Cauliflower Salad, next!
Why This Recipe Works
The same ingredients in traditional potato salad are used to make the dressing in this recipe, except for the use of a keto-friendly mayonnaise and cauliflower. They are easy swaps to make.
Cauliflower Potato Salad is the perfect summer side dish, which you can serve with a huge variety of main dishes. It is great paired with BBQ and served at cookouts.
This dish is low carb, keto friendly, and gluten free – so most people with dietary restrictions can enjoy and you can feel good about eating it too.
How To Make Cauliflower Potato Salad
Ingredients
The entire recipe and instructions can also be found in the recipe card at the bottom of this post. You can also print the recipe from the card, if needed.
Prep!
Prepare the hard boiled eggs, let cool, peel, and chop. This step can be done ahead of time. If you are unsure how to properly hard boil eggs, you can reference this post to walk you through it.
Cut the cauliflower into bite size florets and finely dice the celery and onion.
Create!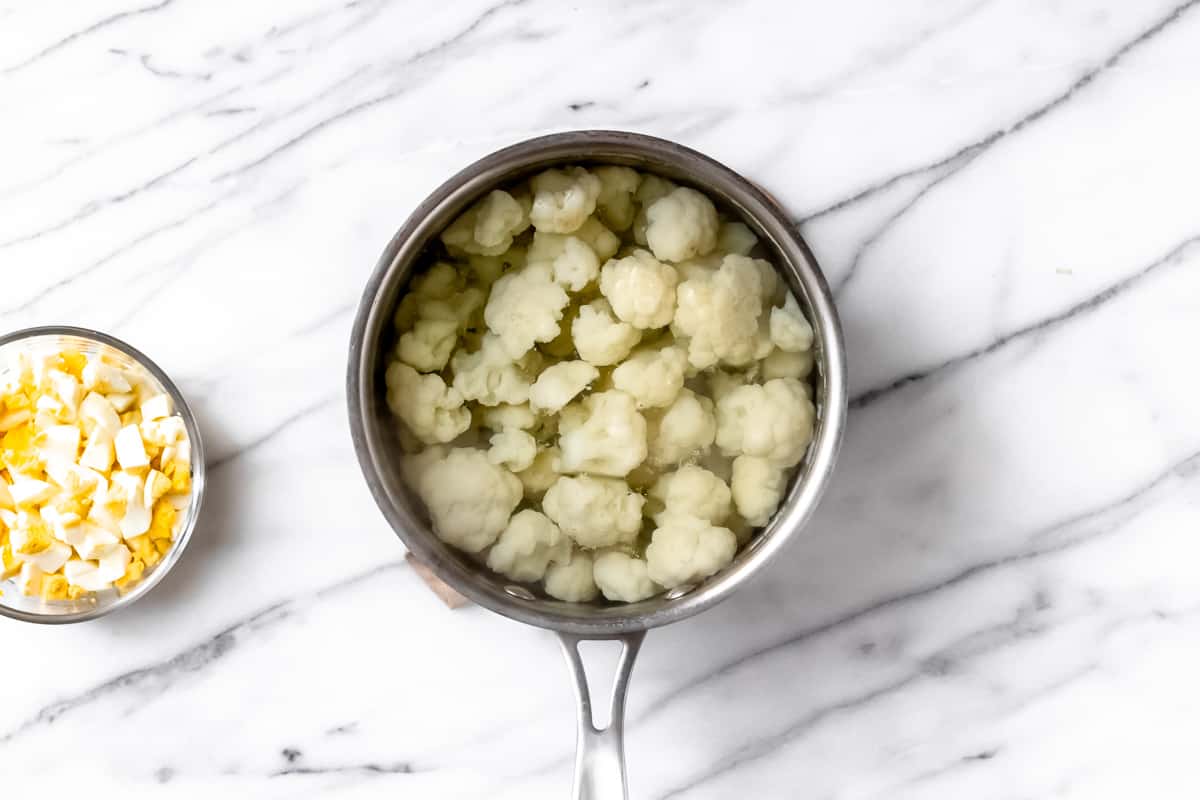 Bring a medium pot of salted water to a boil. Add the cauliflower, return to a boil, and cook until just fork-tender, about 3-5 minutes.
Strain the water out and run the cauliflower under cold water to stop the cooking process. Set aside.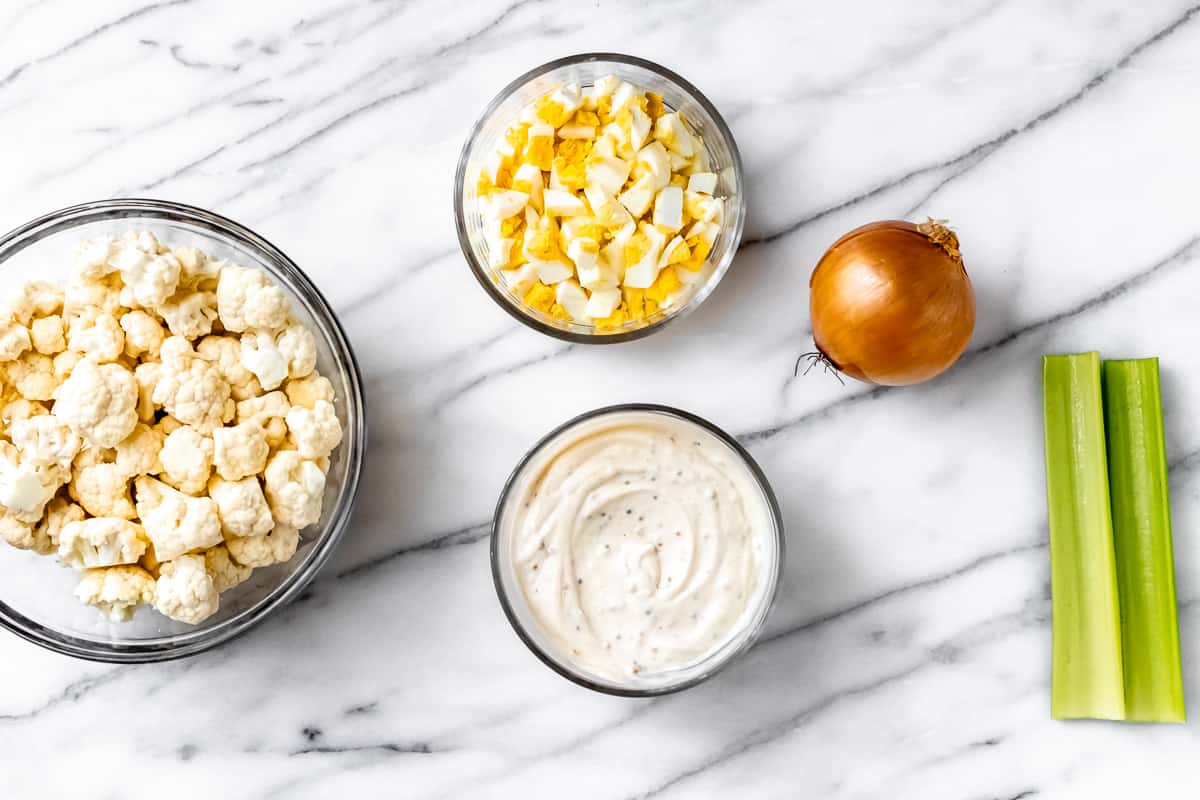 To make the dressing, whisk together the mayonnaise, apple cider vinegar, mustard, celery salt and pepper. Taste and adjust seasonings as desired.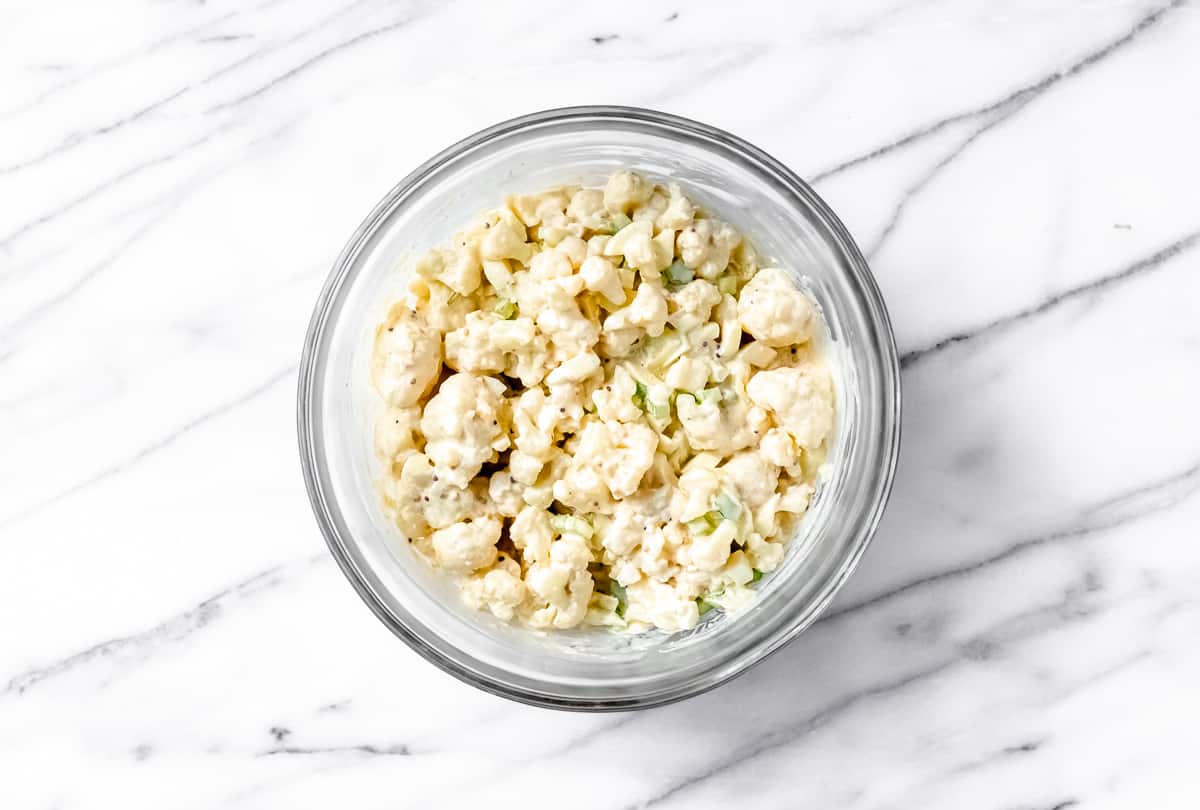 Add the cauliflower, hard boiled eggs, celery and onion to a large bowl. Pour in dressing and toss to combine.
Note: you may not need, or want to use, all of the dressing. This will depend mostly on the size of your head of cauliflower.
Present!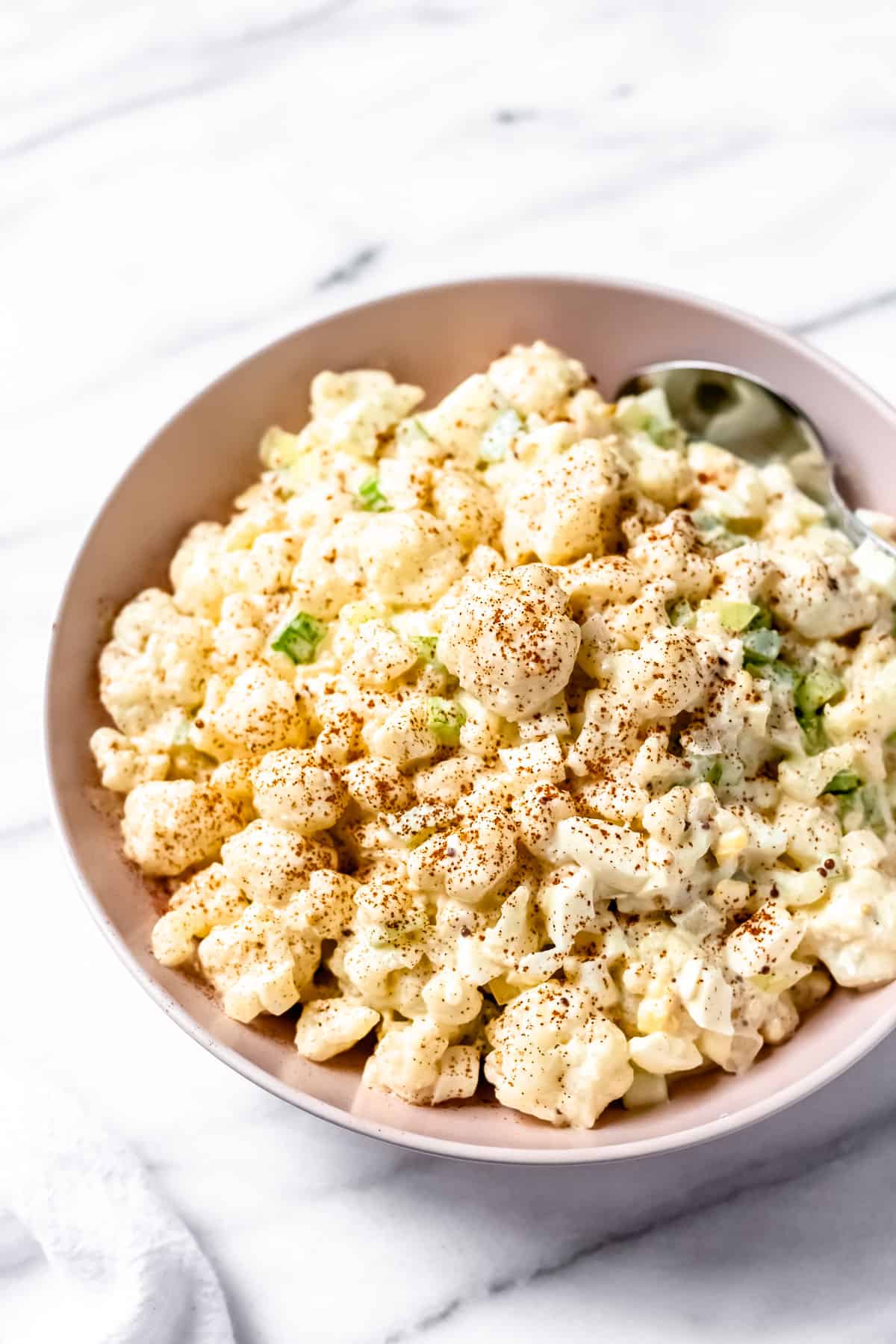 Transfer the cauliflower salad to a serving bowl. Garnish with paprika or fresh herbs like parsley or green onions, if desired.
Some other additions to this salad could be crumbled bacon, cheese, or even top it with deviled eggs.
Tips and Techniques
Use fresh cauliflower for the best flavor and texture.
You may not need or want to use all of the dressing. Be aware that not using all of the dressing will decrease the nutritional facts provided.
Store leftovers in an airtight container in the refrigerator. Consume within 3-5 days for best results.
FAQ's
Can You Make Cauliflower Potato Salad Ahead Of Time?
Yes, you can make this salad ahead of time. Keep it covered in the refrigerator for up to 3 days.
Is Cauliflower Keto?
Cauliflower is a very keto-friendly vegetable. One cup of chopped cauliflower contains 27 calories, 5 total grams carbohydrates, 2 grams of fiber, 3 net grams of carbohydrates and 2 grams of protein.
More Low Carb Summer Side Dishes
Love this Cauliflower Potato Salad recipe? Follow me on Pinterest, Instagram, and Facebook for more!
If you try this recipe, I would really appreciate it if you would please leave a comment and star rating. Thanks!