This easy recipe for crispy Air Fryer Cod can be made in 30 minutes or less and uses much less oil than traditional recipes for fried fish. The cod fillets come out of the air fryer crispy and flavorful. Air frying is a quick, healthier method for cooking a family-friendly meal.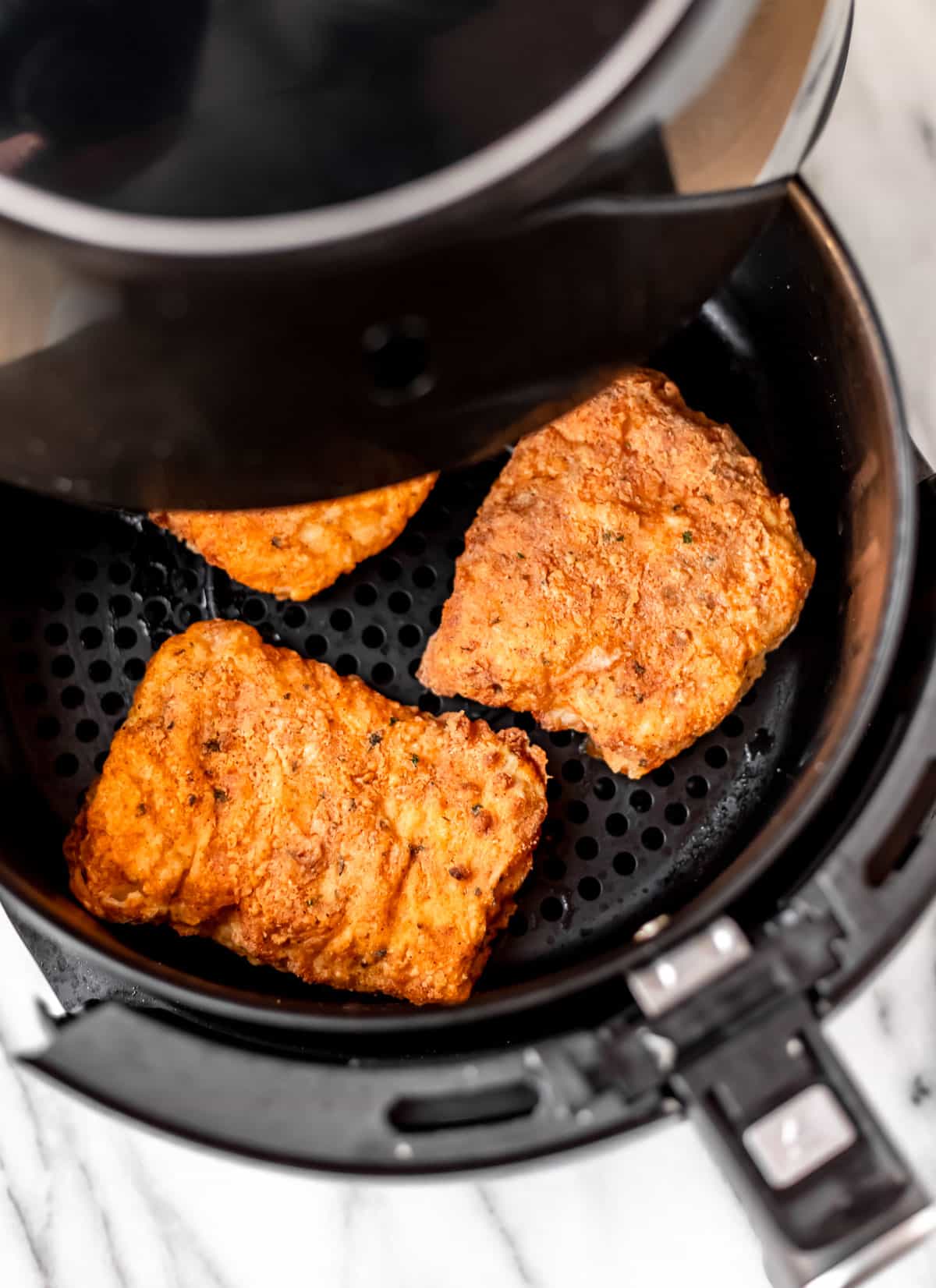 This post contains affiliate links. See our Disclosure Statement for more information.
The air fryer is one of my favorite kitchen gadgets, and I've been using it a lot more often. It's so easy to use and everything always comes out perfectly – including this cod recipe which is the air fryer version of my favorite deep-fried Fried Cod recipe.
It's a quick-cooking recipe that is perfect for weeknight meals. Since you aren't using very much oil, it's lower in calories, too!
Why This Recipe Works
This is a quick, 30-minute meal and the recipe is very simple to follow.
All you need is a handful of pantry staples, so you don't really need to plan too much or make an extra trip to the grocery store. You can swap out cod for other mild white fish like halibut or tilapia.
Crispy Air Fryer Cod is a very kid friendly recipe. Cod is a very mild fish and doesn't have the "fishy" flavor that some seafood is notorious for.
Step-By-Step Instructions
Ingredients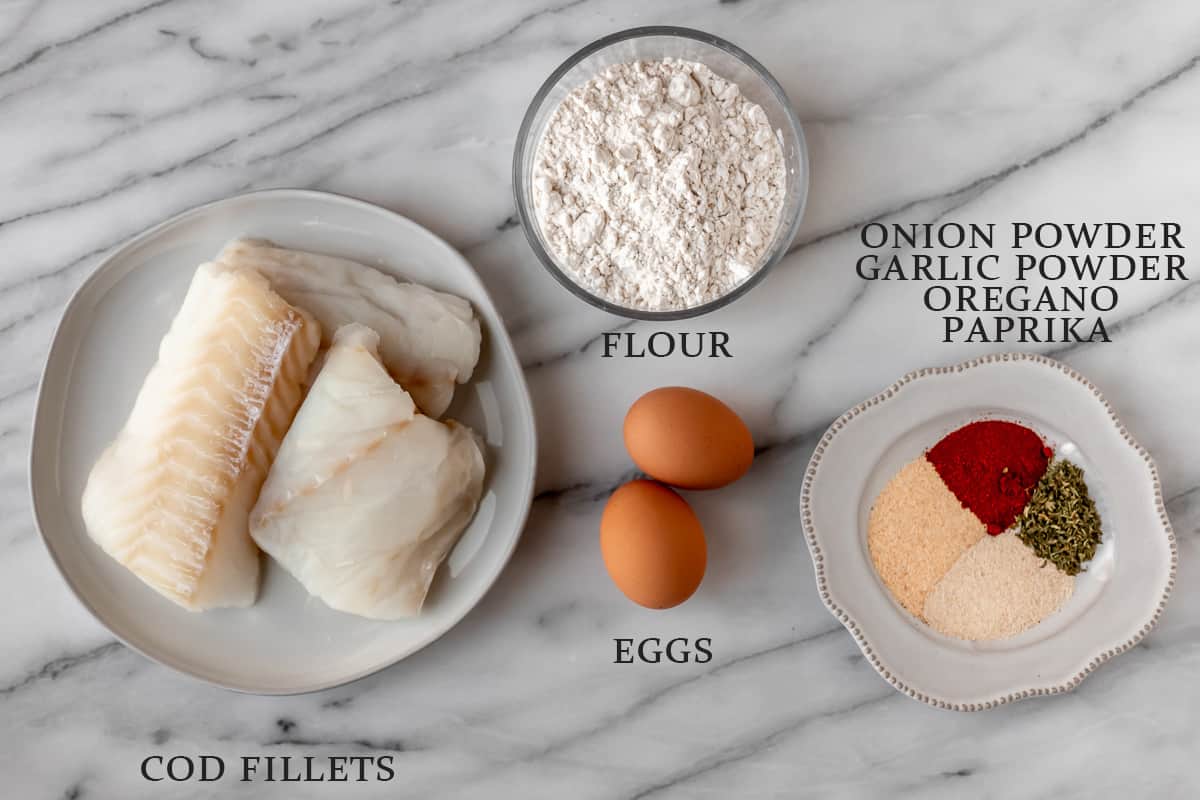 1 cup all purpose flour: you can use gluten free flour, if needed. You can also use a combination of flour and breadcrumbs or panko, if preferred.
1 teaspoon garlic powder
1 teaspoon onion powder
1 teaspoon paprika
1 teaspoon parsley
1/2 teaspoon salt (plus more for sprinkling)
1/2 teaspoon pepper
1 pound cod fillets
cooking spray: this is used to coat the bottom of the air fryer basket and lightly sprayed on the chicken to keep it from sticking.
The entire recipe and instructions can be found in the recipe card at the bottom of this post. You can print the recipe from the card, if needed.
Prep!
Place the flour, salt, pepper, garlic powder, onion powder, paprika and parsley in a shallow dish or bowl and whisk the eggs in a second bowl.
Pat the cod fillets dry with paper towels.
Create!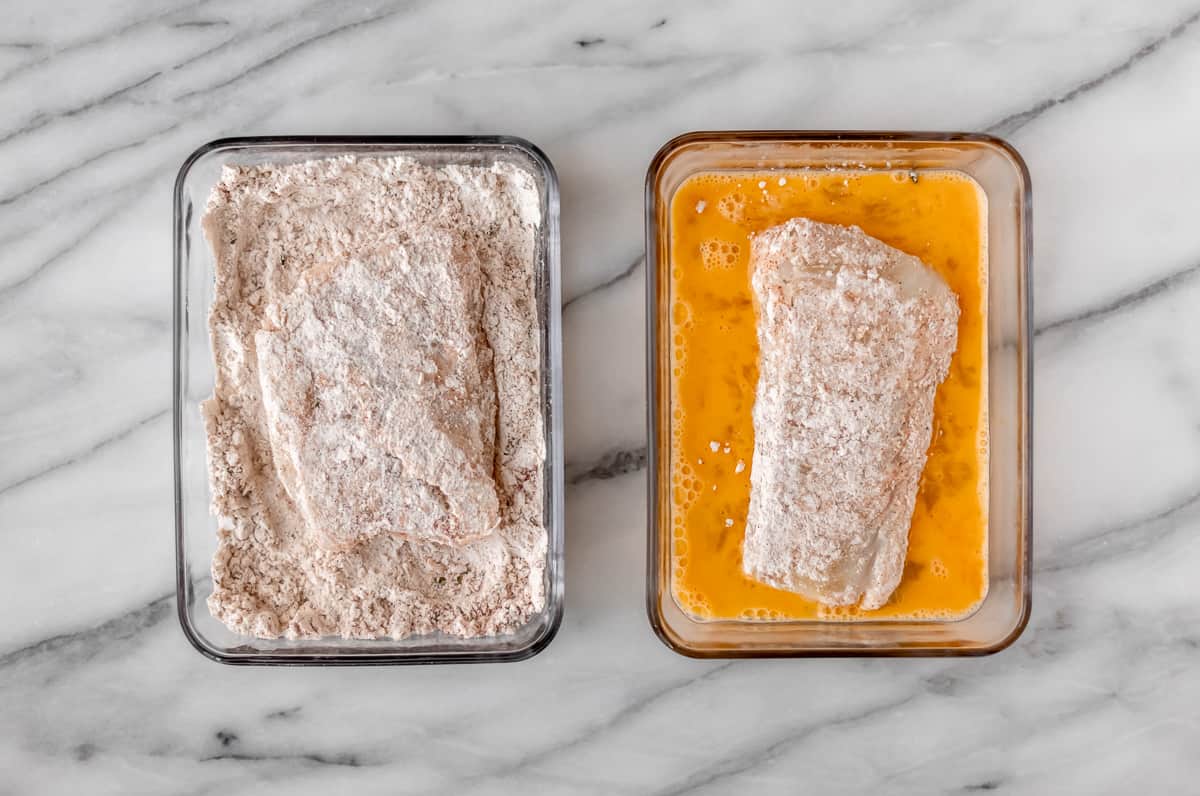 Coat each cod fillet in flour, then dip into the egg, let the excess drip off and then dip it back into the flour to coat thoroughly. Place the coated cod fillets on a plate.
Chef's Tip: if you'd prefer to use breadcrumbs or panko instead of all flour, after dipping each cod fillet into the egg, dip it into breadcrumbs on panko spread out onto a plate or shallow bowl.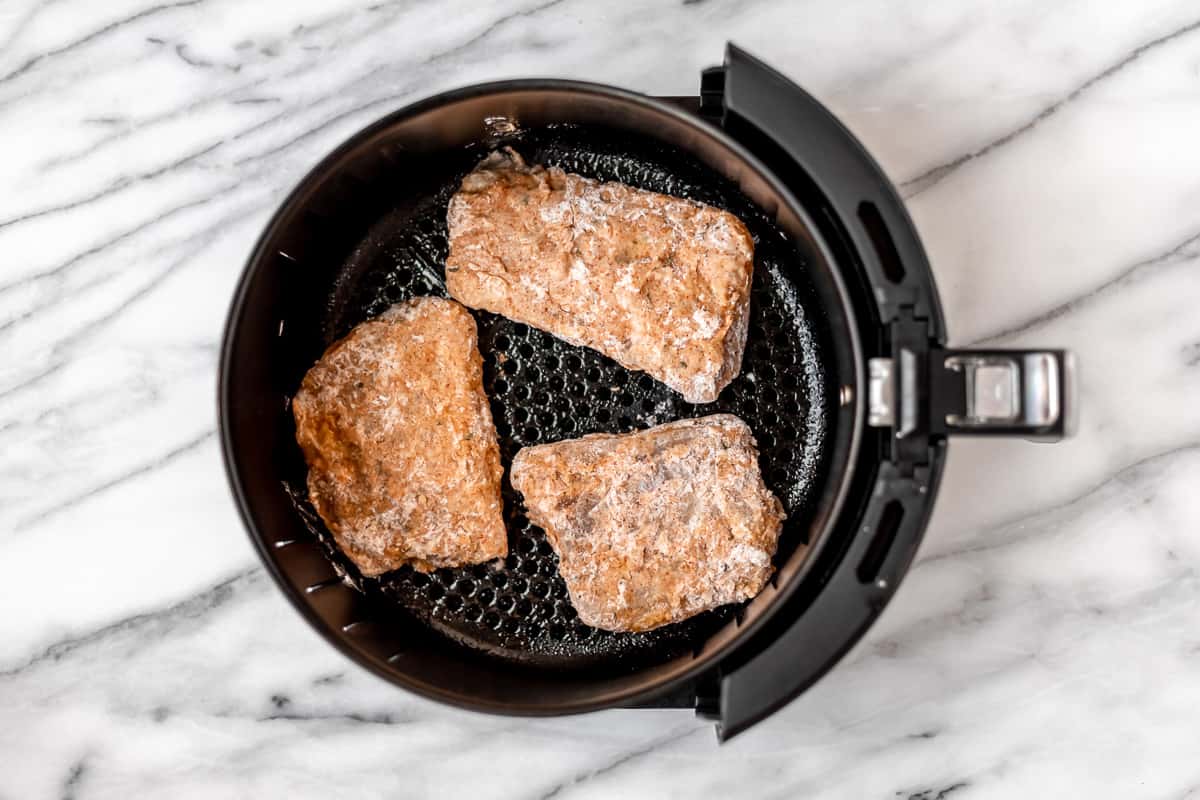 Spray the bottom of the air fryer basket with olive oil or non-stick cooking spray. Place the breaded cod fillets into the basket of your air fryer being careful to leave a little space in between each one.
You will likely have to work in batches.
Spray the tops of the cod with olive oil or non-stick cooking spray. If using only flour for breading, you will want to make sure it's all lightly moistened with either the egg or the spray to prevent dry spots during air frying.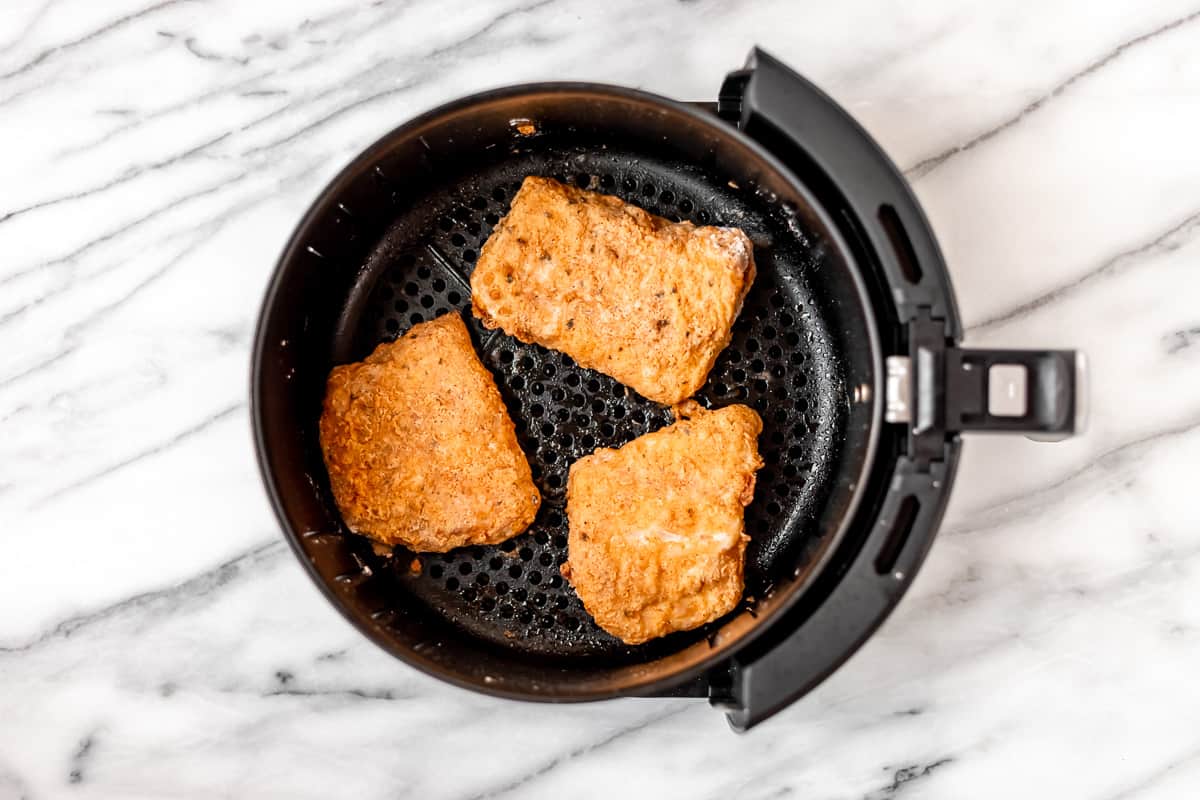 Set your air fryer to 400°F. Cook for 5 to 6 minutes, depending on the thickness of your cod fillets. Flip and cook an additional 4 to 6 minutes or until the cod is cooked through and flaky. The internal temperature of cod needs to reach 145°F on a meat thermometer inserted into the center of the thickest portion.
Transfer the cod to a paper-towel lined plate and sprinkle with salt to taste.
Present!
Serve with fresh, minced parsley, lemon slices and/or cocktail or tartar sauce, if desired.
Tips and Techniques
Ensure the cod is dry before breading. This will help the breading stick to the fish better.
The thickness of the cod fillets will cause cooking times to vary slightly. For thinner, smaller fillets, you may want to start with 4 to 5 minutes on each side then check for doneness before continuing.
Store leftover cod fillets tightly covered in the refrigerator. Reheat in an oven or toaster oven to re-crisp the breading. Consume within 3-4 days.
FAQ's
Can You Use Frozen Cod?
Yes, just allow the cod to thaw in the refrigerator before cooking it. You want to defrost it as close to cooking it as possible.
How Do You Know When Fish Is Done Cooking?
Fin fish is done cooking when it's opaque, flakes easily with a fork, and the internal temperature, when checked with a meat thermometer inserted into the center of the thickest portion, reaches 145°F.
What Do You Serve with Fried Fish?
Fried fish is often served with chips, or french fries, but you can serve a huge variety of sides with fried fish. Potatoes, rice, pasta, or pretty much any vegetable are all delicious side dishes to try with fish. Lemon slices, cocktail or tartar sauce are also delicious accompaniments.
More Cod Recipes
Love this Air Fryer Cod Recipe? Follow me on Pinterest, Instagram, and Facebook for more.
If you try this recipe, I would really appreciate it if you would please leave a comment and star rating. Thanks!