This recipe for Cod Cakes is adaptable and perfectly suitable to serve as an appetizer or main course. Lemon Garlic Cod Cakes are an easy favorite enjoyed by many. The fast preparation and quick cooking method yield bite-sized fish cakes, which are a delectable treat for all.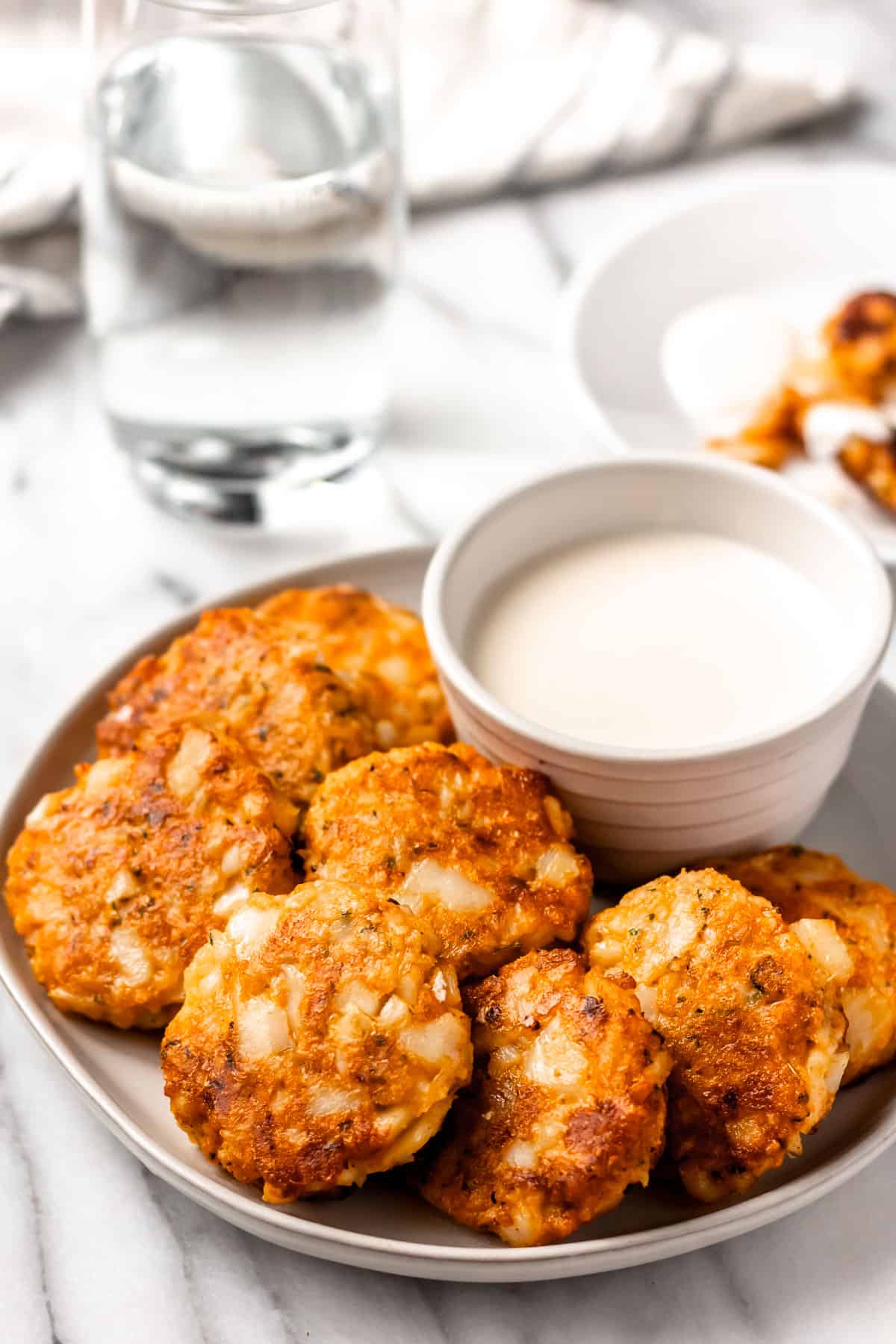 This post contains affiliate links. See our Disclosure Statement for more information.
Fish cakes are one of my favorite dishes to prepare. Not only are they quick and easy to make, but they are delicious to eat and a fun main dish to serve as well.
This recipe for Cod Cakes is simple because all you need to do is shred a pre-cooked cod filet, combine the fish with the remaining ingredients, form patties, pan-fry, and serve.
Lemon garlic cod cakes are just as fresh and flavorful as Broiled Cod and Cod Piccata, but they are served in more of a bite-sized form. These little cod cakes are the best dish to serve as a tasty appetizer at your next get together.
This dish would be delicious served with a homemade dipping sauce such as Roasted Garlic Lemon Aioli, tartar sauce, Roasted Garlic Hollandaise, or creamy Blender Hollandaise.
Why This Recipe Works
If you're looking for a quick and easy dish, this is it. Just combine the ingredients, form each patty, and pan-fry.
Cod Cakes are a great appetizer but may also be served as a main dish. Make these for a special dinner or serve them up at your next party.
Cod cakes are super adaptable; not only can you substitute the type of fish, but you may also choose to use gluten free breadcrumbs or blanched almond flour to make a gluten free, low carb dish.
If you prefer to use a different type of seafood, you can even follow this basic method to create Salmon Cakes or Shrimp Cakes.
This simple recipe can even be made ahead of time and frozen prior to cooking.
How To Make Cod Cakes
Ingredients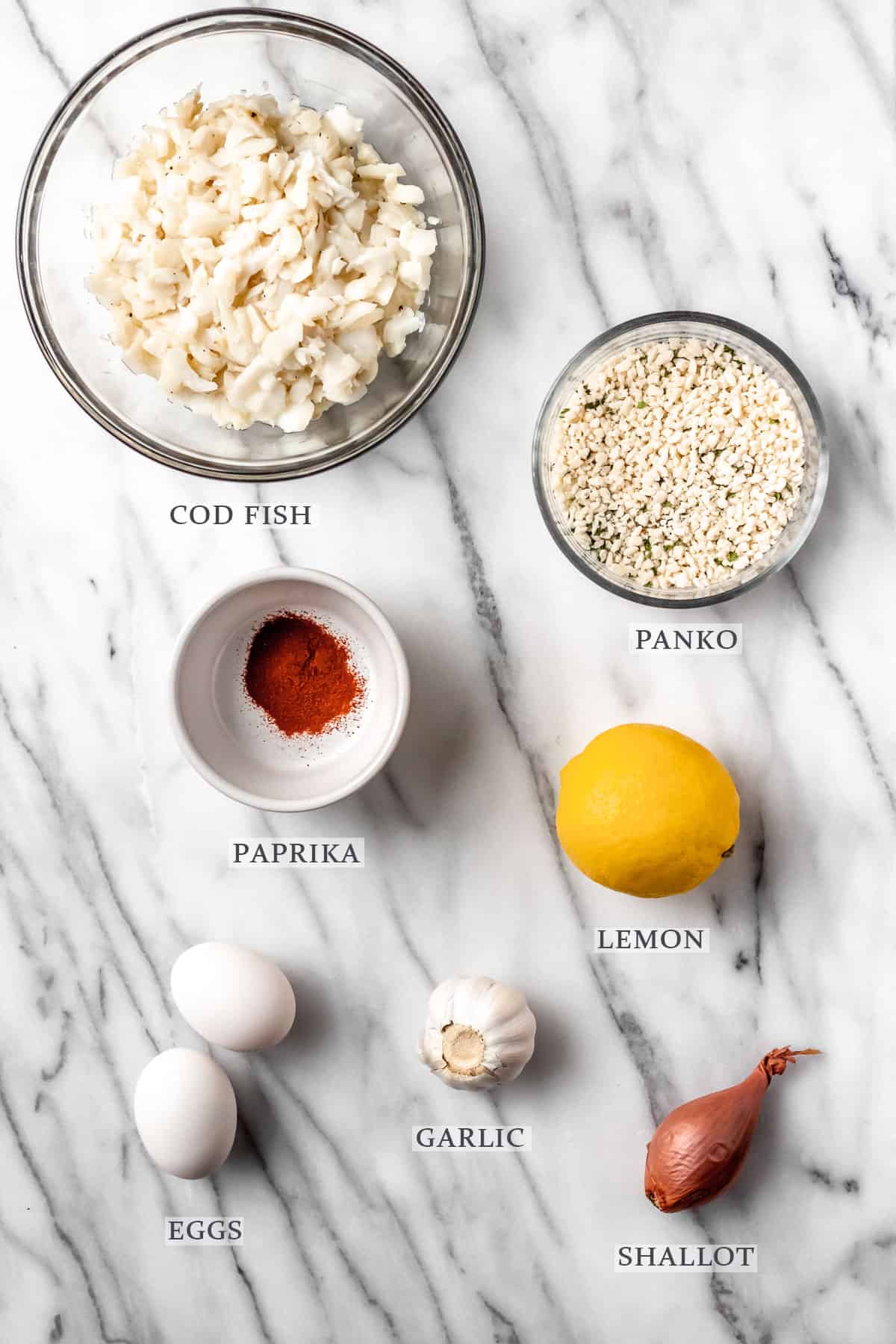 Cod Fillets: freshly cooked cod tastes best. For the best flavor, use a high quality brand like Sitka Salmon.
Panko Breadcrumbs: you can use gluten free or substitute almond flour to make the recipe low carb.
Shallot
Garlic: fresh tastes best, but jarred garlic can be used.
Lemon
Paprika
Eggs

The entire recipe and instructions can be found in the recipe card at the bottom of this post. You can print the recipe from the card, if needed.
Prep!
To cook fresh cod, you will need to season it with 1/2 teaspoon salt and 1/4 teaspoon pepper, bake it for 10-15 minutes at 400°F, let it cool, then shred it before beginning this recipe.
Mince the shallot and garlic and zest the lemon.
Create!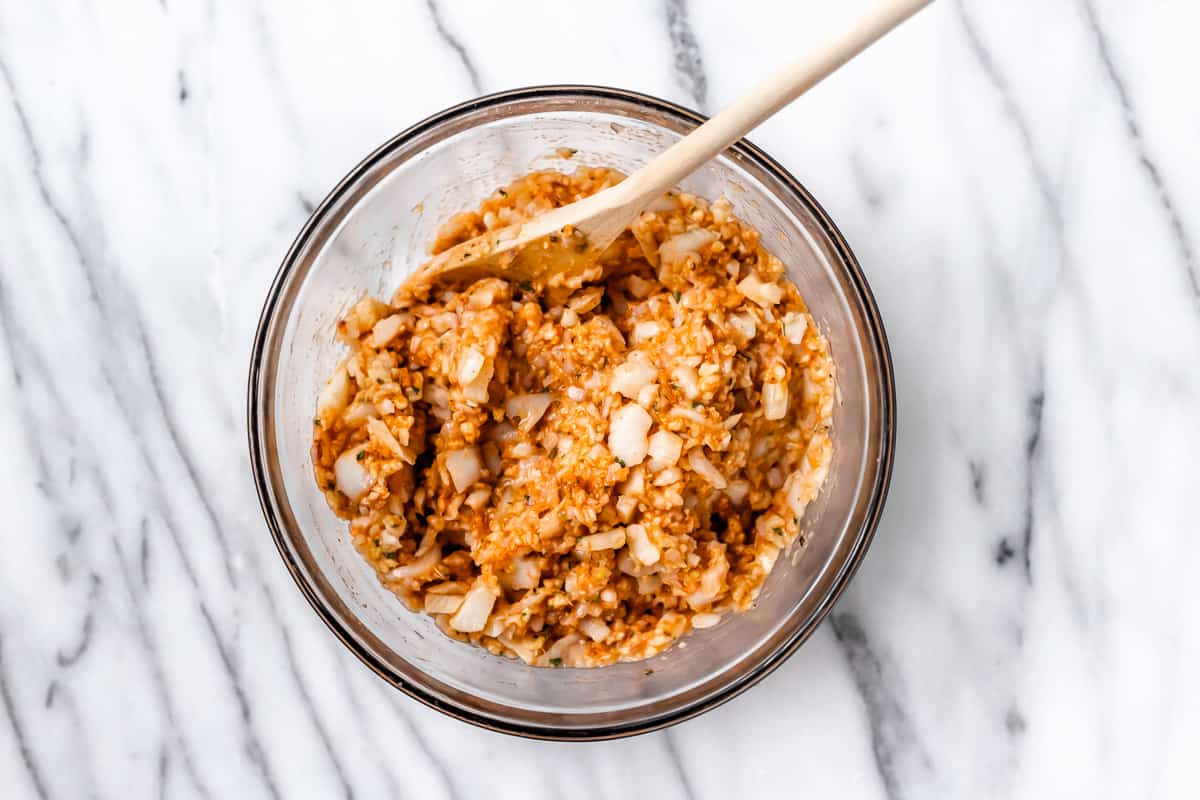 Combine the shredded fish, breadcrumbs, paprika, garlic, shallot, lemon zest, and eggs in a medium size bowl.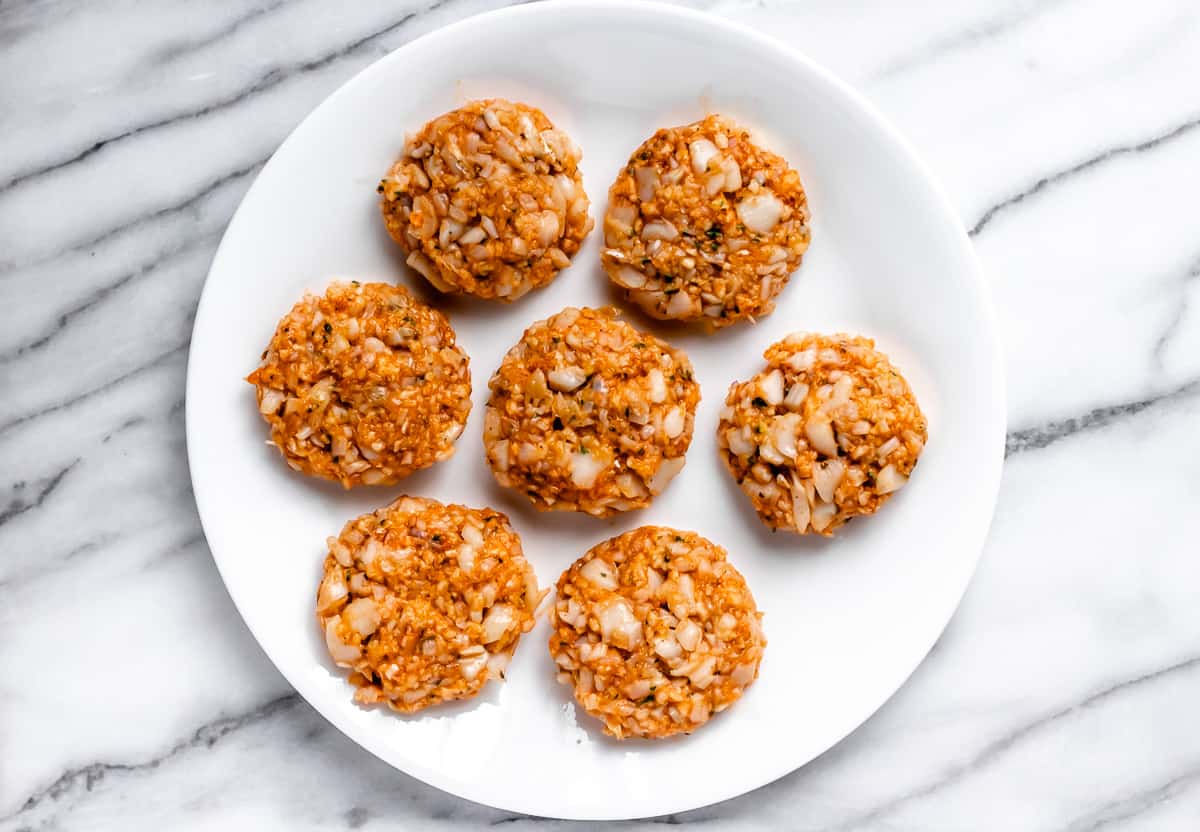 Form 12 cod cakes by taking a handful of the mixture and squeezing it into a tight ball (this will help it bind together).
Flatten each ball slightly until it's about a 1/2-inch thick and shape the edges into a circle.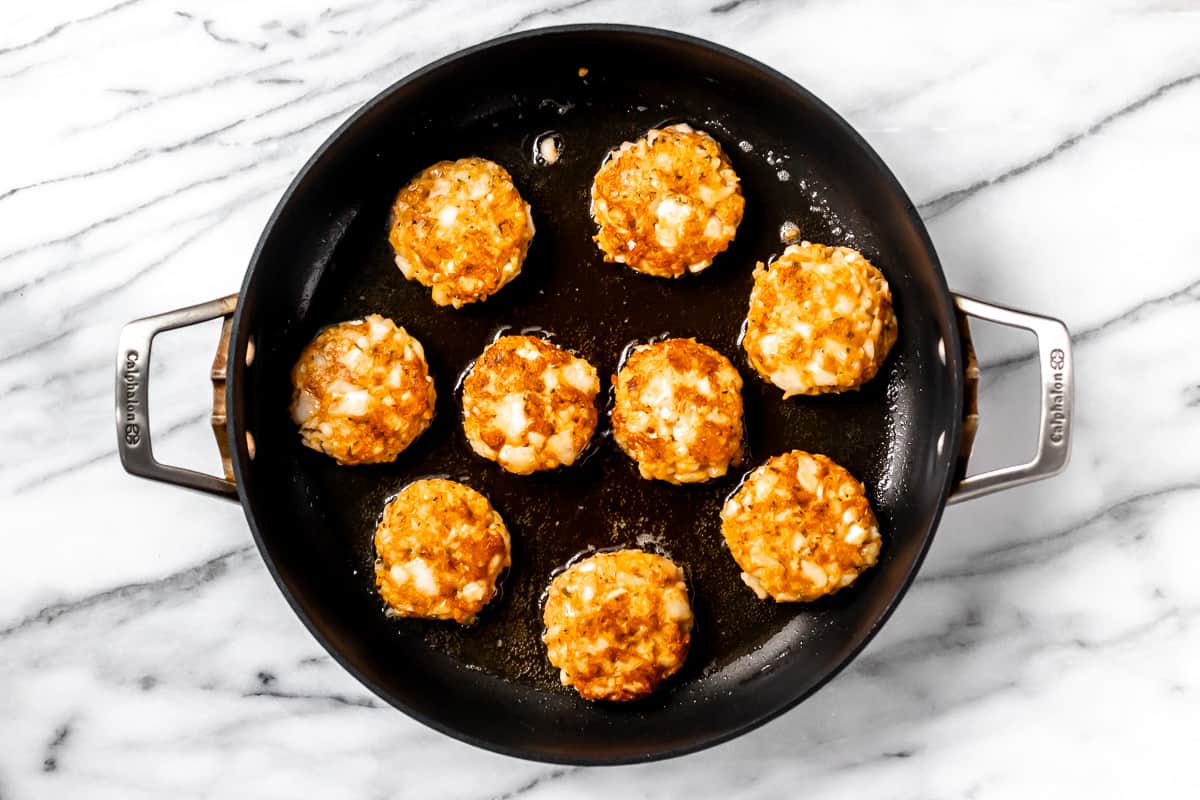 To cook, heat the olive oil in a large skillet over medium heat.
Cook the cod patties for about 4-5 minutes, then flip and cook for an additional 3-4 minutes. You may need to work in batches.
Remove to a paper towel-lined plate.
Present!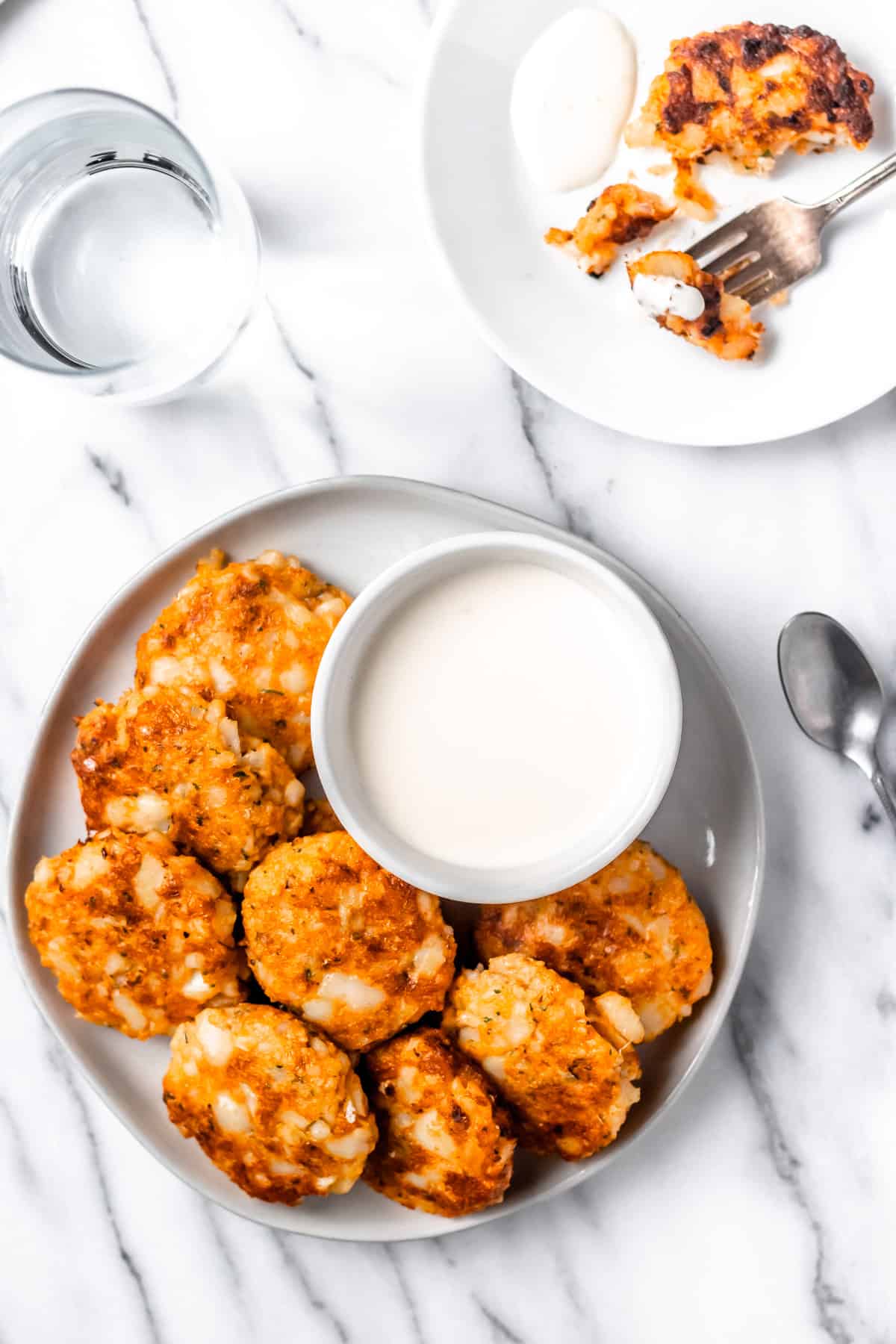 Serve warm.
These cod cakes pair perfectly with Roasted Garlic Aioli, cocktail or tartar sauce, or just a simple squeeze of additional lemon juice.
Tips and Techniques
Use high-quality cod for the best flavor.
Make this recipe low carb by swapping out the breadcrumbs for blanched almond flour.
Make this recipe gluten free by simply using gluten free panko.
Store leftovers in an airtight container in the refrigerator. Consume within 3 days.
FAQ's
What Do You Serve Cod Cakes With?
Cod Cakes can be served as is with just about any side dishes that you prefer.
Some sides that work exceptionally well are aioli for dipping, potatoes, rice, green vegetables like asparagus and broccoli, or a salad.
Can You Make Cod Cakes Ahead of Time?
You can make cod cakes ahead of time and store them tightly covered in the refrigerator. They should be prepared within a day or two.
Can You Freeze Cod Cakes?
You can freeze uncooked cod cakes. Simply place them on a baking sheet in the freezer. Once frozen, transfer them to a freezer bag or container. Use within 1 to 2 months for best results.
To cook, allow the cod cakes to thaw in the refrigerator overnight, then cook according to the directions in the recipe.
More Cod Recipes
Love this Cod Cakes recipe? Follow me on Pinterest, Instagram, and Facebook for more!
If you try this recipe, I would really appreciate it if you would please leave a comment and star rating. Thanks!